February 4th, 2016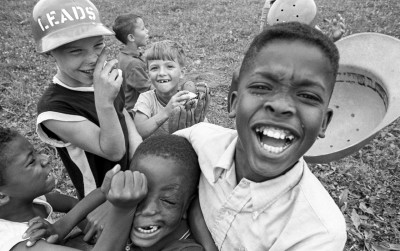 I was just notified that one of my photos has been selected by juror Peter Turnley for the upcoming show "Culture" at the Darkroom Gallery in Essex Junction, VT. This is an old favorite of mine taken way back in 1969 when I was working at the Newark (Ohio) Advocate as a photographer and spending my spare time helping monitor a playground for kids in the LEADS program, a community action organization. The kids were yelling, "Take my picture," so I pulled up my Nikon F with the 24mm lens and snapped this as they all crammed in to get in the shot.
February 2nd, 2016
One more post from my last shoot with Liv Sage. I hope to be working with this lovely lady many more times in the future.
And, yes, in case there is any doubt, lovely Liv is a true redhead.

January 29th, 2016
On that last shoot with the amazingly wonderful Liv Sage I pulled out my old single-element soft focus lens and played around with it for a while. It makes nice soft photos in a way that really can't be duplicated in software. Of course, DxO had no idea what to do with these files, so I had to do manual processing on them. I may be the only person on the planet who has one of these lenses and is still working with it. And it doesn't do any communication with the camera, so there's no way the software could know what lens it is, even if they had it in their database, which I'm sure they don't. But I do love this lens and the way it makes images.
These were processed in DxO, exported as dng files, then additional editing was done in ACDSee. So this is using a workflow free of Adobe, except for the dng format, of course, but that's an open raw format, so I'm not bothered by being involved with Adobe through it.
January 25th, 2016
I recently did a new shoot with the lovely and wonderful Liv Sage. Since I've been experimenting with alternatives to Adobe Photoshop for my editing, I decided to use different software for processing this new shoot.
The starting point for my new workflow is DxO Optics Pro. It does the file conversion from the original raw files. After playing around with DxO for a while I've settled on generally just letting it do the conversion at its default settings. That seems to provide a very good file with very little time expended by me. I then export those files as dng files for additional processing. I started out exporting the files as tif files, but found that created some problems when working with them in ACDSee. Also, by using dng files I have the option of opening them in Adobe Camera Raw if I want to use it to tweak the files further.
For the photo above I did just that. After initial processing in DxO, I opened the dng file in Camera Raw, applied the "Camera Standard" profile and opened it in Photoshop to adjust levels a bit.
But I want to get to a workflow that does not usually include any Adobe software. So, for most of this shoot I did the additional editing in ACDSee Pro 8. I open the dng file in ACDSee's raw processing mode, make some adjustments and then continue processing in the ACDSee editing mode. That seems to be working pretty well. Here's a shot that was processed that way:
For this shoot I was also playing around with some of my fun lenses. I did a few shots with my fisheye. Here are a couple of those, processed with DxO and ACDSee like the one above:
I have a lot more from this shoot to share, so there will be more coming. But I think this is a good start to freeing myself from the tyranny of Adobe.
January 16th, 2016
For my photographer friends: I'm beginning to establish a workflow with DxO Optics Pro. It seems to be working pretty well. I just needed to make a print of the photo in the last post here that was selected for the upcoming show at LightBox Photographic Gallery. I had already processed the photo in Photoshop. So I made a print from that file. Then I started over using DxO, going from the RAW file into DxO, letting it do it's automatic thing with a few minor manual tweaks. Then I saved it as a DNG file and opened that file in Photoshop. With just a little minor tweaking in Photoshop, including a little burning and, in Camera Raw, choosing the "Camera Standard" profile. (I love the way Nikon processes jpegs and find that by selecting Camera Standard in the RAW processing options I get a file pretty close to what I'd get with a jpeg right out of the camera.) I then printed the new file in the same way as I had printed the original version. I can see no difference between the two prints.
This is good. This means that I'll be able to use DxO as my RAW conversion software and won't have to "rent" Photoshop to be able to process future RAW formats the next time I buy a new camera. I'll still be able to use my purchased copy of CS6 for the stuff that Photoshop does best, but won't have to knuckle under to Adobe trying to force me into their new "we want your money every month whether you like it or not" rental scheme.
And, yes, I did buy Lightroom and I try to use it every once in a while, but I hate it passionately and doubt that I'll ever get over that. I'm using ACDSee Pro for most of the things that Lightroom does and I love ACDSee Pro. It's much easier to use and does a great job. And it isn't an Adobe program. I've really had it with Adobe's total lack of respect for their customers.
January 14th, 2016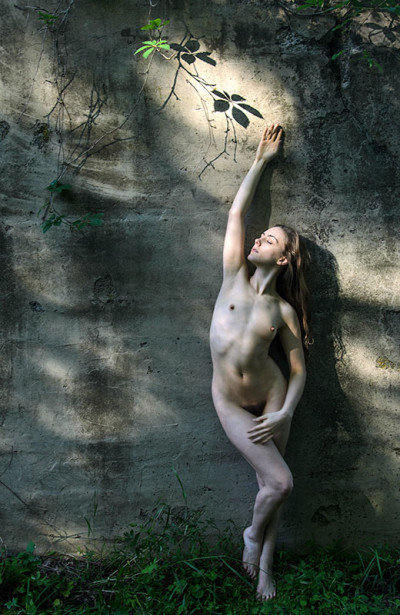 I received word last night that the photo above of the incomparable Brooke Lynne will be in "The Photographic Nude" show at LightBox Photographic Gallery in Astoria, Oregon.  The Photographic Nude 2016 show, which is Dedicated to the memory of Ruth Bernhard, opens on February 13 and will run through March 8. This is a great gallery and they do wonderful shows, so it's definitely worth going to see this show if you are in the area.
This photo was taken at the end of the last day of about a week of shooting in the Poconos in Eastern Pennsylvania. The sun was getting low when I saw it forming the shadow of those few leaves on a concrete wall at an abandoned farm. I hustled Brooke into the spot to take advantage of that fleeting light. I love the result, so I'm very pleased that they chose this photograph for the show.
My good friend, Dave Rudin, will also have work in this show. Last year his contribution was picked as the best of show.
January 11th, 2016
A friend of mine, Dave Swanson, did a blog post a little while back where he expressed an opinion that I disagree with. If you know Dave you'll know that he is a man of strong opinions. I frequently disagree with him. You might even say that I usually disagree with him. But he is still my friend. I'm not one of those who think friends must always agree with whatever you say. That's not very interesting and it is good to have your opinions challenged. Dave is very good at challenging the opinions of others. But he is also a good guy and a very good photographer.
I usually just let the things Dave says go by without comment. But this time he was talking about photography and specifically about a way of doing photos that was in conflict with some of my work. I thought about sending Dave an email to argue his point, but then thought I'd just do this blog post to express my point of view. I know Dave reads my blog…he's just about the only person who comments here, in fact, so I'm sure he will see this.
OK…so what Dave Swanson said is that having more than one model in a photograph always results in a worse photo than if you had only one model. I think that's a fair statement of his position. You can read Dave's post yourself here if you want see just what he said. His language is a bit more direct than mine. That's how Dave is.
So, rather than using a lot more words I thought I'd just post some examples of photos where having more than one model makes the photo better. For starters, there's the photo above. That's not mine. That's what has become my favorite photo by Anne Brigman. I saw an original platinum print of it in a show at the Cleveland Museum of Art last month. It's an amazing photo done more than a century ago. Look close…that's not a great reproduction, but there are two models in that tree…becoming one with the tree…and it's a better photo because of there being two models.
Now for a few of my own photos using two models. I have many more successful photos with multiple models, but for this post I've limited myself to only photos that I think are much better because there is more than one model used.
These two photos were taken in 2002 on a shoot in Maine that marks the start of my work with the figure in nature. This shoot was a turning point in my life as a photographer and set in motion pretty much everything I've done in the years since then. I was very fortunate to be working with two wonderful models that day, Hope and Rachel. And the two of them worked very well together.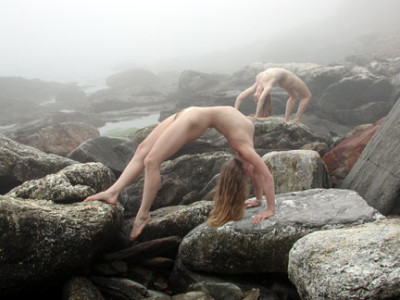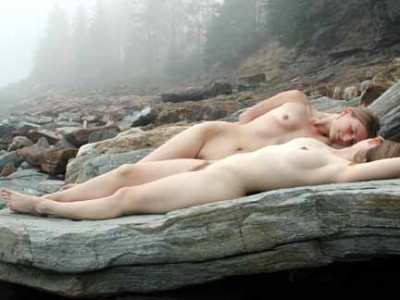 A year later I went back to Maine and worked with Hope and Rachel again. I did this photo for my series of Eve photos: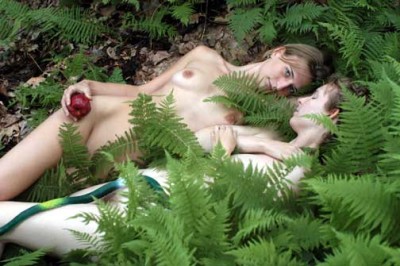 And here are a few more "figure in nature" photos from over the years where two models make the photo better: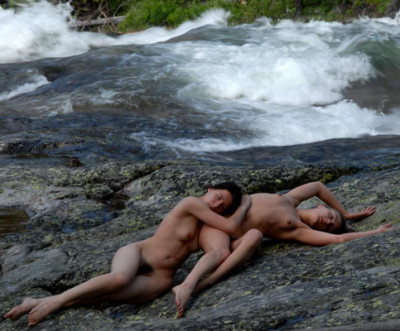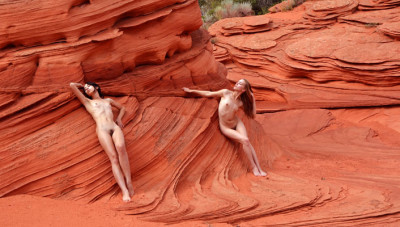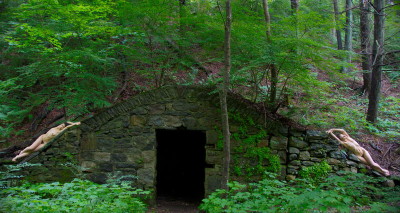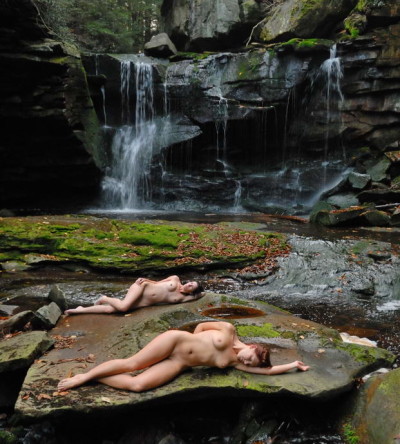 This one is a successful photo ONLY because there are two models: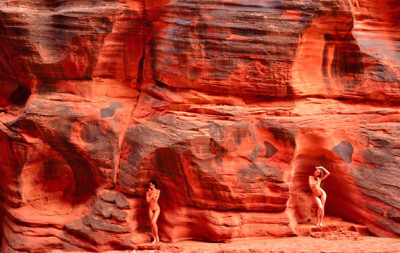 This is a little different sort of photo, but it's the three models in it that make it fun: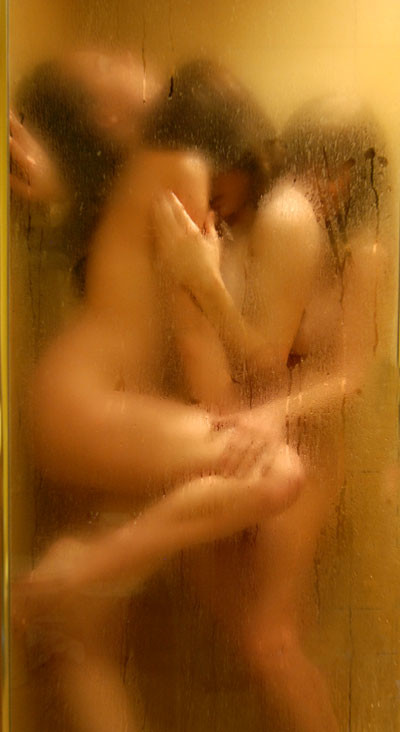 And there are times in the studio when more than one model works to make a good photo. Now I know that Dave Swanson often uses himself with another model in some photos, so I wonder if he was taking that into account when he wrote what he wrote on his blog. Maybe he only meant it for photos done in nature…but then again, he as gotten himself into some of those photos too. Nevertheless, here are some studio shots of mine with more than one model: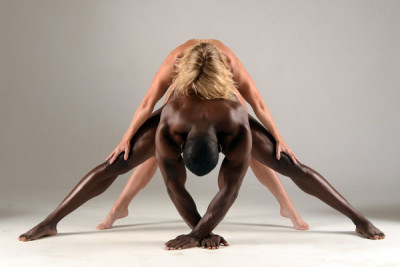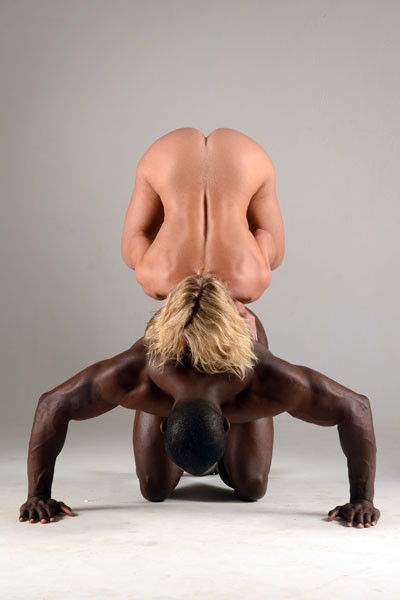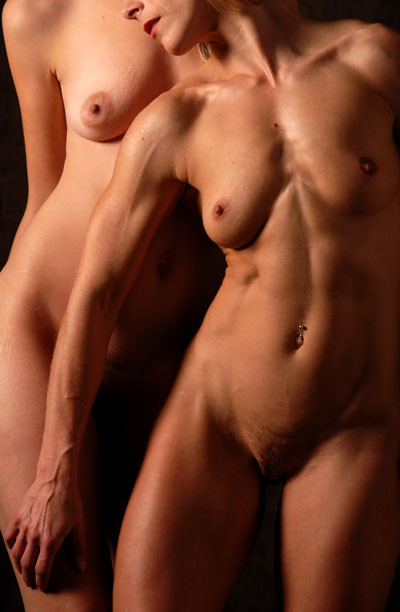 And, finally, my all-time favorite photo with more than one model. There are actually only two models in this photo of Carhenge, but I did multiple exposures in order to get what I was after with this photo (you may want to click on it to enlarge it to get the full effect):
As I said, I have many times this many photos with multiple models, but these are the ones that would not work if there were only one model. Just my two cents.
January 9th, 2016
I posted this and then the post disappeared. I have no idea what happened. So, here it is again. More from my most recent shoot with the amazing Liv Sage.
January 8th, 2016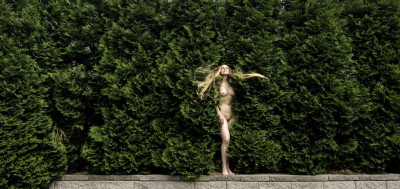 The winners of the French PHOTO magazine annual contest have just been announced on their website. Once again I'm very pleased to find out that one of my photos has won. They say this is the largest photo contest in the world and certainly there are many thousands of excellent entries, so it's quite an honor. They seem to like me in France. I've a photo selected as a winner almost every time I've entered and it has happened so many times now that I've lost count. I do know that when I first started entering I had to mail prints to France to be considered. Now, of course, it's all done on the internet. That, of course, is the winner up above.
Additionally this year I found that 11 of my 12 entries made it through the judging to become finalists. The policy is that only one photo from a photographer can be a winner, so they ended up having to chose just one out of those 11 finalists. I wonder what would happen if I entered some photos under a different name some year…hmmmm.
The winners are all published in the magazine's January/February issue. It's usually a couple months before the magazines show up in the US, so I'll probably do another post when I can show the actual magazine.
And, I have to say that the winner this time is extra special. This beautiful lady has modeled for me since the 1980s. She is a good friend. We did this shoot to mark the occasion of her 50th birthday. She mentioned that doing this photo cost her several strands of that lovely blonde hair, but that it was worth it for the photo. I hope she feels even more that it was worth it now.
My good friend, Dave Rudin, also had one of his photos selected as a winner, so I'll have extra good company in this magazine.
Here's the cover of the magazine that has the winners in it: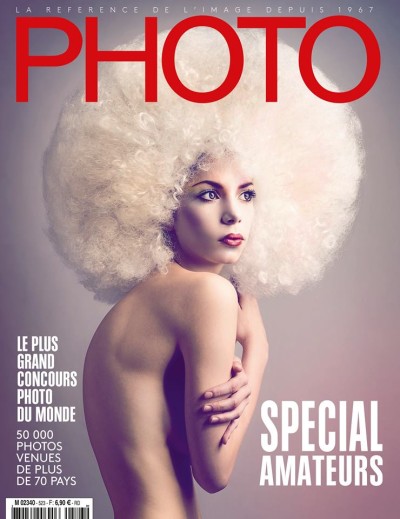 January 1st, 2016
To get the new year off to a great start here are some new photos of Liv Sage from a shoot late last year.
For the photo folk seeing this, these are my second attempt to edit files using DxO Optics Pro. I bought it on sale a couple days ago to see if it will work as a replacement raw converter and editor to get me away from being dependent on Adobe. I have Photoshop CS6 and refuse to be forced into renting my software from Adobe in their new system of directly tapping our wallets every month. I'm fairly impressed with DxO and am thinking it might be the solution I've been looking for. It sure is one hell of a lot easier to work with than Lightroom, which I hate with a passion. Given that I'm just getting started with DxO I'm sure these files are not as good as I can get from the software, but working in DxO is easy and simple and the results seem to be better with much less sweat in the process.
One thing I love about Liv…one of a very great many things…is that she laughs at my hopelessly bad jokes. As you can see…
Wishing you all a healthy, happy, peaceful 2016.