December 8th, 2013
A while back my friend, Matthew Cherry, asked me to model for a photo he wanted to do.  I, of course, agreed.  It took a while to get everything arranged and to match schedules for all involved, but we finally were able to do the photo last week.  The team for this photo included wardrobe stylist Tanya Seeman, makeup artist Norman Bryn, and his assistant Chris Jadewitch Cantuccini.  

I knew the resulting photo would be fantastic, because I know Matt and I'm familiar with his work.  I wasn't disappointed, as you can see.  It was a lot of fun, a lot of work, and worth it in every way.
Maybe I'll give up on finding an honest politician and look for something more common and easy to find.  Like maybe Yeti.
December 3rd, 2013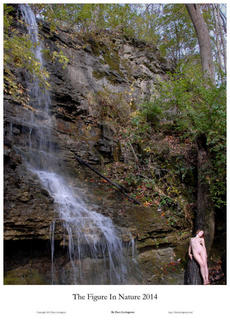 My publisher has just announced some new discounts that you can use to buy calendars for Christmas presents.  You can get 25 percent off the cost of your order by entering the code:  HOLIDAY25.  You can use that discount on as many as 14 items, so you can take care of all your Christmas shopping right there in my store.  Also, they are offering free shipping by using the code: FREESHIP.  I'm not sure if you can use both discount codes on the same order or not…but give it a try and see if it works.
Clicking on the calendar image above will take you right to my store.  Or just click here.
December 3rd, 2013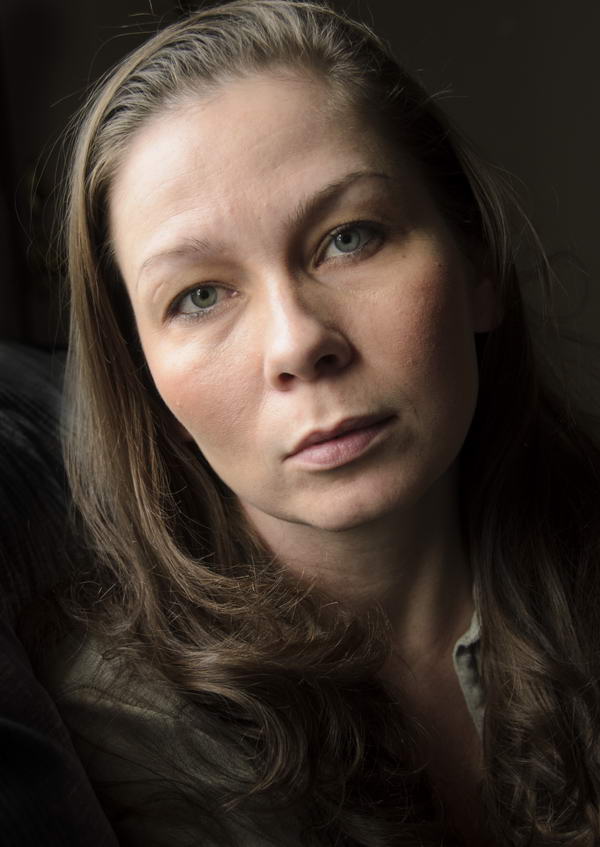 In the past year I've been shifting my work toward doing more portraits.  I just found myself interested in doing more of that kind of work, so I've been doing it.  Last December, as I was thinking about portraits, I decided to shoot some of Sarah.  I'd worked with Sarah as a figure model in the past, but this time I wanted to just do some nice portraits of this beautiful and interesting woman.
Just a good subject and good old window light.  Some things never change.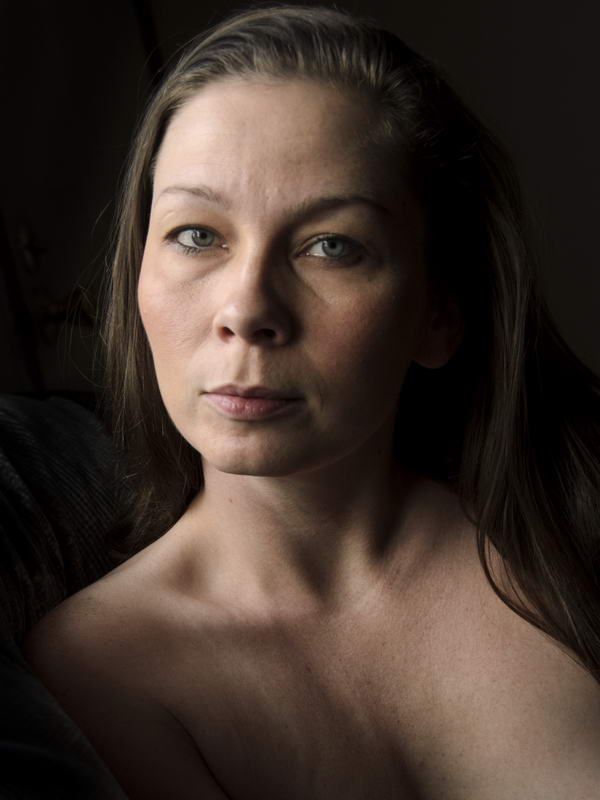 November 30th, 2013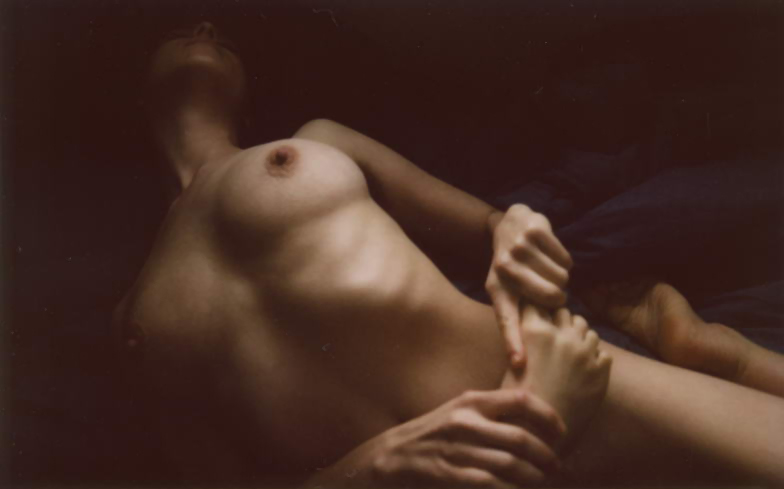 I work primarily with digital cameras these days.  I have nothing against film.  I worked with film for 30 years.  But digital cameras are simply better tools for the work I do, in most cases.
But that doesn't mean I can't work with film now and then when it provides something I can't get with digital.  Or when it is just fun to do something with film.
Well, we all know that film is going away.  It is rapidly becoming an "alternative process."  And that is very true when it comes to instant film.  The reasons for instant film to exist are almost non-existent.  But that doesn't mean it isn't fun to work with instant cameras.  And the results of instant cameras are different from any other photographic medium.
When I was working all the time with film, I didn't pay much attention to instant film.  I really only used it to check exposures and lighting back in the days when we didn't get instant feedback off little screens on the back of the cameras.  Back then we often referred to it as "Paranoid" film, because we only used it when we were paranoid about our lighting setup.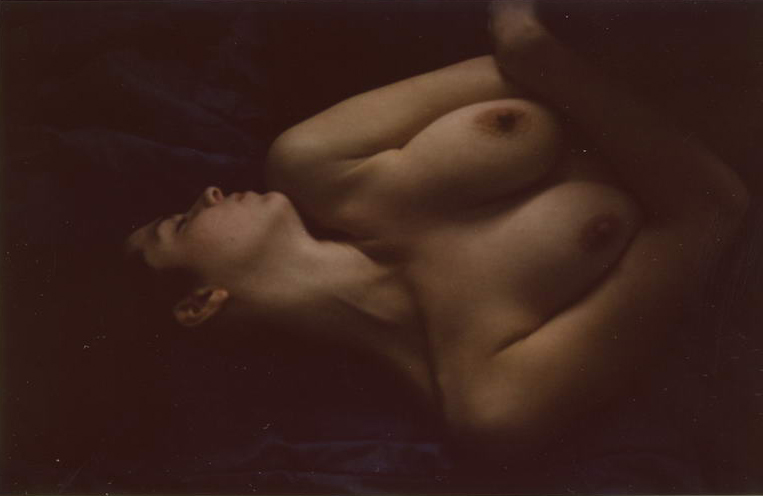 But recently I've been using some instant cameras just because they are fun.  And to make some photos with them before the materials vanish from the face of the earth.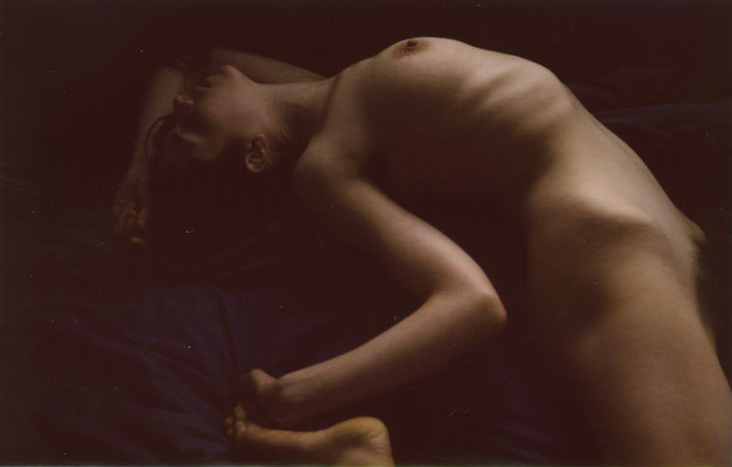 I'm using both old Polaroid cameras with Fuji instant pack film and the Fuji Instax cameras with the Fuji film for them.  I'm not bothering with the Impossible Project film because I'm not a fan of materials that are totally unpredictable and which consistently deliver shitty results.  I'm sorry, all you Impossible Project fans out there, but that's my opinion after seeing a lot of photos made with that film.  It simply sucks, big time, all the time.  As long as better materials are available from Fuji, I'll use those.  When Fuji abandons instant film, that will be the end, at least for me.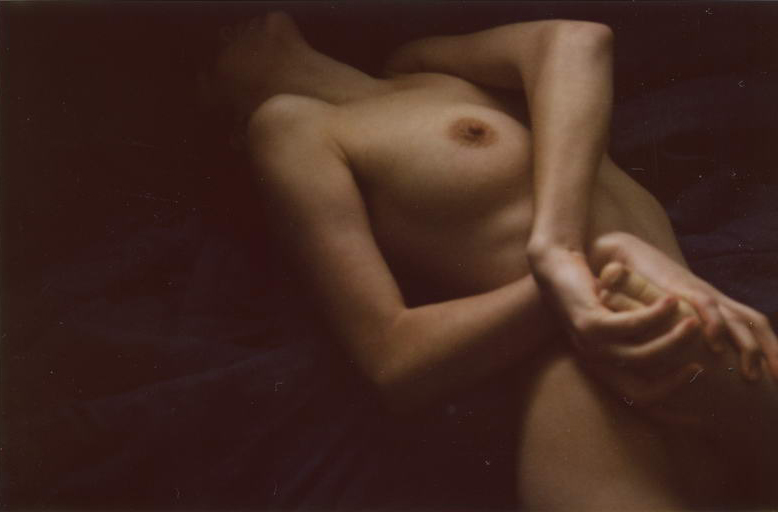 So, I've been dragging instant cameras around to most of my shoots.  Some special projects are taking shape, but sometimes I just use the cameras and film for some more traditional photos.  That's what I did here with Kelsey Dylan last December.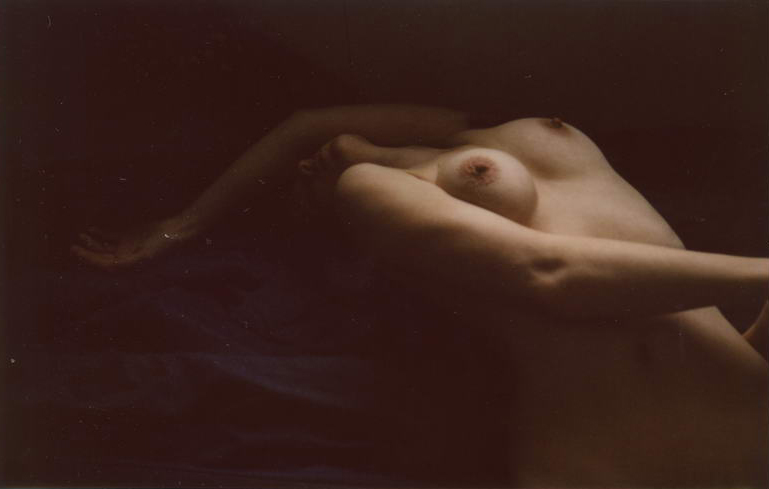 These were all shot with a Fuji Instax camera.  I've made a few modifications to the camera to get it to do more what I want.  The main change that affected these photos was simply blocking the on-camera flash so that, even though it is impossible to turn the flash off, it was covered and no light from the flash reached the subject.  By doing that I'm able to work with just the available light, which is what I wanted to do here.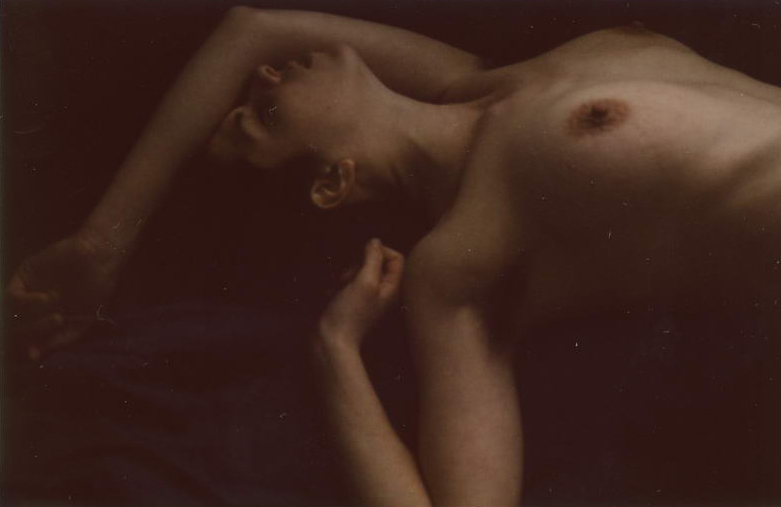 Kelsey is a great model and, as usual, did a wonderful job posing for these photos.  While it might have been possible to get something similar with a digital camera, there is a unique quality to instant prints that cannot be achieved with any other tool.  And, of course, there are the one-of-a-kind original prints from each of these photos…what you are seeing here, of course, is just scans from those original prints.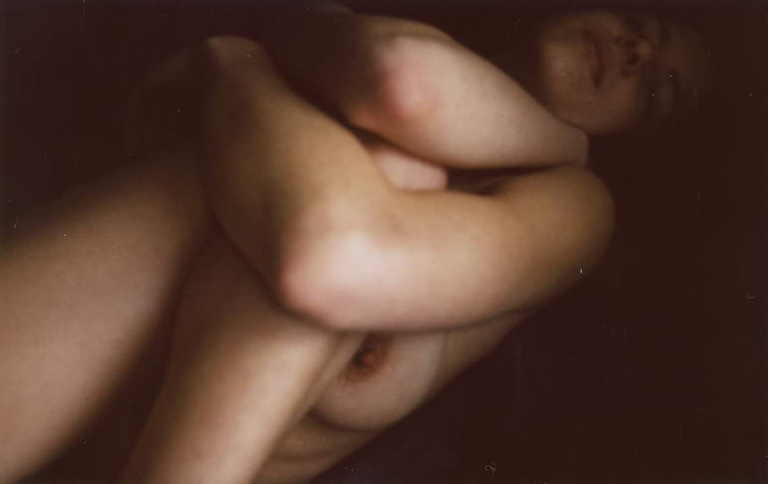 You'll be seeing more of my instant camera work here in the coming months…and as the projects I'm working on take shape, I'm sure I'll be presenting more about them as well.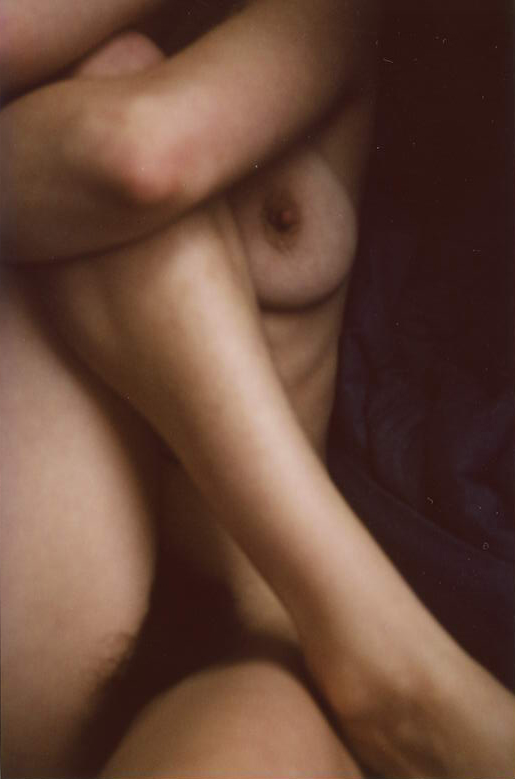 November 25th, 2013
It's often said that photography is all about light.  That's not absolutely true, but there is truth in it.  And light is very important to my work.  But, every once in a while, the light does something pretty amazing and on a rare occasion, there's a photographer there to record it.  That's what happened on this day last summer when I was shooting in the Poconos with the always amazing model, BlueRiverDream.
I was working on a composition with Blue's figure and this waterfall when I saw the beautiful pool of golden light behind her.  The sun was hitting that water from the perfect angle at the ideal time of day to create that glow.  But, while I was adjusting the camera position to make the photo work, I saw the rainbow appear over the waterfall.  All those colors, all that light!  It was just so beautiful!
I didn't really know how much of the color I'd been able to capture until yesterday when I was going through that shoot looking for something to enter in an upcoming show.  I have been working my way through my un-edited shoots in the order they were shot and posting them here as I go, but I really couldn't resist jumping the line with this one.  Every once in a while magic happens.
November 20th, 2013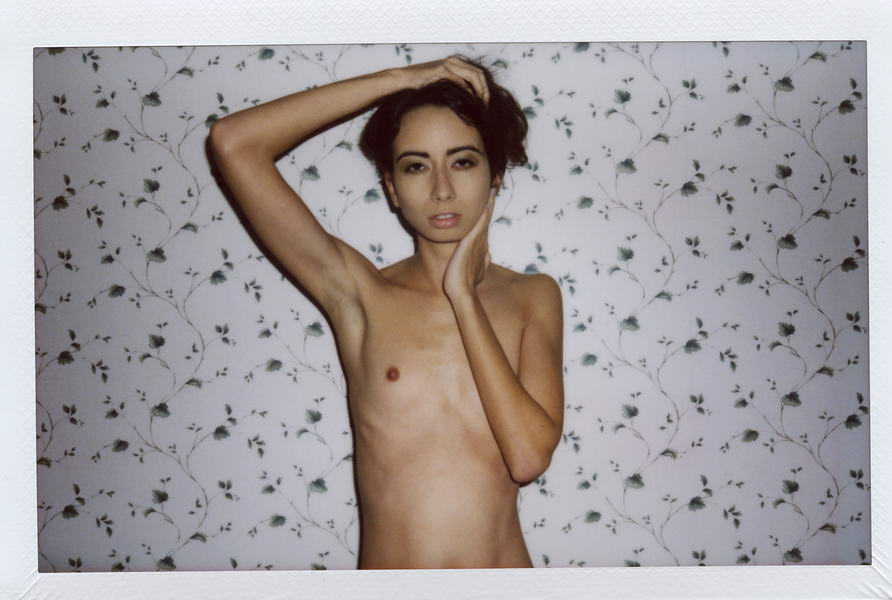 It's been a good year for gallery shows.  I just got word that the photo above of the incredible Kat was chosen for the "Faces" show at the Darkroom Gallery in Essex Junction, Vermont.  The juror was Elizabeth Avedon.  The show opens December 12.  There will be an artist's reception on the date that the show closes, January 5.
I entered six photos in this show.  Four of them were black and white portraits that were not nudes.  Two were nudes of Kat.  I find it interesting that she chose this one, which is a Fuji instant print.  It's a bit different from a lot of my work, though I am working on some projects now using instant film before it is no longer available.  This is also the only nude in the show, though it is a bit androgynous.  You just never know what a juror is going to like.  That's one of the things I enjoy about jurored shows.
November 15th, 2013
If you are in the LA area please don't forget the opening of the Rated R Show in North Hollywood tomorrow night.  It looks to be a very good show.  So turn out and let Rob and Gina know you appreciate their efforts to show great work.
In other news, Epson shipped me a replacement printer from my 4900 that was turning out magenta skies.  The replacement printer makes perfect prints with no magenta problems, so that at least confirms that the problem was with the printer and not with some weird thing that I had screwed up.  Whew!  Now if the shipping company would just come and get the old printer to return it to Epson.  It's been three days since I requested the pick-up.  I've called twice and still no word on when they are coming.  The huge 120+ pound box is sitting in our entry hall taking up quite a lot of space.
November 15th, 2013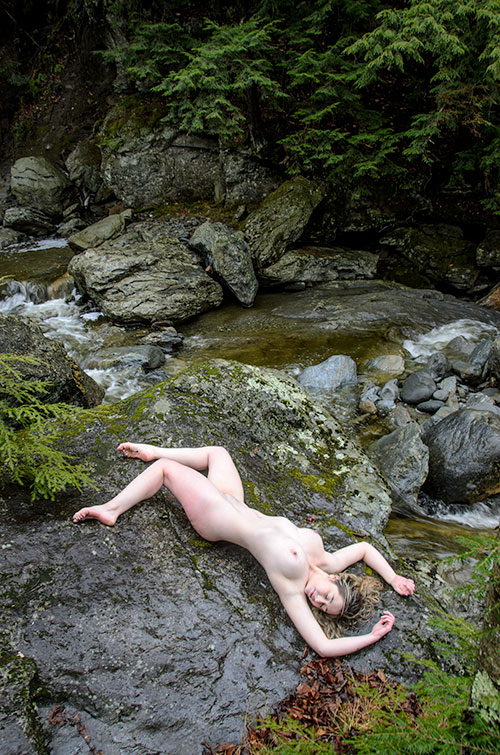 Here are some more photos of the lovely Chloe Ann freezing her cute ass off for my art in this fantastic location in Vermont.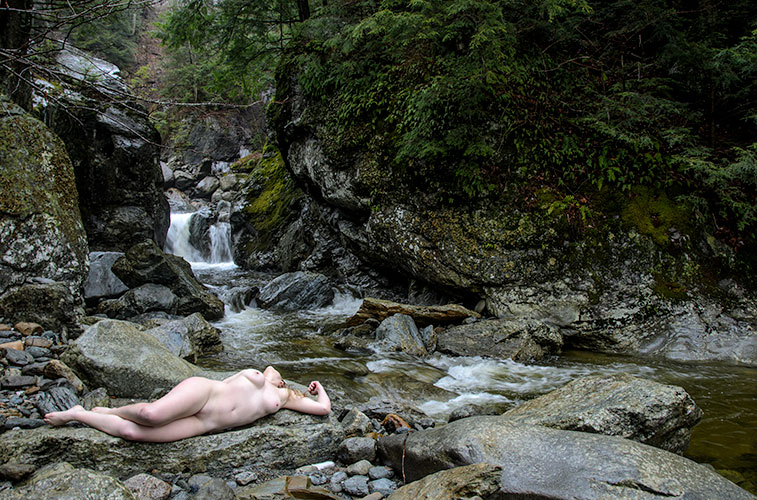 It was December when we did this shoot.  I hope I'll be able to shoot in this spot again some day when it isn't quite this cold.  And maybe there will be more leaves on the trees and it will have a whole different look.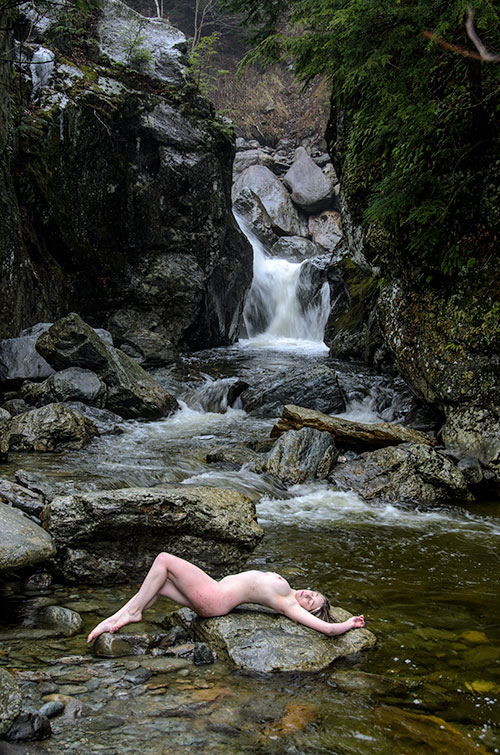 If it were warmer I might even be able to get a model into the water.  And there are other lovely spots away from the water that will look very different in the spring or summer.  We'll see…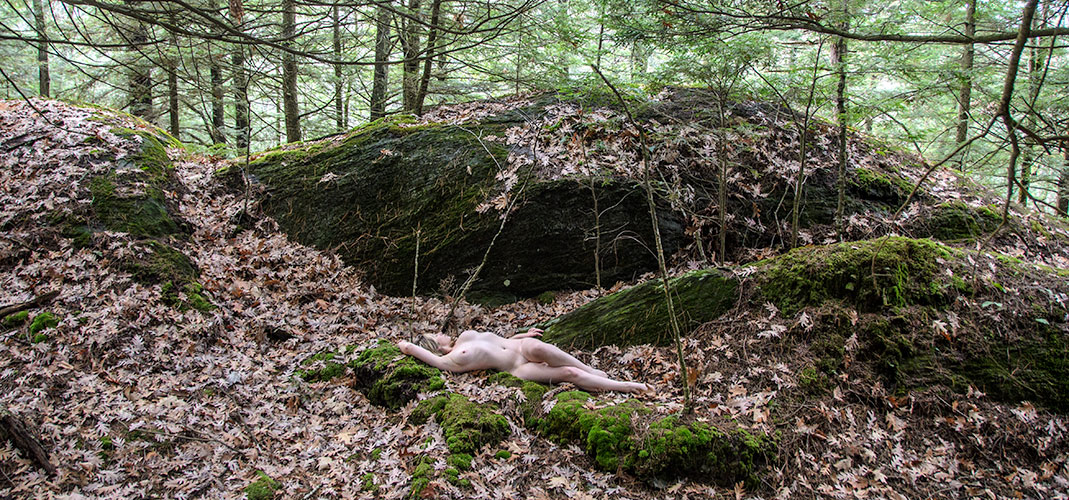 November 9th, 2013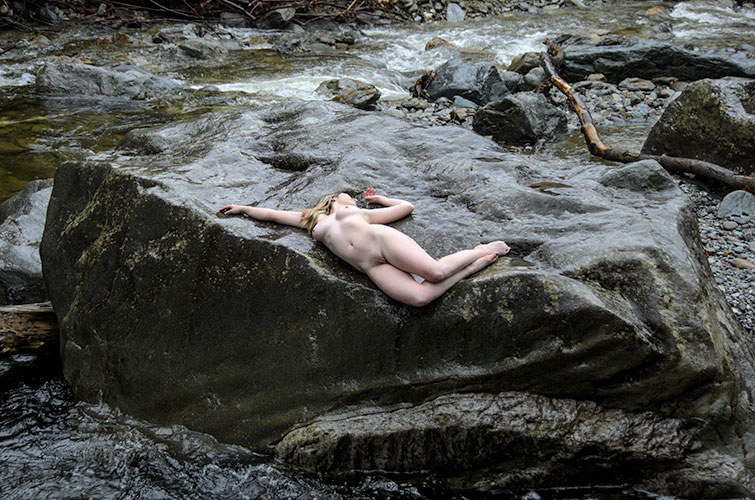 Again it has been too long since my last post.  I've been busy, as usual.  I have three photos currently hanging in a show At the Carmel Visual Arts gallery in Carmel, California.  One was selected for an honorable mention award.  I'm in excellent company in this show, so I'm very pleased with the show and with the award.  You can see the show at this link.
Also, on Saturday, November 16 from 6 to 9 p.m. is the opening for the Rated R Show in North Hollywood, California.  This also looks to be a fine show, so if you are in the LA area, try to get there for the opening.
So, I've been busy printing and framing and shipping.  I've also been working on prints to go to my gallery in Chicago, Gallery Prov0cateur.  Veronika has taken me on for permanent representation by her gallery, so I'll be delivering a portfolio of prints for her to have on hand to show collectors.
Also, the Kinsey Institute is planning a show in January on the theme "Flora and Fauna."  They were planning to include some of my work that is already in their permanent collection and asked me if I'd like to submit some additional photos for the show.  So those are also now printed and will be going over to them soon.
And, with all this going on, my Epson 4900 printer developed a strange anomaly that only affected a few prints.  After extensive consultations with a variety of experts and Epson technical support I'll be getting a replacement printer this week.  This will be my third printer in the two years since I bought my 4900.  It makes great prints when it's working, but this has been quite an experience as it has gone through some strange ups and downs.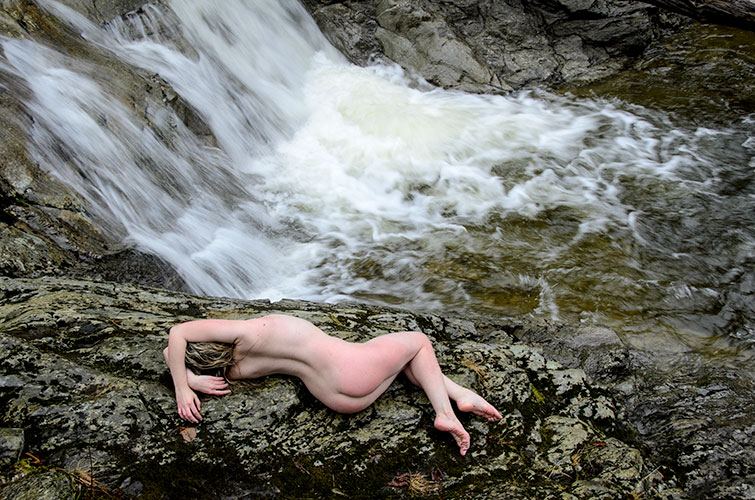 But I know you'd really rather be reading something about these photos, so let's get to that.  Almost a year ago the wonderful Chloe Ann came to Vermont so we could work together in a fantastic location.  Yes, it was cold.  It was December in Vermont.  If you look close, you can see some traces of snow and ice in these photos.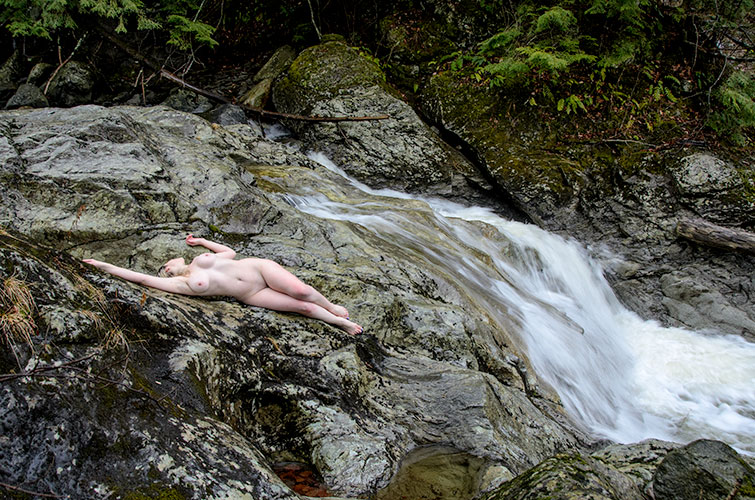 I first met and worked with Chloe in Maine in the summer of last year.  We were both very happy to have the chance to work together again and, as you can see, the results were wonderful.  She's a great model who is beautiful, brave and more than willing to do what it takes to get a fine photo.  I hope we'll be working together more in the future.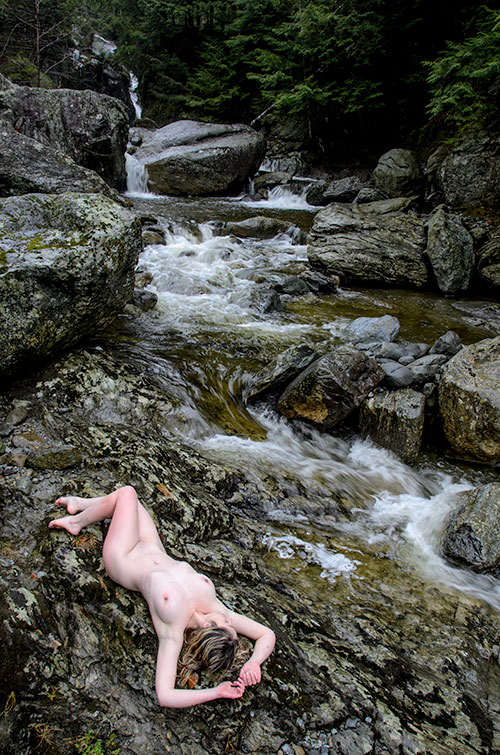 October 29th, 2013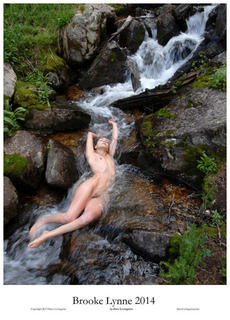 I was away last week at the beach in South Carolina.  The condo there was supposed to have wifi, but it didn't work.  So I wasn't able to do any of the on-line work I had planned to do while we were there.  That would have included several new blog posts.  So it goes.
I'll have more to post in the next few days, but I wanted to get this out there right away because it's available for a limited time.  My publisher is having a really great sale that can save you a bundle on a calendar.  So, if you've thought you might like to get one of my calendars, this may be the best price you'll see on them this year.  The sale is 40% off the regular price.  That makes the price pretty much competitive with the calendars at those pop-up places in the malls.  And these are big, beautifully printed calendars with original photos.  When the year is over you can chop off the calendar part and frame the photos if you'd like.
The sale is only good until November 4.  So don't put it off too long.
To get the special price, which isn't mentioned on their web site, just enter the code FALLSALE40 when you check out.  You can find the calendars here.