August 19th, 2014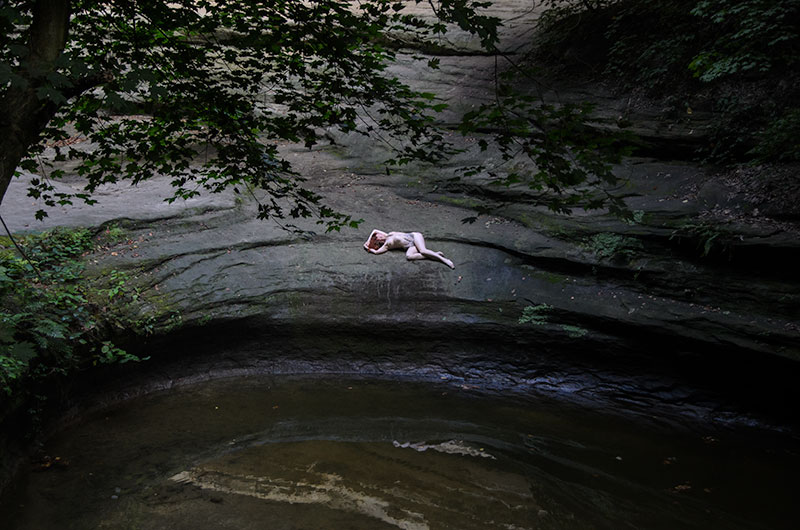 After the closing of my show at Gallery Provocateur in Chicago I had the immense good fortune to be able to go to Starved Rock State Park, not that far out of the city, to work with a  bunch of wonderful models.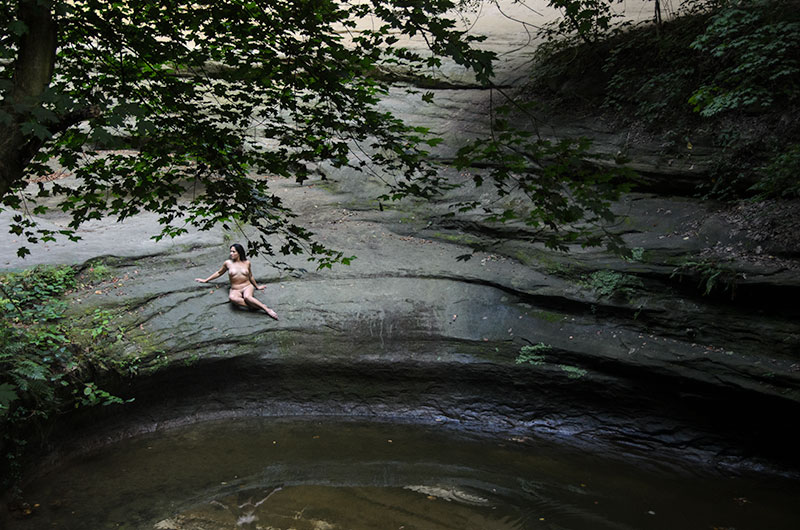 Several of my favorite models, Ayn, Claudine and Kelsey, made the trip. There were also a couple ladies who aren't really models most of the time, but decided to join in the fun.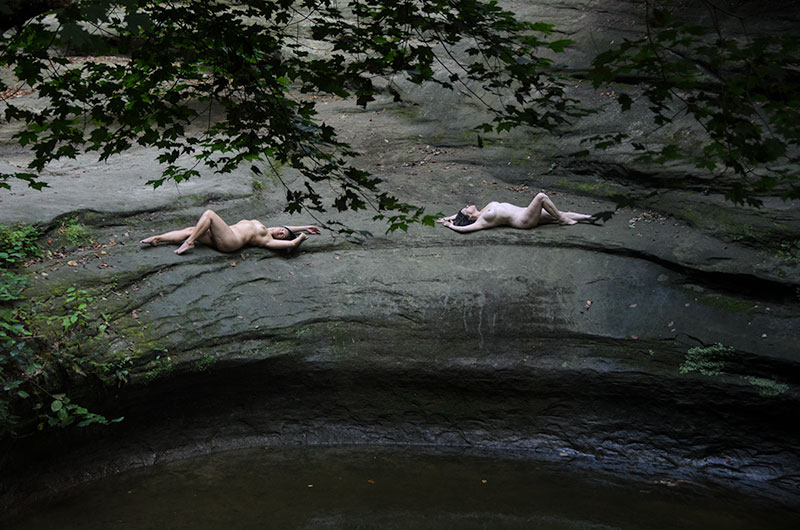 With so many models available there were all sorts of possible compositions for every one of the many amazing locations in that park. I did the best I could to take advantage of the opportunity.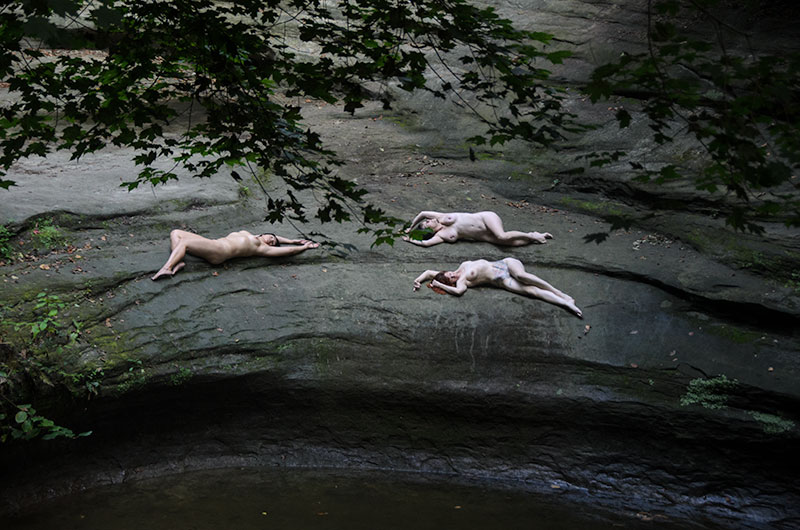 There's lots more to come over the next few posts from the two days of this shoot.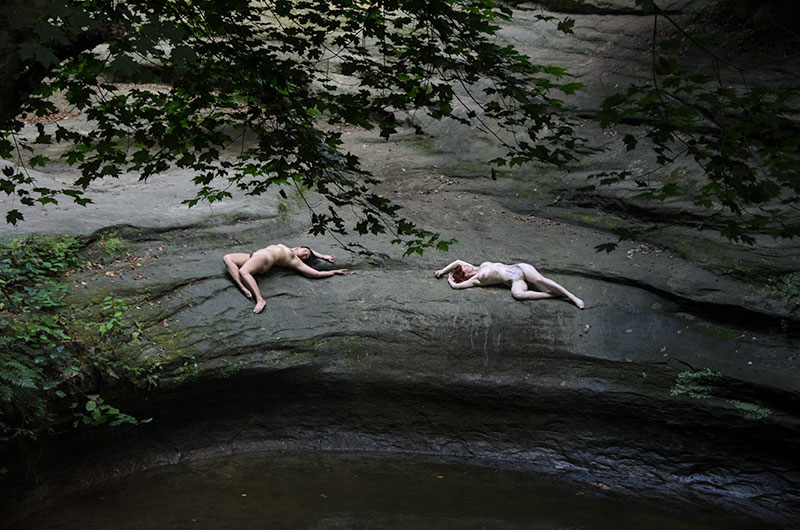 August 15th, 2014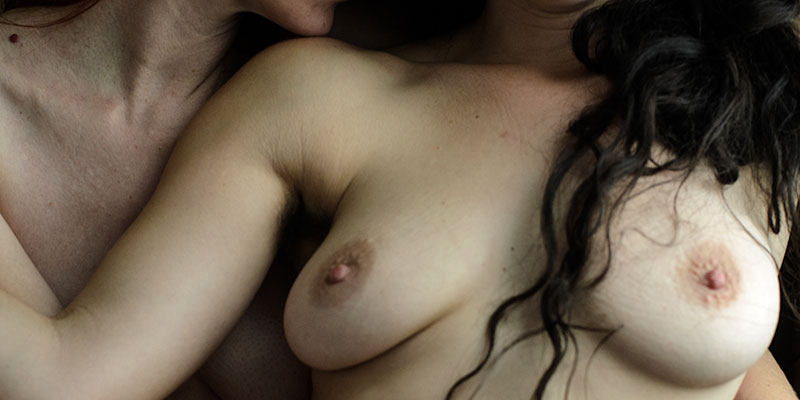 After all those outdoor photos, today I'll post some taken inside. Last September I went to Chicago for the closing reception for the show I had there at Gallery Provocateur. While I was there I did some shooting with several models, including two of my favorites in these photos, Ayn and Kelsey.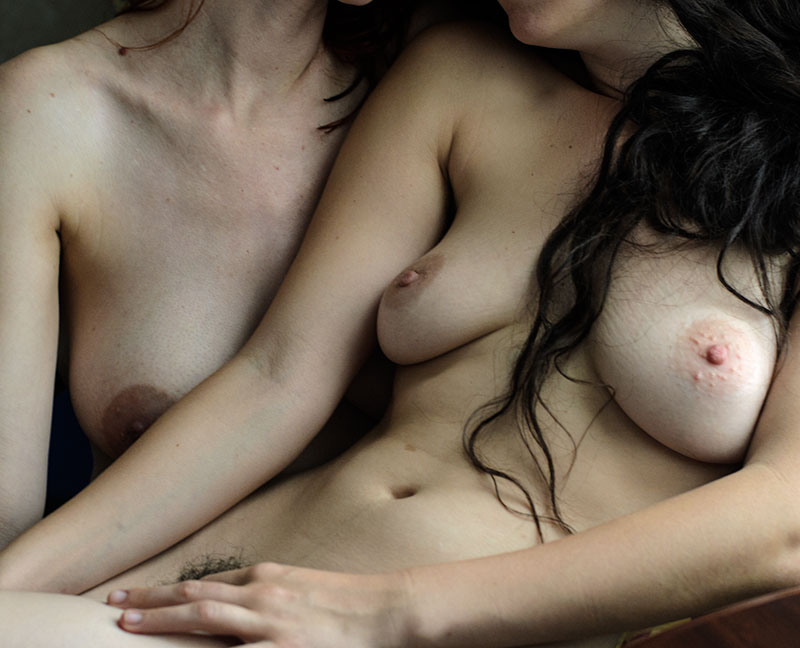 After the reception we all, along with several other models and a great photographer, went to one of the best locations on the planet for a couple days of shooting. Those photos will be coming in the next few posts.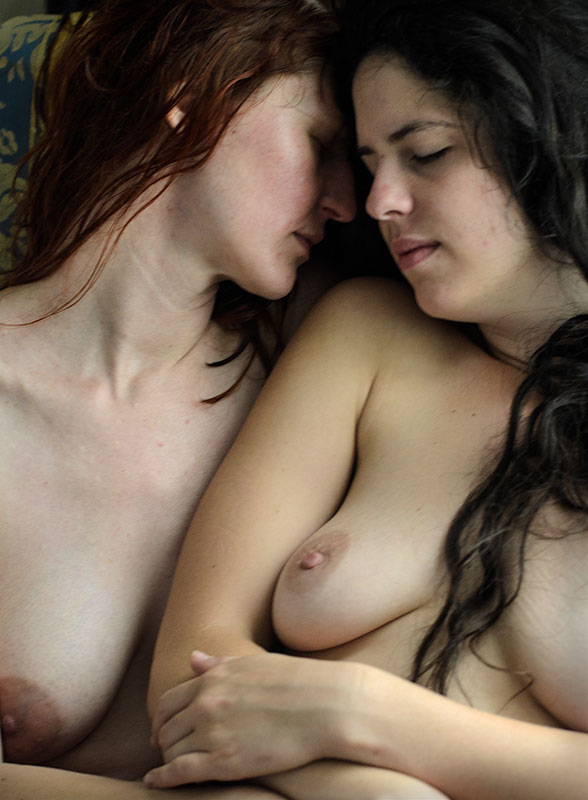 August 12th, 2014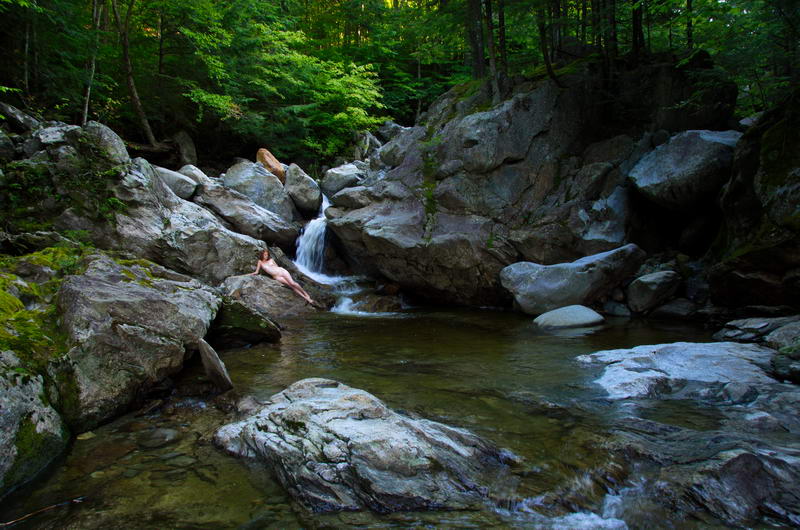 I'm a big fan of modern zoom lenses. They are great. I remember years ago when there wasn't a zoom lens being made that didn't suck so much that no one who cared about their photos would use them. But, thankfully that has changed. I still use a number of prime lenses from time to time when they are appropriate to what I'm trying to do, but for the most part my zoom stays on my camera and does it all.
Back in the bad old days when I was doing photojournalism I carried four cameras all day while I was working. A Nikon F with a 24mm, a Leica M2 with a 35, a Leica M3 with a 90, and a Nikkormat Ftn with a 200. That was my work uniform. I had a few other lenses in the bag for specific problems, but almost everything was shot with those lenses. Of course, using 4 cameras meant that I had at least 4 rolls of film to develop every day. Most days it was more like 10 rolls by the end of the day. And, since this was newspaper work, those all had to be developed, edited, printed and captioned the same day. I don't miss that work…and I don't miss the wet darkroom after years of doing that every day.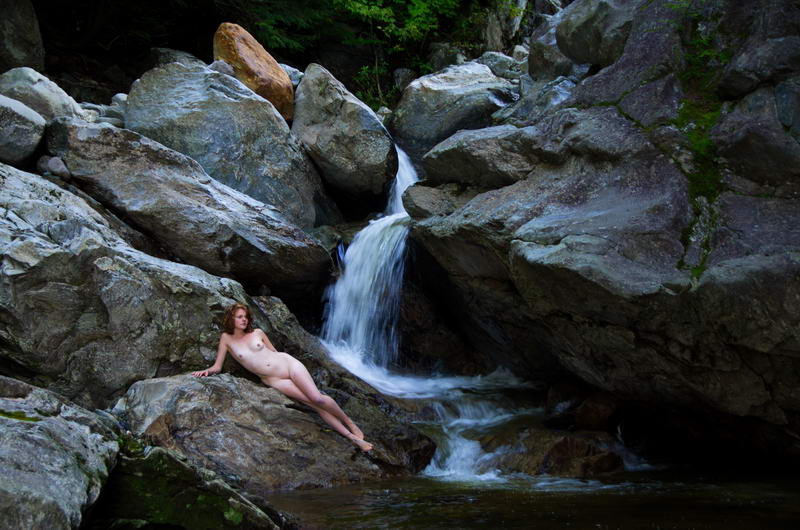 These days I take advantage of the zoom lens on my camera to compose a variety of compositions when a scene lends itself to that. Here I'm showing you three different versions of exactly the same location, model and pose. Thanks to my 18-200 lens I can shoot all of these and sort them out later. Or sometimes, like this, am just unable to chose only one version. I've not been able to pick a favorite from these three photos. I like them all for different reasons. Maybe you have a favorite…if you do, let me know and please tell me why you chose the one you do.
Or, just enjoy them all, like I do.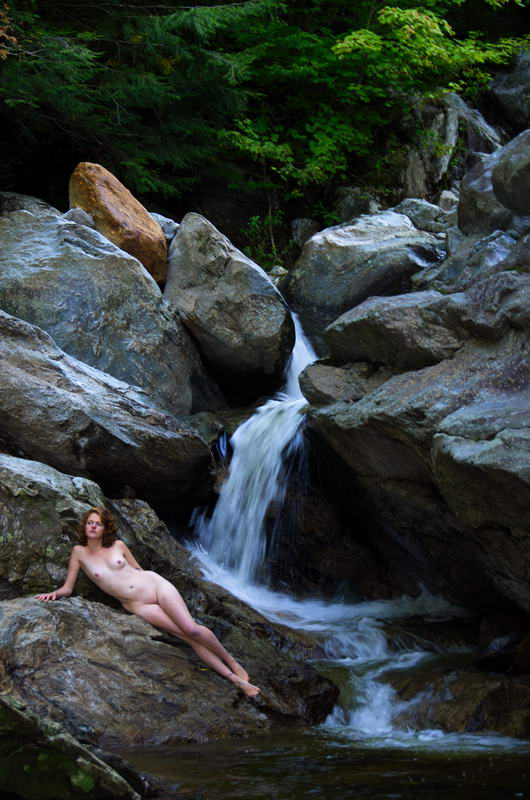 August 8th, 2014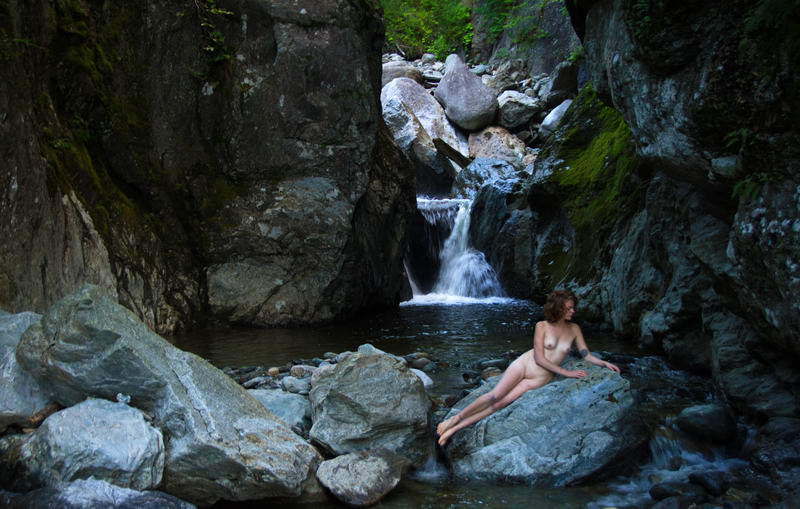 As promised, here are a few more photos of the lovely Sugar Spear at my favorite Vermont location.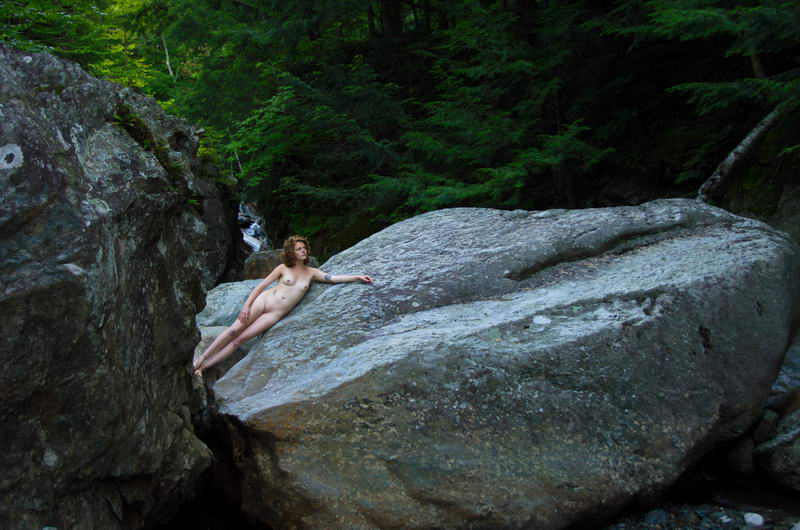 Still more to come in my next post.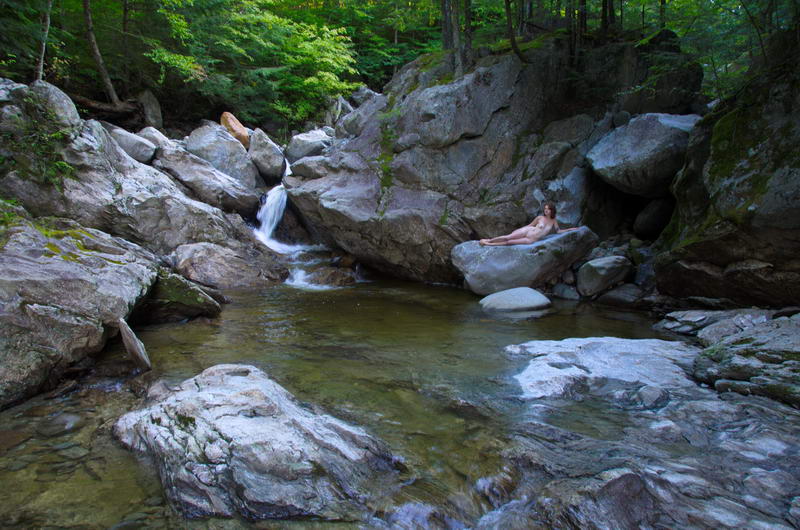 August 4th, 2014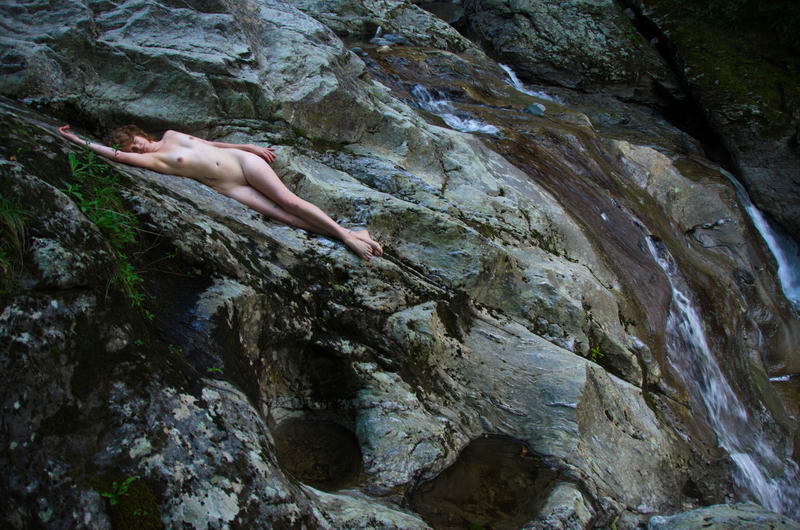 Almost a year ago I did a shoot at my favorite location in Vermont with a lovely young lady who is known as Sugar Spear. No link available for her, so you'll just have to be satisfied with the photos I did with her.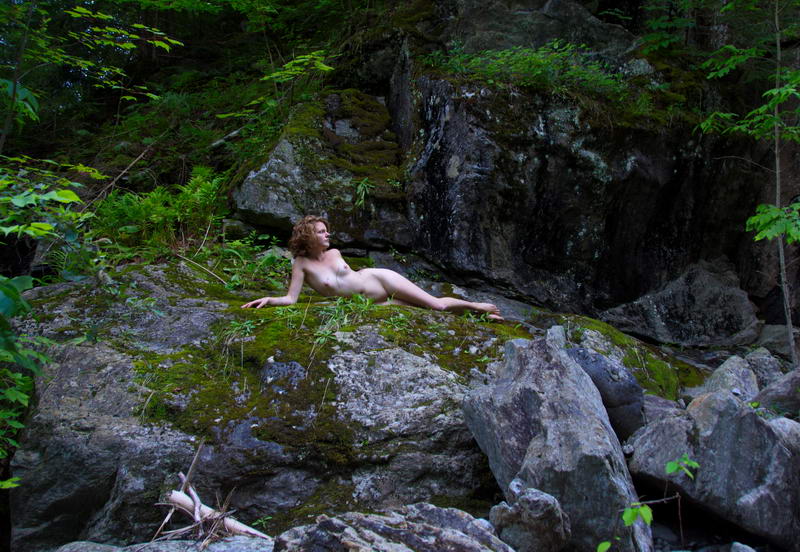 I had shot here before, but always when it was way too cold. It was nice to get to work here in a warmer month when it wasn't quite the challenge for the model. And, as you can see, Sugar is lovely and did a fine job of fitting in to the rocks and moss.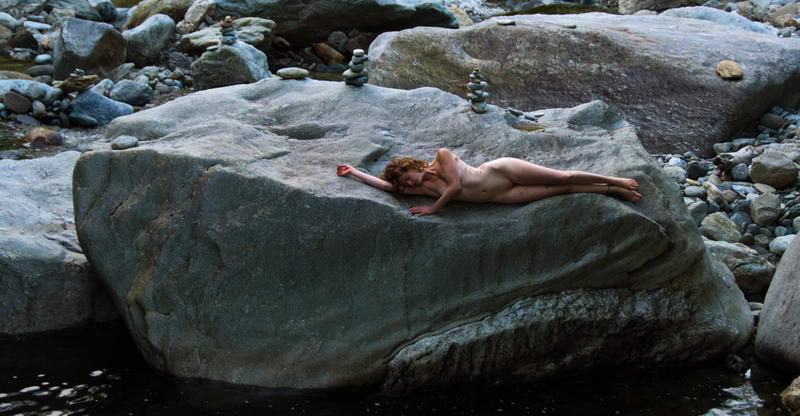 There is more from this shoot coming. I hope you enjoy them.
July 28th, 2014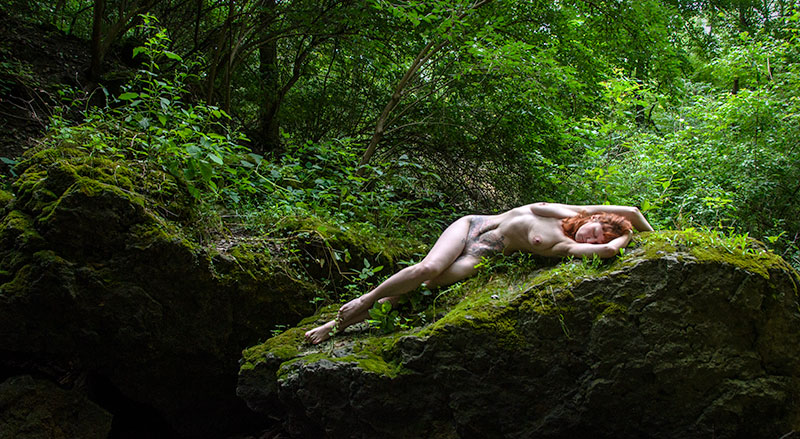 This has been a very good year for waterfall photos. It's been raining regularly all summer. I keep having to mow my grass. Most years, once a month in July, August and September is all that's needed. Not this year. But last year was more normal. That meant when Ayn and I went out to shoot at one of my favorite local waterfalls there was no water falling. There was a bit of moisture on the rocks, but that was all. Of course, we didn't let that little detail stop us from doing a few photos.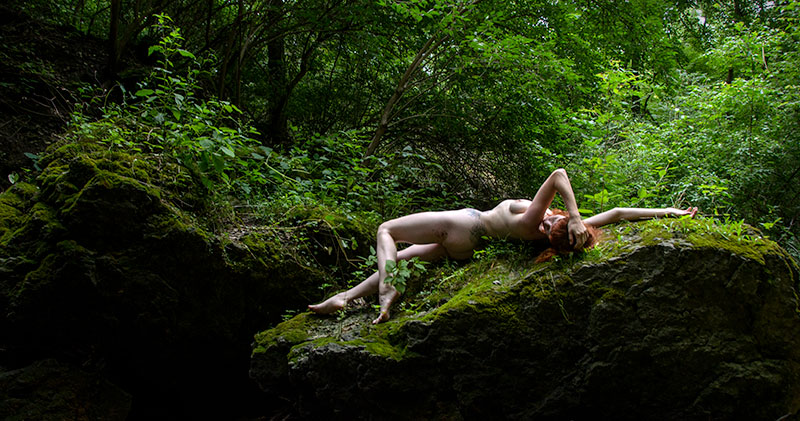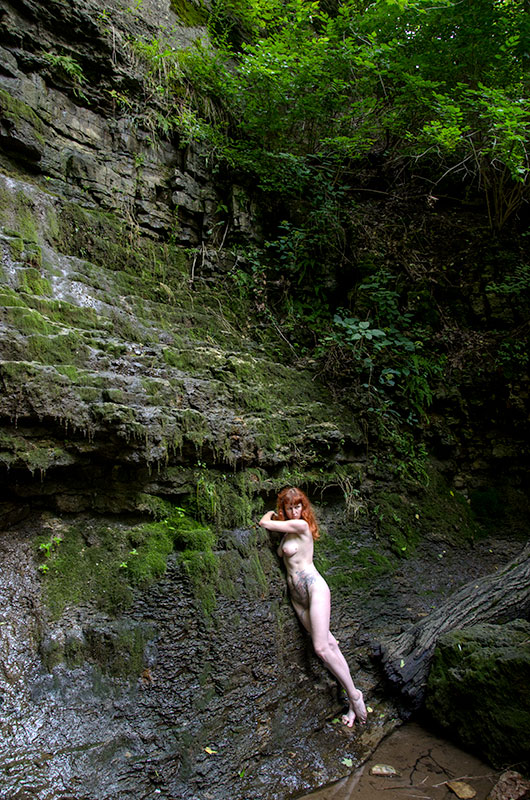 Ayn really wanted to do some photos with the water flowing. We were able to do that this year and I already posted those photos here. That's the same location as this shoot, but with the waterfall in action.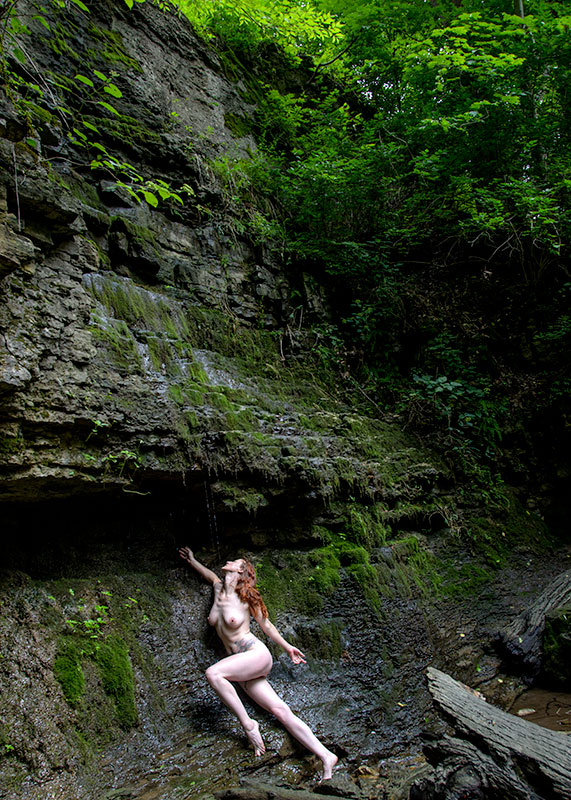 July 23rd, 2014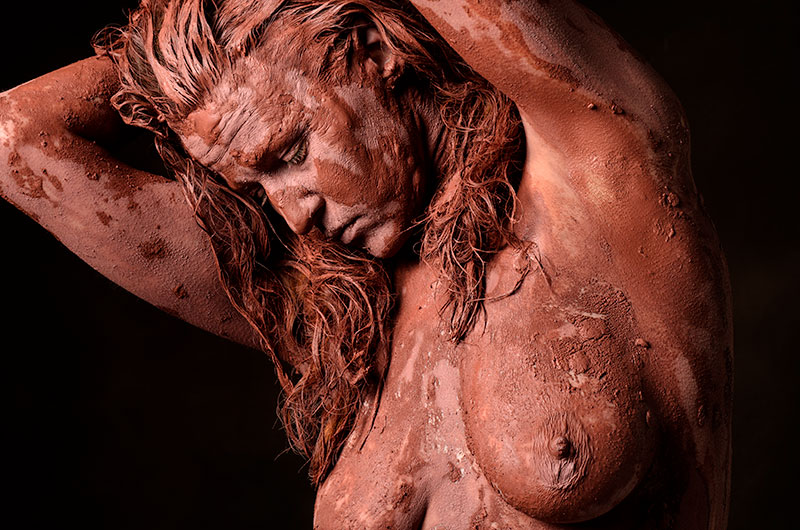 A little more than a year ago…last July…Ayn came up with the idea of coating her with clay for a shoot. I knew this could produce some good photos, so I was happy to do the shoot. Ayn wanted to use some of the shots to accompany songs she was recording. So I got some clay and we got to work.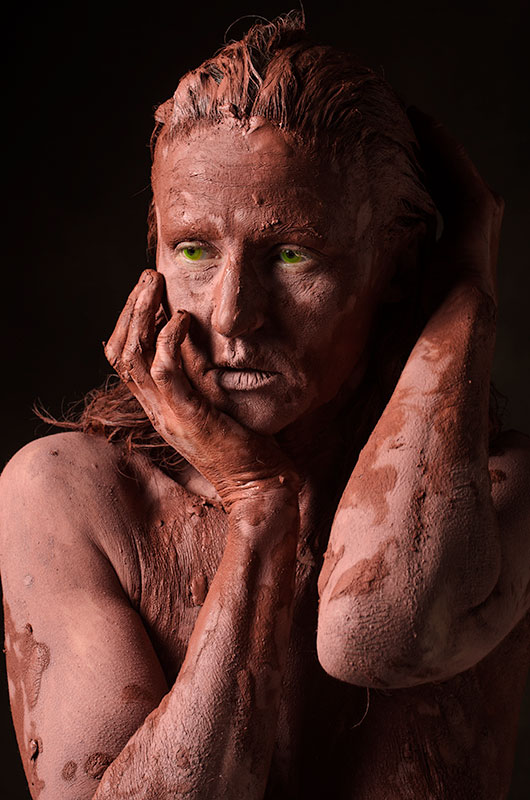 Ayn did her usual fantastic job of modeling and the clay added fun texture and color to her body. I think we were both pretty happy with the results.
The one below is one Ayn chose to illustrate one of her songs. You can find more about her work as a singer and songwriter and listen to some of her songs here.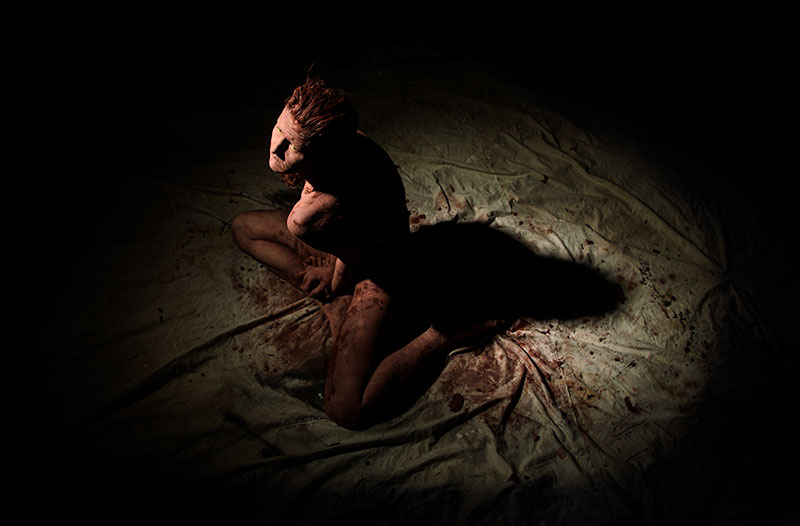 Even though I'm not shooting all that much lately, as you can see, I'm still struggling to catch up and remain a year behind on my editing and posting work. So I'll just keep working away at it when I can and I hope you'll keep coming back to see what I've gotten edited recently.
July 18th, 2014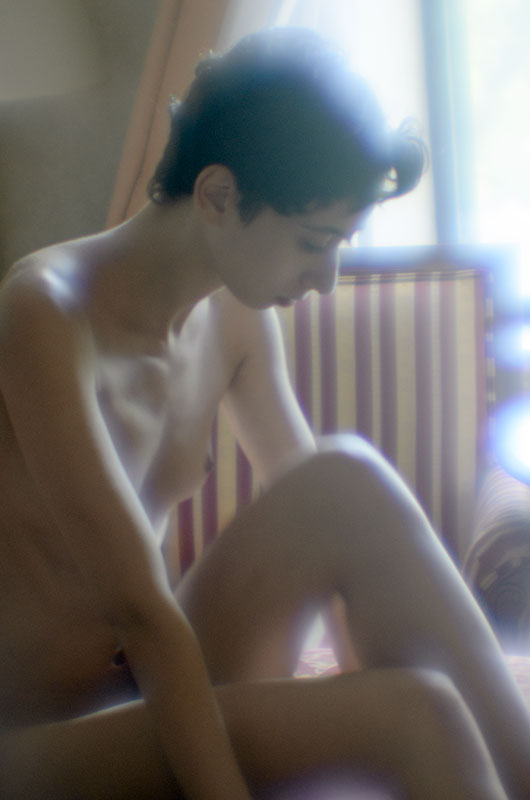 When I was in Chicago for the opening of my show at Gallery Provocateur last June a bunch of my favorite models came along to participate in the opening. You can see and read about that interesting evening here.
Of course, while we were all there we couldn't resist doing a few photos in the hotel room. For these photos with the amazing, lovely models, Kat, Brooke Lynne and Claudine I decided to play around with my old soft-focus single-element lens. I like the way it handles highlights, so I deliberately included hot highlights to let them spread into the shadows in a manner that I find beautiful.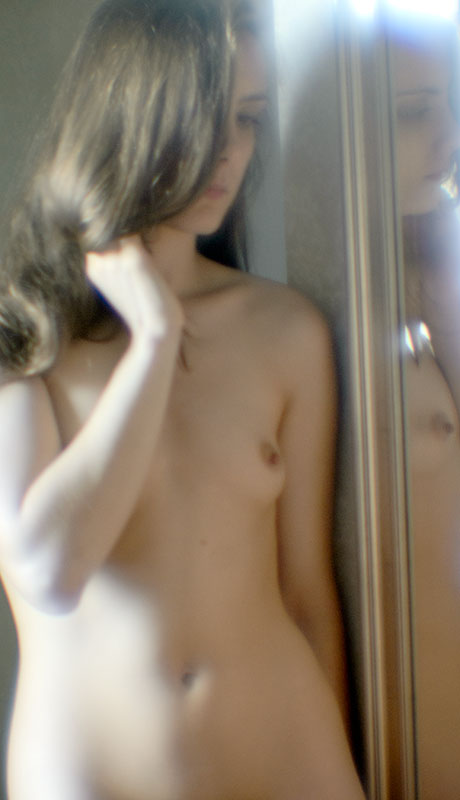 There were also some fun mirrors in the room, so I also played around with some reflections.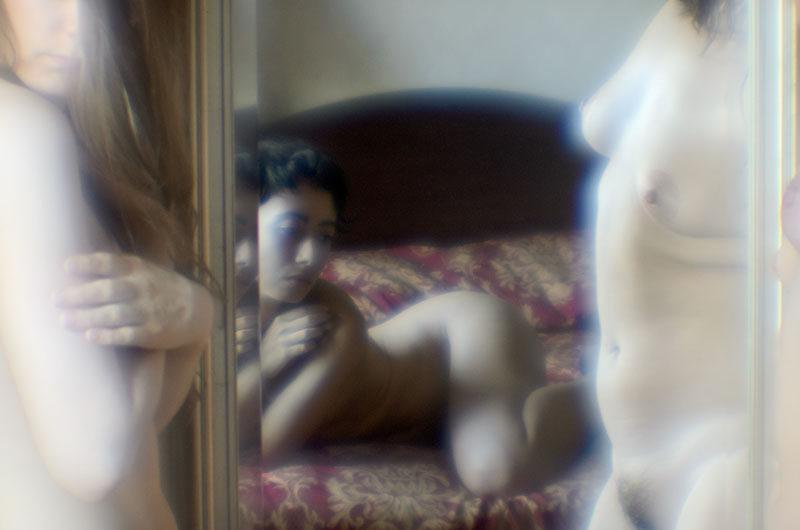 Today I'd also like to welcome the many new folks who seem to have come around after Scott mentioned the last post on facebook. I'm glad you are here. Please poke around and see what I do. I hope you'll keep coming back. I'll try to keep you entertained. Thanks, Scott, for the kind words. I'm glad you enjoyed the post.
July 15th, 2014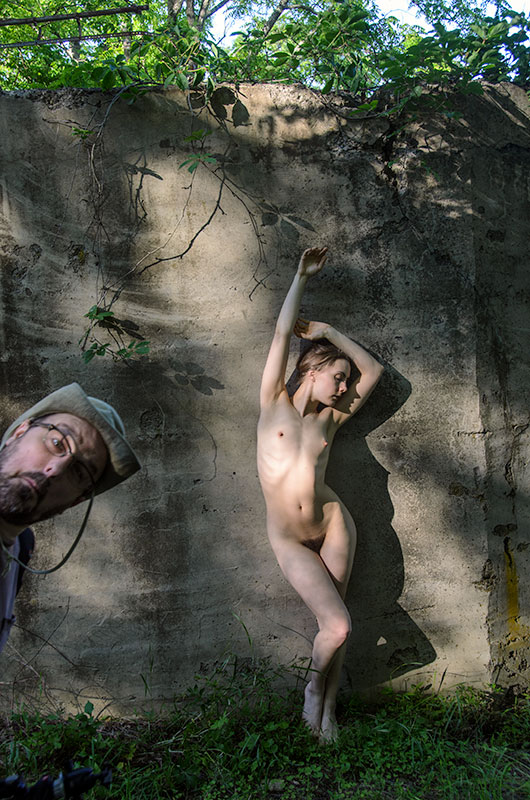 Today I'm going to share a few photos of Scott Nichol at "work."  Scott joined Brooke Lynne, Blueriverdream and me for a day of shooting while we were in the Poconos. As you can see in the photo above, Scott is a very serious photographer.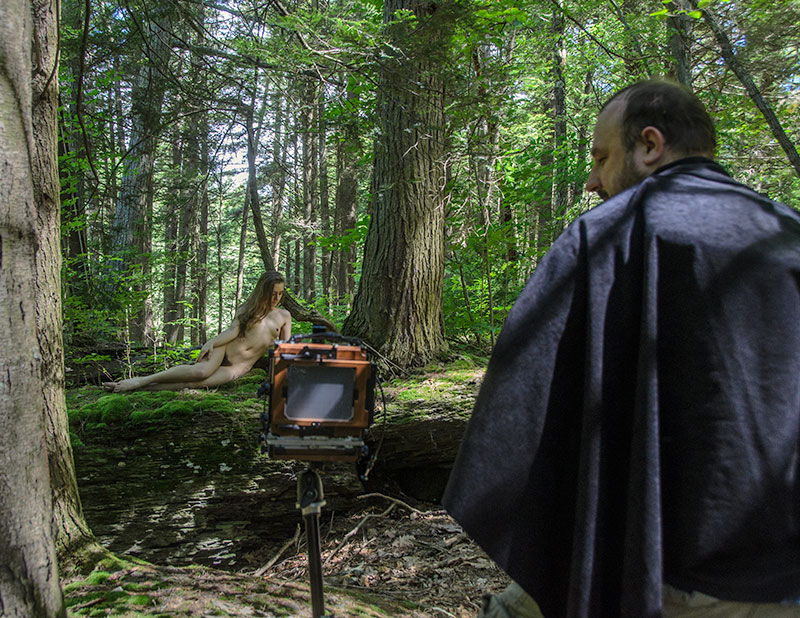 Scott is a large format guy and often works with alternative processes. He was shooting film for part of the day, but also shot some paper negatives.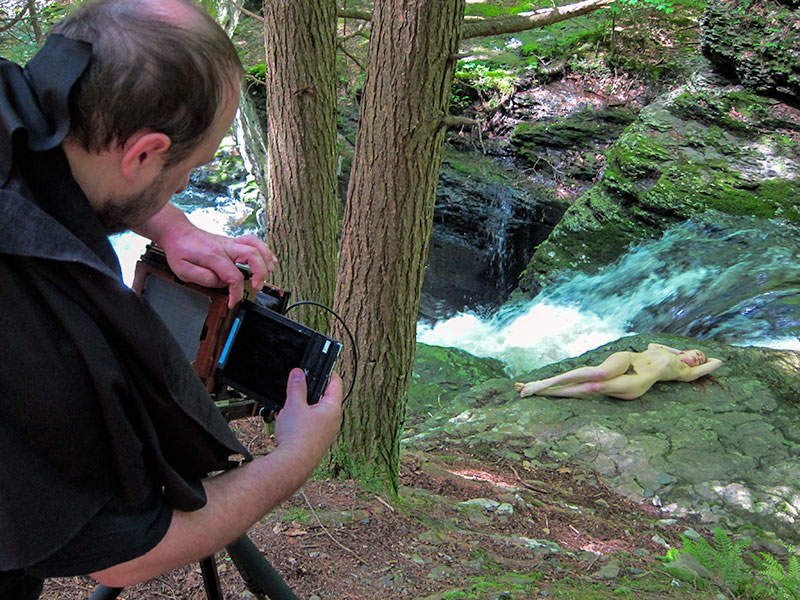 Scott is a very fine photographer, as you can see from looking around his website. He's also a nice guy and a lot of fun to work with. We had a great time working with a couple wonderful models.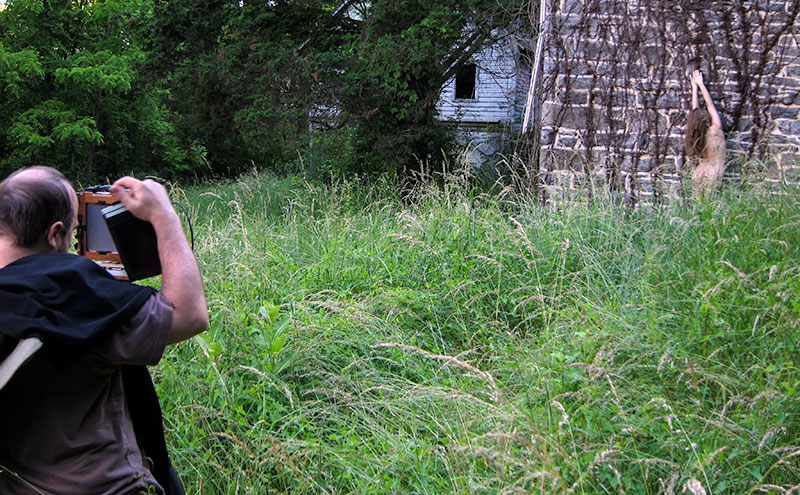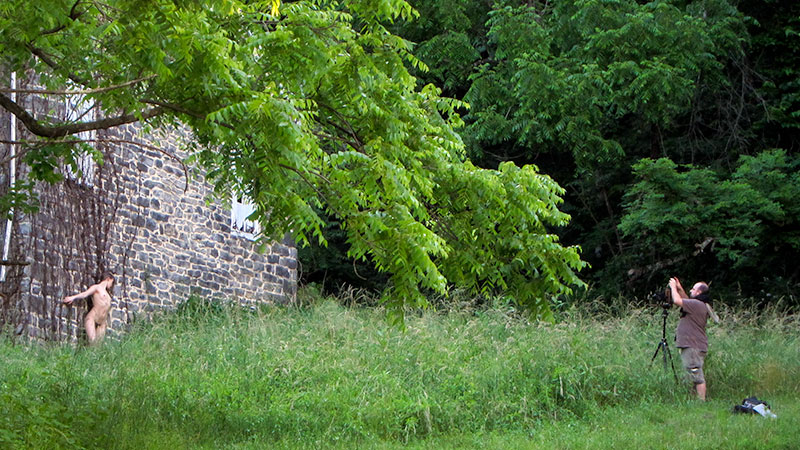 July 7th, 2014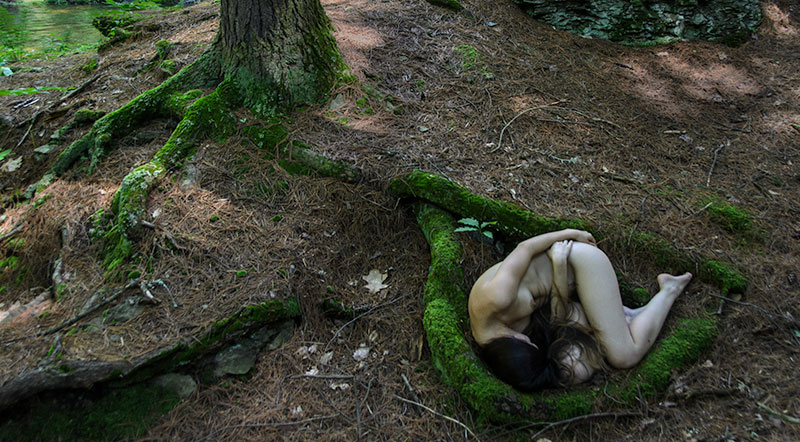 I worked with Brooke Lynne and Blueriverdream for a second day when we went to the Poconos. On this day we started off with a hike to a remote abandoned mill with some wonderful features. And some interesting tree roots. Blue did a great job working with this root.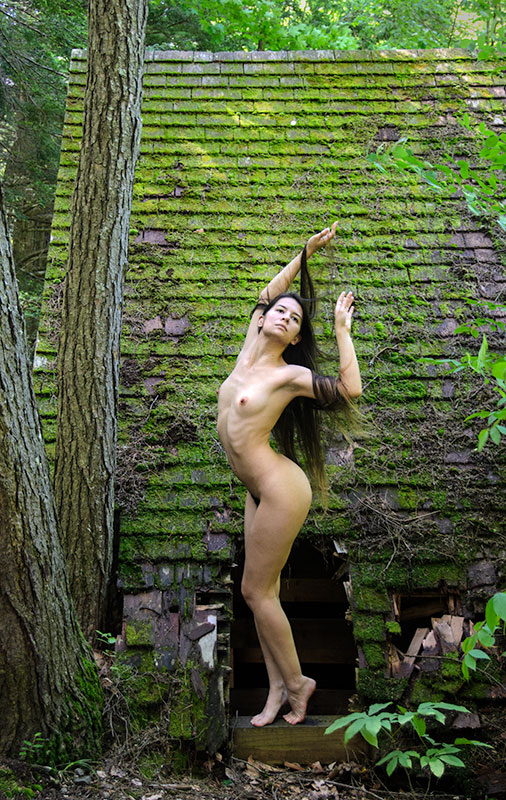 A little bit of moss and make a building into a fun background for a beautiful model.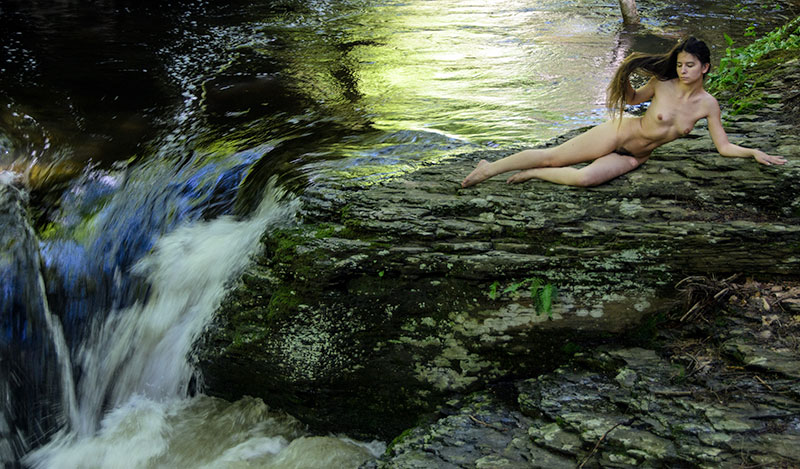 I was really astonished by all the colors the light was making at this waterfall beside the old mill. A wonderful rainbow in the waterfall and a beautiful glow off the pool above it. Blue adds her own beauty to the scene.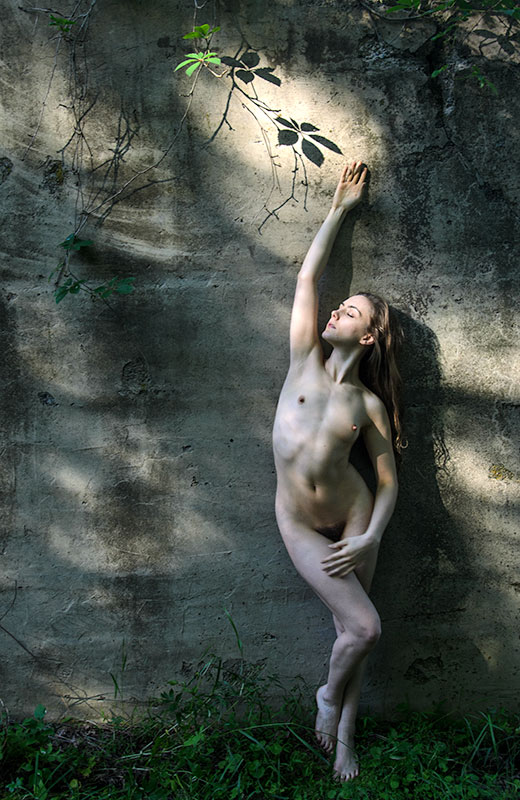 Later in the day we went to another location, an abandoned farm house and barns. The light was doing some interesting things. I'm very pleased with this photo of Brooke and the shadow of some leaves on a concrete wall. This may be my favorite photo from these two days of shooting.