January 25th, 2018
Finally how about an assortment of photos of the amazing Gina?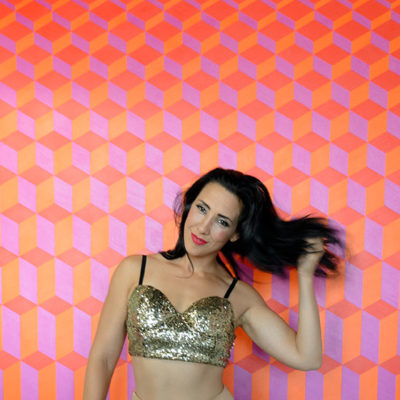 As we wandered through Mike Elsass' space we played with one of the paintings there as a background.
Then some more photos taking advantage of the bright, sunny day.
Back in the studio Gina wanted to play around with some unusual makeup.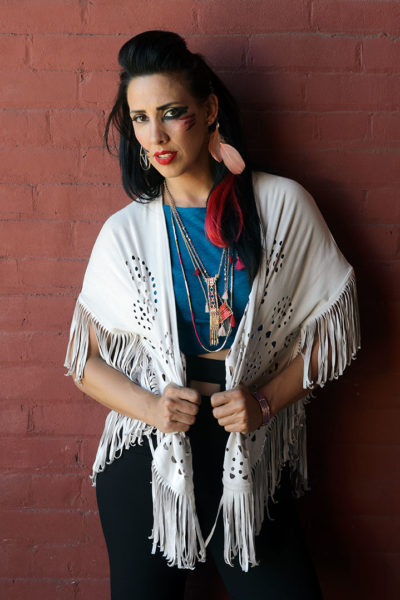 And, finally, a shot that was destined for the cover of Gina's first single recording. You should check out Gina's music. She really is an amazingly talented woman.
January 22nd, 2018
After shooting in the studio for a while, Gina and I went wandering around the Front Street Buildings, always a rich environment for photo backgrounds.
The sunny day provided some opportunities to play with light and shadow…not to mention color.
Mike Elsass's studio on the floor above my studio has lots of interesting things to see.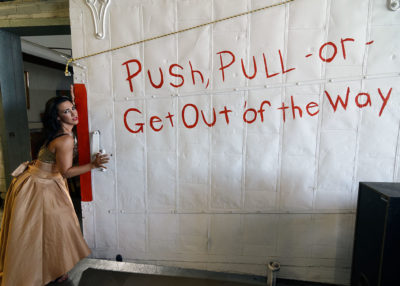 More of the Gina adventures to come.
January 18th, 2018
Every once in a while I get together with my old friend Gina and then something good always happens. We did these photos a while back. I'm so slow with my editing that I'm just getting to them.
Give Gina a prop and she'll make something happen with it, as you can see in these shots from my old studio.
She can even make something happen with an old set of bed springs.
I've been photographing Gina for a long time. I'm pretty sure she was still in high school when we first shot. She did a lot of modeling for me back in the days when I was shooting for beauty magazines, particularly for one of the magazines that was aimed at teens. She's gone on to become quite an impressive success in a variety of fields, all of which show her amazing talent.
There will be more of Gina coming in the next few posts.
January 5th, 2018
I guess I'm a little late getting started on the new year on the blog. I'm posting a lot on MeWe, so you might want to look over there for more frequent photos. mewe.com/i/dave.levingston
But, I made a discovery a few days ago. I had scanned a bunch of instant prints and then mis-filed them and forgot them. So, when I came across them I decided to go ahead and work on them and put them up here.
These, of course, feature the wonderful model Theda. I've worked with Theda many times and never without getting some fine photos.
When I shot these I was trying out a new Lomo POS camera that shoots Fuji Mini Instax film. That camera really sucks, but thanks to Theda I was able to get a few good photos anyway. They aren't sharp, of course. Instax film is never sharp and that POS Lomo is awful.
That camera came with a bunch of accessory lenses that I was playing with during this shoot. You may have noticed the distorted wide angle.
We even used the Lomo for a few "Striped Light" shots.
One last Lomo shot…I have more scanned and forgotten photos from another shoot that I'll share here soon.
December 28th, 2017
For today here are a few more photos of Liv Sage done using morning window light at my old studio.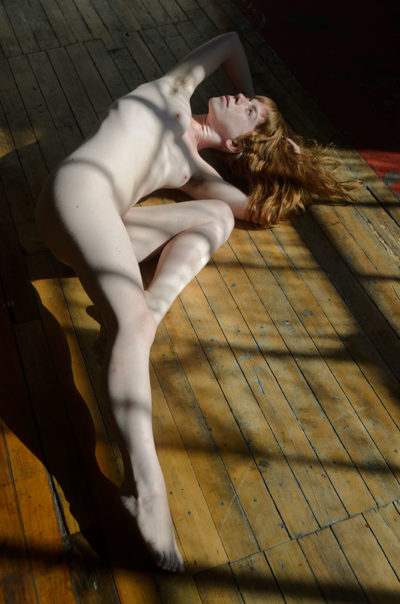 December 26th, 2017
Sorry it's been so long since my last post. The holidays have been busy this year.
I do post almost daily on MeWe. If you haven't checked it out, you should. There's quite a good community there and it is growing every day. You can find me here:  mewe.com/i/dave.levingston
But, today, here are a few more of Liv. These were shot with my Nikon, so they are actually sharp.
These are more with the morning light at my old studio.
Liv was doing her usual great job of posing and making the most of the environment.
I'll try to do more frequent posts now that the holidays are ending.
November 20th, 2017
Some more instant photos of Liv Sage in my studio.
These were shot on Fuji Instax Mini film using a Lomo camera that I hate with a passion.
This camera is very hard to control. All the controls on it are marked with single-letter abbreviations for the name of the control…but the names aren't the standard ones that have been used on cameras since photography was invented. No these Lomo idiots had to invent new hipster names for all the controls. So I can never figure out what the controls are supposed to be.
So I fool around with this awful camera and sometimes, especially when I have a great model in front of it, I manage to take a photo that isn't too bad. Just wish I could better control the exposure. But my new "Frankencamera" that shoots Instax Mini film allows me to properly control all the settings…and to understand what those settings are, so I doubt this Lomo piece of junk will get used again.
November 16th, 2017
Here are a few quick edits of some photos I did with Liv Sage using some of my stash of Fuji 3000 speed instant peel-apart film. They were shot with my old Speed Graphic camera.
These days people seem to think the flaws in this material are interesting, so I decided to leave them in for now. I'll probably do a better edit on some of these later and clean them up. But for now you can enjoy the dust and scratches that are inherent in this film.
Exposure is often kind of hit or miss with this film, but sometimes the misses are kind of nice, like this last one.
November 6th, 2017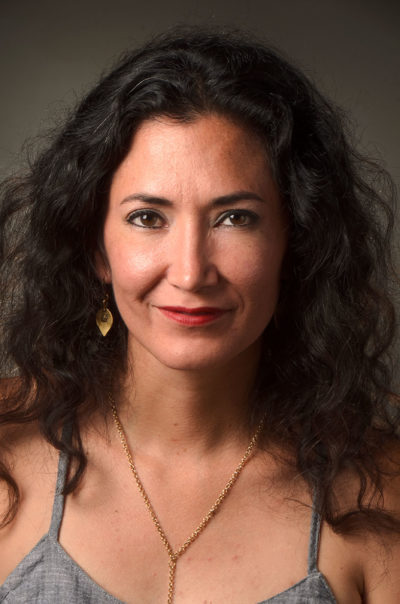 Just some photos from my second shoot with a photographer friend who agreed to spend a little time in front of my camera.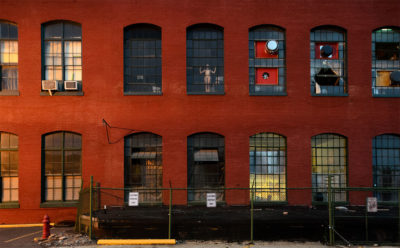 After doing some portraits with studio lighting we played around a little by doing some exteriors of the studio building with her in the window.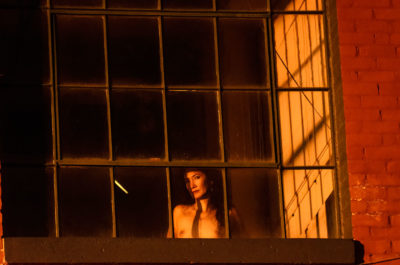 The top two were taken after dark when the building was illuminated by by a street light.
This last one was taken earlier when there was still daylight.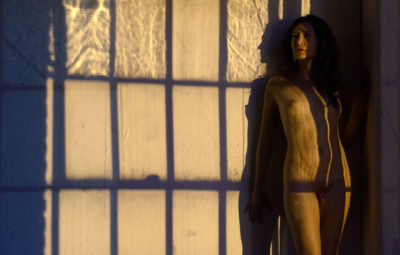 And this is back in the studio lit by the street light outside.
And, finally, a shot with the street light through the studio window using a fisheye lens and then doing a correction in Photoshop so it acts more as an ultra-wide angle lens.
October 30th, 2017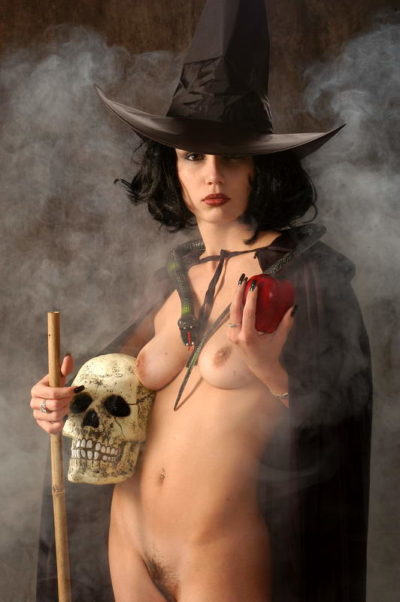 A few old Halloween-themed photos to mark the season.
Charlie above, Athena below.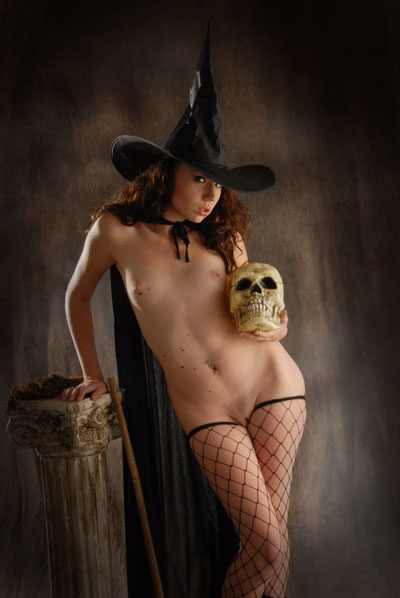 Theda below: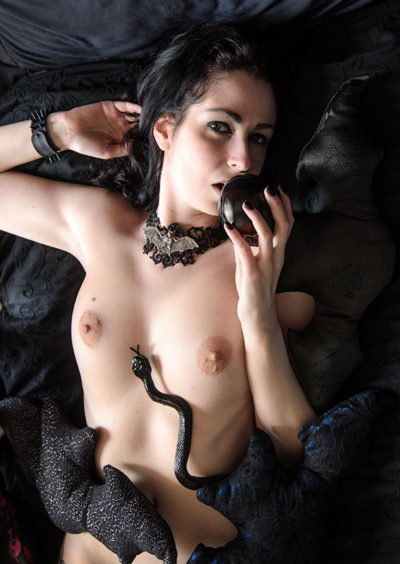 Below: "Theda Trading Her Soul for a Mix Tape"