April 25th, 2016
Yesterday was Worldwide Pinhole Photography Day. I spent part of the afternoon running around with some friends taking pinhole photos. The one above is the one I chose to upload to the WPPD website. You can see it on the site here. You can also go ahead and browse the gallery to see what pinhole photographers did around the world yesterday. Or you can search the gallery by location or the name of a photographer. It's a fun place to poke around.
I saw this photo on the street in Yellow Springs. Not sure what it's about, but the mannequin was pretty neat looking.
This year I used three cameras with three different pinholes.
Left to right there's my Olympus E-PL1 equipped with a home-made pinhole. I just poked a hole in a piece of soft metal using a needle and a hammer. Then I taped it to a Leica adapter designed to allow me to use Leitz lenses on my micro 4/3 cameras. That adapter placed the pinhole at a distance from the sensor that was close to a "normal" lens. Next is my trusty Panasonic G5 that has been my travel camera and primary pinhole camera for some time. It has a Pinwide wide-angle commercially made pinhole. And on the right is my newer Panasonic GF7 wearing a new commercially made pinhole. The photo I chose for the website was shot with the G5 and the Pinwide pinhole.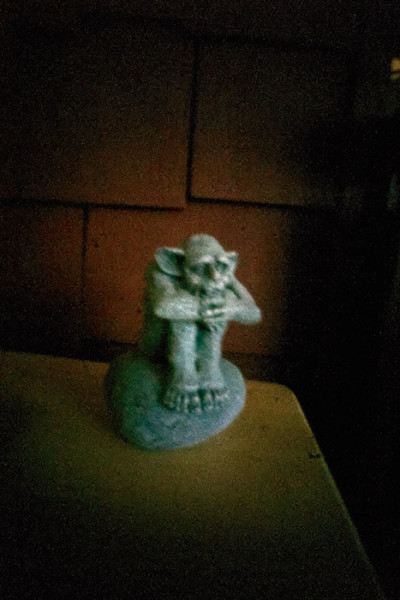 My wife, Emily, also shot a few pinhole photos yesterday. Above is the one she uploaded to the site. It was also shot with the G5 and the Pinwide pinhole.
And here are a few other snaps from the day:
A bicycling cow at Young's Jersey Dairy.
Decorative grain bins at Young's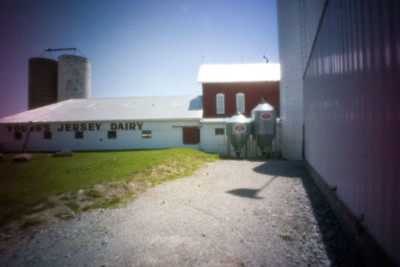 Some barns.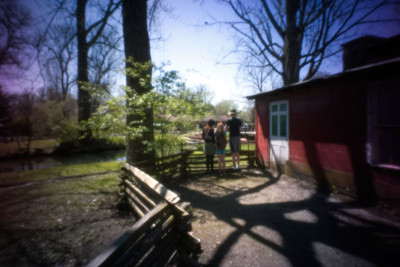 And my friend Ayn and her kids who were also shooting pinhole photos. This was taken at the Clifton Mill.
I like using the micro 4/3 cameras with their electronic viewfinders with pinholes. The electronic viewfinders are actually usable, so it is possible to see what the composition looks like. Auto exposure also works, so you can use the camera's meter to set the correct exposure by adjusting the shutter speed. And, with the high ISOs available in these cameras, it's possible to just hand-hold the camera. All of these photos were taken without a tripod, once considered essential for pinhole photography.
April 21st, 2016
Still working through shoots from 2014. This is one I did with the lovely Angie. The theme for the shoot was blue, so we worked with whatever was handy and blue.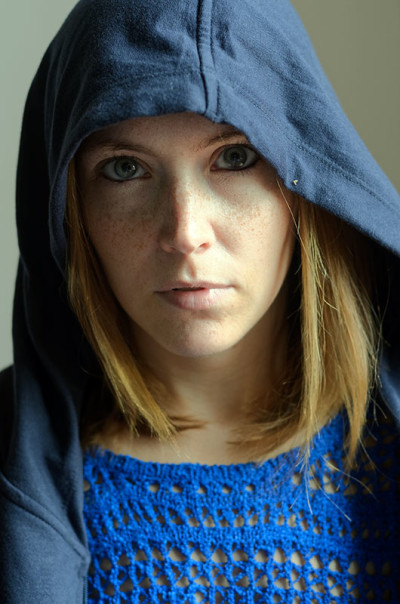 Angie did her usual amazing job of modeling, creating a variety of moods.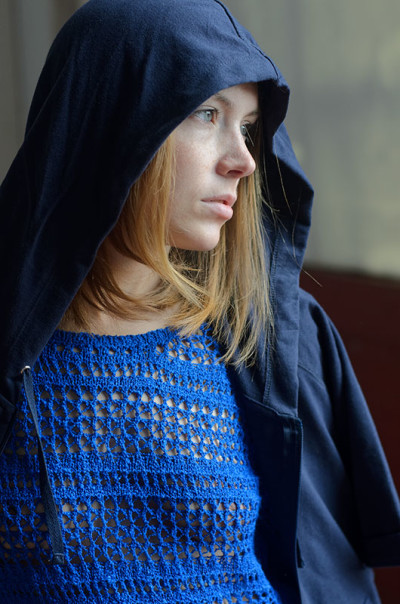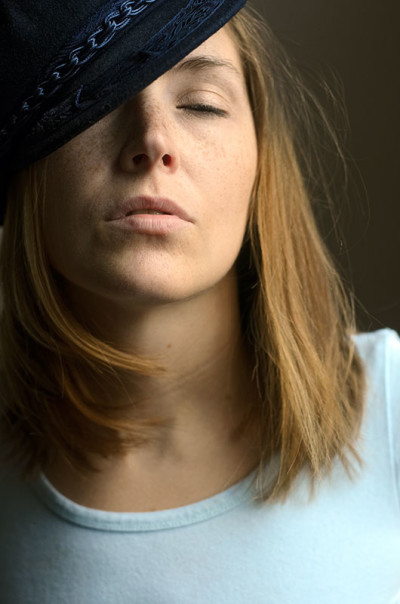 And, of course, we had to shoot a few sort-of nudes while we were at it.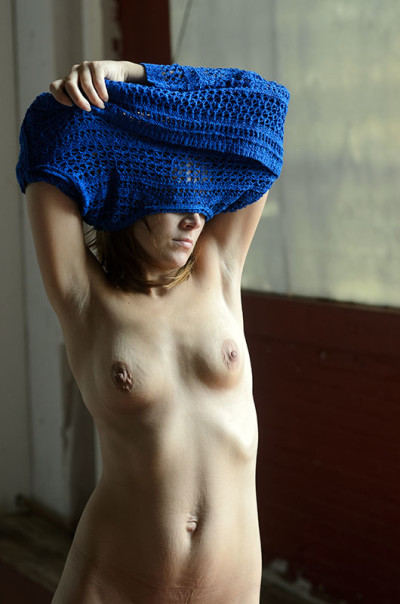 Don't forget Worldwide Pinhole Photography Day this Sunday, April 24.
April 18th, 2016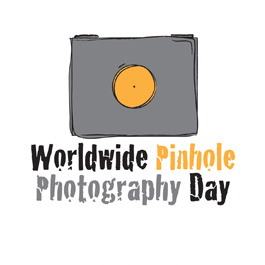 This coming Sunday is Worldwide Pinhole Photography Day. I really enjoy fooling around with pinhole cameras and try to always participate in this day of pinhole photography. I'll be running around Sunday with several pinhole-equipped digital cameras. I have a couple commercially made pinholes that mount on my Micro 4/3 cameras, and I plan to make a new one myself to try out on this day.
I think Micro 4/3 cameras are perfect for pinhole work. Really any camera with a good sensor that can do 3200 ISO or higher, and that has an electronic viewfinder, can make pinhole photography pretty easy. I find that with those cameras I can even hand hold some photos out in bright sunlight at the high ISO. Of course, you can also use a tripod and lower ISO if you prefer, but I find the "low-res" results from a pinhole seem to work just fine with the noise from high ISOs.
The electronic viewfinder is the key. With my Panasonic and Olympus cameras I can see and compose using the viewfinder. I set the cameras on Aperture Priority or Manual and adjust the shutter speed or just use exposure compensation and watch as the brightness of the image changes in the viewfinder. A far cry from working with film and having to guess about everything. I don't like guessing. I like to control what is happening with the exposure and composition. I know that flies in the face of what a lot of people like about pinhole photography…but that's just the way I am about photography. Another way of doing this with some digital cameras that have optical viewfinders is to use live view, if that feature is available.
The deal with WPPD is that you take pinhole photos on the designated day, April 24 this year. It's always the last Sunday in April. Then you select your best photo and upload it to the WPPD website. Only one photo per person. Although, as you know, I shoot mostly nude figure work, I don't upload nudes for this event (although the pinhole camera can be an excellent tool for nude photography) because this is an event that involves many young people around the world, so nudity isn't really appropriate for their web site.
That's really all there is to it, though if you like group activities there is a link on the WPPD website where you can search for workshops and group shoots near you. Many of the workshops involve making a pinhole camera and some also include basic darkroom instruction. That could be a great way to introduce young folks to the magic of chemical-based photography.
But you never know what might happen after you upload your pinhole photo. A few years ago I was surprised a day or so after uploading by photo when I received a request from the Washington Post for permission to publish my photo from the site. The newspaper was doing a story on WPPD and wanted to use my photo to illustrate the story. I, of course, agreed.
This is the photo the Washington Post published. I happened to be driving home to Ohio from Chicago on the day that year and stopped at the large windmill farm along the interstate to do a few pinhole photos. This was shot with my Panasonic G5 and a commercially made wide-angle pinhole. (That's another advantage of mirrorless cameras. The pinhole can be placed close to the sensor. The "focal length" of a pinhole is solely determined by its distance from the sensor/film. The closer you place the pinhole to the sensor, the wider the angle of view. Most SLR cameras, as a result, produce somewhat "telescopic" images because the pinhole has to be placed far enough from the sensor to not interfere with the mirror.)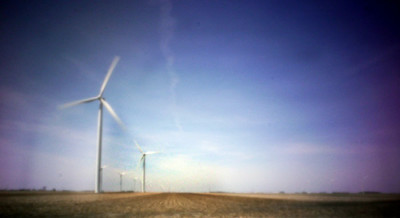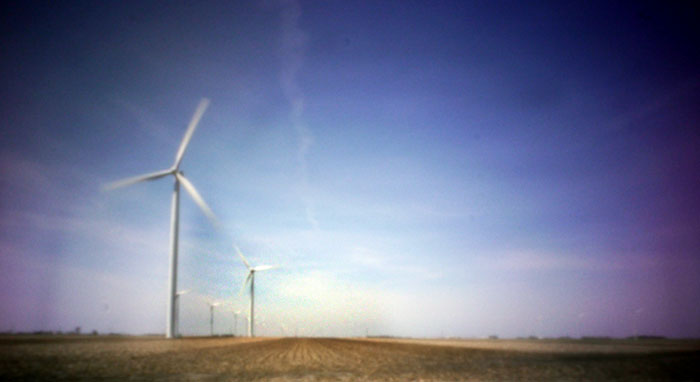 April 11th, 2016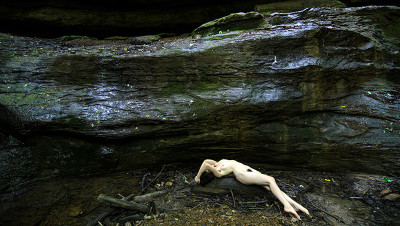 Continuing my efforts to work my way through the huge backlog of shoots that I have yet to post here, I've come today to a great shoot with a great model from the summer of 2014.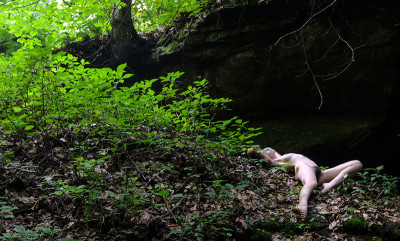 That's the amazing, beautiful Kelsey Dylan posing at a little park in Ohio known as Rockbridge.  This was a pretty quick shoot and we were dealing with some bright sunlight, although it was pretty shaded down under the natural rock bridge.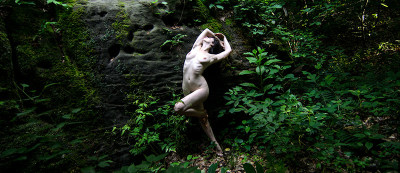 Kelsey, of course, did her usual wonderful job of posing and working with the environment we found there to make some nice photos. It's always a pleasure to work with a great model and Kelsey is one of the truly great ones.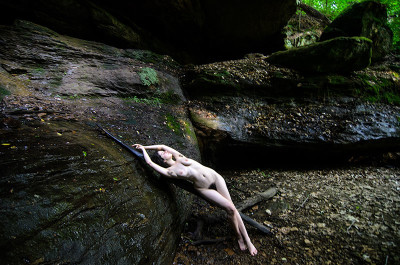 April 5th, 2016
Before Areia and I went to Matthiessen State Park to shoot we took a bit of time and did some instant photos using my Speed Graphic and some of the last of Fuji's 3000 speed black and white film. I'm going to really miss that film. It has a tonal quality that is unique.
These are quick and dirty scans from the original instant prints. You can't really appreciate the richness of the tones from a scan that is reduced and presented on the web. It's a shame. But, I guess in this digital age this film is really an artifact of photo history. There clearly was no place for it in the future of photography.
But I did manage to catch a bit of the sparkle that Areia brings to the world.
And she, of course, also brings lots of beauty and charm. Thanks Areia. I still have just a few packs of Fuji 3000 to shoot…and there are other photos I did with it after these. So you will be seeing more of it on here soon.
March 10th, 2016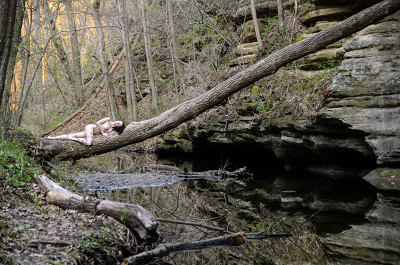 I did a second day of shooting at Matthiessen State Park with a model who was doing her first ever nude shoot outdoors. I think it was something she had wanted to do for a long time, and she finally got the courage to go ahead and do it. I think Areia did a great job.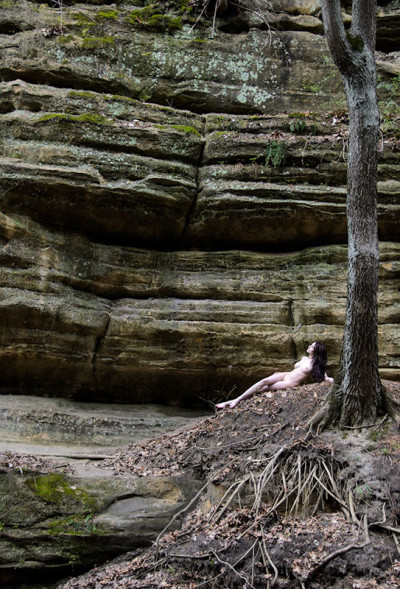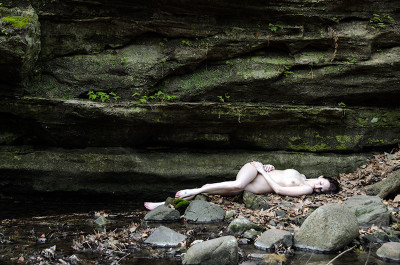 There was a little bit of a problem when we were working in the location for the photo below. Seems that, invisible to me from the distance, Areia noticed a slug on the rocks. She is not a fan of creatures of that sort, to put it mildly. I thought for a minute that she was going to hyperventilate so much that she'd pass out and I'd have to go rescue her. But she overcame her aversion and soldiered on with the shoot. I think when the day was done she felt that it was worth it, slug and all. Oh, the many hazards of outdoor figure work.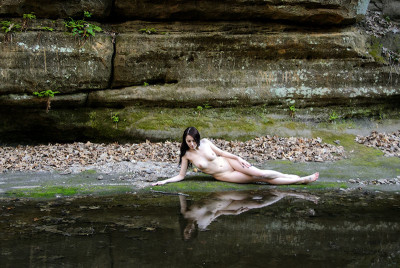 Thank you Areia.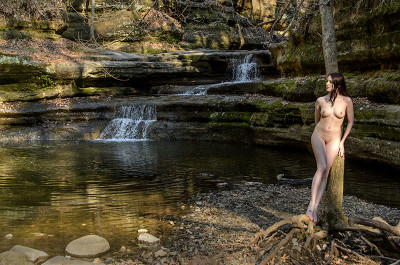 March 1st, 2016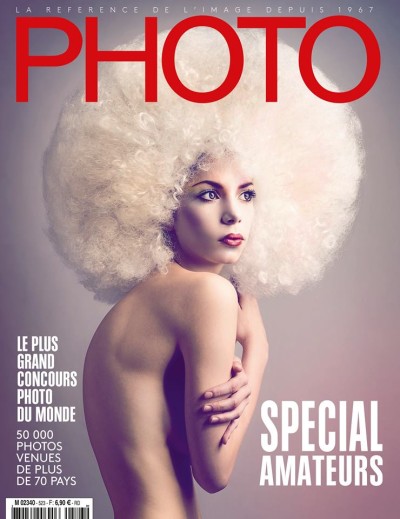 The contest issue of French PHOTO magazine has finally appeared on newsstands here in the US. This is actually a little sooner than sometimes in the past. As I've already mentioned in an earlier post, I once again have a photo in this issue where they publish all the winners of their annual contest. I was very pleased this year that most of the photos I entered were selected as finalists in what they say is the largest photo contest in the world. As it says on the cover above, they had more than 50,000 entries from more than 70 countries.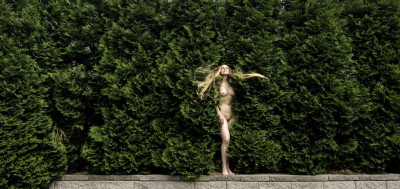 That's the photo they chose for the magazine above. I'm very proud that of the 12 photos I entered in this contest, 11 made it through the judging process to become finalists. The magazine has a policy that only one photo from a photographer can be a winner and appear in the magazine. So it's pretty special to know that they had to chose just one of the 11 of mine that were finalists for the magazine. Any one of those 11 photos would have been equally deserving of publication.
Because of that fact, I thought I'd present for you the other 10 finalists: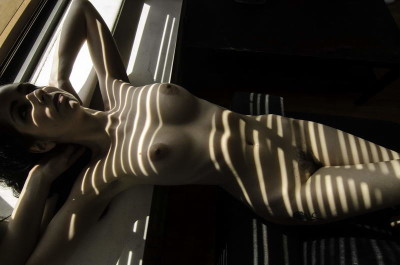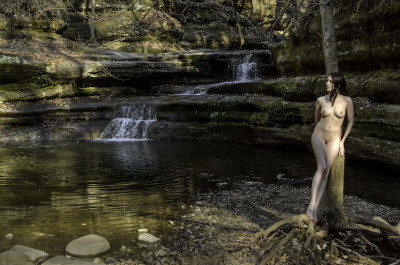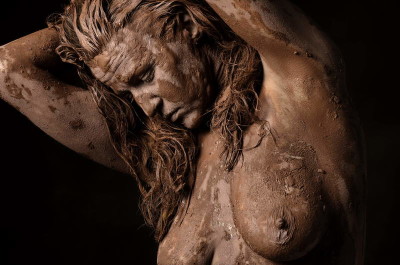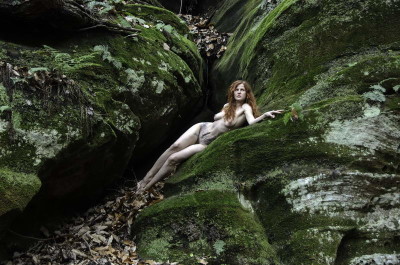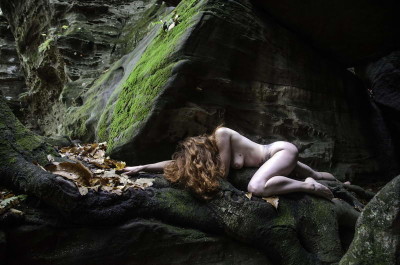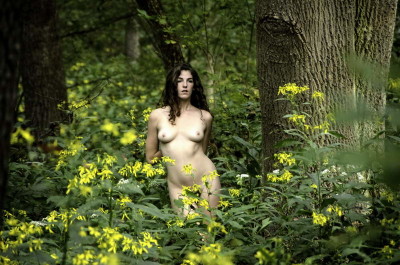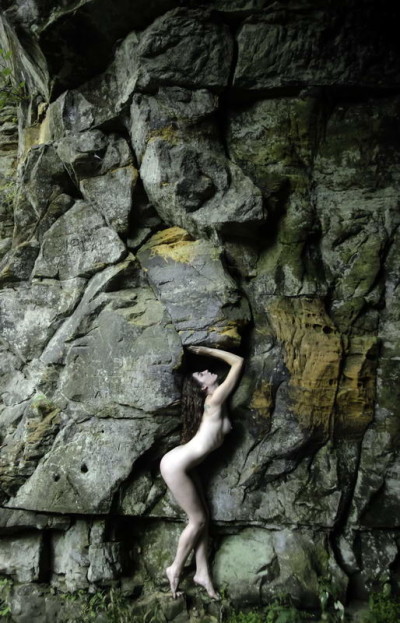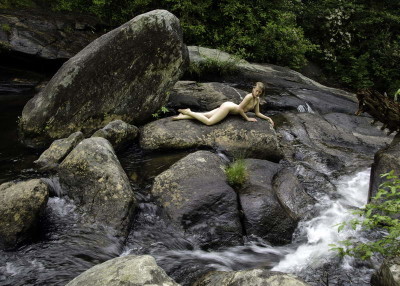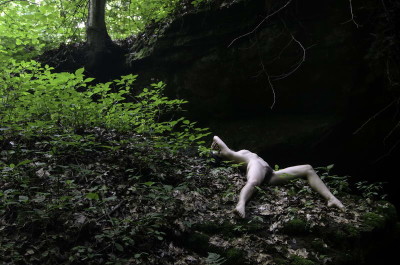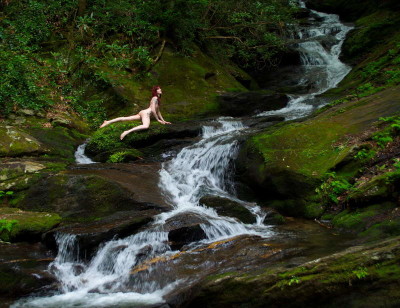 Thanks to all the wonderful models who made those photos possible: Theda, Areia, Ayn, Stevie, Bunny, Kelsey and Lilith.
Here's a quick snapshot of the actual page in the magazine with the photo. Yes, they cropped it. They always just crop everything to fit: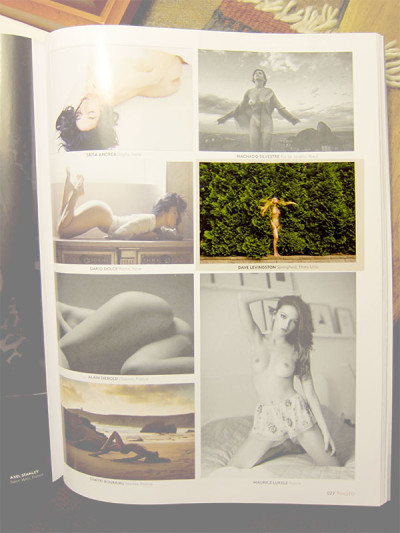 Out of the 404 winners of the contest who were published in the magazine, only 20 were Americans. I'm also proud that of those, two of them are friends of mine. Here are their photos in the magazine: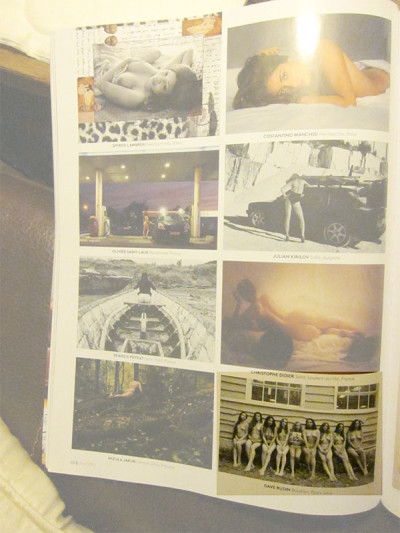 And Sita Mae: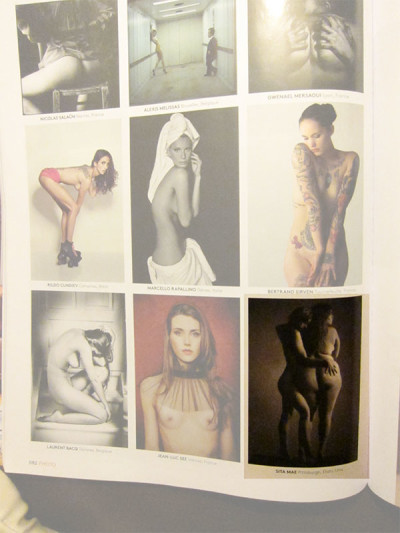 February 27th, 2016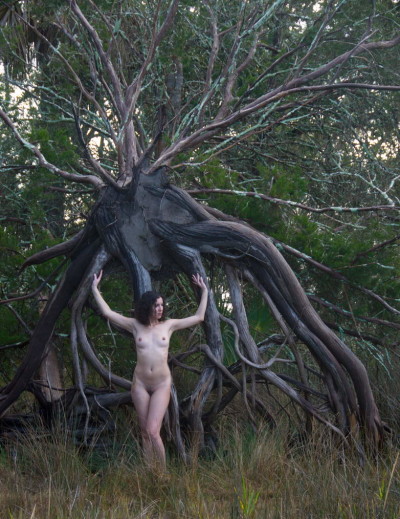 I've been escaping winter by hanging out at Edisto Island in South Carolina. It's been cold for the south, but nice and warm compared to Ohio.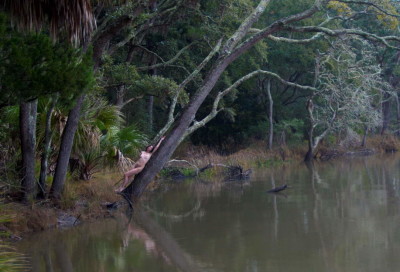 I was with several friends, including one who has modeled for me in the past and is one of my all-time favorite models. She's not modeling any more, but we couldn't resist doing a few nudes during a hike on a warm morning.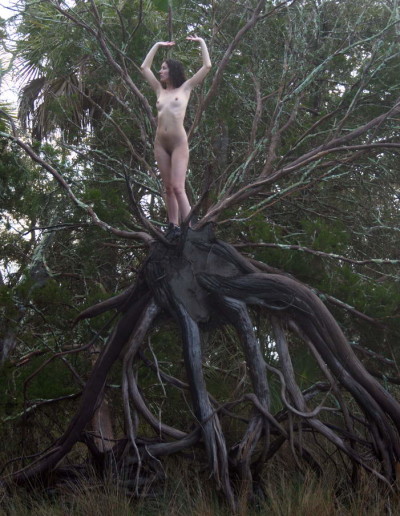 I've been thinking a lot about Anne Brigman lately. So her work is affecting mine right now. I think it's a pretty positive influence.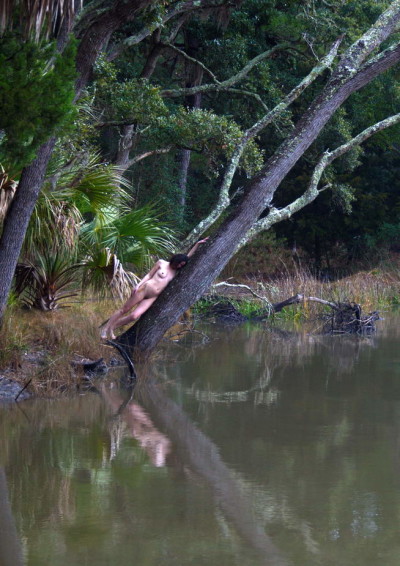 February 24th, 2016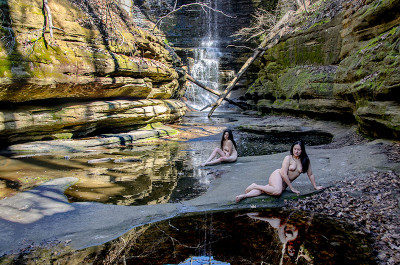 When I shot at Matthiessen State Park I had the great fortune to be able to work with Claudine as well as Kelsey. It was a sunny day, which presented some challenges, but the new digital cameras handle sun and shade a lot better than those from a few years ago.
But with these two lovely ladies to work with me, it was certain to be a fine day, no matter the weather. Thank you ladies.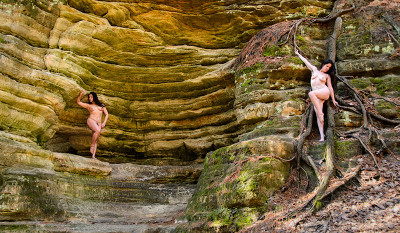 February 13th, 2016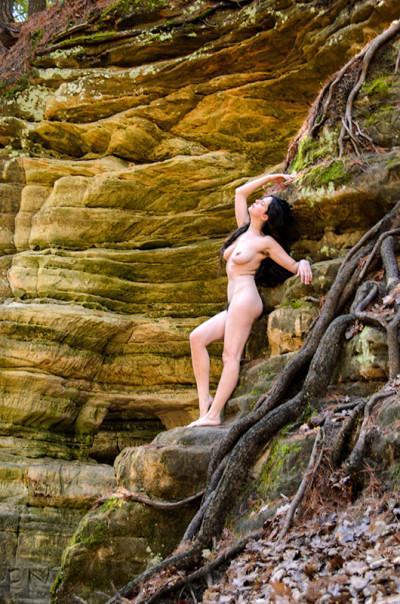 Outside Chicago and adjacent to Starved Rock State Park is  Matthiessen State Park. It's not quite as interesting as Starved Rock, but does present some good photo opportunities. I visited there with the amazing, lovely Kelsey Dylan back in 2014.
I'm still working my way through those older photos, making slow progress. So, here you go, Kelsey doing her wonderful thing.