September 17th, 2014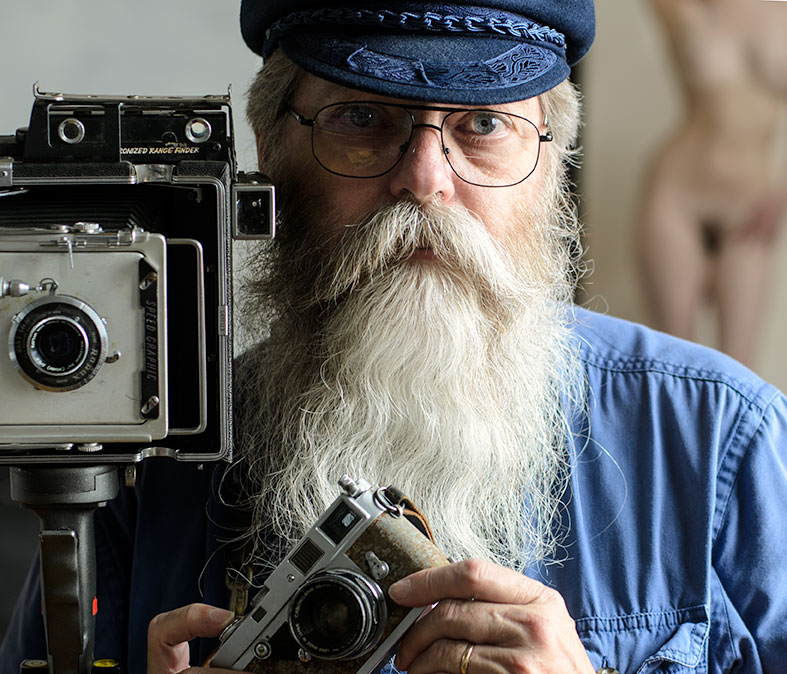 I read a blog post this morning that I found interesting and provocative. So I decided to take a break from posting Starved Rock photos and share that post and write a bit about it myself.
Go here to read the post by Randall Armor.
Ralph Gibson has been a "famous photographer" since the days when I was in photo school. As you can see from my self-portrait above, that was quite a while ago. Mr. Gibson is even older than me. And he's famous, at least in the photo community. I've never met Mr. Gibson, though several of my favorite models have also modeled for him. I'm sure he's a reasonably nice guy. And I often say that I'm sure he is an artist because I can only understand about a third of his photos.
But I have a pretty low tolerance for bullshit, especially the bullshit that tends to be all over the place in the world of art.
As to the whole digital vs film debate, I think it's pretty stupid and pointless. Those are my cameras in that self-portrait. I know how to use them. The Leica was one of two that were part of my daily kit, along with two Nikons, when I was working as a photojournalist. The Leica doesn't get much use these days, but I still use the old Speed Graphic to shoot with instant film.
All my life as a photographer there has been someone saying that the latest advance in photo technology was wrong somehow. Starting with "No professional photographer would use a camera with a light meter built in." Of course, I started doing photojournalism with 35mm cameras when many were saying that no professional photographer would use that "amateur format." All of that is just pointless hot wind as far as I'm concerned. And that includes the digital/film debate.
I have some very good friends who only work with film and consider digital to be an inferior way to make photos. I disagree with them, but we are still friends. Everyone is entitled to their choice of tools. That includes those who insist on using film. But it also includes me and others who have decided that digital cameras are the best choice for their use. It's really no one's business other than the photographer.
And I like to remind my "film friends" that it's not really photography unless you coat your own plates. After all, if you just buy factory-made film, you are limited to what the manufacturer has decided will be the characteristics of that film and aren't really in control of your process.
The debate is stupid. I'm sad that someone whose work I admire has displayed such a silly opinion. But I'm not really surprised to learn that he tends to talk a lot of the art-world bullshit. I guess that's one of the requirements to become a famous photographer. It's bad enough that the critics spout so much bullshit. It's a shame that the artists have to get involved in too.
And that made me think of this WUMO comic from yesterday:
I also enjoyed the R. Crumb recording of Fine Artiste Blues that was quoted in Mr. Armor's blog post. You might enjoy it too. Here's a link to it on Youtube. I liked it enough to go ahead and buy the track.
Anyway, feel free to comment if you are so inclined. I'd particularly be interested in hearing from my friends who have met Mr. Gibson.
September 15th, 2014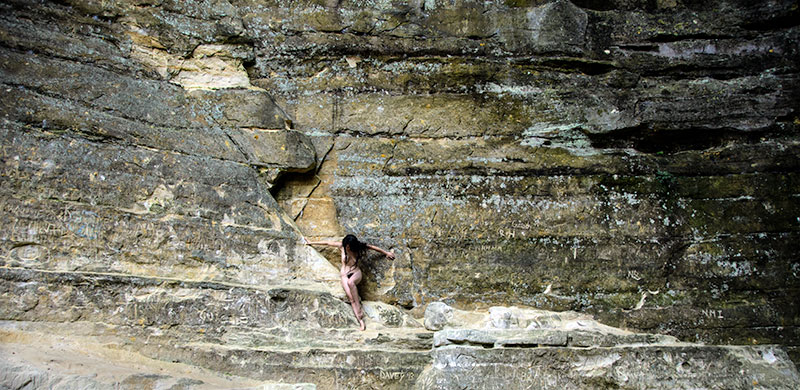 After our day of shooting with five models at Starved Rock several of the models had to leave to go home. But Kelsey Dylan and Claudine were able to stay for a second day of shooting.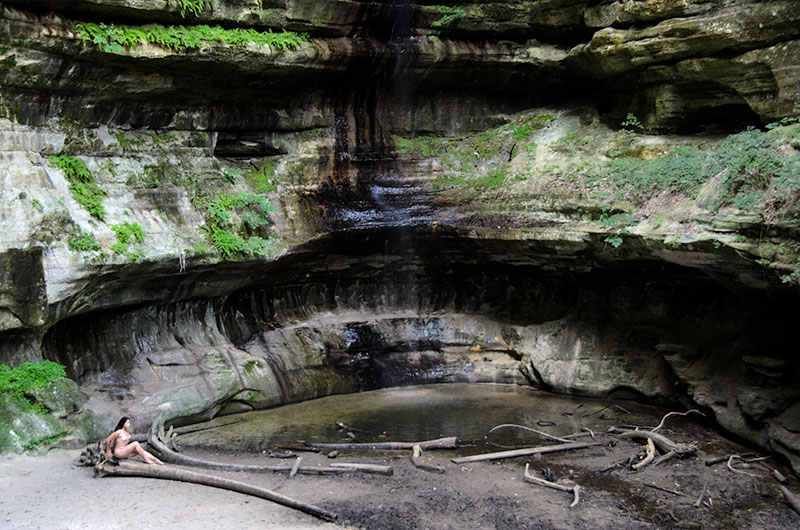 So Dave Swanson and I headed back into the canyons at dawn for a second day of shooting with two of the world's best models. It doesn't get much better than this.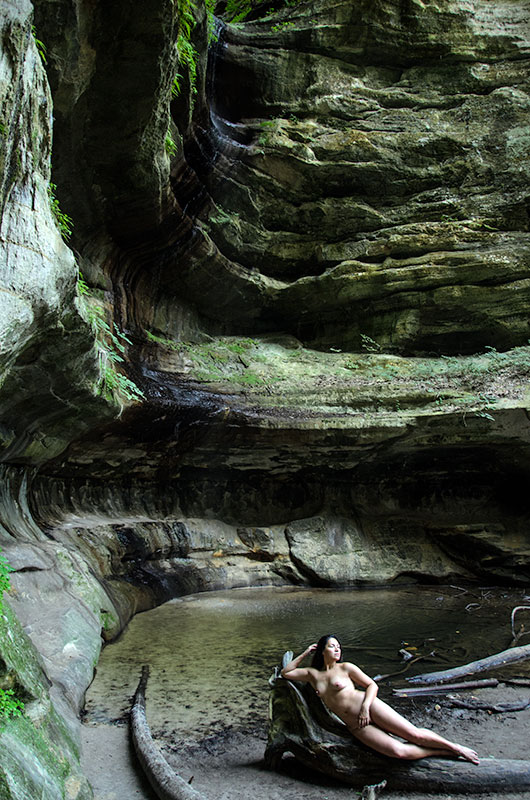 There are a bunch more photos to come from this great day of shooting. Here's one of the other Dave hard at work with Kelsey modeling for him.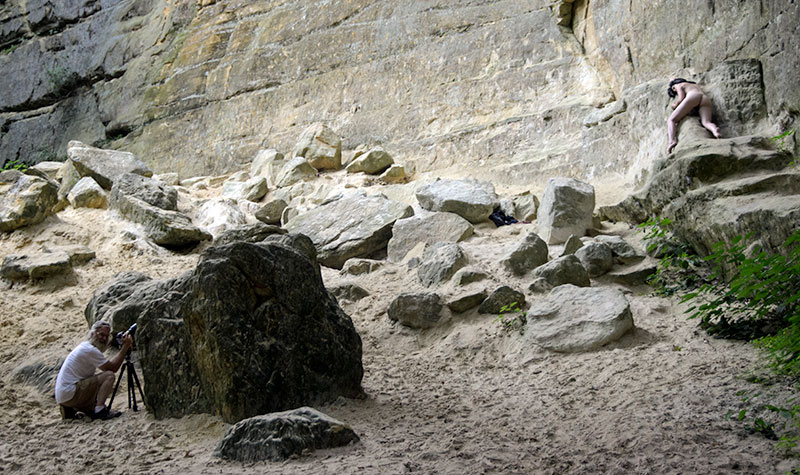 September 11th, 2014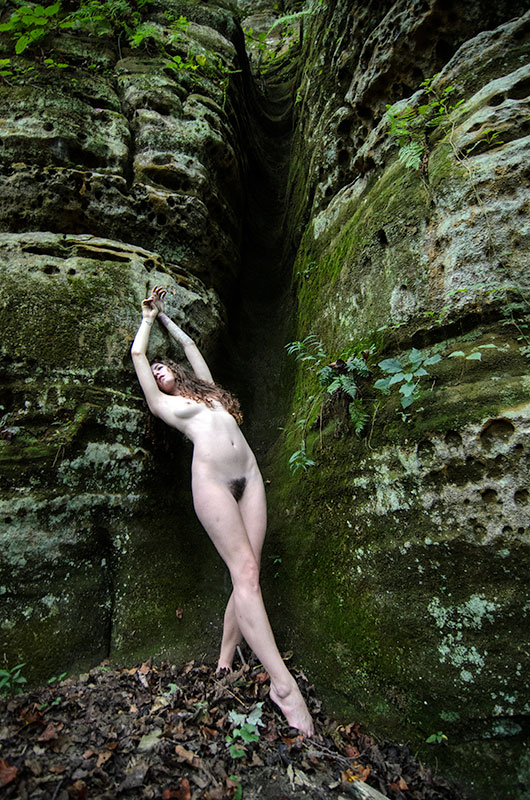 The amazing beautiful model, Miss Macaroni, came to Ohio this week. So, of course, I took her to one of my favorite locations at dawn and she did a great job of exploiting her surroundings and producing wonderful photos. There are a ton of shots to share, and I've put this shoot into the que for future blog posts, but I couldn't resist sharing a few of them right away.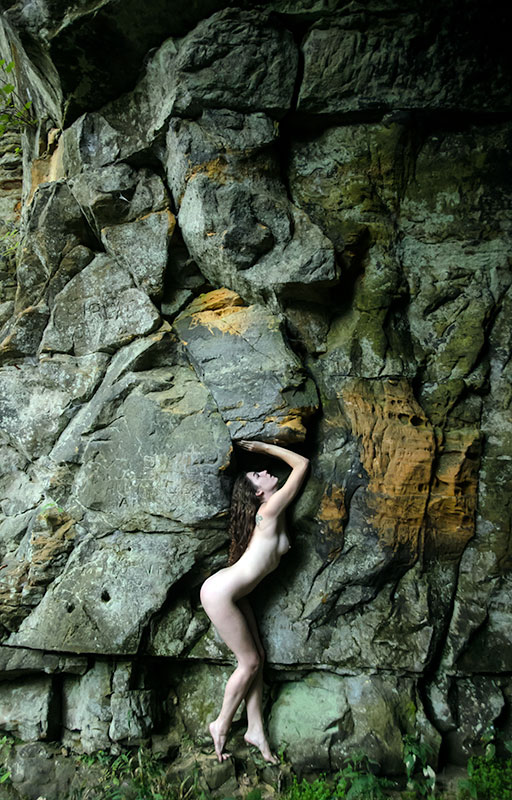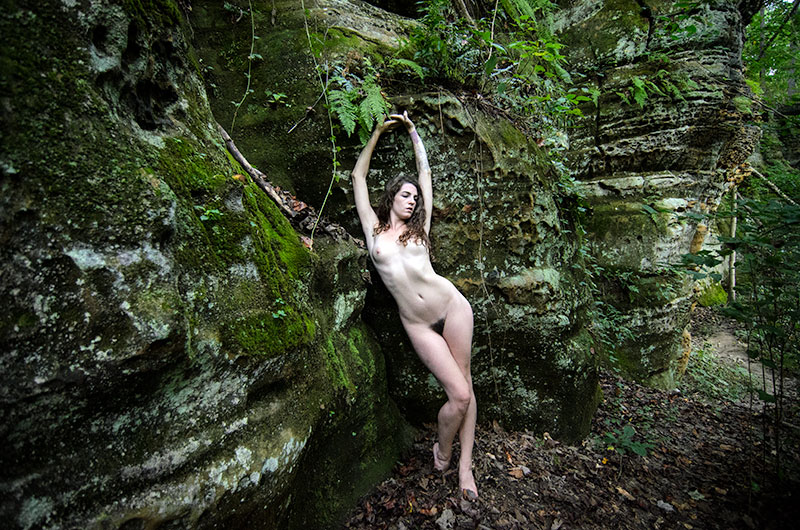 There will be a lot more from this shoot to come when I finally work my way through all the other shoots from the past year. But enjoy this sample for now. Thanks Miss Macaroni for another fantastic shoot…and no falls this time.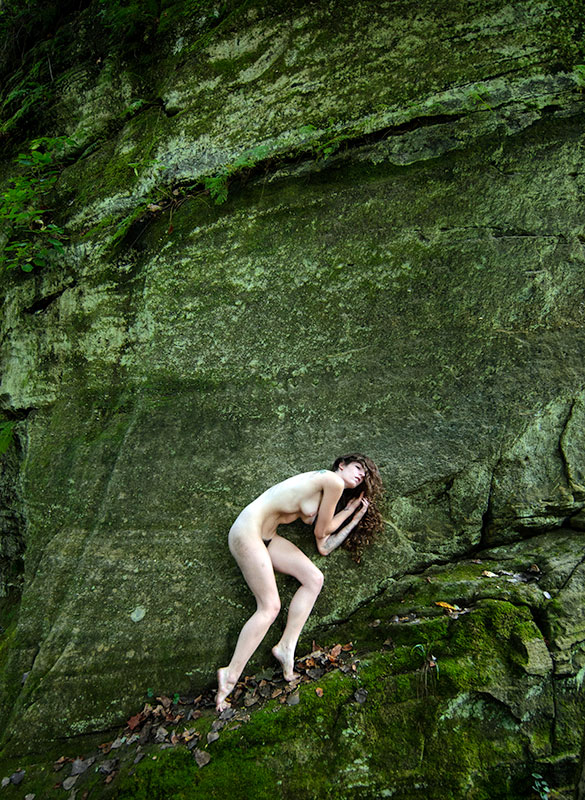 September 8th, 2014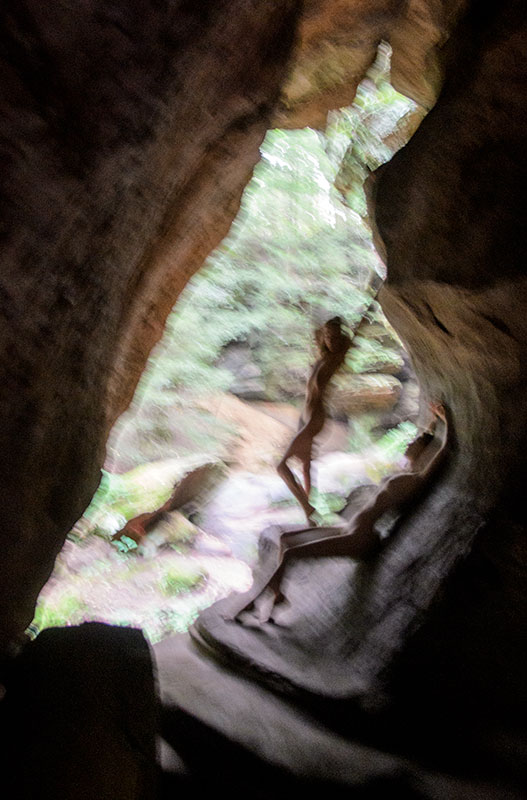 I love it when things fail in an interesting way. That's what happened here while I was shooting with Brooke and Romahni. The situation was a difficult one. It was dark in the cave and a lot lighter outside. But it was still, overall, pretty dark, so the exposure was long. The exposure for this shot was 1/5 of a second at f/3.5. The ISO was at 1600. Like I said, dark.
But my lens has Nikon's Vibration Reduction which is usually good for 3 or 4 stops of steadiness. So that gets us to somewhere around 1/60 of a second in terms of controlling camera shake. But, obviously, the VR just wasn't up to the task for this particular shot. But I like the result. I've found that VR tends to produce a very different sort of blur when it fails. It seems that parts of the photo are sort of sharp while other parts are blurred in weird ways. There can even be two sharp images, almost like a multiple exposure. And sometimes that makes something fun.
Anyway, I like this photo. And that's all I really care about.
I've noticed this happening before and look for success in failure when it does happen. Here's another photo with the same sort of things going on that I shot years ago with a fantastic model, Virginia Red. The shutter speed for this one was 1/4 second. I think I may be starting to identify a sweet spot for making this happen. More failures like these may be in my future.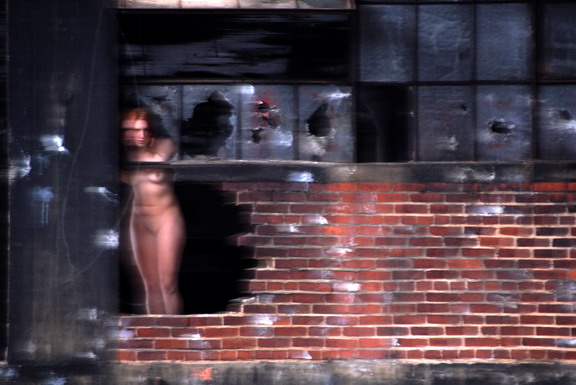 September 6th, 2014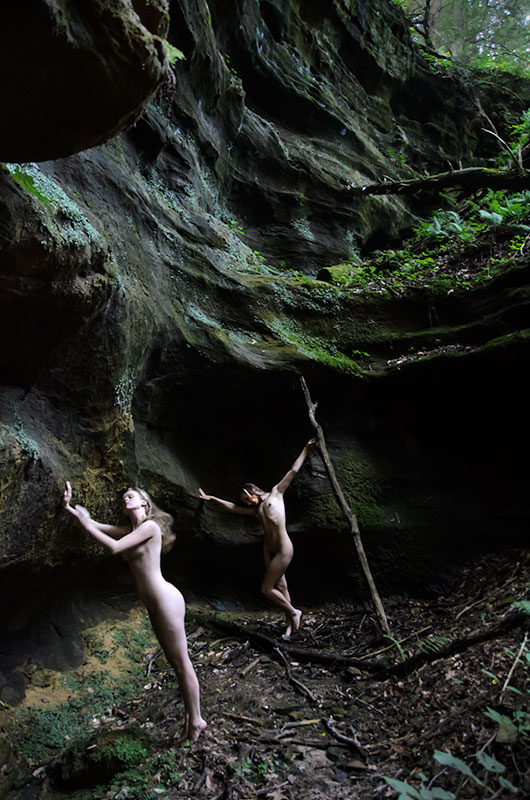 I have to take a break from trying to catch up on my editing and posting things I shot a year ago. I just had the chance to work with my favorite model, Brooke Lynne, who I don't get to shoot nearly often enough. I keep trying to get her to move closer, but don't seem to be able to persuade her to leave Minnesota. And she brought with her another marvelous model, Romahni Rose. Romahni's home is Australia and she is touring the US and the world. I'm so happy that I got to meet her and work with her while she was passing through.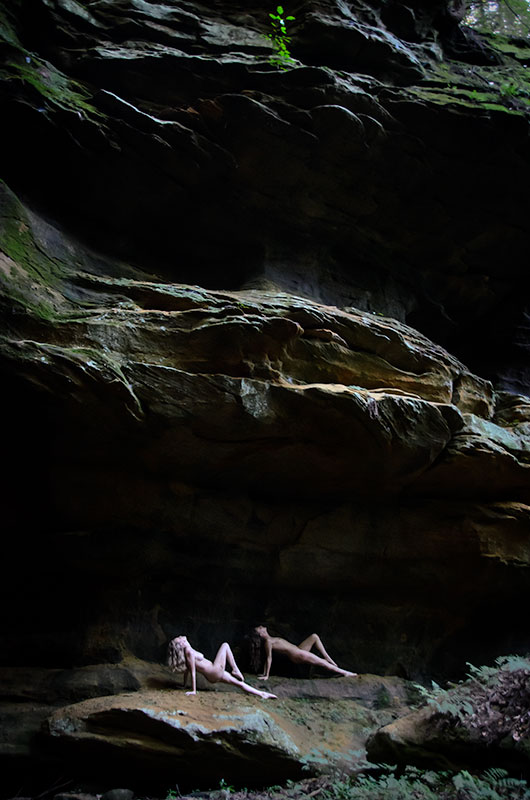 So, with two of the best figure models in the world ready to pose for me, I decided to take them to the most beautiful place in Ohio, the Hocking Hills. We hit a couple of my long-time favorite spots and I'll get to those photos in good time. But today I'm posting a few shots from a hidden, private spot that I'd never visited before. The place was beautiful and the models were fantastic. It was a great shoot and a great time. Thank you so much, Brooke and Romahni. You are the greatest.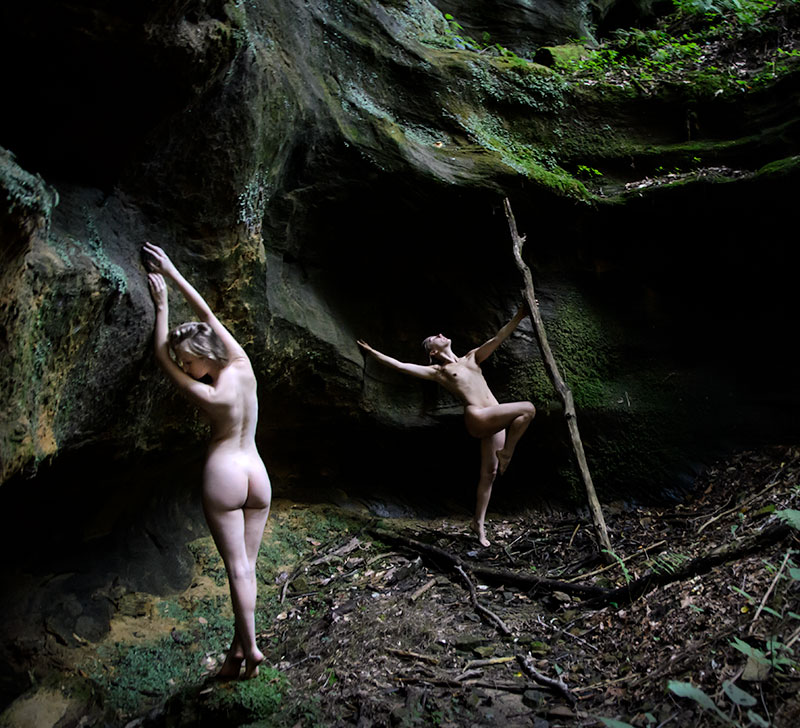 The shoot went very well, despite the weather doing a throw-back to mid-summer. Temperatures in the 90s and clear sunny skies were not the ideal conditions for our work. And today, the day after we finished shooting, the high will be 72 and it's cloudy…perfect light all day long and a temperature that wouldn't have melted us. So it goes. I think we still managed to pull it off despite the weather.
September 3rd, 2014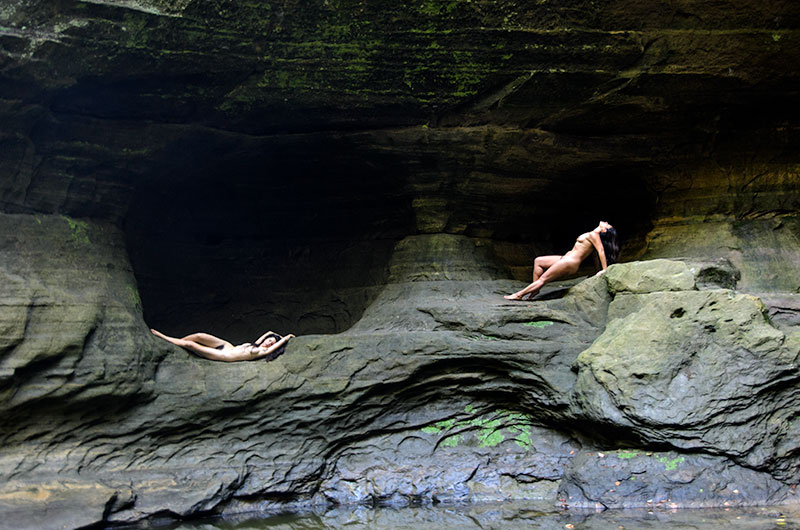 I can't remember a day of shooting that was more fun or more productive than the day when these photos and the ones on the earlier posts from this day were taken. It was an amazing day of shooting with a crew of great models. Kelsey wasn't the only one to brave the waters to reach this last location. Claudine is always game to do whatever it takes to get a photo and she waded right in and joined Kelsey in this spot.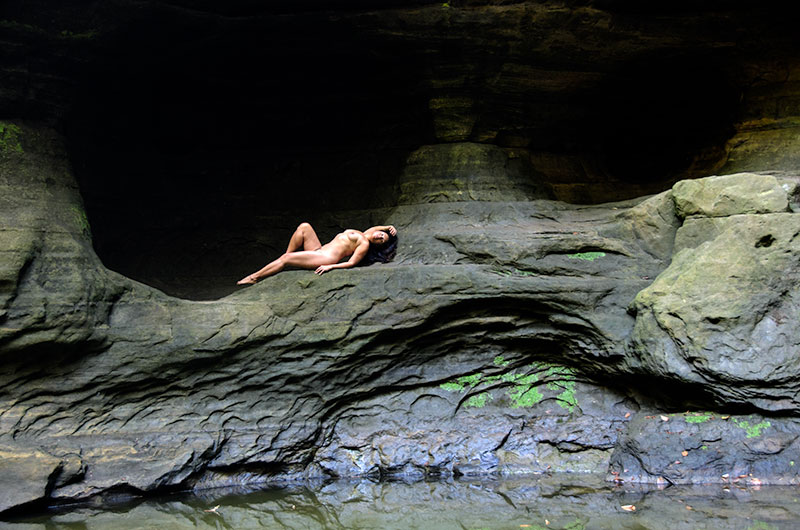 And, of course, I did some work with just Claudine as well.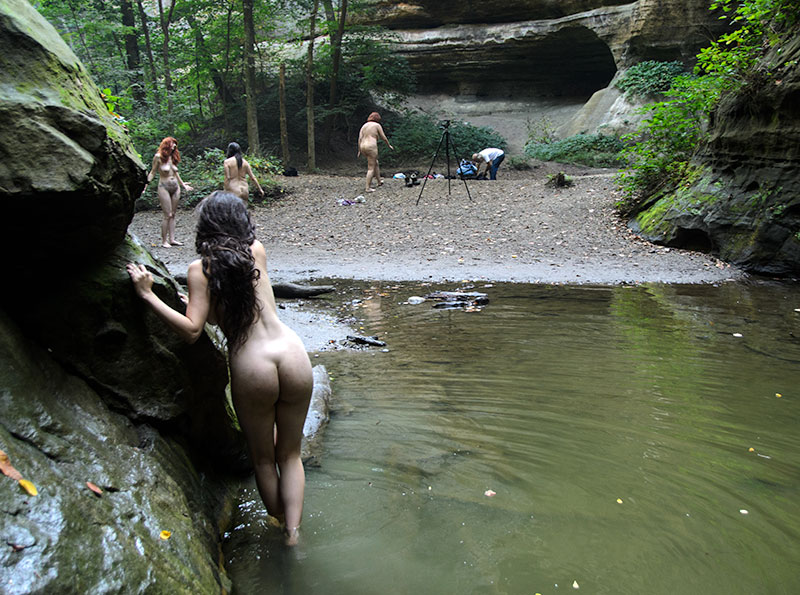 When we finished we, of course, had to wade back out. Here's Kelsey walking along a submerged log that kept us from having to go waist deep in the water. And you can see the rest of the crew being kept busy by my friend and fellow photographer, Dave Swanson.
The sad news is that this is the end of my posts from this day of shooting. The good news is that we did more shooting on the following day. The photos from the second day of shooting will be appearing here soon. Stay tuned.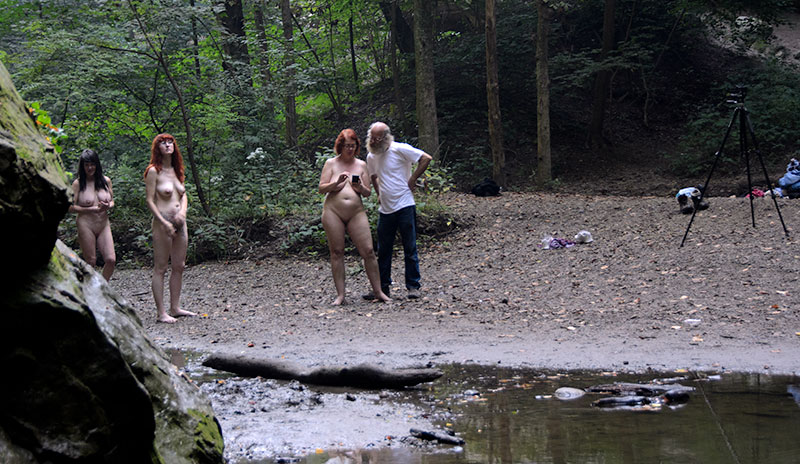 September 1st, 2014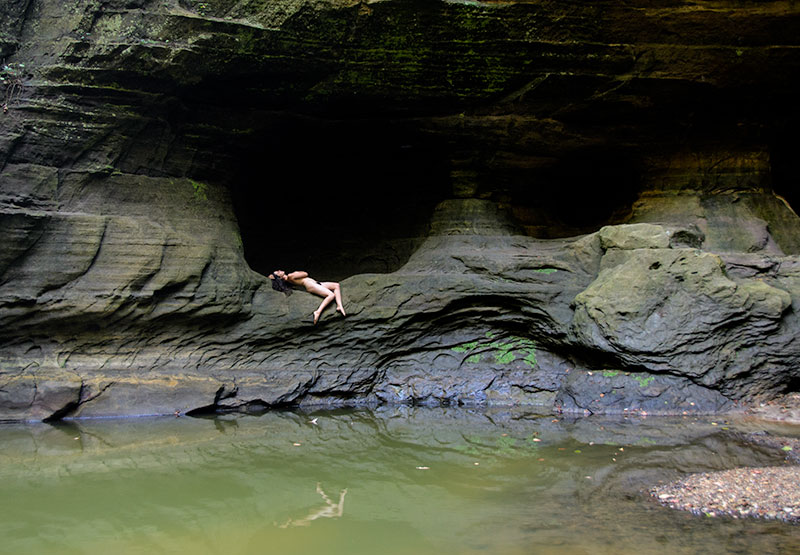 Actually I should say, A Wade In The Park. That's what we had to do to get to this great spot. It was a lot of effort, but it was worth it. I'm so lucky to work with such great models, like Kelsey Dylan, who are willing to go to the lengths needed to get the best photos.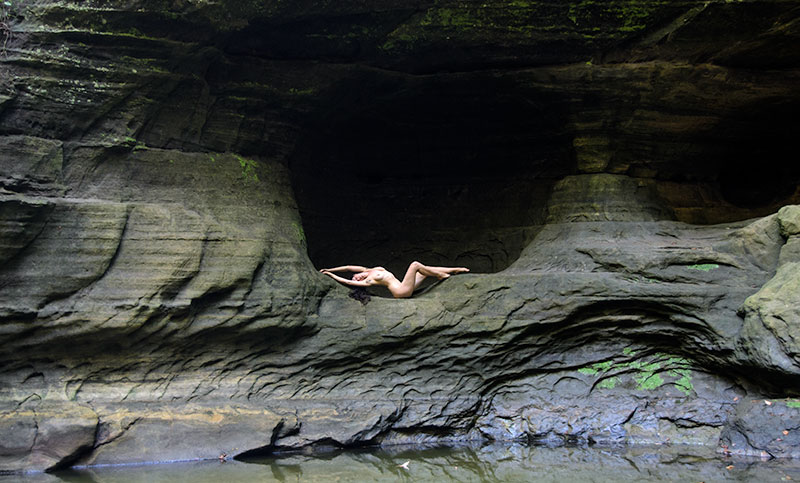 It's also great to work with wonderful models who are not only willing to go to great effort to get into a great location, but are also talented and able to do a great job of posing and relating their bodies to the particular spot where we are working. Thanks, Kelsey, for the fantastic job you always do.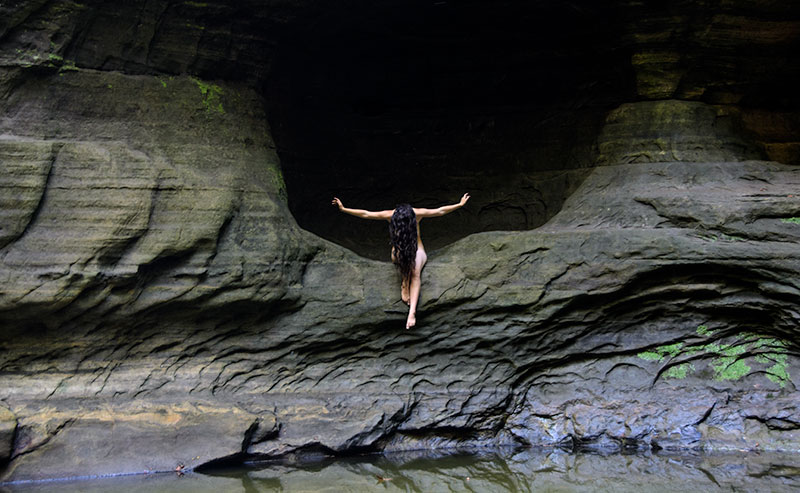 Often it's only the model who has to do the hard work while I just stand around and take photos of them while they do it. But, in this case I had to wade into a spot where I could train my camera on this scene. So I got to get wet too. Next time I'm bringing my Tevas to protect my feet when I have to wade.
More to come from this spot in the next post.
August 28th, 2014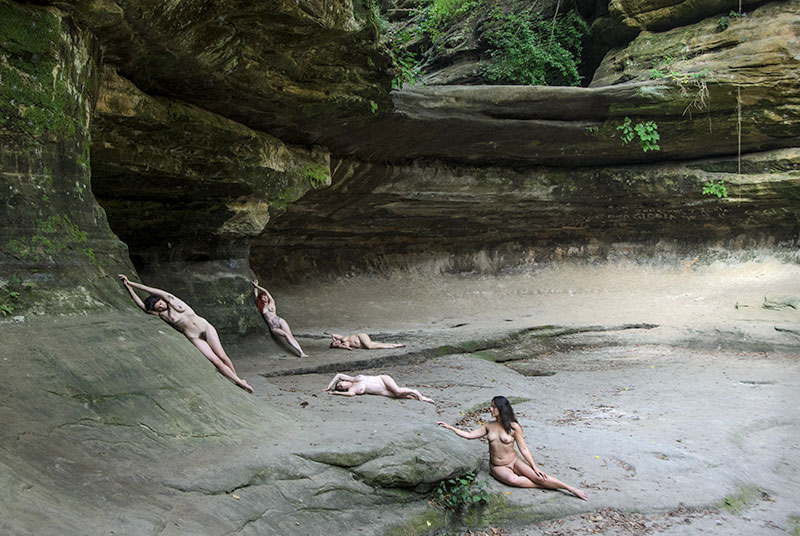 What do you do when you are in an amazingly beautiful location with five lovely nude models? Well, lots of things come to mind, but one of them is certainly to try to get a photo with all five of them at the same time. Pulling that off is a real challenge. Just so many variables to try to make work together. I think I did pretty well with this one, though.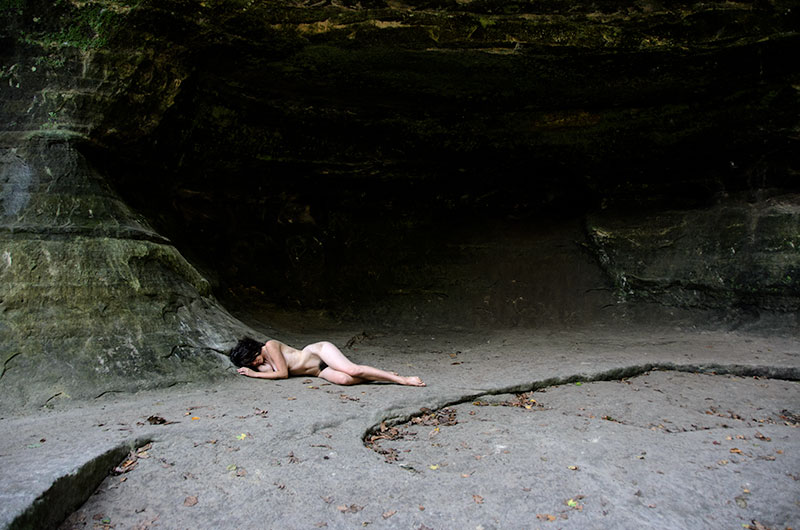 But most of the time I worked with just one model at a time. Sometimes two. That's a lot easier to manage.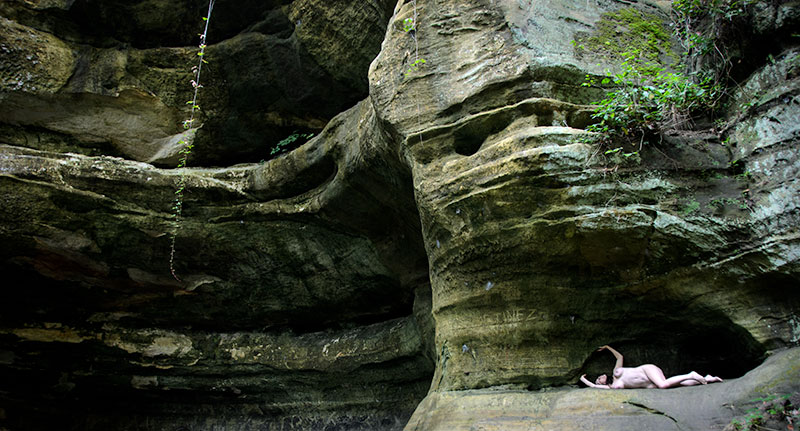 With so many great ladies there to help make photos, most of the time I just had them take turns so everyone got into the act.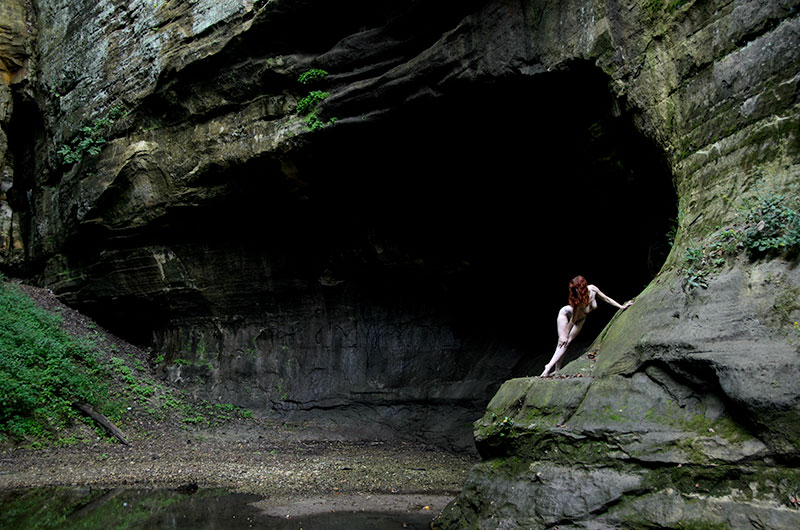 This really was a dream shoot. Thanks to the fantastic ladies who made it possible: Ayn, Claudine, Kelsey and our two anonymous amateur models.
August 23rd, 2014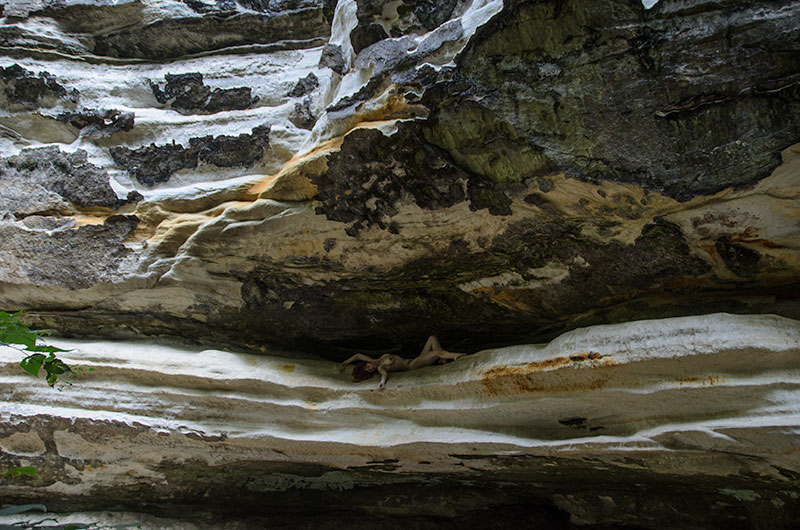 Ayn is the star of today's post from Starved Rock. The light at this particular time and place in one of the canyons was just breathtaking. But it required some brave model to get into a difficult spot and be beautiful for the composition to work.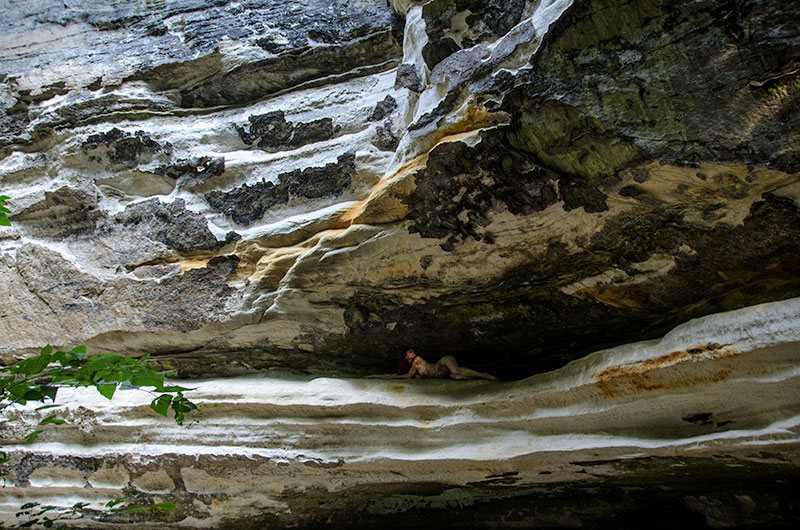 Ayn volunteered for this difficult and dangerous assignment and, as you can see, she did a fantastic job.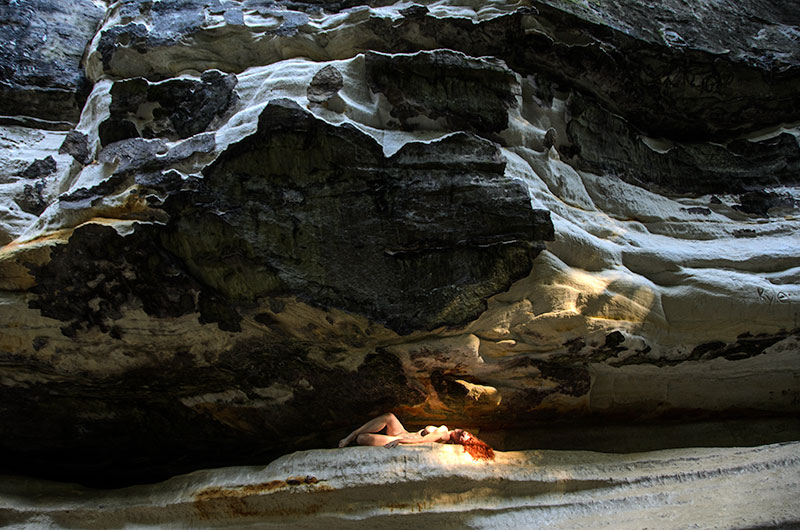 Thanks Ayn. You are fantastic. And that sunbeam…wow!
August 21st, 2014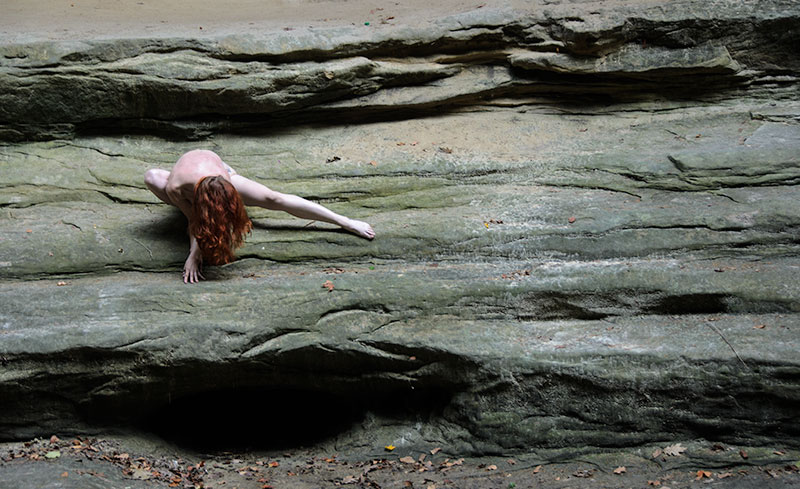 Some more from the amazing shoot at Starved Rock. This time with models Ayn, Claudine and one who shall remain nameless.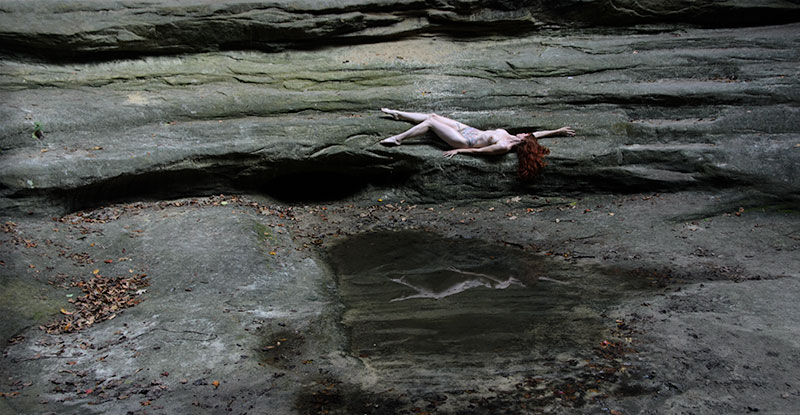 The many little caves and openings in the rock, combined with many little pools of water…and some large pools as well…that you find on a good day when there has been some recent rain, provide great opportunities to play with reflections and the contrast of the dark caves.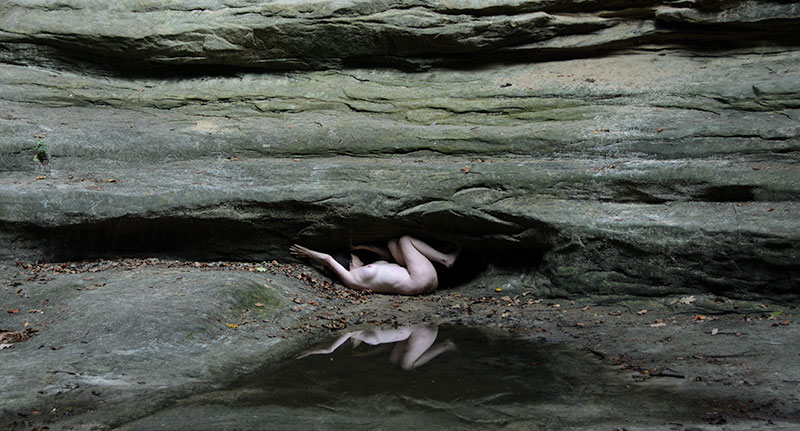 When you have a bunch of great models who are willing to do whatever it takes to get the photos…well, the possibilities are practically endless.
Much more to come from this shoot. It was a great day. Stay tuned…