April 19th, 2014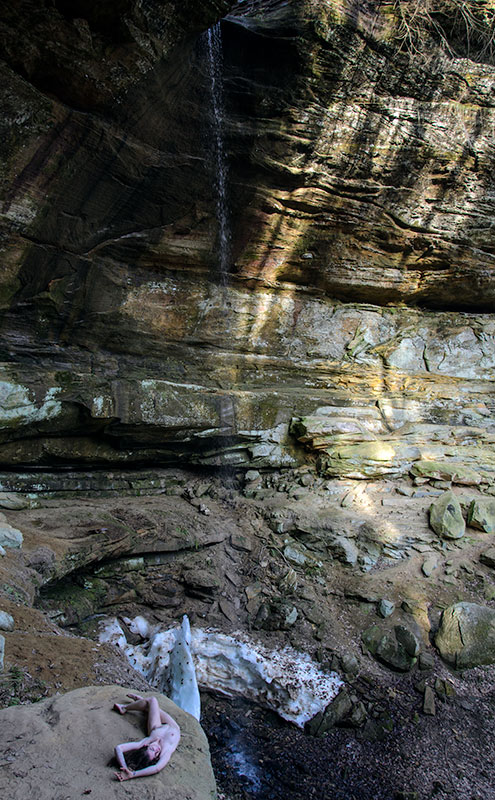 Since tomorrow is Easter I thought I'd go ahead and post the rest of the photos from my shoot with the incredible MissMacaroni. She did a wonderful job of scampering around and posing on the cold, hard rocks of Cantwell Cliffs.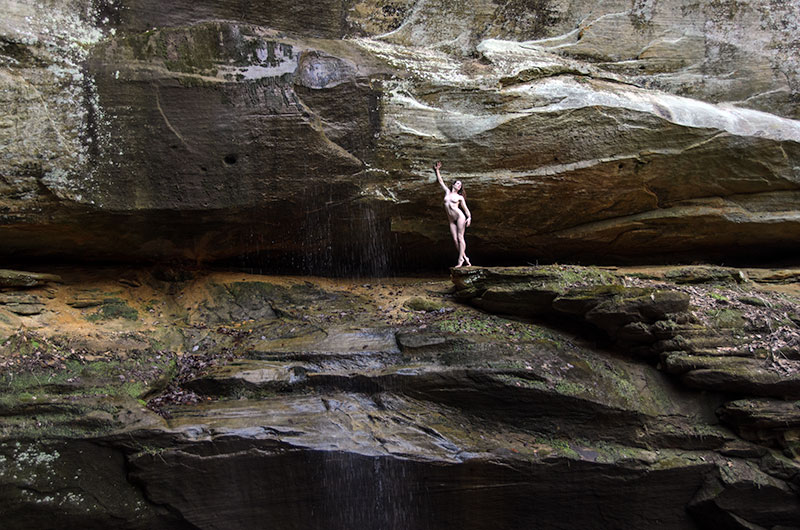 I guess you can file most of these under "dot in the landscape" but I don't mind. I like this approach to showing these great cliffs and waterfalls and letting a lovely human figure give a sense of scale and add a beautiful form to complement the natural beauty of nature.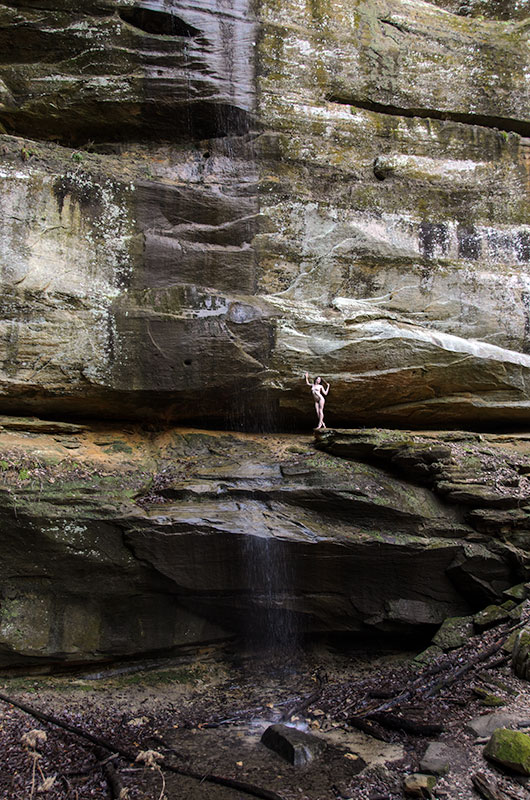 So, enjoy the beauty of nature and Macaroni. Back to our regular schedule next week. Thank you MissMacaroni for being such a wonderful, beautiful, brave model. Hope to work with you again soon and often.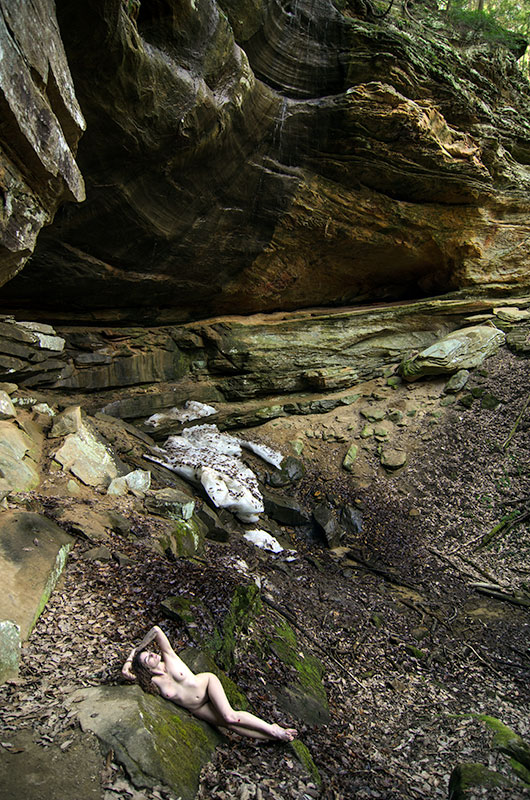 April 18th, 2014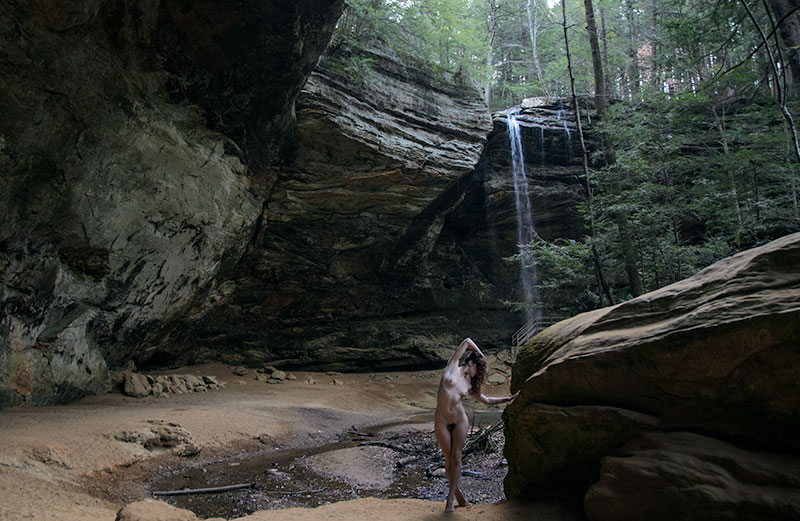 I'm still a year behind on posting the things I've shot on here. But today I'm making an exception and jumping the line for this shoot from last week. A model contacted me saying she was going to be traveling to my area and wanted to work with me. I always like it when models seek me out. It tells me they are serious and gives me some hope that they will be good to work with.
Well, MissMacaroni far exceeded even those hopeful expectations. She is beautiful and very talented, not to mention brave and tough. I really put her through a lot on this shoot. When I told her we would have to leave at 5:30 a.m. so we could start shooting when the sun came up, she didn't bat an eye. We headed off to Hocking Hills and got there at a great time, which allowed us to take our first few photos at Ash Cave.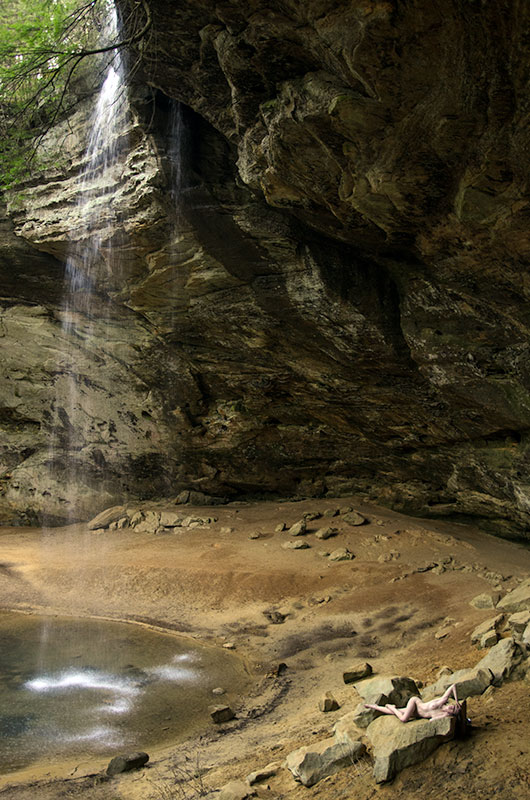 The place looked pretty different from the last time I was there, less than two months ago, when the waterfall was frozen from top to bottom.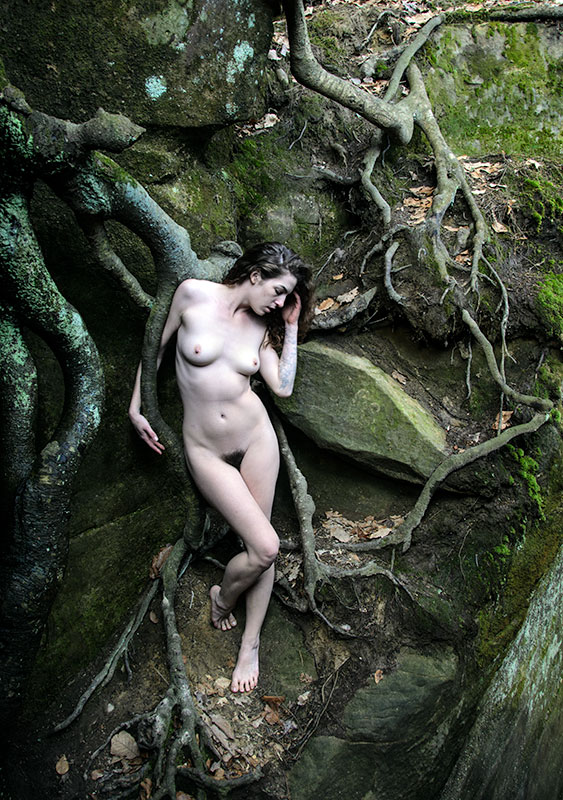 After Ash Cave we headed on over to Cantwell Cliffs, one of my favorite places in the park to shoot.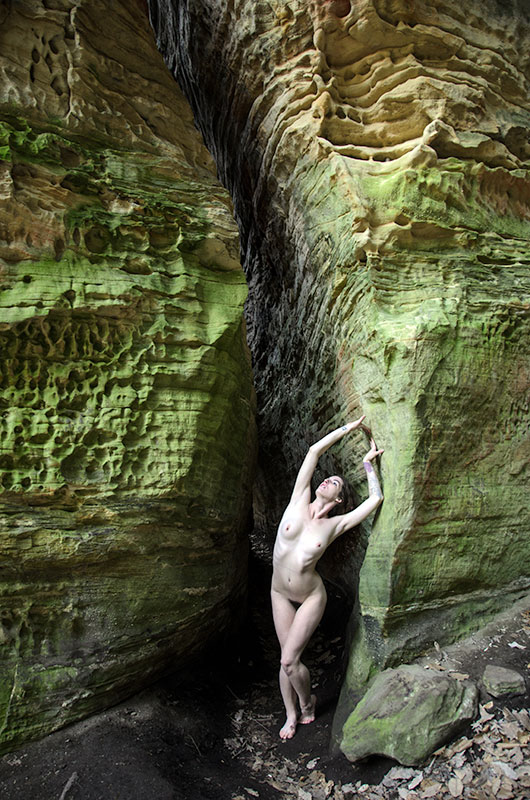 The opening behind MissMacaroni in the photo above is officially known as "Fat Woman's Squeeze." I don't think MissMacaroni is going to have any trouble getting through.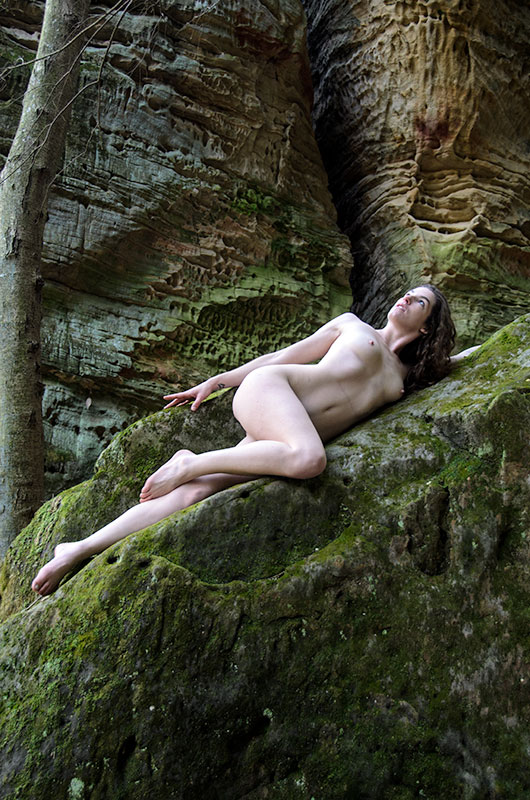 I'll have a few more from this shoot in my next post. I think this could be the beginning of a beautiful friendship.
April 14th, 2014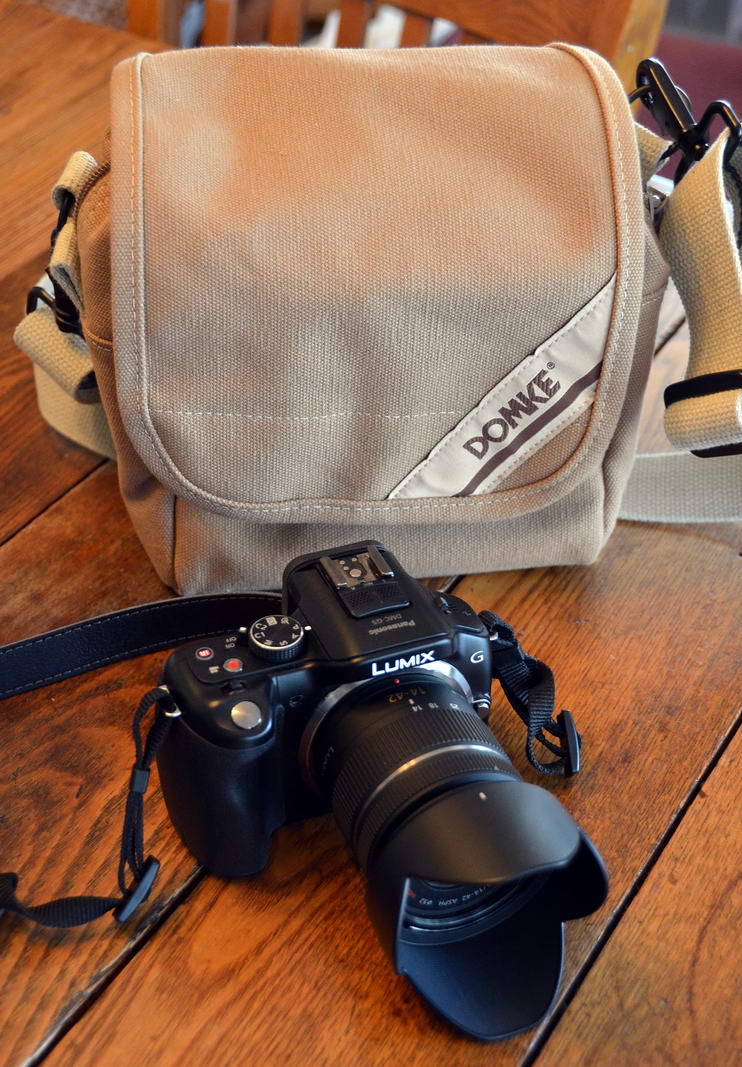 With the new system I, of course, needed a new bag to carry it around. The new stuff is small enough to fit easily into my old bags along with the Nikon stuff, but the point of all this was to come up with something easy to carry around so I could leave the Nikon stuff at home. Initially I picked up a small bag from a local camera shop, but it turned out to be so poorly designed that it really wouldn't work as a shooting bag. It's ok for storage and transportation, but I needed something better to work out of.
I'd surprisingly never owned a Domke bag until now. But a search of what might work kept bringing me back to the Domke F-5XA pictured above. I'm very fond of this bag and think it is just about perfect to use with this system. (No, I'm not getting paid to say this.) It will carry the G5 with the kit lens and the 45-200 along with the body cap lens. I can fit the charger and some spare cards in with no problem. The shoulder strap has that magic Domke stuff on it that keeps it from slipping off your shoulder. And this kit weighs so little that I don't even notice the weight, even after having it on my shoulder all day.
I can zip the bag up and toss it in a carry-on suitcase or a backpack. It's secure and well protected. Or I can leave the zipper open and easily swap out lenses while I'm shooting, using the flap to keep everything secure in the bag. A very nice design.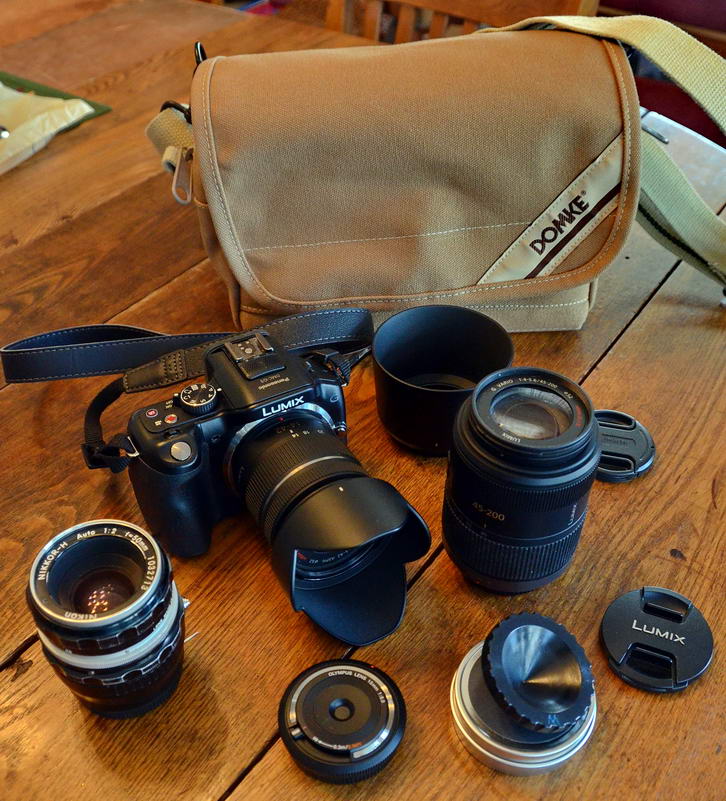 That would have been my bag…but then I went and added that 50mm Nikkor lens to the kit. I don't always want to take it along, but sometimes I do. And it just won't fit in the small bag along with all the other stuff. So I went back to shopping and decided on the larger version of the Domke I already had, the Domke F-5XB. It's just enough larger to take the extra lens (and will work well with a wide-angle zoom if I end up buying one in the future. Another bonus for travel with the larger bag is that my Kindle Fire and its charger will also fit in it along with all the photo gear.
Another thing I like about these bags, though I haven't tried it yet, is that they have a belt loop. I will probably put a belt through the loop sometime in the future and see how I like carrying it that way, instead of using the shoulder strap. I'll use a dedicated belt instead of putting it on the belt in my pants. That will also give me the option of adding another pouch the belt…or even carrying both of these bags on the belt at the same time if I ever feel the need to drag around more gear. The Nikon D7000 could also fit in one of these bags with my 18-200 on it and make a compact way to drag around both cameras.
So, this is the end of my blog posts about all this camera gear. I'll get back to posting my photos soon. I'm very happy with my new accidental system and interested to see where Micro 4/3 goes in the future. I'm sure I'll wait at least two generations before I buy another camera body…and then I'll wait until it is in close-out mode because the next generation is coming. Maybe I'll buy one of the higher-end bodies if they knock the price way down. But meanwhile I'm going to just enjoy shooting with this system and not having my back and shoulder ache from hauling my gear around. The Nikon still comes out for serious work, but I can do just fine shooting with the Micro 4/3 stuff when I travel or just want to wander around doing photos.
April 11th, 2014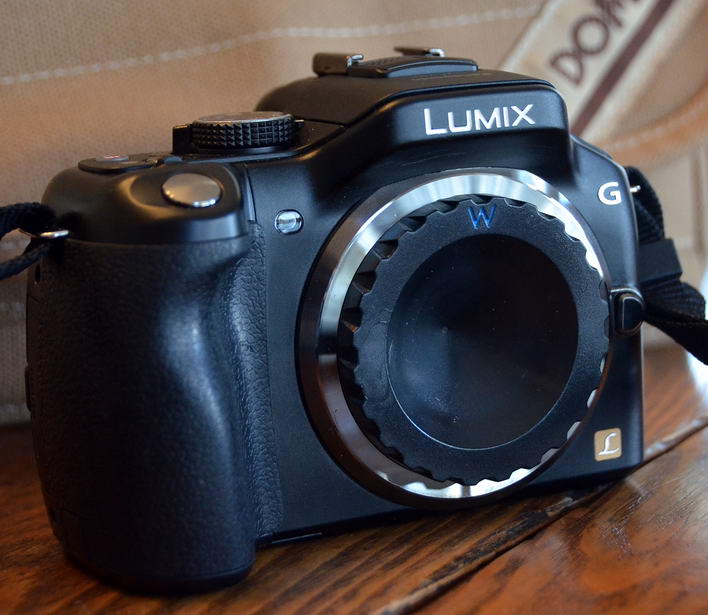 Yes, there were some other lenses in that photo of the whole Micro 4/3 system that I have now. One I already had, a Pinwide wide angle pinhole "lens."  I've had it for a while and expect to use it to make a pinhole photo for Worldwide Pinhole Photography Day on Sunday, April 27. You should make a pinhole photo on that day too and upload it to the WPPD site.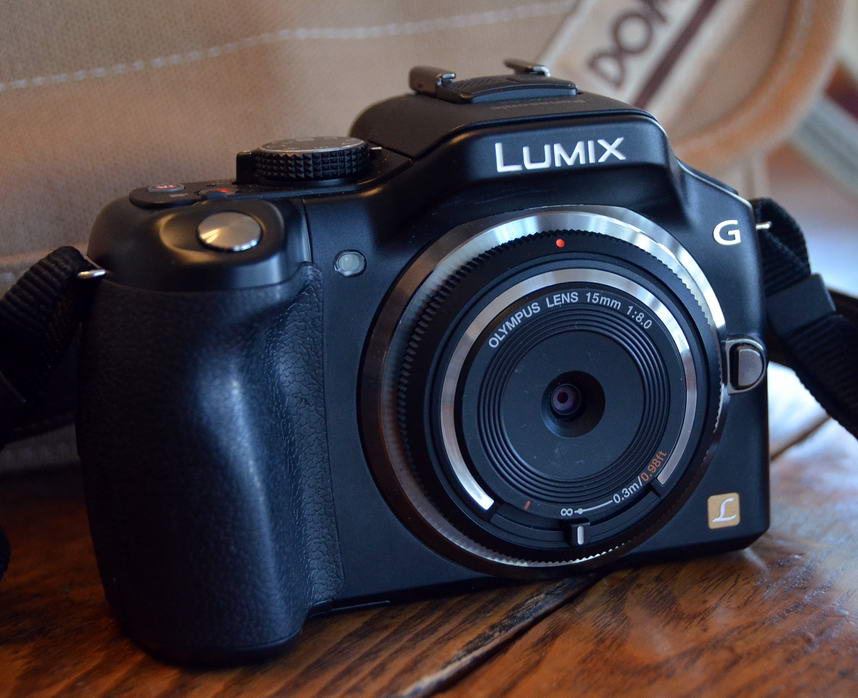 I also have this neat little "bodycap lens." I mentioned it and showed a few sample photos done with it in this post. I like this little lens that makes the G5 truly pocketable (if you have a big pocket…like on a coat or jacket). It's hard to imagine how you could come up with a better lens that you could buy for only $50. Olympus has recently introduced a little fisheye lens that is about this size and only costs $100. I'm probably going to have to buy that lens soon.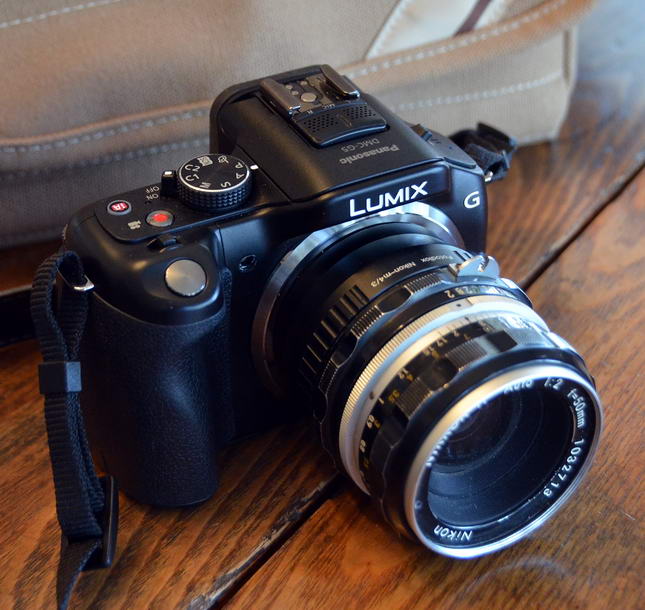 And then there's this lens. This is one of the oldest lenses I own. I bought it in 1969 with my Nikkormat Ftn, my first Nikon. It's a 50mm f/2 Nikkor. It's a great little lens, sharp even at f/2. I'm not a big user of "normal" lenses, always having preferred a slightly shorter or longer focal length. A 35mm and an 85mm were my most used lenses on 35mm in the days before there were zooms that were reasonably sharp.
But I already had an adapter to use Nikon-mount lenses on Micro 4/3 cameras. I've not done that much because they are too hard to focus on anything other than a still subject and, since they have no electronic connection to the camera (this lens, of course, has no electronics of any kind in it anyway) they don't meter and don't stop down for the exposure…your viewing aperture is also your shooting aperture.
But, with a relatively stationary subject, like when doing a portrait in the studio, these problems aren't that great. With an effective focal length of 100mm, my old Nikkor makes a great portrait lens. The electronic viewfinder makes it easy to see the subject, even with the lens stopped down (although using this lens wide open or close to wide open is where it shines for portraits). And with the G5 a simple press of the back control wheel instantly magnifies the viewfinder image, making it easy to focus on the eye. A light touch of the shutter button returns to the full view. The shallow depth of focus combined with the nice sharpness of this lens make it great for this work, so it has gone into the kit for this purpose.
Here's a sample I shot of Ayn, a lovely person and fine model who has been working with me lately: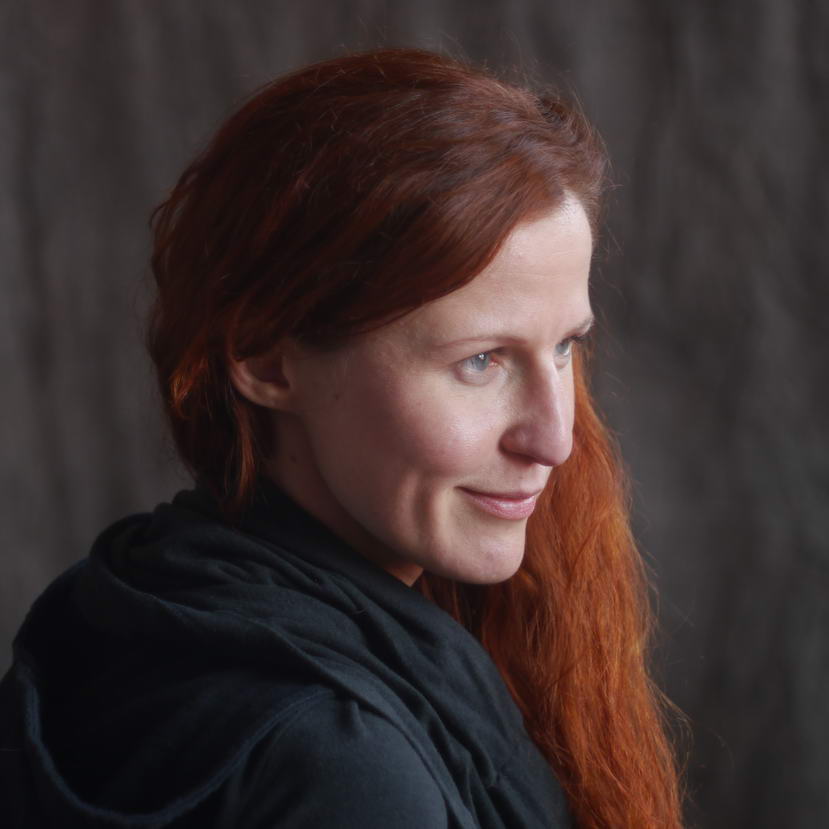 I did nothing to that file other than reduce the size and save it at 60 so it would be a good size for the web. It was shot at either f/2 or f/2.8 in window light. Of course, the camera doesn't record the aperture in the EXIF data because it doesn't know what it is.
Another thing I like about this system with the electronic viewfinders is that you can select the image ratio that you want to use and the viewfinder shows that ratio. I worked for many years with square format cameras and I like that format, so I've been using that as my default format on the G5. It's easy to switch to a different format if the subject calls for it, but I like the feel of the square for most things…and I don't have to make a decision on vertical or horizontal while I'm shooting.
April 8th, 2014
OK, I've talked about the Panasonic G5 camera, but it's the lenses that make a system. And the lenses available for Micro 4/3 cameras are a major reason I decided to go this way for my travel system. There's a ton of fun options out there from both Panasonic and Olympus. And a lot of them are very reasonably priced, not to mention tiny and light for what they offer. Perfect for the purpose I had in mind.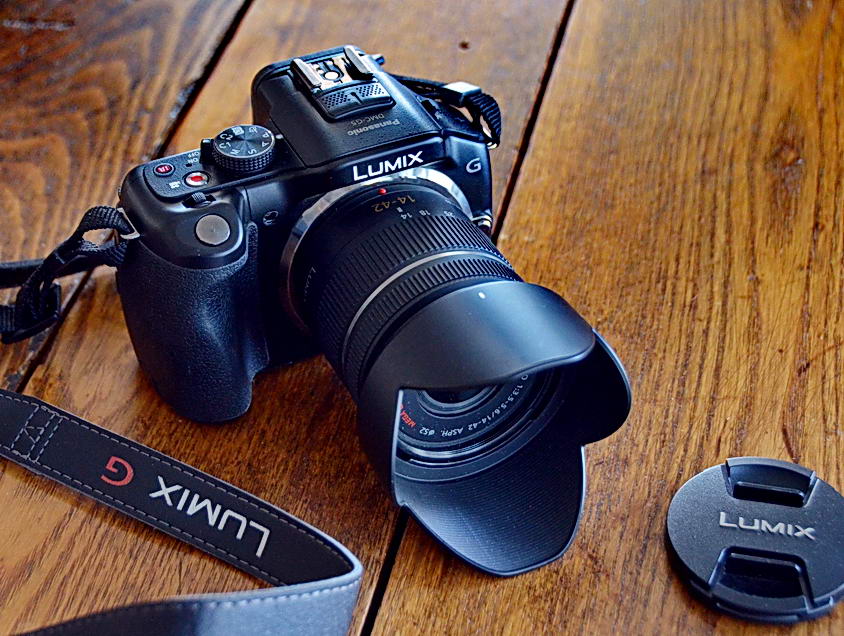 The kit lens is just fine. I'm happy with the files I get with it. I wish it were faster, but it does ok. I may end up getting something faster in the future…but only if I decide to do more serious work with this system…and that probably won't happen until I get a body with a much better sensor sometime in the future…a sensor that hasn't been designed yet. Who knows. Meanwhile this kit lens does the job for lots of my shooting. I showed a couple examples from it in the last post.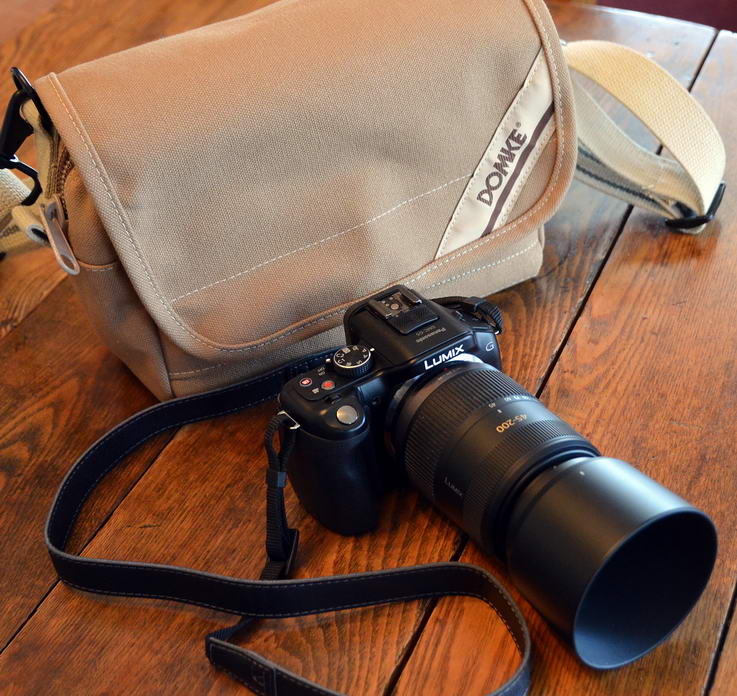 My wonderful wife is so understanding of my photo addiction that she added to my system by getting me the Panasonic 45-200 zoom lens for Christmas this year. This is the longest (in 35mm terms) lens I've ever owned (except for the 600mm Vivitar Series One Cat-mirror lens that my best friend gave me after he realized it was impossible to take a sharp photo with it. I've never gotten a sharp photo with it, but it still lives in the back of the equipment locker).
I love this little lens. Little and light and effectively 400mm. What's not to like? Well, it's a little slow in the aperture department…and it doesn't focus fast enough for things like birds in flight, at least not very often. But, in my opinion it punches well above its size and weight. This with the kit lens is now my travel kit. It only weighs a little more and takes up slightly more space than lots of the super zoom cameras out there that don't deliver anything near the image quality of this camera. And it's only $269. Compare that to the Nikkor 80-400. Yep…the Nikkor is TEN TIMES the cost of the Panny lens that does the same thing. And the Nikkor weighs 3 1/2 pounds. The Panny is less than one pound. And the Panny is even slightly faster.
Here are some photos I've done with the Panny 45-200 on our trip to Florida in January: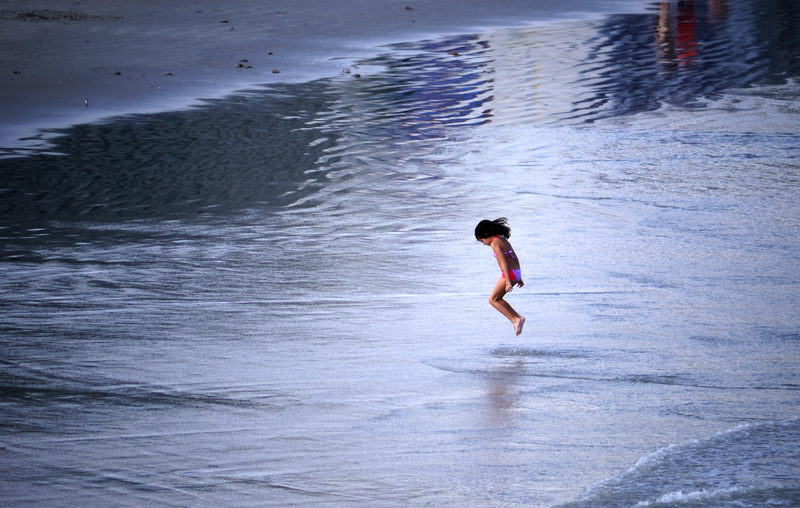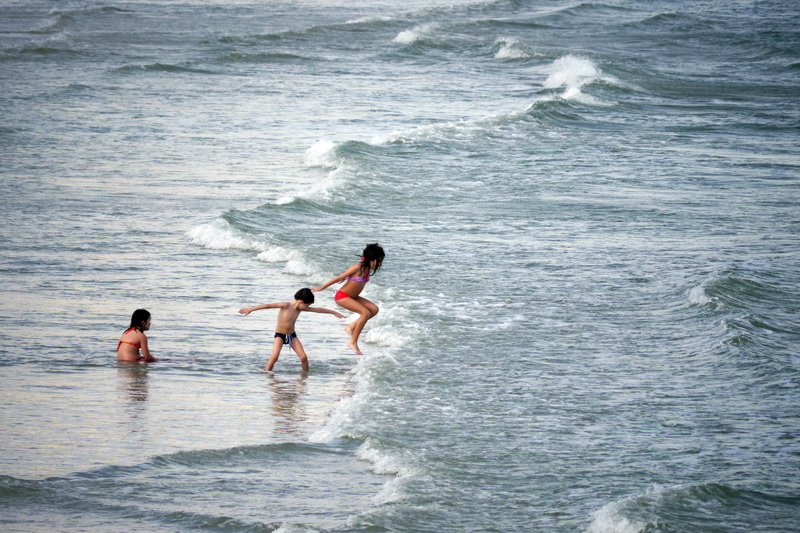 Manatee: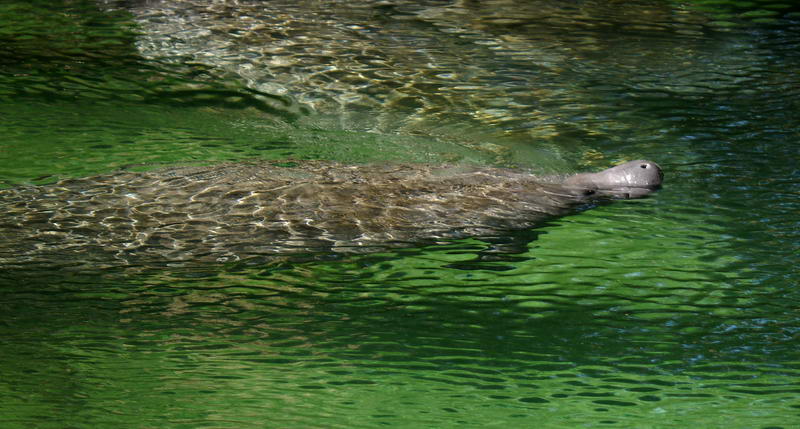 Gators: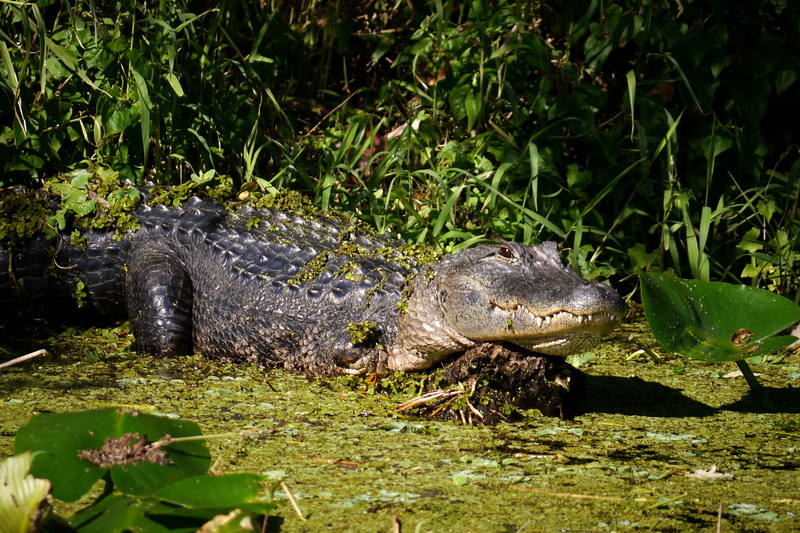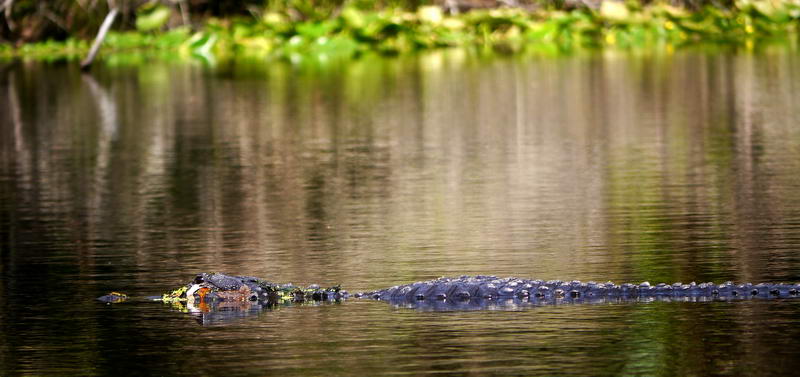 It does fine with birds as long as they hold still: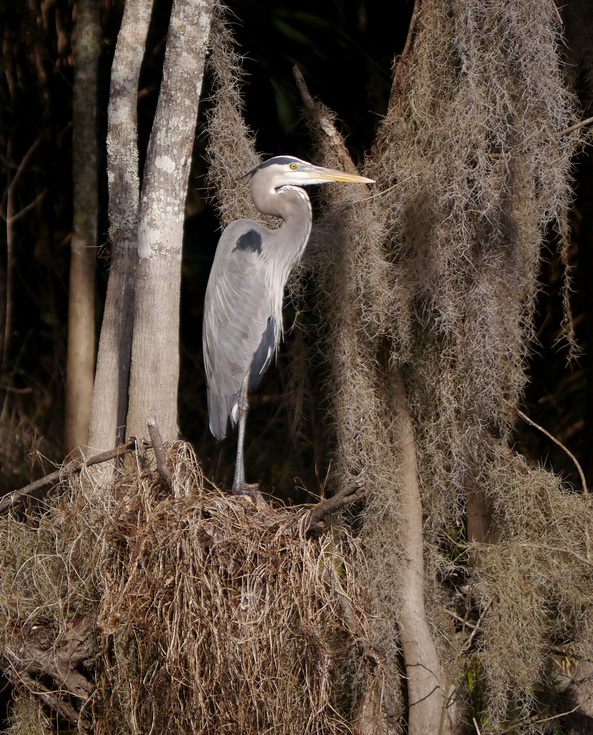 April 6th, 2014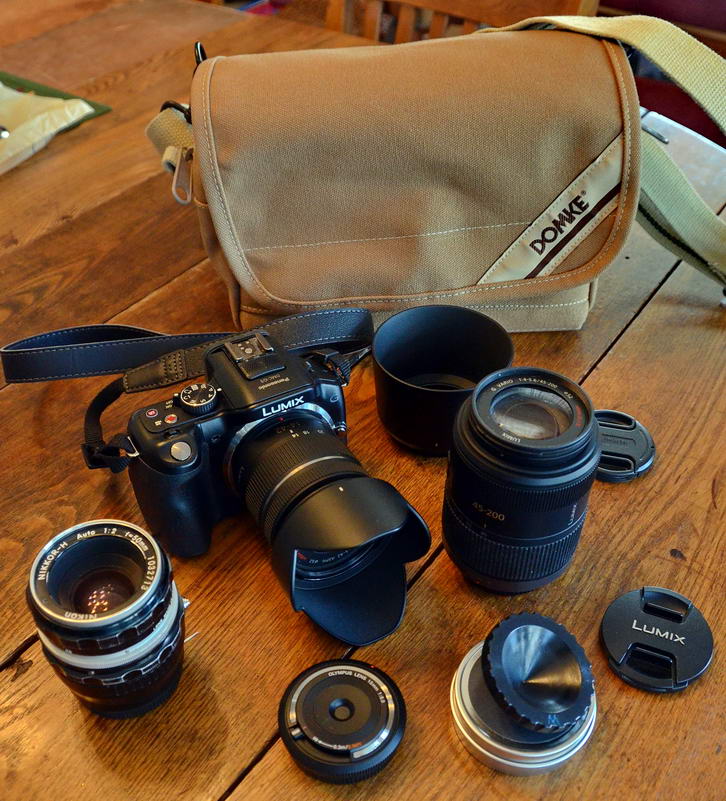 I don't need a second camera system. My Nikon D7000 produces beautiful files and will use the many lenses I've accumulated from being a Nikon user since 1968. And I blame Mike Johnston at The Online Photographer blog for sending me down this path. He was the one who posted that the Panasonic G5 was on sale at Amazon for less than $300 with the kit lens.
Now, I don't automatically buy a camera just because it is a good deal. There are lots of good deals out there. But I've been looking for a good travel camera…something that would take up less space and weigh less for trips where I'm not really doing serious photography, but just want to be able to make some good vacation snaps. I'd tried out several "super zoom" cameras and found them lacking. I'd been looking at the Sony NEX system, but didn't think it was really ready and was waiting for some improvements and expansion of the lenses available before making that jump.
And then I saw Mike's announcement of that sale. I already had a first-generation Micro 4/3 Olympus camera. It was ok, but not quite there for image quality with the 12mp sensor. But this Panny had the new 16mp sensor. Resistance was futile. I placed the order and just hoped my wife wouldn't figure out what I had done.
Now I know this isn't the latest and greatest camera from Panasonic. Everyone is raving about the G6, but it costs more than twice what I paid for the G5. And I'm pretty sure it has the same sensor. And the G series is the cheapie version of Panasonic's Micro 4/3 line. I'm sure I'd enjoy the features of the more expensive cameras, but I don't see myself plunking down something in the neighborhood of a thousand dollars or more for a vacation camera. I can live with the more limited feature set and controls on the G5. After all, as I like to say, P is for Professional.
I'm not going to go into a detailed review, there are other places on line where you can find that…including the link above to DPReview. But I'll just say that I love this little camera. It's turned out to be the perfect solution to my problem of finding a smaller, lighter travel camera.  And, as you can see from the photo above, it's growing into a nice little system.
I guess I'm supposed to tell you that I'm not being compensated in any way for writing about this camera. I bought mine and paid the "full" sale price. So what I'll be saying about the camera and lenses is simply my opinion. If someone wants to send me free stuff to write about, I'd be all for it, but that has never happened and I doubt it ever will.
OK…so how good is it? I'm just going to give you my impressions…and I'll share a few photos. No pixel peeping here…that just doesn't interest me. I just care about getting photos that I can use.
I'd say that the files from the G5 are not as good as the files from my D7000. But the differences are not that great and mostly fall around the margins. There seems to be a bit less dynamic range, but that only matters in fairly extreme lighting situations. And the high ISO performance is not quite as good as the D7000…but only by one or two stops. The G5 performs just fine up to at least 1600 ISO. Above that you are probably going to want to use some noise reduction software. I'm happy with the files out of the D7000 up to 6400 ISO without using noise reduction…so that matters if high ISOs are needed.
But, that said, I think the G5 is greatly superior to what you could do with 35mm film. Its 1600 ISO looks one hell of a lot better than Tri-X processed in Acufine. And I'd say the G5 files are at least as good, if not better, than the files from my last digital Nikon, the D200. So, just how good does a camera have to be to be good enough? The G5 is good enough for me for most things. I can make 17 inch-wide prints on my Epson 4900 that look just fine. That's all I need from a camera.
Here's a snapshot of some friends at 1600 ISO. It was shot with the kit lens at 14mm, exposure 1/20th at f/3.5: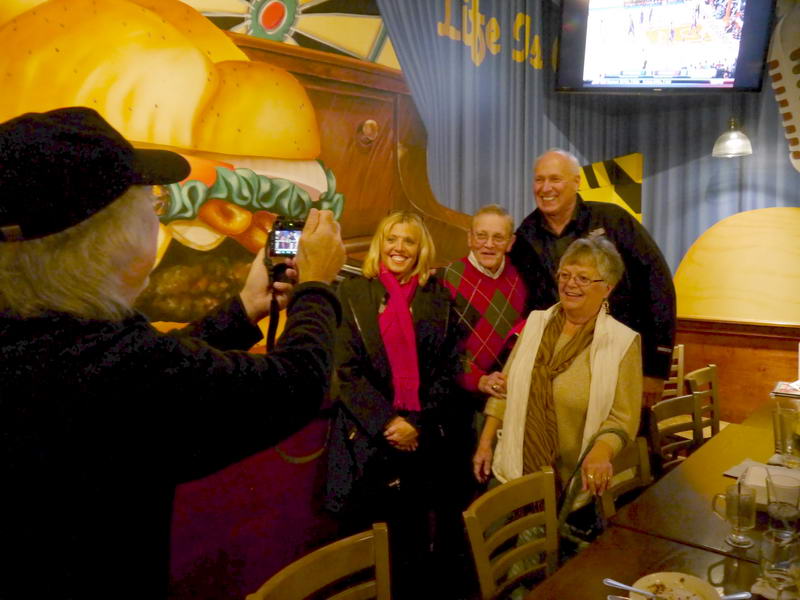 Here's a shot done at ISO 160, again with the kit lens. 1/200 at f/6.3: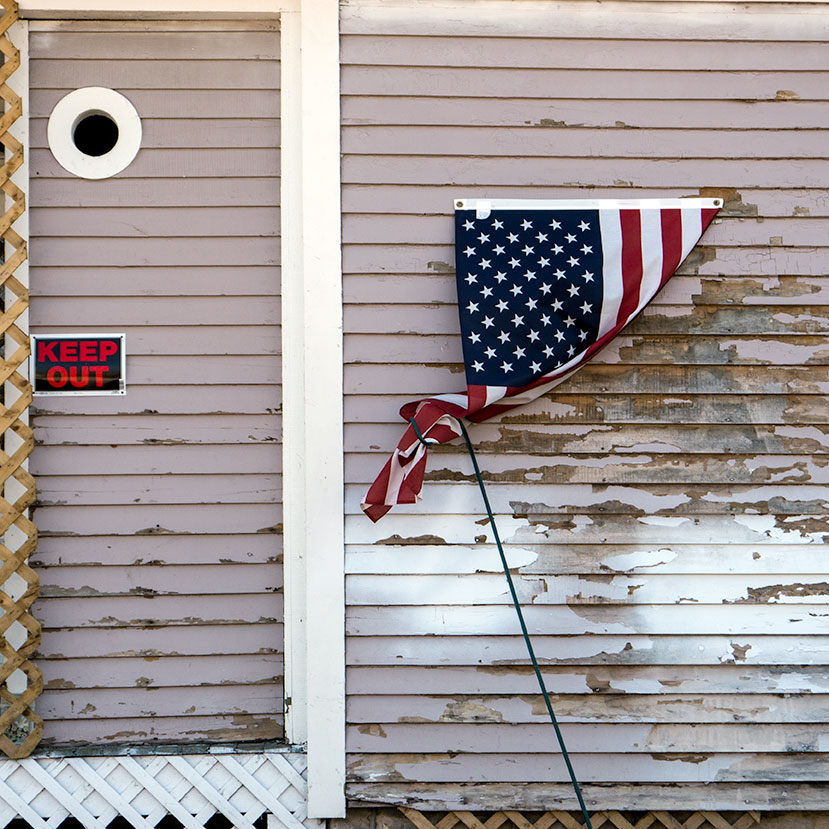 And you'll note one of the little things I like about using an electronic viewfinder. The G5 (and most, if not all Micro 4/3 cameras) allows you to select the format of your photos. I worked for many years with square-format film cameras and I enjoy working in that format, so I've been using the G5 in square format. I switch when the subject requires a different rectangle, but keep it in square most of the time.
I have a lot more to say, but this post is long enough for now. More to come about the rest of the system in future posts.
April 4th, 2014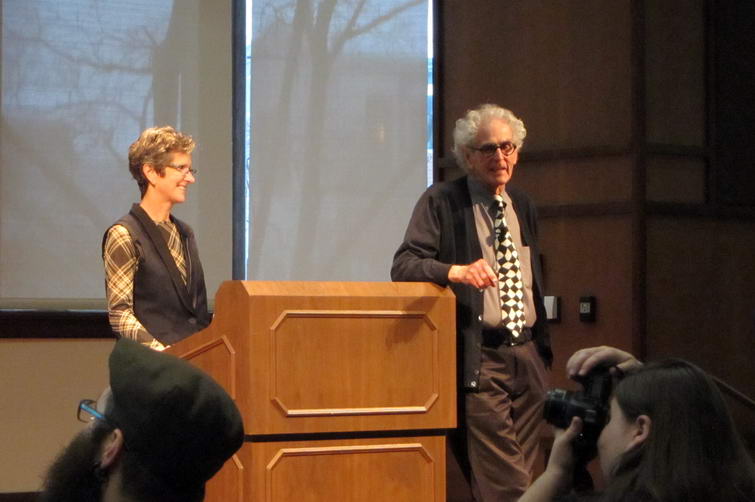 I had some fun this week. I went over to Bloomington, Indiana and got to see a talk by a couple of wonderful, interesting, inspiring photographers. Jerry Uelsmann was already famous when I was in photo school half a century ago. Then and now he works only with film and a wet darkroom. To look at his photos you'd today assume he was heavily into PhotoShop, but that isn't the case. He was doing this kind of work back in the last century. Back then when we looked at his photos the first question was always, "How the hell did he do that?"  If you aren't familiar with his work you really must click over to his website and take a look. You'll be amazed. And remember, it's film. No PhotoShop.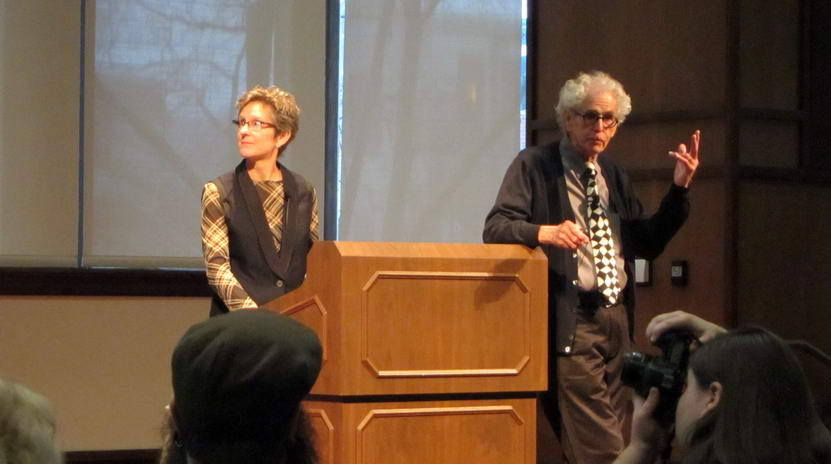 Sharing the podium with Jerry was his wife of many years, Maggie Taylor. Maggie is a master of PhotoShop and produces amazing composited photos that show great vision and immaculate craftsmanship. Unlike Jerry, I had not encountered Maggie's work before this presentation. Again, you really should click over to her site to see what she does. Prepare to be amazed.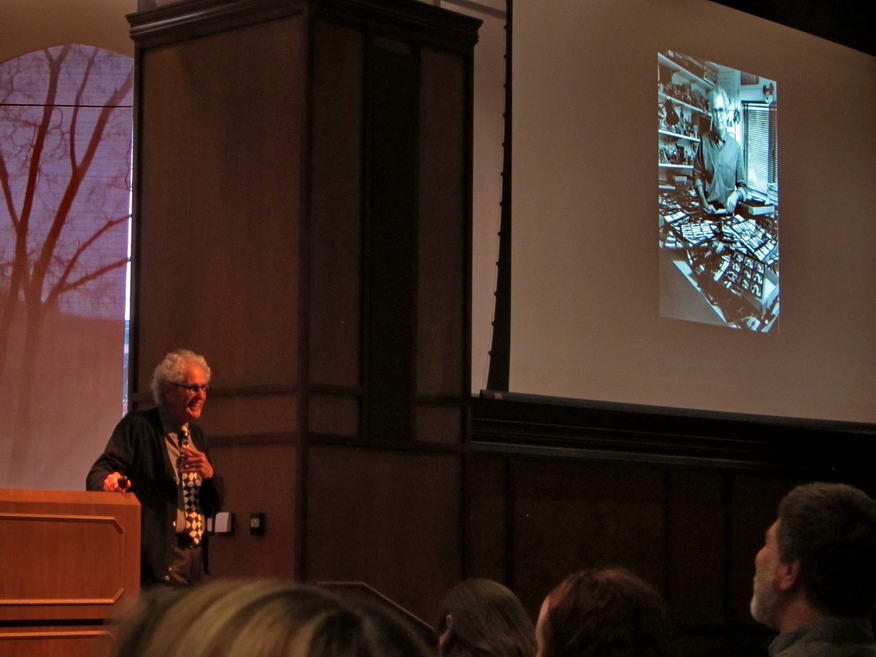 Above is Jerry showing a photo of himself with the contact sheets that are his starting point for his wonderful photo constructs. At 80 years old he is still a captivating speaker full of wit and energy.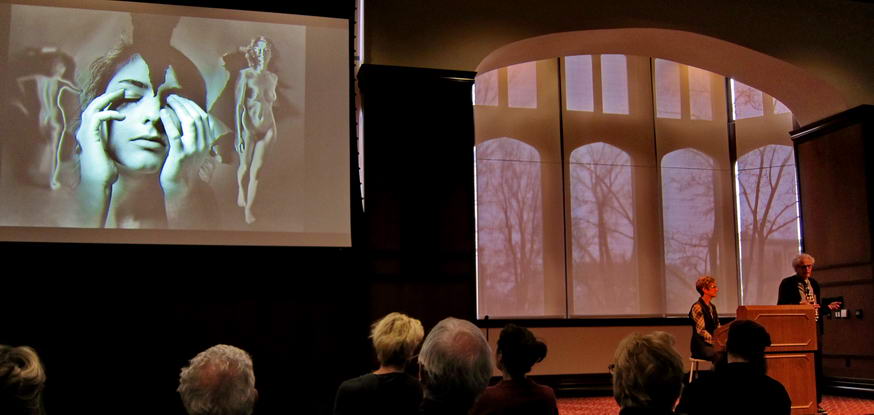 Here you can see a little more of Jerry's work as he displayed it during his talk. This last one is one that has a certain relationship to my work.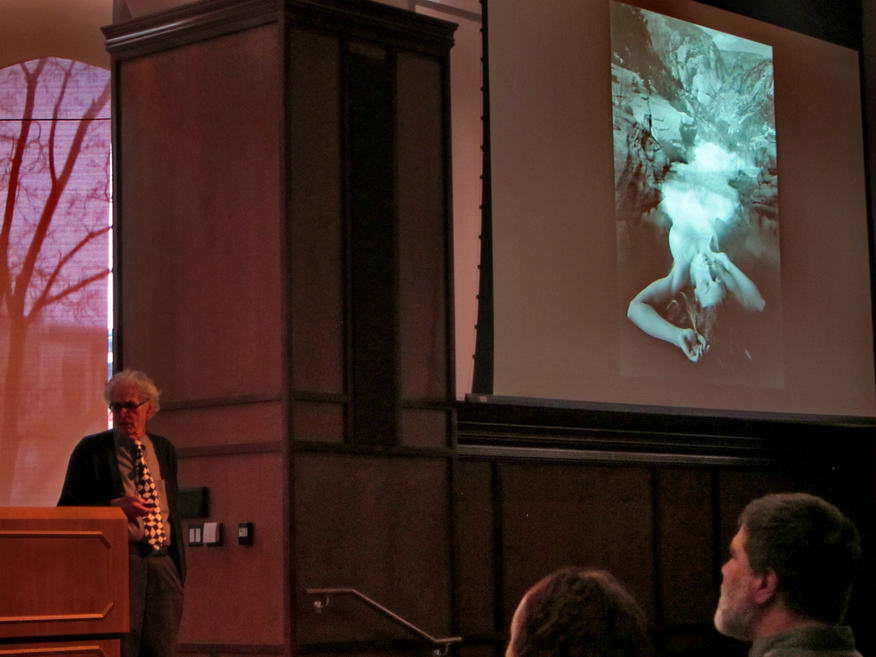 And, finally, here's the original reason I went over to Bloomington. This is one of the two photos that the Kinsey Institute included in their show, Flora, in the corridor gallery at the institute. This photo is my personal favorite of all the nude-in-nature photos I've done. It was shot in Hawaii with the model, LeonaAnne. I'm afraid it's too late for you to go to the institute and see this show. It came down today. I had planned to go over to see the show sooner, but the weather of this awful winter had other plans for me. But I'm glad I got there before it was too late, and very happy that the visit gave me the chance to see Jerry Uelsmann and Maggie Taylor and also to visit with my friend at the Kinsey Institute, Catherine Johnson-Roehr.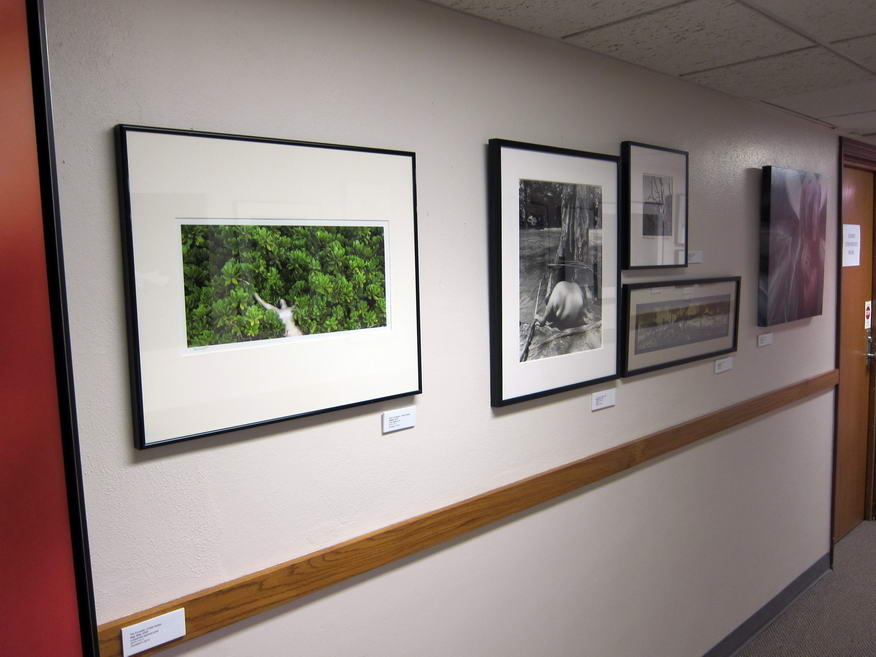 March 29th, 2014
Here are some more photos of Lindsay from our shoot in my studio. Sorry to have taken so long to get this post done. I've been sick. Bad enough for a trip to the ER. But I'm feeling much better now and all is well. Good to be back in action. Enjoy Lindsay's aerial skills.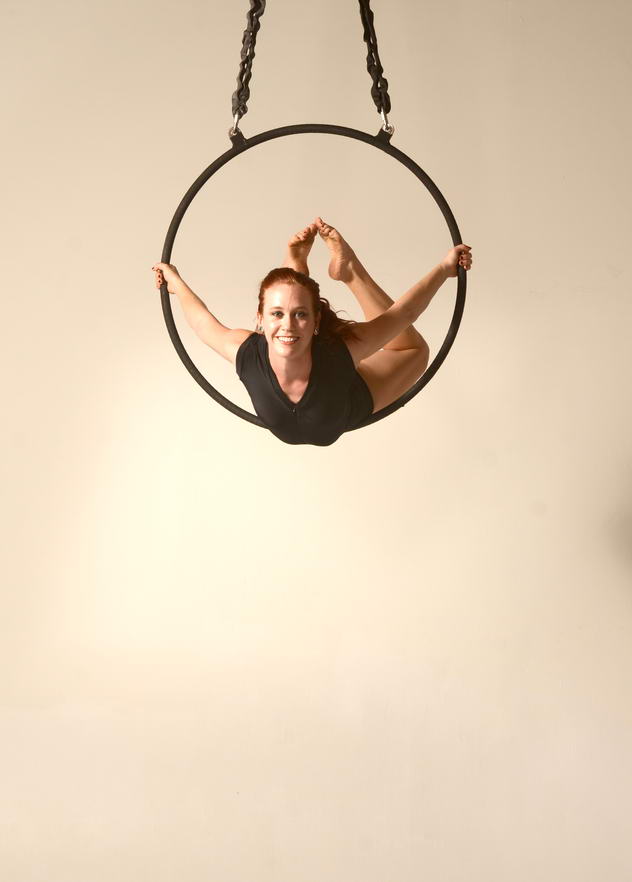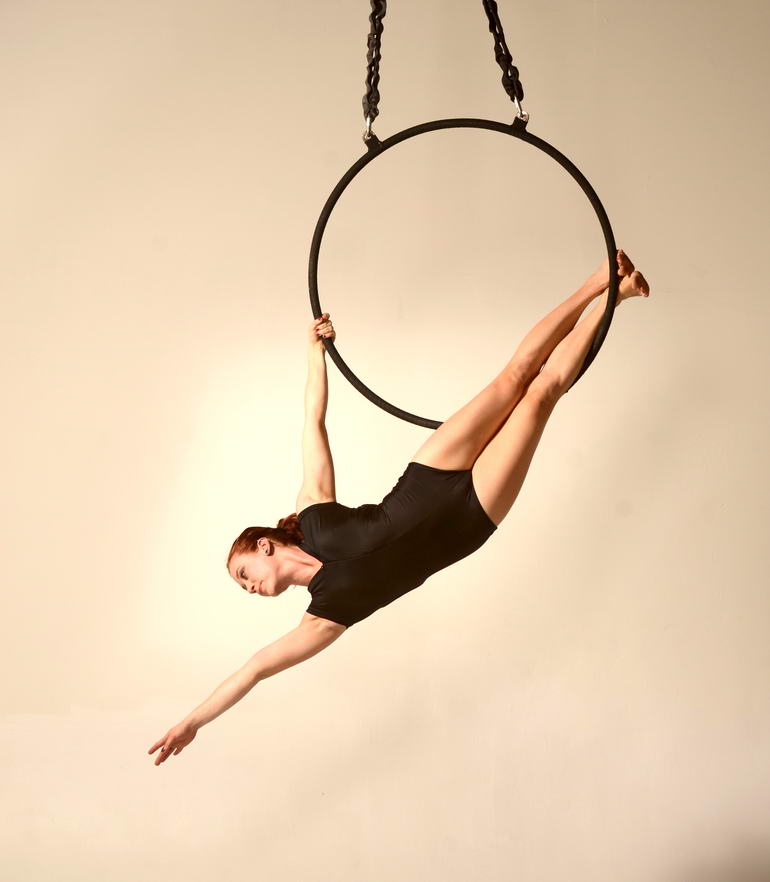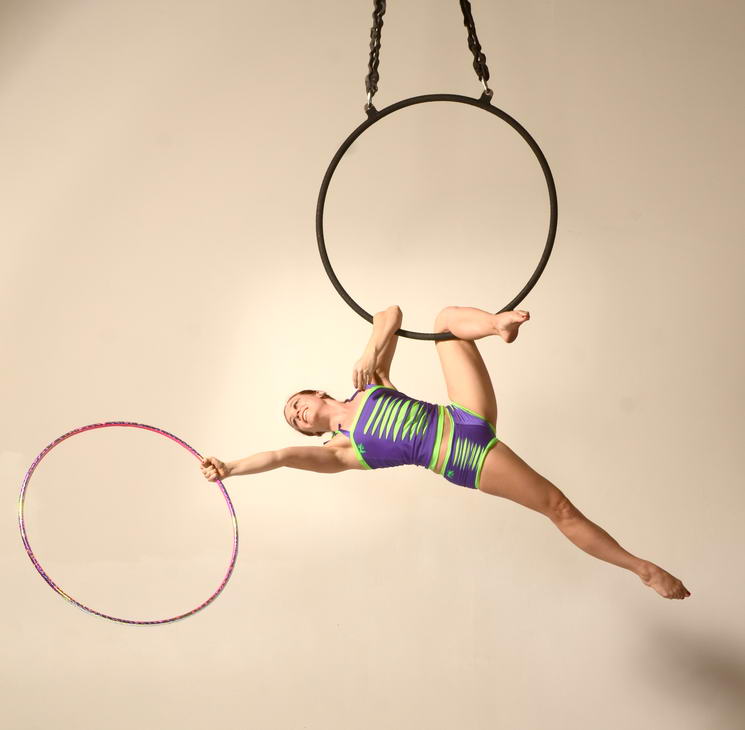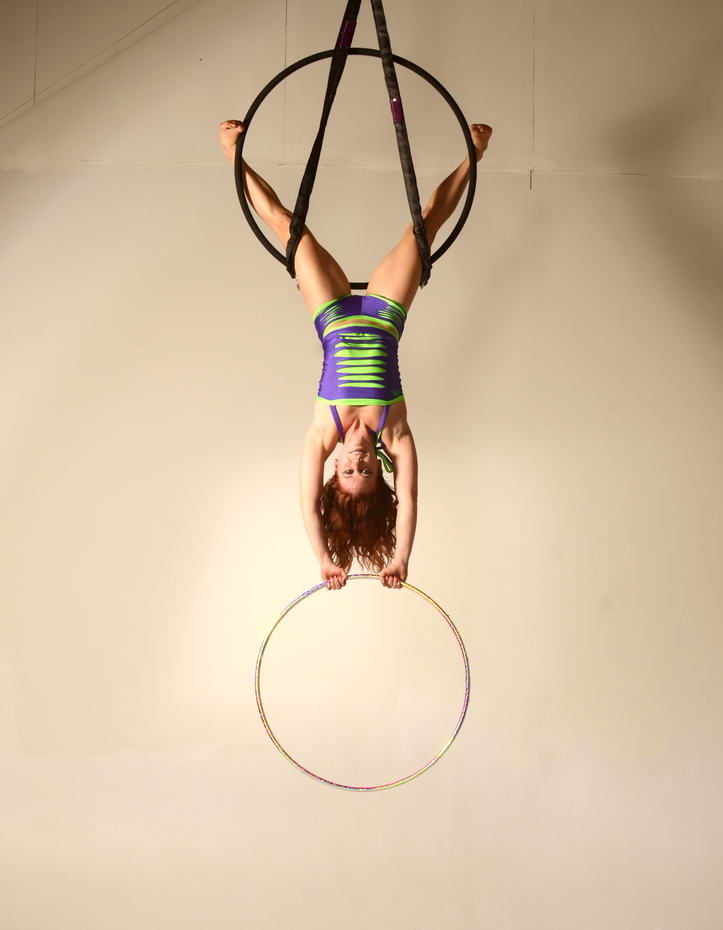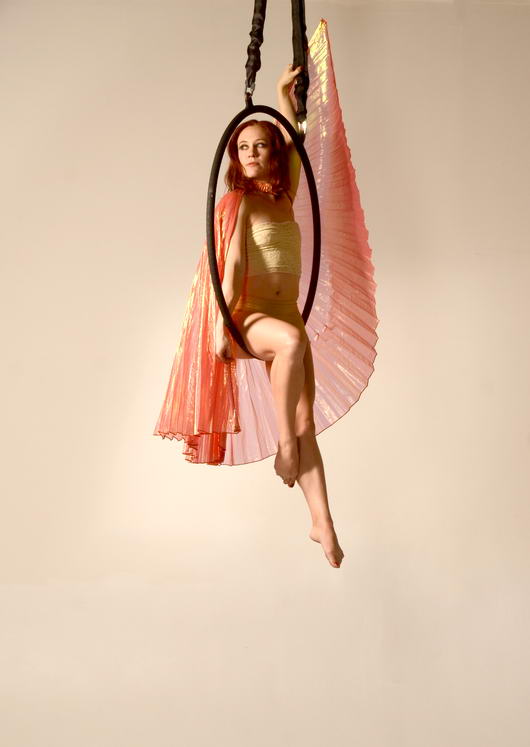 March 22nd, 2014
I met my friend Lindsay when she was a student dancer at Ohio University when I was doing photos of their dance concerts. She has come to my studio several times to get performance photos done. She is now in Cincinnati and teaches yoga and continues to perform. That all keeps her very busy and I don't get to see or photograph her very often. These are photos from a trip to my studio about a year ago when she set up her aerial kit and "hung around" the studio for a while.
She's a talented and lovely young lady. You can learn more about her on her web site.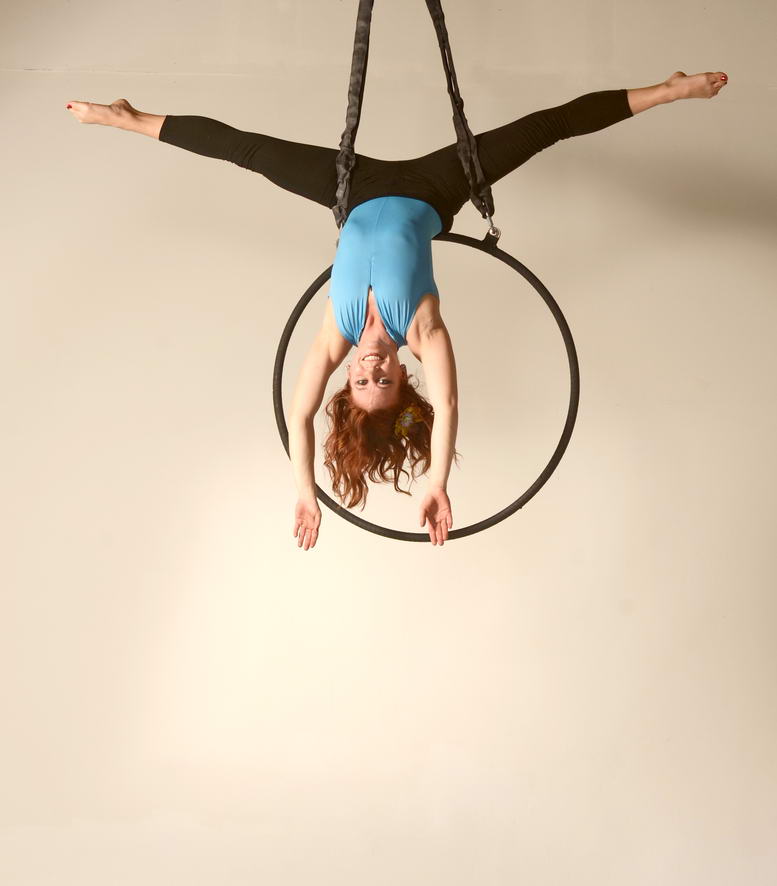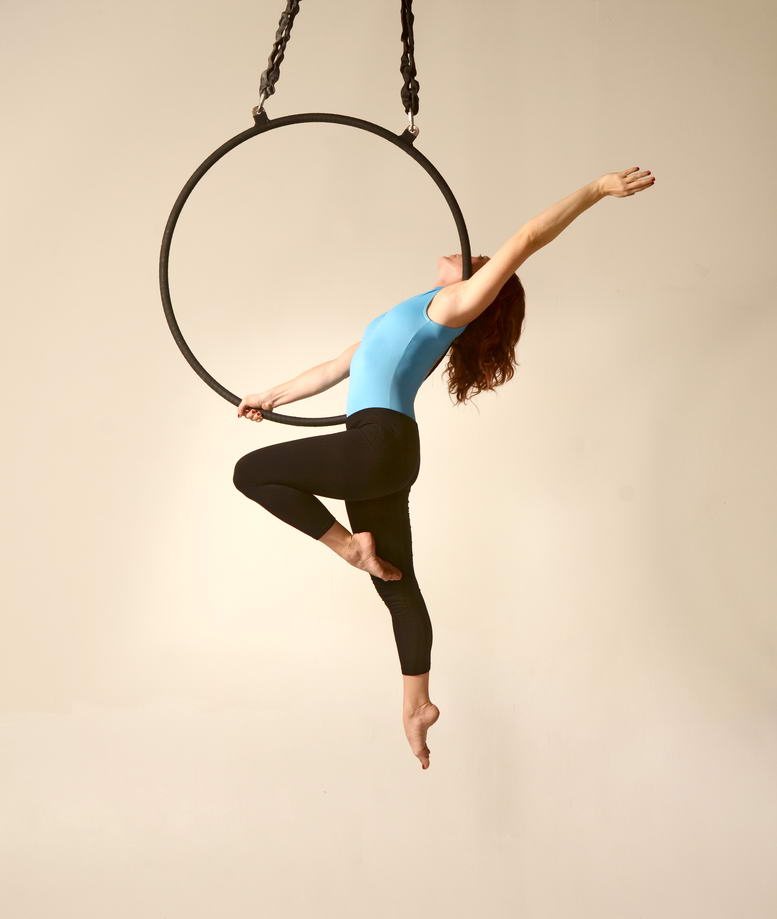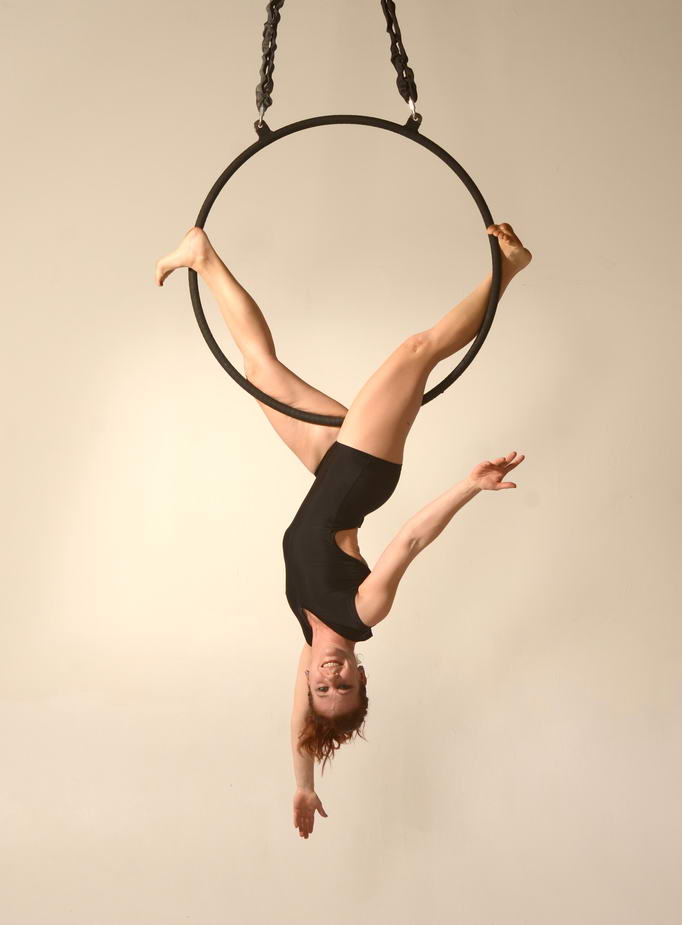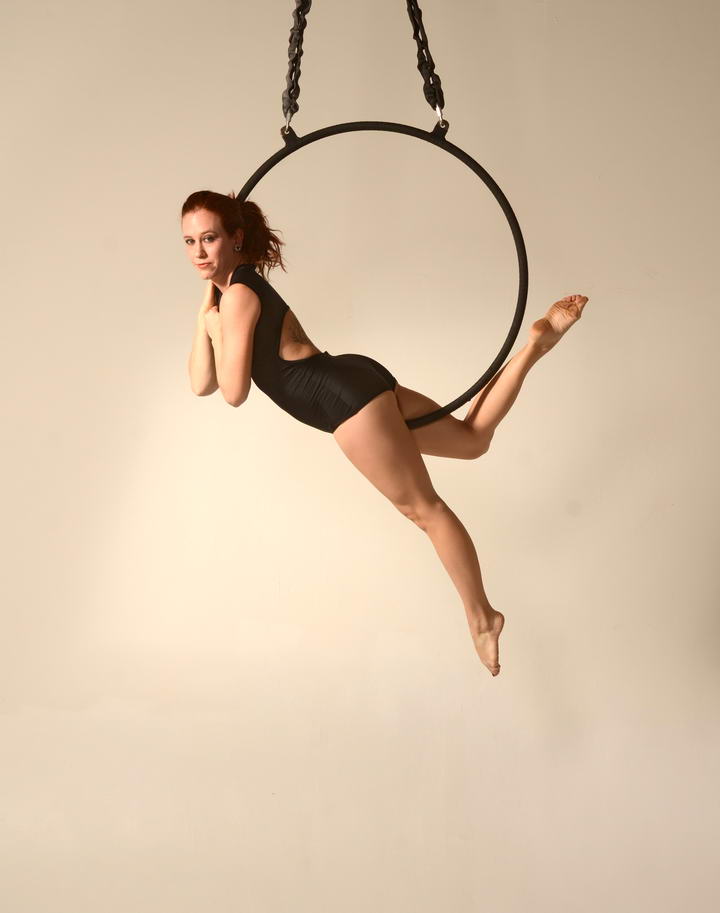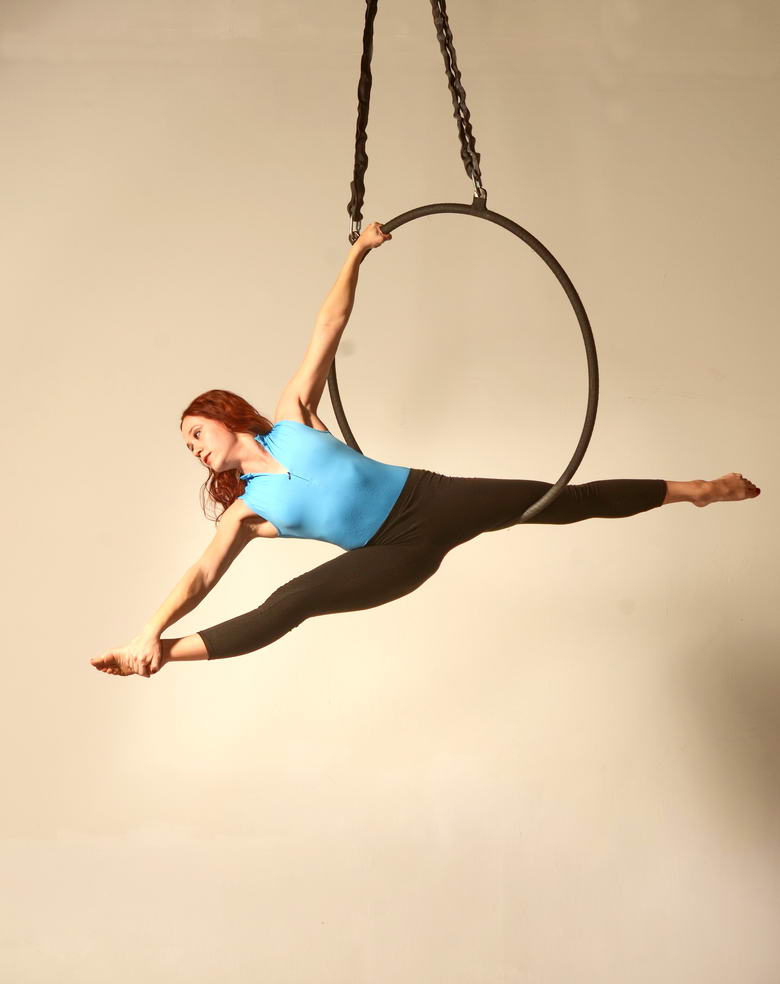 March 15th, 2014
Here are a few more photos from my shoot with Sarah 219 at my friend Antoine's home in Savannah. We took advantage of this lovely niche in Antoine's house which was obviously intended for the display of lovely art objects.  So it seemed like a perfect place for Sarah.