November 20th, 2017
Some more instant photos of Liv Sage in my studio.
These were shot on Fuji Instax Mini film using a Lomo camera that I hate with a passion.
This camera is very hard to control. All the controls on it are marked with single-letter abbreviations for the name of the control…but the names aren't the standard ones that have been used on cameras since photography was invented. No these Lomo idiots had to invent new hipster names for all the controls. So I can never figure out what the controls are supposed to be.
So I fool around with this awful camera and sometimes, especially when I have a great model in front of it, I manage to take a photo that isn't too bad. Just wish I could better control the exposure. But my new "Frankencamera" that shoots Instax Mini film allows me to properly control all the settings…and to understand what those settings are, so I doubt this Lomo piece of junk will get used again.
November 16th, 2017
Here are a few quick edits of some photos I did with Liv Sage using some of my stash of Fuji 3000 speed instant peel-apart film. They were shot with my old Speed Graphic camera.
These days people seem to think the flaws in this material are interesting, so I decided to leave them in for now. I'll probably do a better edit on some of these later and clean them up. But for now you can enjoy the dust and scratches that are inherent in this film.
Exposure is often kind of hit or miss with this film, but sometimes the misses are kind of nice, like this last one.
November 6th, 2017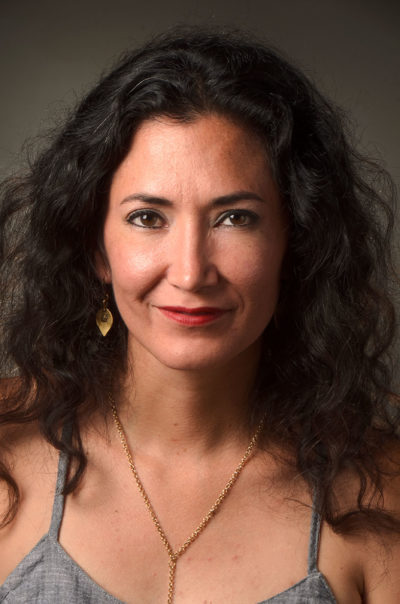 Just some photos from my second shoot with a photographer friend who agreed to spend a little time in front of my camera.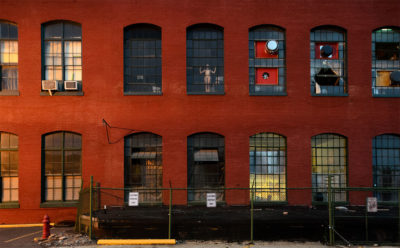 After doing some portraits with studio lighting we played around a little by doing some exteriors of the studio building with her in the window.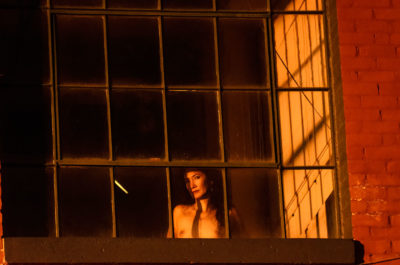 The top two were taken after dark when the building was illuminated by by a street light.
This last one was taken earlier when there was still daylight.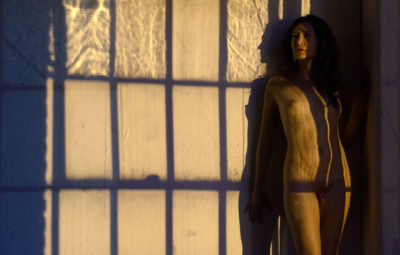 And this is back in the studio lit by the street light outside.
And, finally, a shot with the street light through the studio window using a fisheye lens and then doing a correction in Photoshop so it acts more as an ultra-wide angle lens.
October 30th, 2017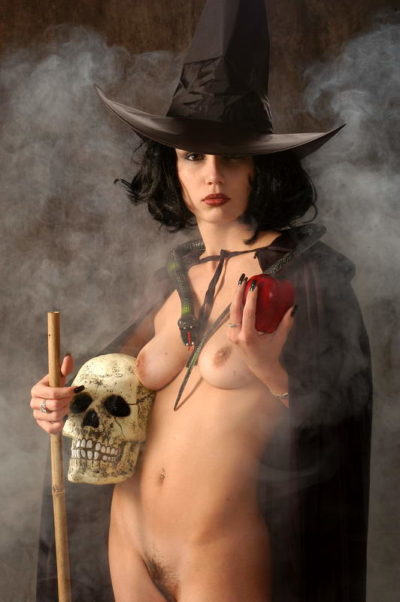 A few old Halloween-themed photos to mark the season.
Charlie above, Athena below.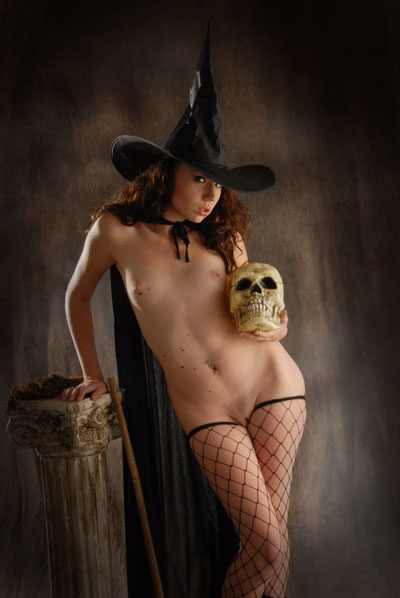 Theda below: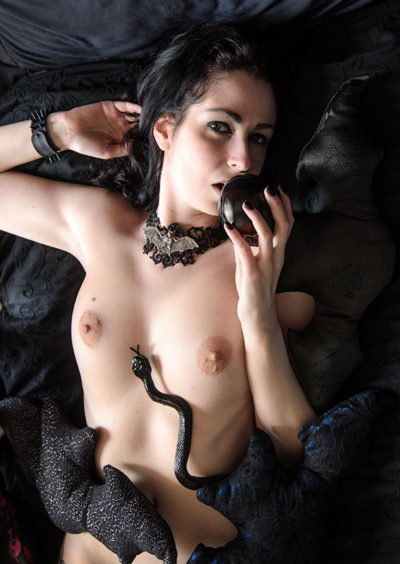 Below: "Theda Trading Her Soul for a Mix Tape"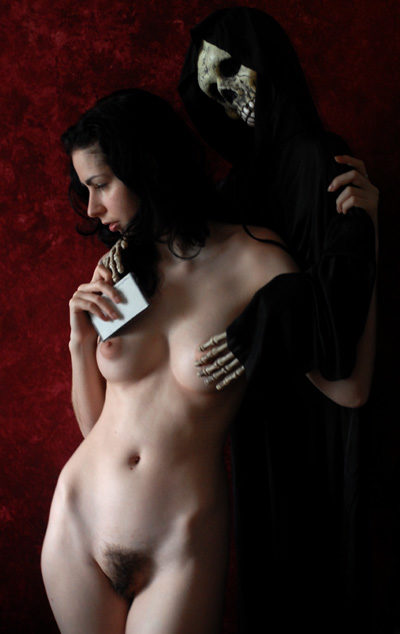 October 24th, 2017
Sometimes you have a beautiful model who is also talented with makeup.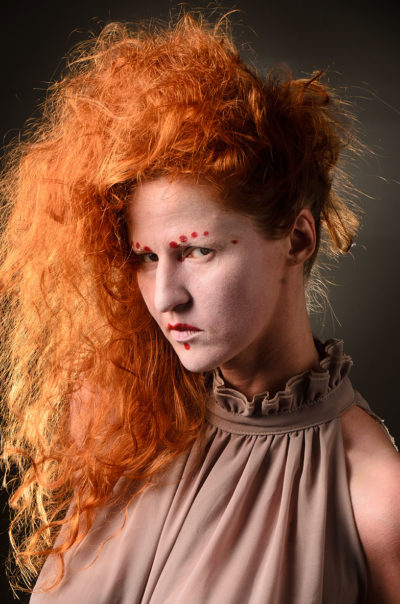 So Ayn came to the studio one day and wanted to do something weird with makeup. I, of course, said, "Sure!"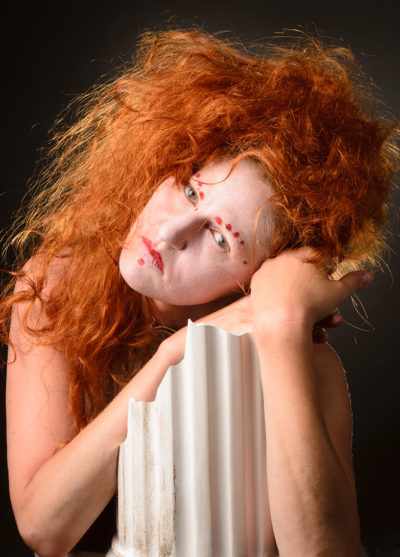 I love having a great model like Ayn who is local and who is usually up for just doing fun shoots.
You just never know what's going to happen next.
October 20th, 2017
Getting back to trying to catch up on my editing. Well, it was more than a year ago when I moved out of my studio in the Front Street Buildings in Dayton. I had a studio in that complex for something like 15 years…maybe more, I forget. During that time I had accumulated a lot of stuff. So there were some surprises when I started packing up and tossing lots of stuff. Who what have thought that I'd have lost a model in all that clutter?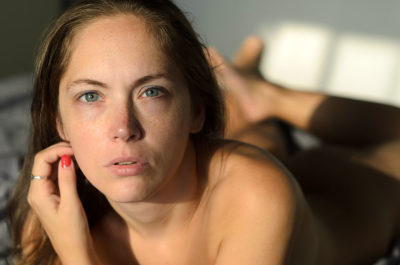 Well, Angie didn't seem to be much the worse for wear…or for being stored. So we went ahead and did a few photos.
For starters I decided to play around with my Nikkor 50mm f/1.4 lens for a while. This lens is pretty soft wide open, but stop it down a stop or two and it gets very sharp and still has pretty shallow depth of focus.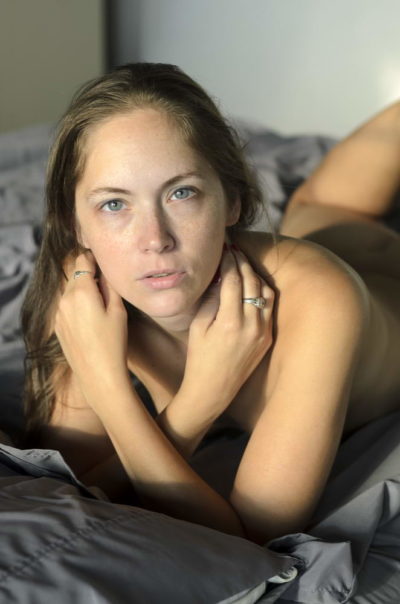 Then we played around with the sunlight that was streaming into the studio that morning.
Still using the 50mm lens almost wide open.
And finally I pulled out my Panasonic G5 and stuck a pinhole on it to see what I could come up with. Here's the result of that.
October 16th, 2017
I did a shoot last week to work more seriously with my new "Frankencamera" that shoots Fuji Mini film, but has a proper, sharp lens that can be focused manually and that give me total manual control of the exposure.
Another thing I wanted to explore more is the new black and white film that Fuji has for the Instax Mini. That's what these photos were taken with. It's no where near the amazing quality of the discontinued Fuji 3000 peel-apart film that I love so much, but at least it gives me an option for shooting black and white instant photos.
The Instax format is inherently a soft focus process, so I know I'll never be able to get the kind of sharp, crisp photos that I could get with Fuji 3000, but I'm going to try to learn to work within the limitations of this new film. I really don't have a choice if I want to keep making instant black and white photos.
I also shot a pack of Fuji 3000 from the few that remain in my stash. I'm shooting peel-apart film with my Mamiya Universal camera that gives me complete control over focus and exposure. The photo below was shot with that camera.
And I shot some color Instax Mini film in the Frankencamera. That film does pretty well too.
And, finally, I shot some color Fuji 100 film in the Mamiya. I'm really going to miss the peel-apart film when my stash is all gone.
Thanks, Ayn, for doing a great job of working in the slow process of instant photography.
October 13th, 2017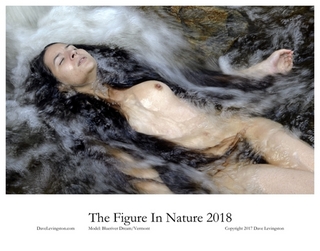 You may have noticed the new 2018 calendar featured in the column to the right. I've just published it and it is available for purchase from my store on Lulu.com. You can go there and preview the entire calendar. It's reasonably priced and that makes it a very inexpensive way to own a bunch of my photos. I know that no one actually uses paper calendars these days, but if you are one of the few exceptions who might like one, please go check it out.
That's the amazing BlueRiverDream on the cover, by the way.
October 9th, 2017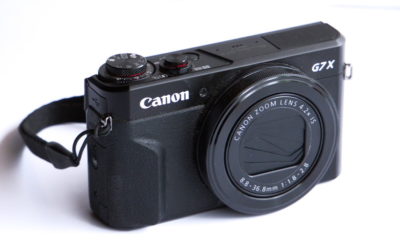 For many years I've carried a Canon S90 compact camera on my belt. It's a good camera and I've made some good photos with it, but it is pretty limited. Push it much beyond ideal photo conditions and the files start to fall apart. But it was always there on my belt, so I had it when I needed it.
Recently the S90 was showing signs that it was approaching the end of its life, so I started looking around for a replacement. I ended up buying a Canon G7X Mark II. This new camera has completely changed the way I think about the camera on my belt.
If you aren't familiar with the G7X Mark II, its lens is a 35mm-equivalent of 24-100mm with aperture of 1.8-2.8 across the zoom range. Both those characteristics are a huge improvement over the S90. Add to that the 20MP one-inch sensor and I figured I'd get a significant improvement in image quality.
Turns out "significant improvement" was a major understatement.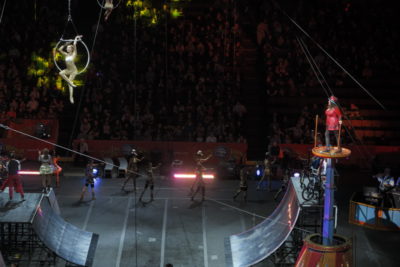 Just a small sample of the image quality. Full frame above, small cropped area of the same photo below.
Taken at one of the last performances of the Barnum and Bailey Circus.
100mm-e at 1/200, f/2.8 (wide open), ISO 400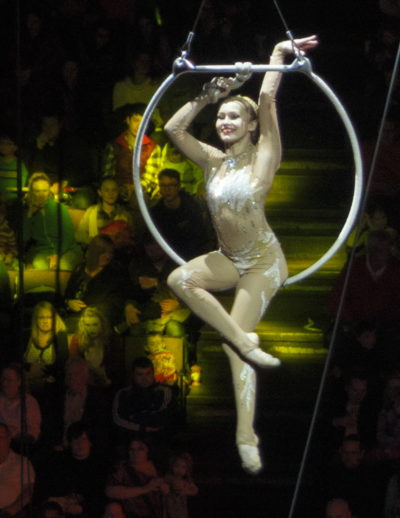 I've been a Nikon guy since 1968, but recently bought a Panasonic GX8 and thought it was pretty much my ideal camera. I've put together a small system that exceeds the range of my Nikon system and spent less on it than new a Nikon and one good lens would cost. I was pretty happy and not planning to make many equipment changes.
Well, it didn't take long to realize that the files I was getting from the new Canon were pretty much equal to those coming out of the Panasonic. And the Canon had faster maximum apertures than any of my Micro 4/3 lenses.
I've been shooting with both cameras for a few months now, including a driving trip across the country along Rt. 66, with visits to Death Valley, Los Angeles and Yosemite. In quite a few instances the Canon G7X files are as good as or better than the files from the Panasonic GX8.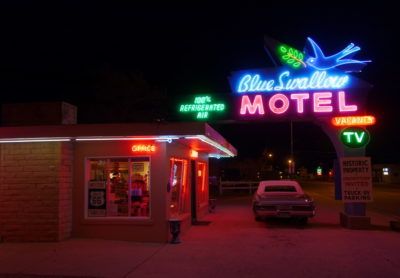 Blue Swallow Motel, perhaps the most famous of the old Rt. 66 motels, Tucumcari, New Mexico. 24mm-e, 1/30, f/2.5, ISO 125.
There are limitations to the Canon. There's no viewfinder. There's no hot shoe or PC outlet. And, of course, you can't change the lens. It won't do everything. But it seems to be able to handle at least 90 percent…maybe 95 percent…of the photos I take. And it fits in a pouch on my belt. It will easily go in a large pocket.
One of the murals in the Amargosa Hotel and Opera House in Death Valley Junction, California.
The murals were painted by the late Marta Becket who bought the motel in the 1960s and regularly performed in the Opera House.
24mm-e, 1/20, f/1.8 (wide open), ISO 1600.
I've printed this file 17×22 and it looks fine at that size.
It's a well built camera. It feels substantial in my hand. The surface offers a good grip and there is a finger grip on the right side that is pretty much perfect. (I used an add-on aftermarket grip on the S90.)  It took me a while to get used to the touch screen controls on the G7X, but once I understood them, it made controlling the camera quick and easy. In addition, there's a control ring around the lens that can be customized. I have it set to control aperture or shutter when I put the camera in aperture or shutter priority mode.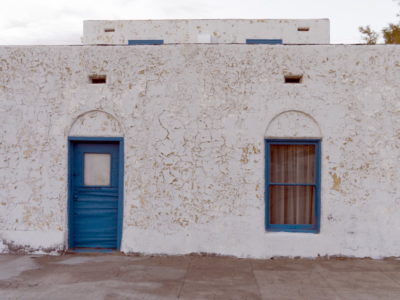 Amargosa Hotel and Opera House in Death Valley Junction, California. 1/60, f/3.9, ISO 400.
It was shot at 18mm…I tried to do the math to get the 35mm-e for that, but it hurt my head, so I stopped. I was told there would be no math.
I've made some 17×22 prints to see how they look. They are just fine. Even files shot at 1600 ISO print fine at that size and the "grain" or noise that is visible is much less than the grain from 35mm Tri-X at 400 ISO. That's my standard: Is it better than 35mm film? The files from this little camera definitely are better than 35mm. For most of my life as a photographer I shot with 35mm cameras because the results were good enough and 35mm cameras fit my style of shooting. I've worked with medium format and view cameras, including 8×10, when larger negatives were needed for jobs, but 35mm was always what I preferred.
Half Dome, Yosemite National Park. 100mm-e, 1/1250, f/4.5, ISO 125. I've printed this file 17×22 and it looks fine at that size.
As great as the files are, I do know that there are compromises in the design of the lens. There is a lot of correction being done by software. I've looked at the RAW files with no software correction and the optical flaws are pretty extreme. But the lens is sharp and the software corrections don't seem to hurt the sharpness. So, it's good enough…it's sufficient.
My friend, Gina, at 24mm-e with no software adjustments above.
The wide end of the zoom range has the most distortion.
The distortion is automatically corrected in camera for jpegs and in the RAW conversion software for RAW files.
The corrected version below. The lens is sharp and the files hold up well through the software conversion. 
In June I visited Peru and went to Machu Picchu, Cusco, and the Nasca Lines among other places.
Machu Picchu
The G7X Mark II was the only camera I took on that trip. And it performed perfectly. It was great to not have to drag a camera bag or backpack through security, or stash it in a cramped airplane cabin. I didn't have to carry a camera bag everywhere and worry about what to do with it, or if it made me a target for thieves.
Machu Picchu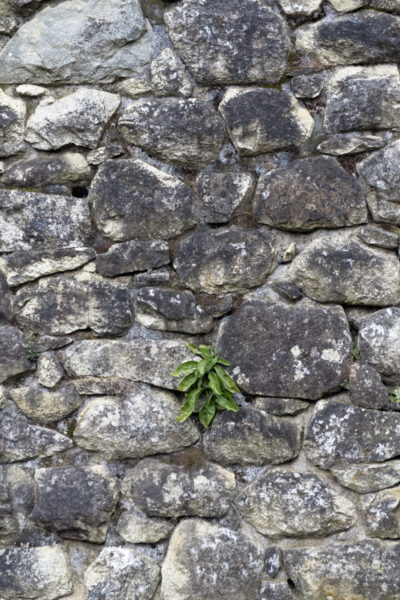 I never really felt the need for more camera than the G7X provided. It even performed very well doing aerial photos of the Nasca Lines. I think we are all going to be working with cameras like this in the near future. The reasons for the big heavy case full of equipment are becoming fewer and fewer.
The Hummingbird from the air, Nasca Lines, Peru
At a parade in Cusco, Peru
I do have one major complaint for Canon, though. For all those years with the S90 I used their little leather belt case, PSC-900, for the camera. It's perfect. Small and secure. The magnetic catch keeps it closed, but opens and closes easily with no noise. It provides good protection, yet the camera is instantly accessible. I wore one out and replaced it with the same case.
So I bought the similar case for the G7X Mark II. I don't understand how, after designing a perfect case for the S90, Canon managed to design a case for the G7X Mark II that fails at every point where the S90 case excels. The Canon PSC-5500 is much larger than it needs to be. Instead of closing closely over the top of the camera, it makes a large loop across the top. This loop catches on things constantly, pulling the case open. The magnetic catch is not secure, is hard to get latched, and comes unlatched all the time, even when it hasn't caught on something. This case is a total failure. And it is also grossly overpriced.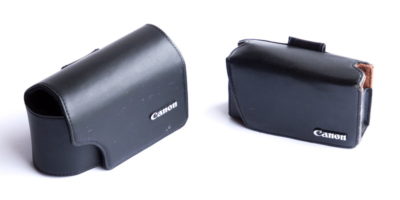 The new awful, useless, overpriced case for the G7X Mark II on the left.
The old perfect case for the S90 on the right.
I used the Canon case for a month or so and couldn't stand it anymore. I replaced it with a Case Logic TBC-403 case that fits the camera perfectly, is much smaller on my belt, and even has room for a spare battery and memory card. And it costs about 1/5 what Canon charges for their failure of a case. My main complaint about the Case Logic case is the zipper closure which makes it a bit slower to get the camera in and out. But, still, it's a huge improvement over the Canon case.

Left to right: The old S90 case, the new G7X Mark II case, and the reasonably priced and adequate Case Logic case.
Still wishing I had something like the old S90 case I noticed that Canon has a case for the older, original G7X, the PSC-5300. It looked very similar to the old S90 case. But it wasn't listed as fitting the G7X Mark II. Customer support at one of the major internet camera stores told me that the Mark II would not fit in this case. But after struggling with the zipper on the Case Logic case a few times I decided to take a chance and ordered the PSC-5300.
Here's the Canon PSC-5300 case that I'm using for my G7X Mark II despite being told it would not fit.
Below you can see my camera in the case. Fits just fine.
Happily, the G7X Mark II does fit just fine. It's only slightly larger than the older camera, mostly because of the grip on the front. But it fits snugly in this case. The case closes and stays closed with the magnetic catches and opens effortlessly and silently. There's nowhere to store a spare card and battery, but those can go in any pocket, so that's a minor thing. I'm now very happy with both my G7X Mark II and the case I'm carrying it in.
Unfortunately it appears that Canon has discontinued the PSC-5300 case. That is very sad. It is the best case for the G7X Mark II. Maybe they will bring it back if enough people complain. Or maybe there are some used ones out there if you search. I'm glad I got mine before it was too late.
October 8th, 2017
I have work in two gallery shows coming up. The galleries are located at opposite sides of the country.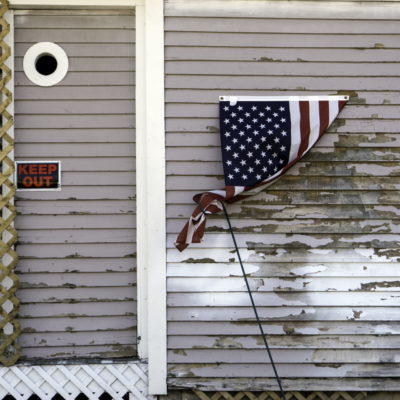 The photo above will be in the show, "Fairy Tales & Nuclear Bombs (What Happened to the Summer of Love)", at the LightBox Photographic Gallery in Astoria, Oregon. The exhibit will run October 14 to November 7.
And this one, above, will be in the show, "The Intimate Portrait" juried by Joyce Tenneson, at the SE Center for Photography in Greenville, South Carolina. That show will be up November 3-26.
Both shows look to be well worth your time to see if you are in one of those areas.