October 26th, 2014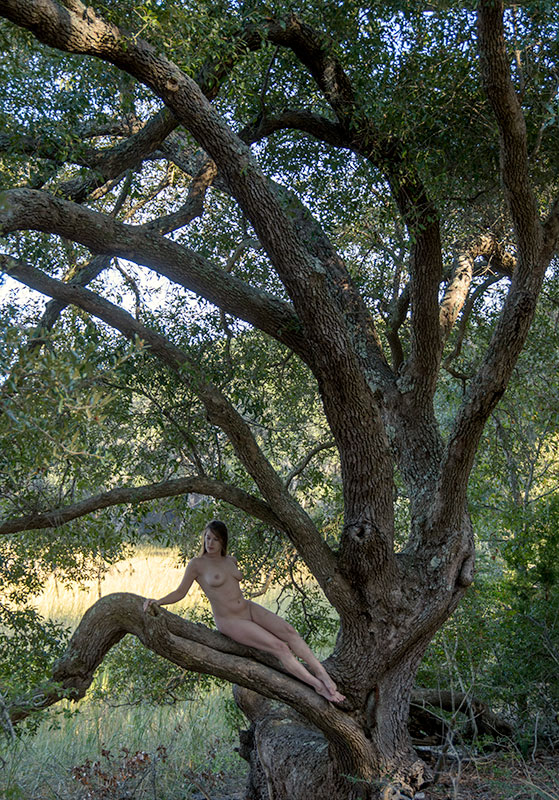 I travel to the Charleston/Savannah area whenever I get the chance. Especially in the winter. And when I'm there I always try to shoot with one of my favorite models, Sarah 219.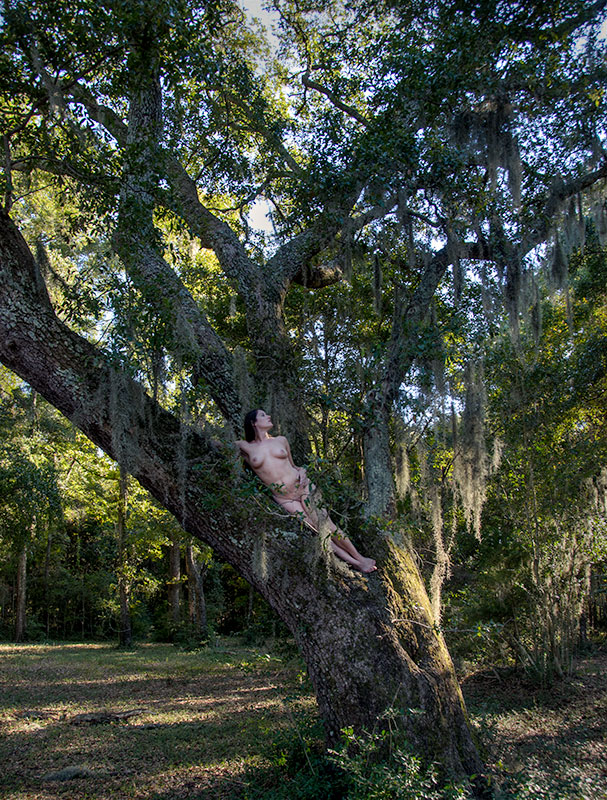 For this shoot last year I had the good fortune to be able to work with a photographer friend in the neighborhood, George Weld.
George took us to a private location where we were free to work without concern of being interrupted or of scandalizing anyone.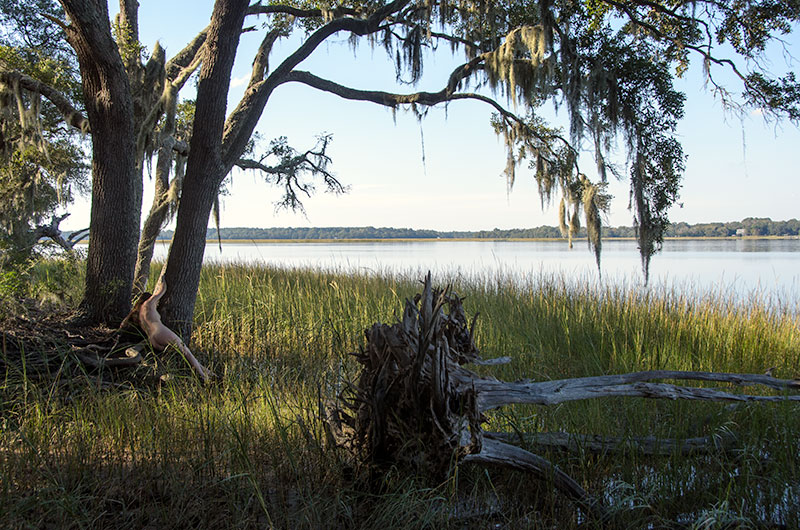 Unfortunately, as seems to always be the case when I'm working in this area, the light was not being cooperative and I had to deal with strong direct sunlight. Not the best light for the work I like to do. But with a beautiful spot and a very lovely and talented model, I was able to come up with a few photos that I like.
I think this last one is my favorite. Thanks Sarah and George. Hope to see you both again soon.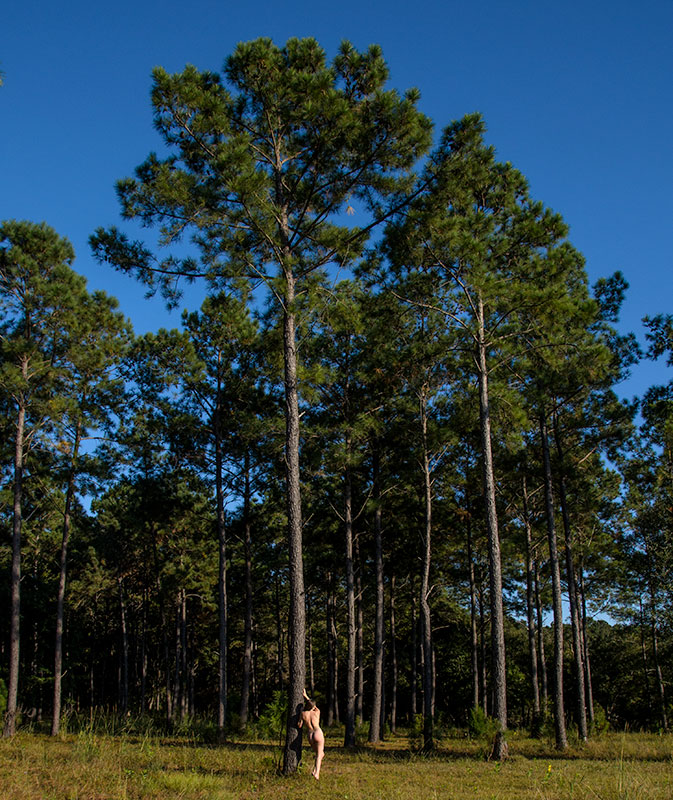 October 23rd, 2014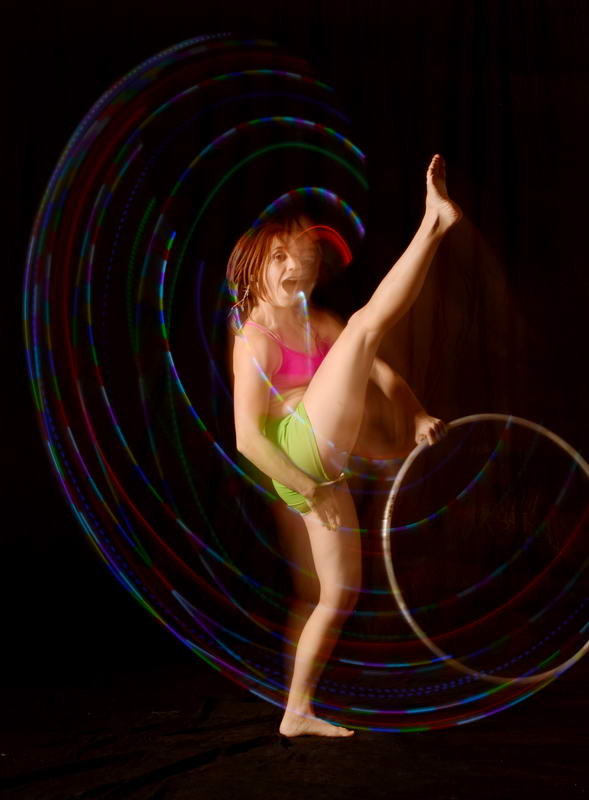 I suspect you are all quite tired of looking at photos of that old house…even with the lovely Ayn decorating them. So, on to something completely different.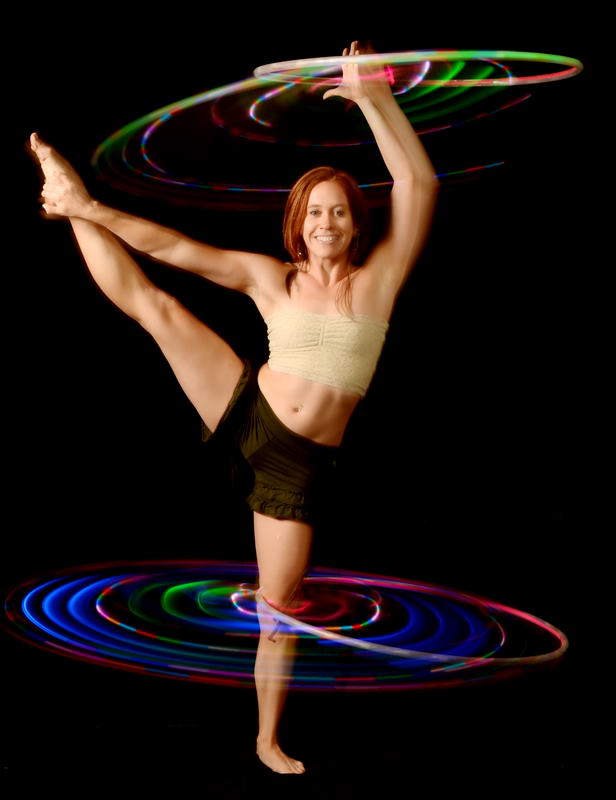 These are some photos of my friend and multi-talented performer, Lindsay Nova. I met her a few years ago when she was studying dance at my alma mater, Ohio University, and I was doing photos of their dance concerts. For this shoot we wanted to capture her performing with her lighted hoops. A black background, a little strobe and a long exposure caught some interesting effects.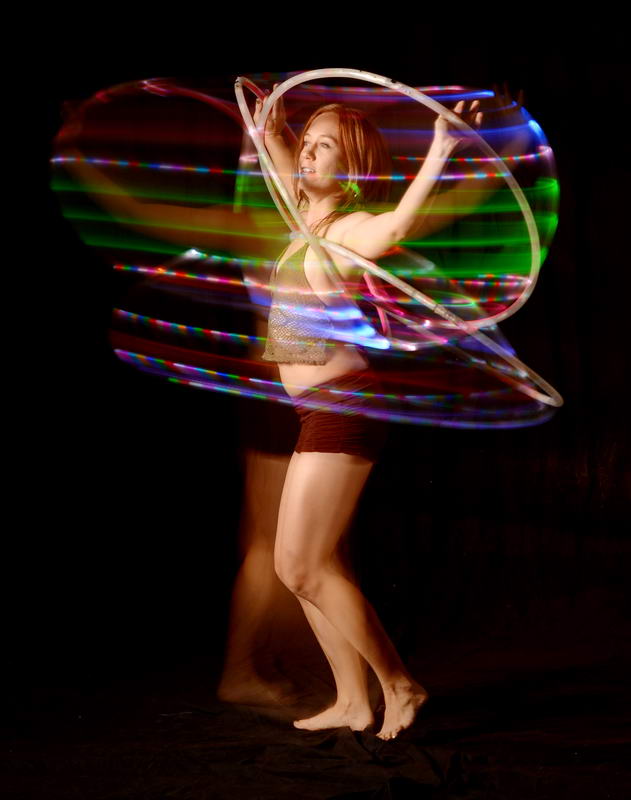 Lindsay is a great multi-faceted performer and also a yoga instructor. You can find out more about her at her facebook page linked above. Check her out.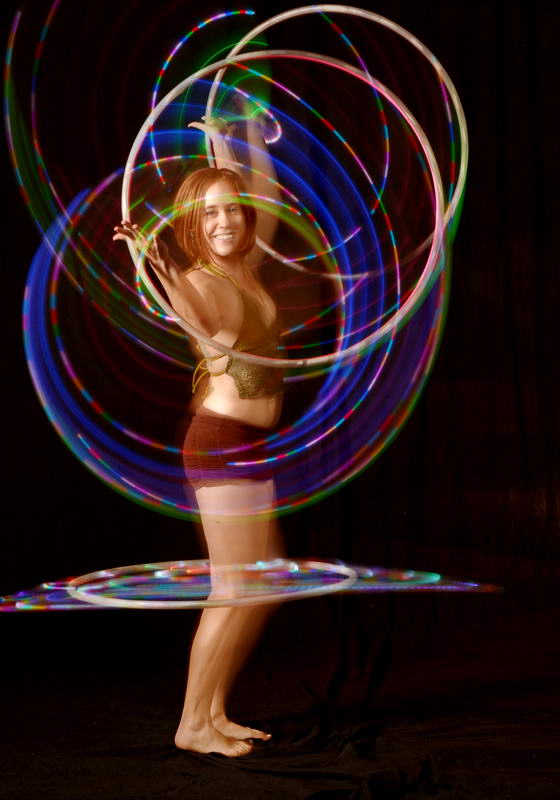 October 21st, 2014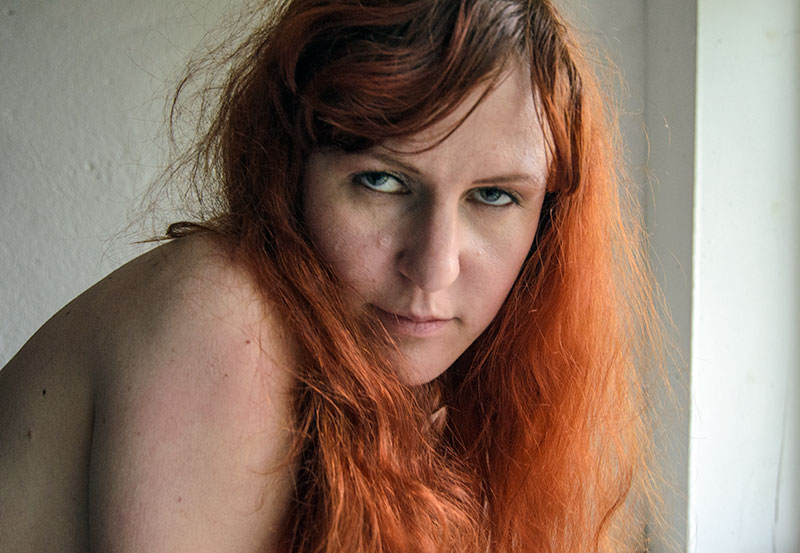 One last post from my shoot with Ayn at the house. I didn't just do photos of the house. How could I not also do some photos of the beautiful model who was working so hard to help me make these photos.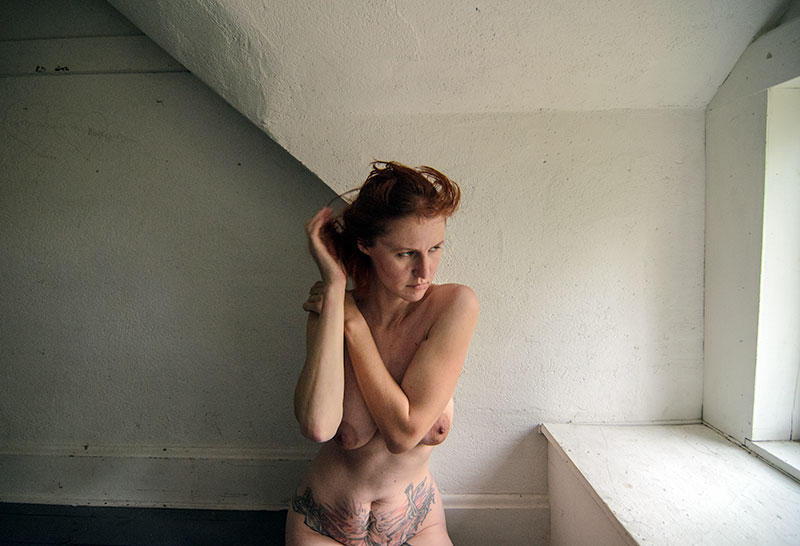 So, here are a few photos that are more portraits of Ayn than photos of the house with a nude figure.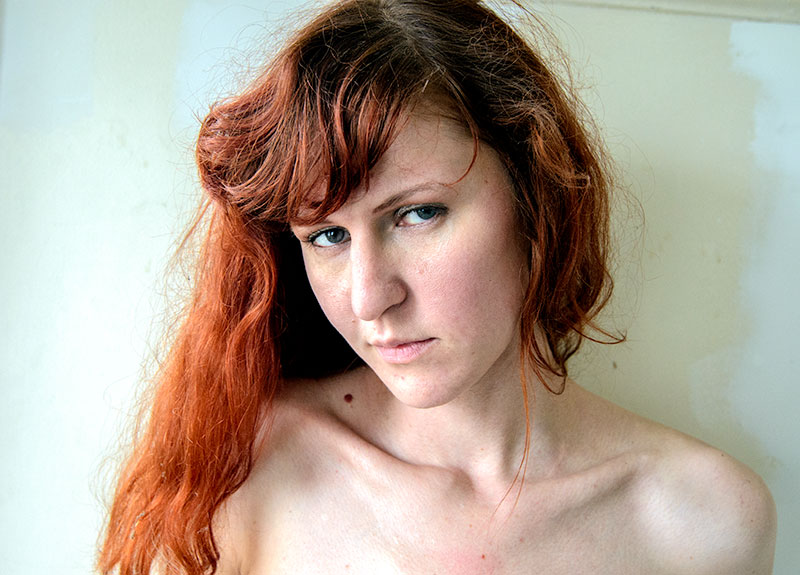 Ayn is a great model but also a lovely woman and a friend. She's a person I respect and admire. And she's a lot of fun to work with.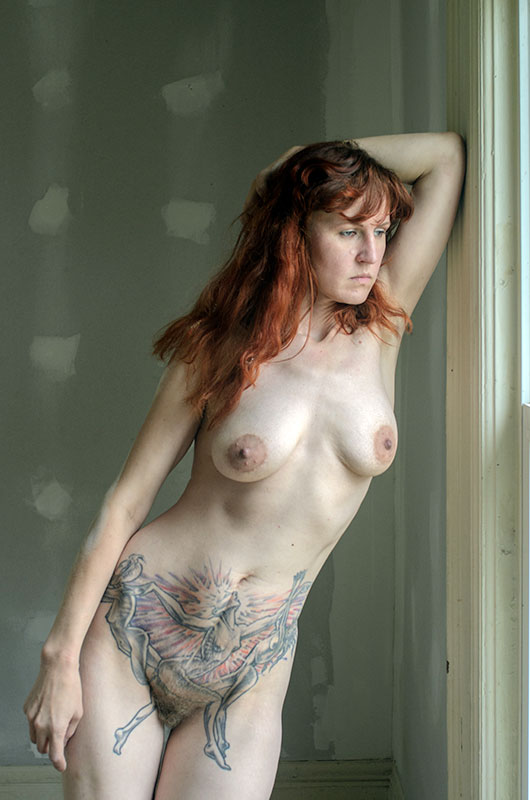 And she can make a doorway look pretty damn good.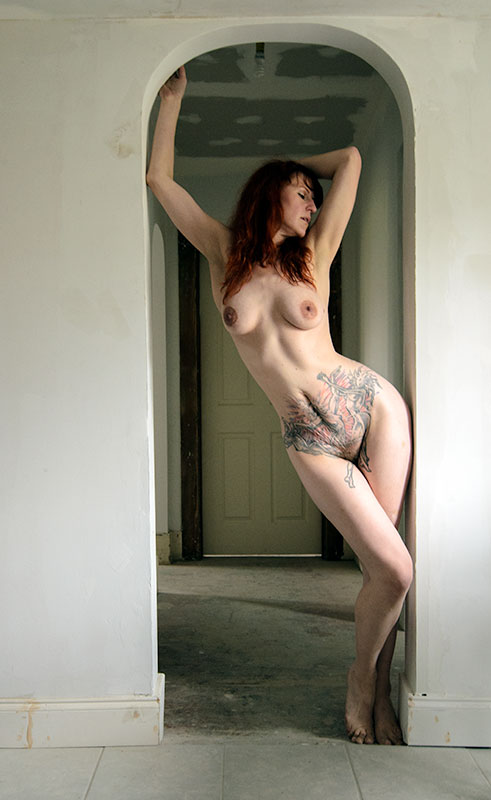 October 17th, 2014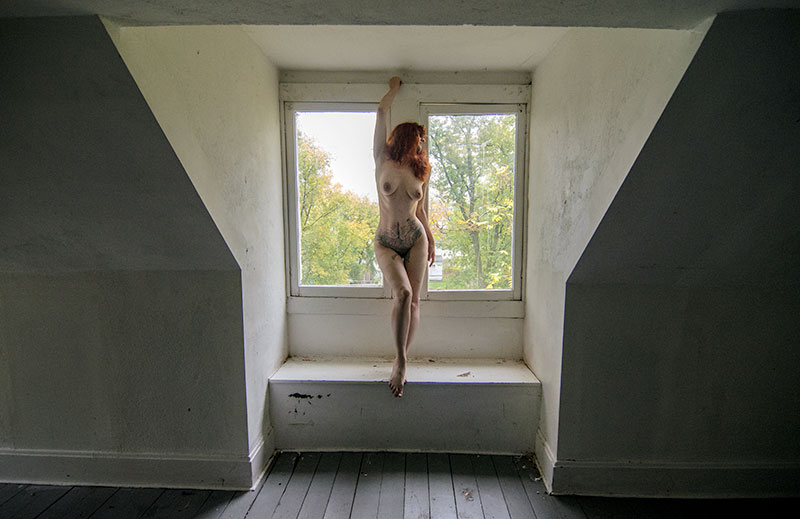 That one dormer is lovely, but it isn't the only beautiful spot in that old house. Here is Ayn showing off her lovely figure in some other interesting windows in the house.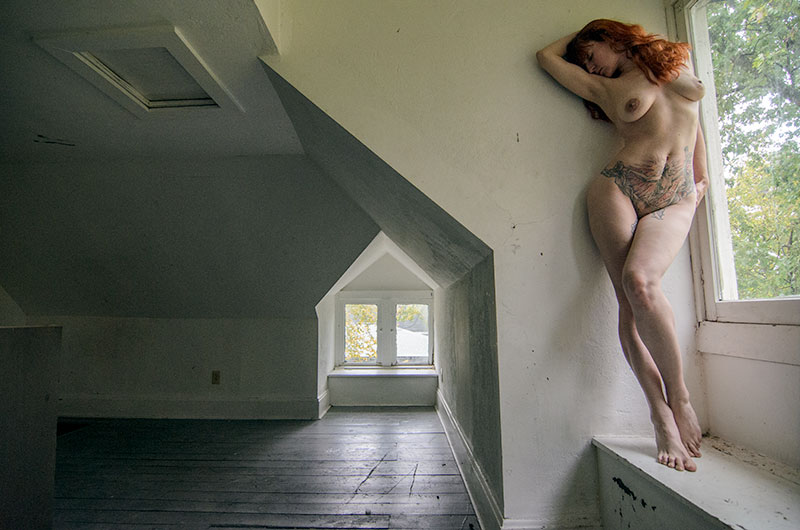 Yep, that's another odd dormer in the background. A different one from the one in the earlier posts.
Here's Ayn showing off her posing skills in that dormer.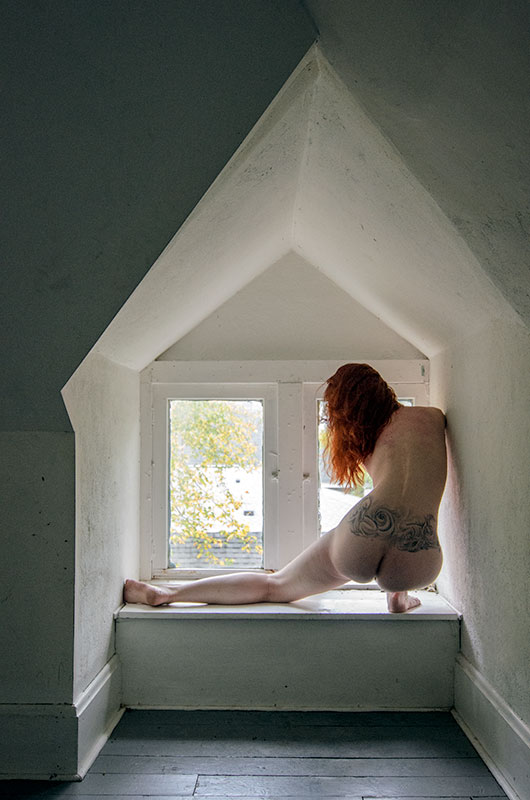 And downstairs there's a great bay window.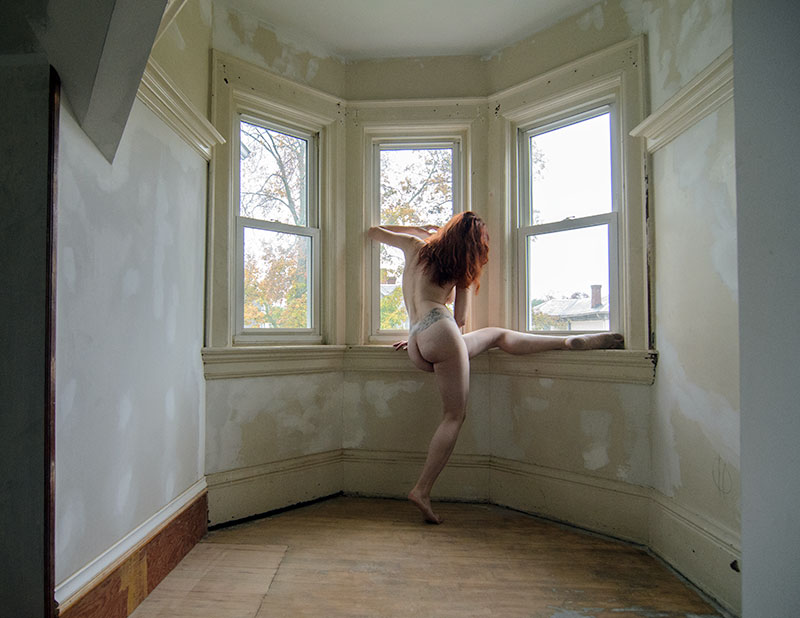 No fisheye in any of these…they were all done with the 12-24. Still all shot at 1600 ISO. I treat everything from 100 to 1600 ISO as just exposure control since there is almost no noticeable difference in the files from my Nikon D7000. There's a bit of noise at 1600, but no where near the grain of Tri-X at 400. That's my standard for comparison.
October 14th, 2014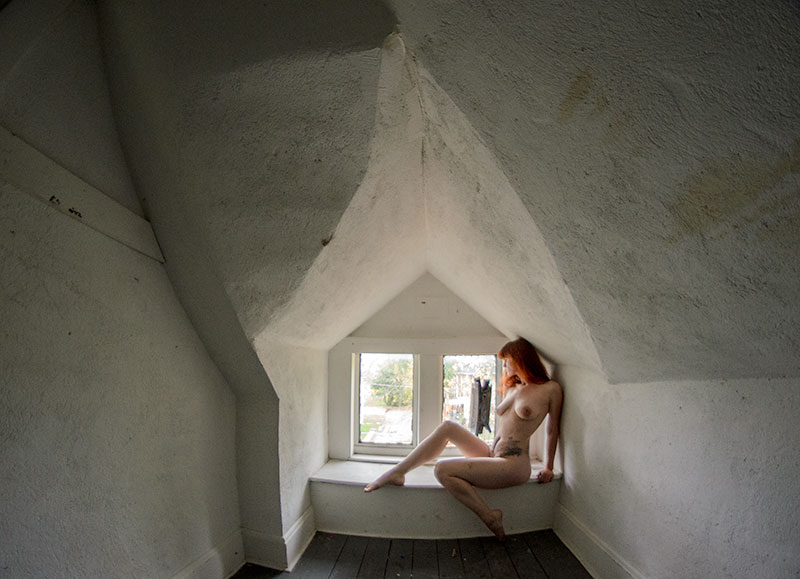 Here are a few more shots from that same dormer in my favorite old house. Ayn was having a ball finding different ways to pose in that little space. For the one above I switched the fisheye to a horizontal composition to see how the fisheye effect looked and then used Photoshop to straighten out the curves a bit so it looks more like a regular ultra-wide angle lens.
For the two shots below I switched to my 12-24mm lens, shooting at 12mm. These are not adjusted in Photoshop, though Camera RAW does do a bit of correction on them automatically.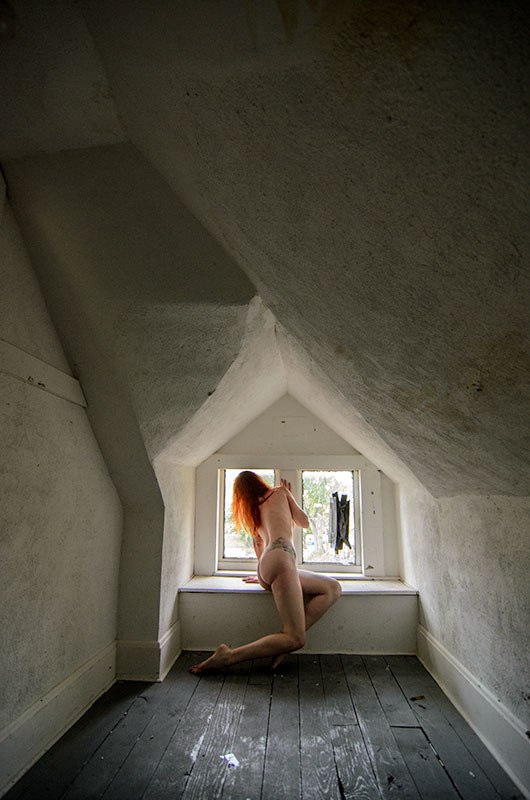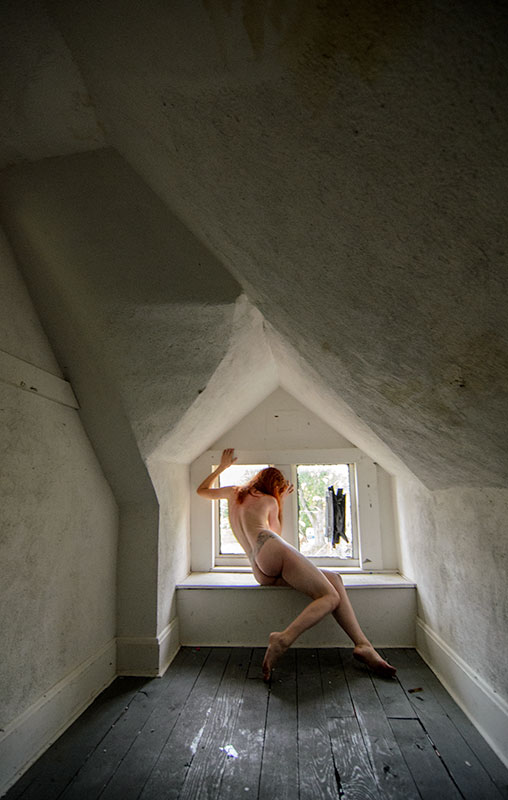 That 25 percent off sale on my calendars ends at midnight tomorrow…Wednesday. Don't miss it if you are thinking of buying a calendar. Enter the code:  EATYOUREGGS  at checkout to get the discount.
October 11th, 2014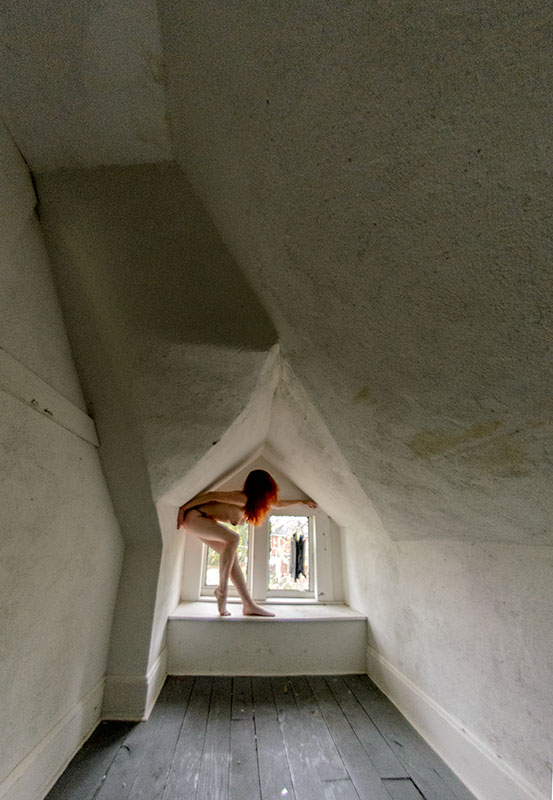 There's a story to go with these photos. Sorry about that.
Some old friends of mine have been buying old houses in my hometown and fixing them up. Several years ago they drove me around town to show me their houses. When they pulled up in front of one house I was surprised. I had tried to buy this house many years ago when I was buying my first house. We couldn't agree on a price, so I moved on and bought a different house. But I always remembered how beautiful this house was and wished I could have had the chance to shoot some photos in it.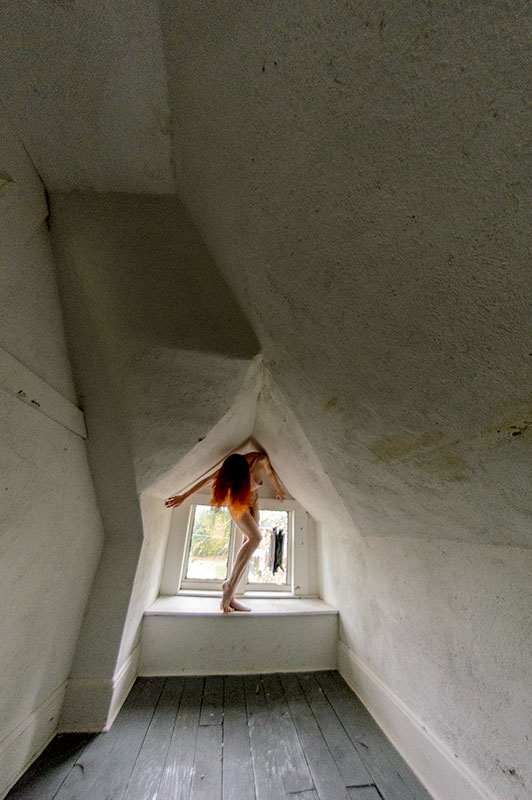 When I told my friend this story she said, "Well, why don't you bring a model and do some photos now." So I did. Since then I've done shoots in that house a couple times and this shoot makes three. They had rented the house to good tenants for several years, but eventually the tenants moved out and my friends decided to do a complete remodel before putting it back on the rental market.
So I took advantage of the opportunity to do another shoot there. I took my favorite local model, Ayn, over to my old home town and we spent a day seeing what we could come up with in this old house. As you can see, when you have a talented, beautiful and creative model like Ayn there are all sorts of possibilities.
This little dormer in the attic has always been my favorite spot in the house. The plaster work is just so interesting. This time I used a lens that I hadn't had when I did the earlier shoots. It's a Pro-Optic 8mm fisheye. I used Photoshop to do some straightening of the curved fisheye look. These were shot with my Nikon D7000 at 1600 ISO with exposures in the neighborhood of 1/15 to 1/40 wide open at f/3.5. It's a fun little lens for places like this.
I'll have more from this shoot to share in my next couple posts.
Thanks Ayn.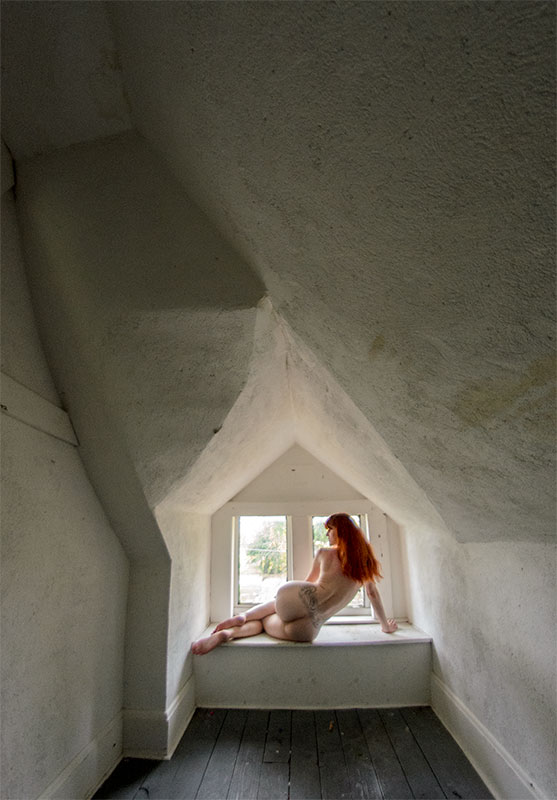 October 10th, 2014
If you are thinking about buying one of my 2015 calendars now is a good time. My publisher is running a sale in honor of World Egg Day (go figure?) You can get 25% off on your order by entering the code EATYOUREGGS at checkout. That's about as good a sale as they ever offer, so don't miss this chance to save a bunch. The sale runs through October 15. You can see and order my calendars at my on line store here:  http://www.lulu.com/spotlight/wayward  or just click on the calendars in the column to the right.
October 7th, 2014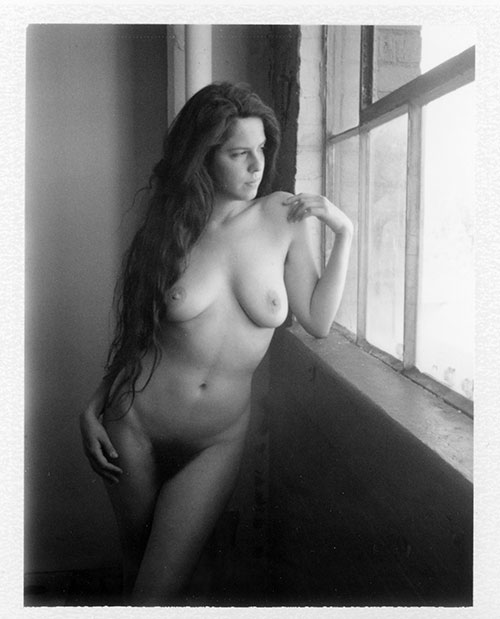 One of the truths of photography is that whatever materials you use and love will be gone, usually within 20 years or so. Nothing lasts forever in this world. I've seen this happen many times over my 50 years in photography. None of the chemical photo papers that I used are made today. Tri-X is still around…one exception to that rule…but Kodachrome, of course, is history. It's a fact of life. There's really nothing we can do about it.
One recent victim of this is 3000 speed black and white instant film. I've loved this film for as long as I've known about it. When Polaroid went belly up I was pleased to find that Fuji continued making a similar film. I have been working on a project using this film for some time. When I heard the news that Fuji had discontinued their 3000 ISO film I immediately bought as much of it as I could find. I've been slowly using up that stash since then.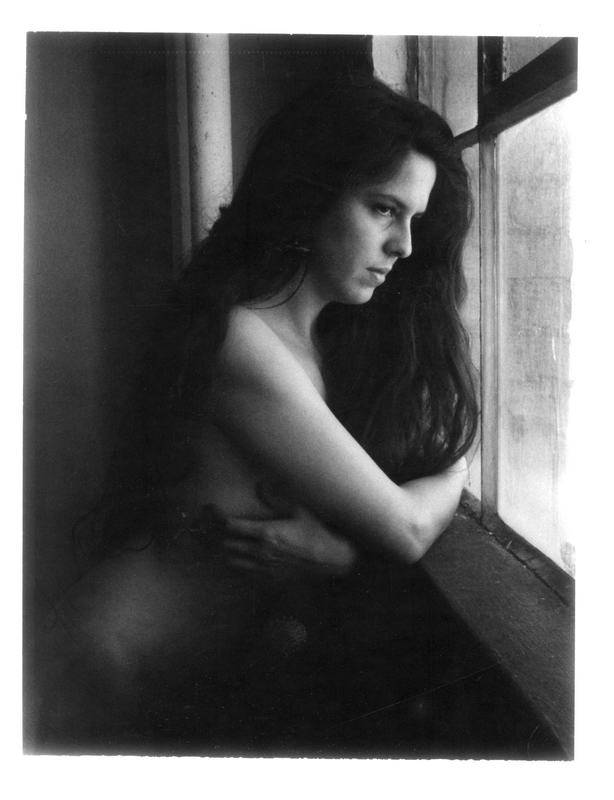 When I did these photos of Kelsey Dylan I was experimenting. These were taken before the Fuji discontinuation, so at that time I wasn't worrying about not having the film available to work with. For many years I've used my Speed Graphic to shoot this film. It delivers great quality, but is a bit of a pain in the ass to use. You view camera guys are used to working this way, but it is a style of shooting that has never been a good fit for my way of working.
I have a Polaroid pack back that goes into the back of the Graphic, sliding in like a film holder in front of the ground glass. I use a 90mm lens because I like a wider focal length for this work. The 90 is close to a "normal" focal length with this format. The rangefinder on the Graphic works, but not with this lens, so I have to use the ground glass to focus and compose. Of course, that means the camera must be on a tripod. I can't view the composition without taking the back out. I just don't enjoy working that way.
So, I had a thought. Why not buy an old Polaroid camera and use it? They are cheap on ebay. So I did. None of them work really well, so I now have 4 or 5 of them in various stages of decay. I found a source for the unique batteries they take. And I started using them with the Fuji 3000 film. These photos are one of my first tests of those old Polaroid cameras.
What I found out was that those old cameras all suck big time. I know Polaroid made a few high-quality cameras…and everybody who cares knows which ones those are and the prices for them are way up there. The cheap ones are the ones that suck. And that was the case with all the Polaroid cameras I bought and tested.
So, after a few packs of film I went back to the Speed Graphic. I still have some of the 3000 film and am still working on my project, slowly using up the last of this great film. Any models out there who would like to participate in the end of an era of the world of instant photography, please get in touch and maybe we can work together on this.
It's sad to see this material go away forever. But time marches on.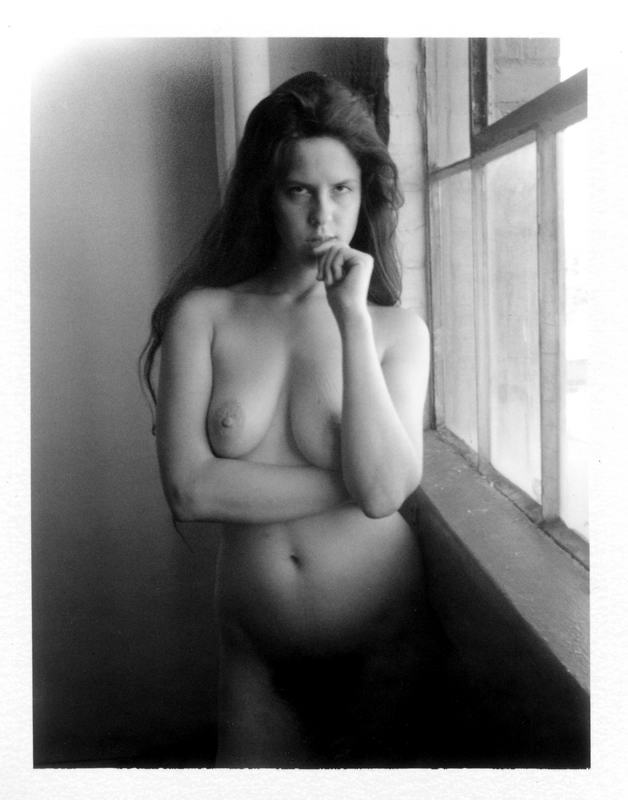 A note on the calendars. There's a sale on right now you can 15% off by using the code: FINDACURE when you check out. That sale only goes through October 9. Also I noticed in my sales report that someone in France bought one of the calendars of Kelsey. Seems we both have fans in France. My work has always been very well received by the French. Just click on the calendars to the right if you'd like to get one for yourself or as a gift.
October 4th, 2014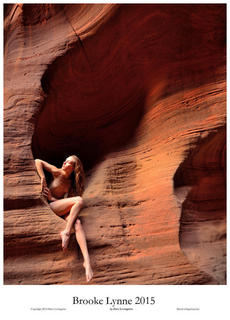 I've published some calendars again for 2015. These calendars are a great way to get copies of some of my best photos at a very low price. And they are nice to have hanging on the wall all year long. Above is a calendar entirely of my favorite model, Brooke Lynne.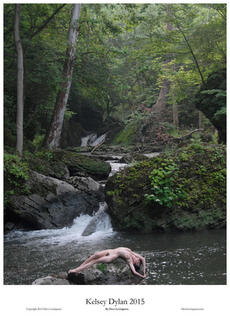 And this second one is all photos of Kelsey Dylan, another of my favorites. Both the Brooke Lynne and the Kelsey Dylan calendars are updated from the 2014 calendars featuring these great models. There are new photos along with some of the all-time favorites.
And I've updated the Figure in Nature calendar that I do every year with a lot of new photos, but still a few of my old favorites. There are a lot of different models in this calendar including Stevie Macaroni on the cover and inside, as well as Blueriverdream, Ayn, and many more. This is a great assortment of my best work with the best models in the world.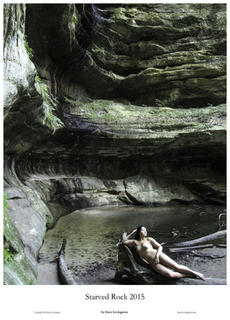 And, finally, an all new calendar this year featuring one of the most beautiful places on the planet, Starved Rock State Park. I've had the opportunity to work there several times with some great models and found I now had enough fine photos to put a calendar together with just photos from that one place. The models include Claudine on the cover and inside, and also Kelsey Dylan, Ayn, and others.
You can go to my store to purchase a calendar by clicking on the one you are interested in above, or use the images of the calendars in the right column to go to the store any time.
October 1st, 2014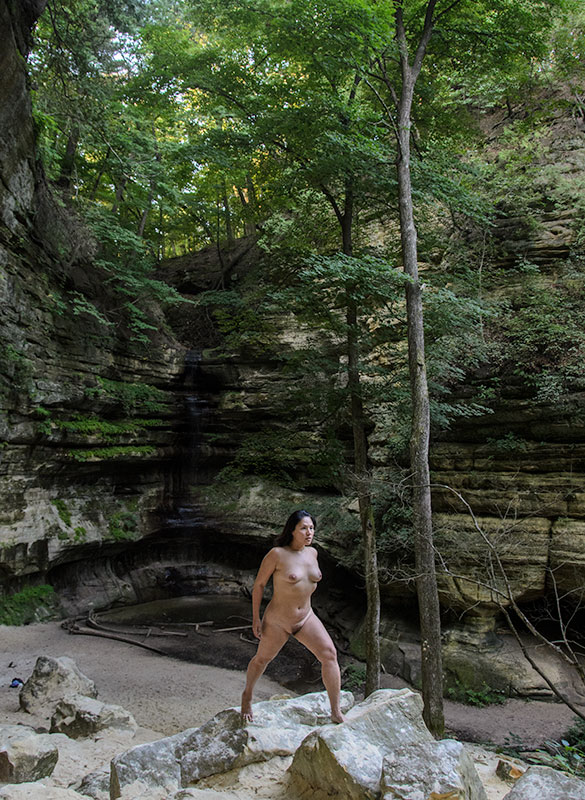 Sadly this will be my last post from this amazing shoot at Starved Rock. I got to work a lot with the wonderful, fun Claudine on our last day of shooting there.  She is always a blast to work with and is a very accomplished model.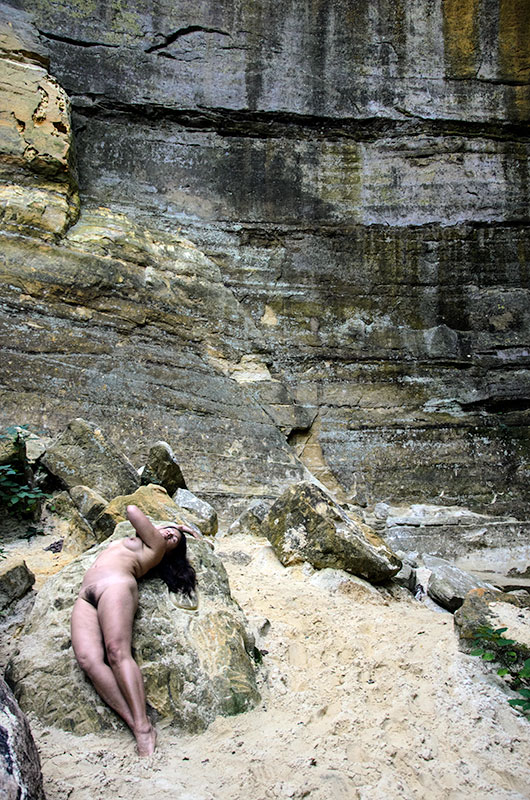 Claudine is pretty much up for whatever it takes to get a photo. She doesn't mind getting cold and wet and dirty…as you can see here. If she lived a bit closer to me I'd be working with her all the time. But she stays very busy modeling in Chicago, so that's not likely to happen.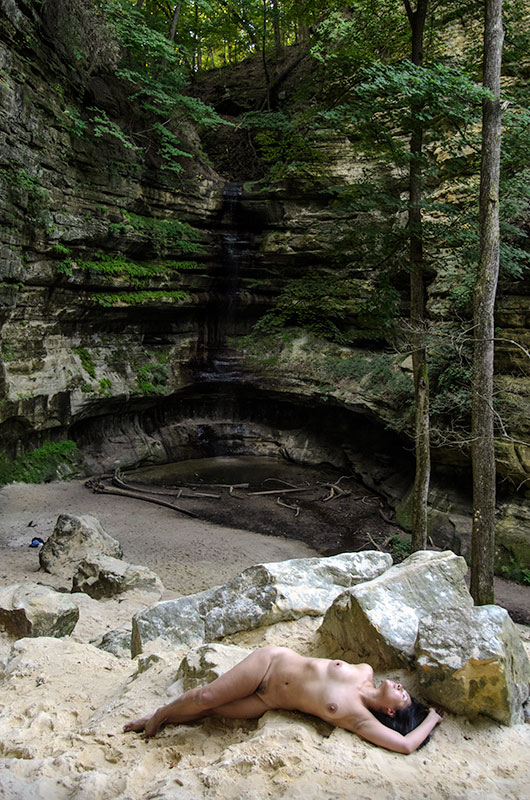 So, as we say goodbye to the fantastically beautiful Starved Rock State Park, we'll close with a photo of Dave Swanson leading the lovely Kelsey Dylan astray into the thickets.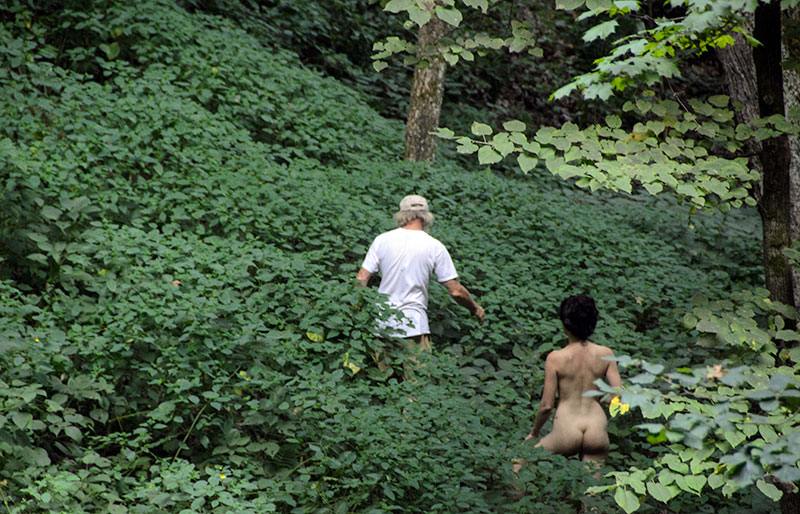 I've published my 2015 calendars. They are ready for you to order in my on-line store.  There are four calendars to chose from this year, including one that is all photos from Starved Rock.  I'll have more about them in a future post.
And, remember, I'm now on Ello. You can find me here: https://ello.co/davel51