December 9th, 2016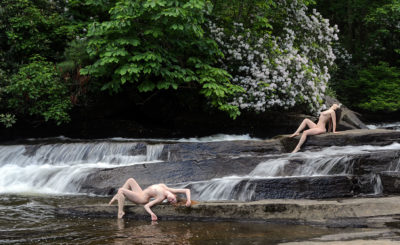 Triple Falls was an almost inexhaustible location. If people hadn't started showing up I think we could have shot there all day and never run out of ideas.
Nadine Stevens and Stevie Macaroni were wonderful, working hard at finding creative poses to work with the amazing scenes.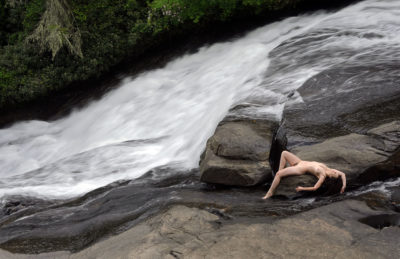 This is the last post I'll be making from Triple Falls. But there is still more to come from this trip to the Smokey Mountains.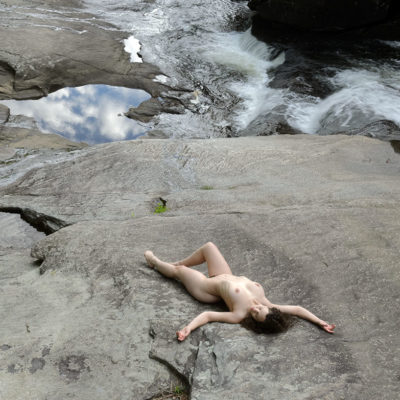 December 6th, 2016
We were able to work for several hours at Triple Falls in the early morning before other people started showing up and we had to stop. Stevie Macaroni and Nadine Stevens worked hard and did a lot of great posing to make these photos possible. It was a fine day of shooting in a fantastically beautiful location.
Those of you who are old, like me, might remember the movie "The Last Of The Mohicans." Scenes for that movie were filmed at this location.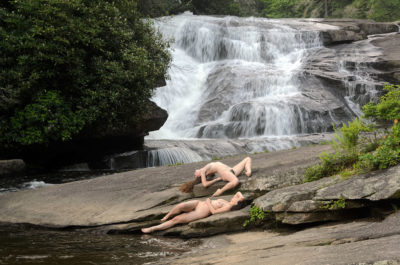 More from this fantastic spot will be coming in my next post.
December 2nd, 2016
The next day of shooting in the Smokey Mountains was with Nadine Stevens and Stevie Macaroni. For this day we went to DuPont State Forest, an amazing place just full of beautiful waterfalls.
These photos are all from Triple Falls. I understand that this was the location for some scenes in the Hunger Games movies.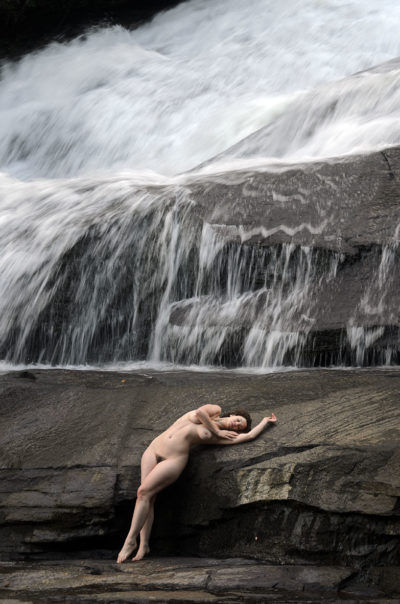 Nadine and Stevie did a great job, as you can see. Thanks Ladies.
November 29th, 2016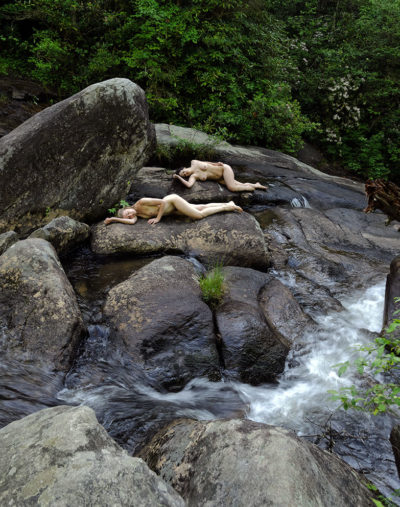 More photos from my day of shooting in the Smokey Mountains with Bunny Luna and Nadine Stevens.
It was a great day of shooting. We only went to one location and found several spots there where we could work.
And after a hard day of work out in the woods, it was back to the cabin to clean up and relax.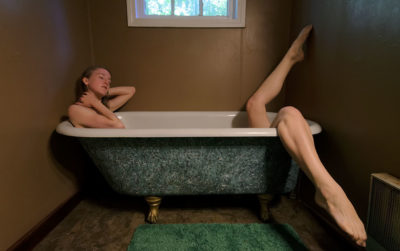 November 26th, 2016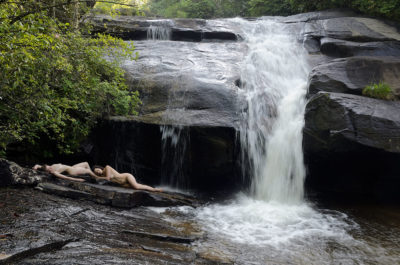 Another day of shooting in the beautiful Smokey Mountains. This day I had "only" two models to work with, Bunny Luna and Nadine Stevens. That was not really a problem, as I hope you'll be able to see.
They are both talented and lovely ladies who fit in quite gracefully in the beautiful mountain streams we visited that day.
I'll have more from this day of shooting in my next post.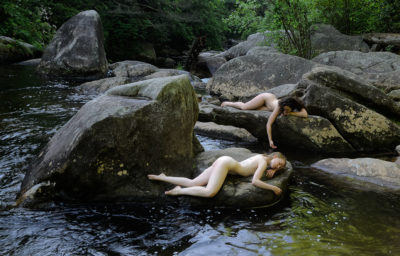 November 22nd, 2016
A good number of the models I work with are also photographers. Sometimes they get referred to as "Modelographers." I'm not fond of that term. I think it's often meant as a put-down. I have a lot of respect for the models who also do photography. I've found that they frequently are very good photographers. And I think it makes them better models because they understand my concerns better than someone who doesn't really know anything about photography.
Stevie Macaroni and Bunny Luna are two models I have worked with who also do very good photography. When I'm working with models who also do photography I always encourage them to bring their photo gear and do some of their own photography. That's not so easy if we are just shooting one-on-one (though I'm always willing to model if asked. That photo of me in the column to the right was shot by Kat while we were doing a shoot together and she was modeling and photographing.), but when there are other models on the shoot it can work out well.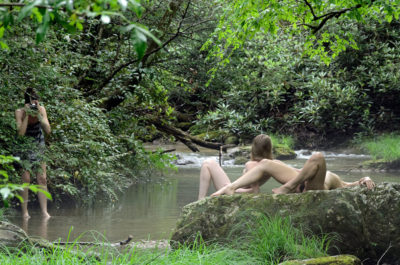 Sometimes when the ladies are switching back and forth between modeling and photographing it can lead to interesting situations like this one: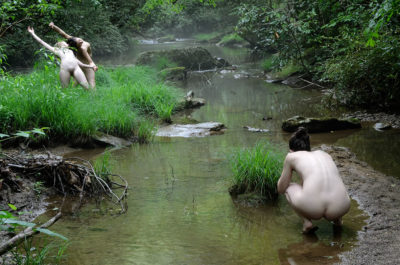 Here are a few more behind scenes from this day of shooting.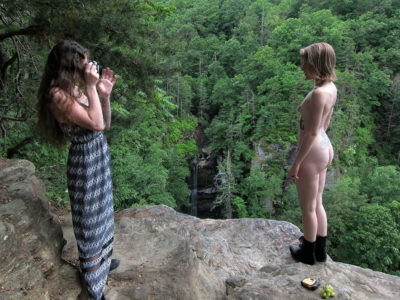 I was happy to stop shooting and let Stevie and Bunny work with everybody for a while. It gave me a chance to take a much-needed break as I was still feeling pretty wrung out from my health problems earlier in the year.
I think they just may have gotten some pretty fine photographs.
The models, in addition to Stevie and Bunny, are, of course, Melissa Troutt and Nadine Stevens.
By the way, the first four photos in this post were taken with my Nikon D7000 and an 18-200mm lens. The last four were shot with my Canon S90.
November 18th, 2016
In addition to working with Melissa Troutt for the first time, I was also blessed with three other models on this shoot in the Smokey Mountains. Nadine Stevens was also with me, along with Stevie Macaroni and another model new to me who turned out to be quite wonderful, Bunny Luna.
As you can see, with that many great models available I couldn't resist getting them all in a few photos.
And Melissa and Stevie worked very well together for some other shots.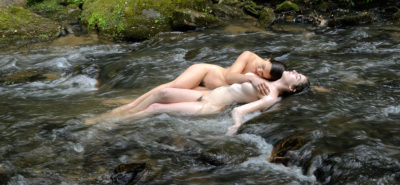 My next post will be behind-the-scenes photos from this day of shooting. Stevie and Bunny are are also both very fine photographers. So they did a lot of their own work while we were out there. I'll be showing you what that looked like.
November 14th, 2016
In May 2015 I was finally feeling better after my health issues. Not completely well, but better. And I got a chance to head down to one of my favorite places on the planet, The Smokey Mountains, and work with some models. I quickly found that hiking was still a bit of a challenge for me, but I managed.
And there was a special treat on this trip. For many years I had admired the work of a wonderful model who lives in Asheville, NC, Melissa Troutt. Our paths had never crossed, but I'd always thought I'd enjoy working with her. So, when I knew I'd be heading her way I contacted her and we arranged to meet up in the mountains and work together for a day.
As you can see, Melissa completely lived up to her reputation and we had a great time working together and producing some fine photos. I'm glad I got this opportunity to work with such a fine model because since then she has announced that she is retiring from modeling. I'm sad that I may not have another chance to work with her, but happy that I at least got in one shoot before the opportunity passed.
Thank you, Melissa. It was great to meet you and work with you. I wish you all the best in the future. Be well.
November 7th, 2016
Something a little different. I took this snap this morning in Columbus, Ohio. That's Columbus Casting. It's closed. I hear it will be on the auction block soon.
Must be why it's blue.
November 5th, 2016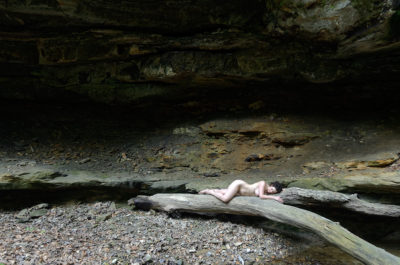 In May of last year my friend Dave Swanson came down from his hideaway deep in the woods of Minnesota for the opening of what turned out to be the last juried show at the Kinsey Institute. A change of leadership at Kinsey lead to the elimination of that show and a lot of other things that had made me a fan of Kinsey. Nothing lasts forever.
We were joined for the opening by a lovely model, Nadine. Here are Dave and Nadine at the Kinsey show opening: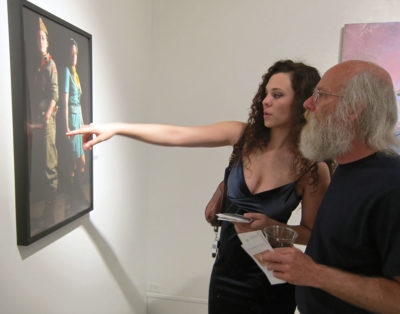 After the opening in Bloomington we went over to Turkey Run State Park to do a few photos. That's where I took the photo at the top of this post. Unfortunately I was still suffering from the aftereffects of my hospitalization in January and found I really wasn't up to much hiking and climbing around in the park. So I took it easy and just let Dave and Nadine go off to do photos, except for a couple shots I got before I gave up.
Here's a shot of Dave working with Nadine before I pooped out and went to take a nap.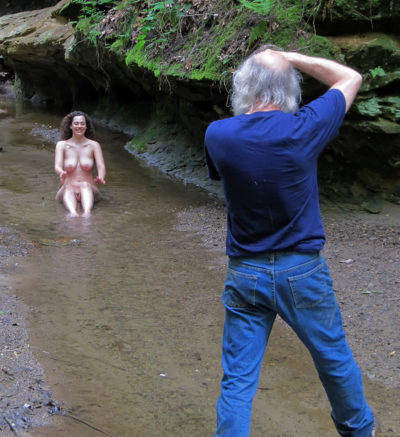 And one more photo of Nadine that I managed to do before I was done.