May 28th, 2016
As I continue to work through old, unedited shoots I've come to one that was a delightful treat. My favorite model, Brooke Lynne, came to Ohio for a shoot and brought along a wonderful young woman who was visiting the US from Australia, Romanhi Rose.
I took them to one of my favorite places, Hocking Hills. These first few photos were made on private property just behind the cabin we rented.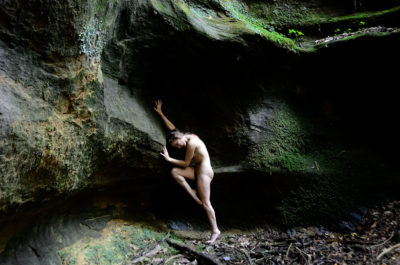 That spot behind the cabin turned out to be one of the best places we shot on this trip.
Lots more to come from these two lovely ladies in the next few posts.
May 24th, 2016
There's something about those large round bales of hay that just cries for a photograph to be made. But it's harder than it seems to get something that works from them. Fortunately there was a nice collection of round bales at my friend's farm. So, Kelsey and I took advantage of them.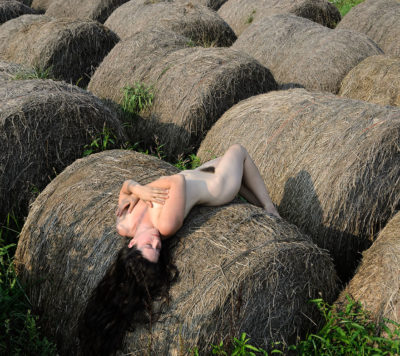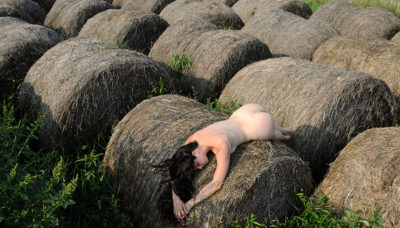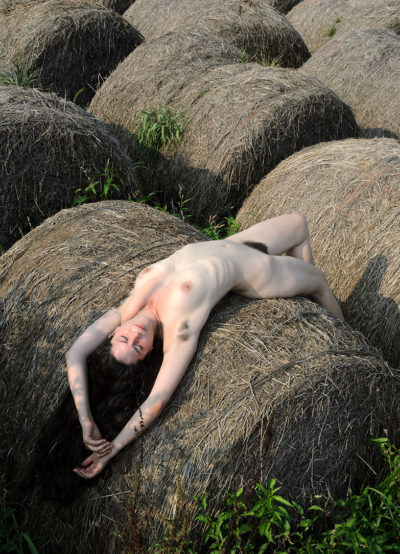 May 19th, 2016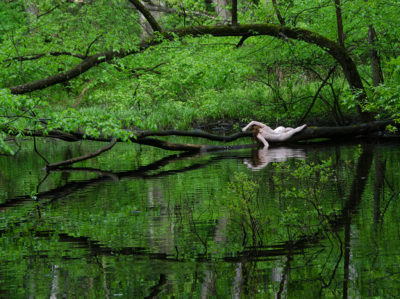 As you know, I've been working on catching up with older shoots in my posts here. But yesterday I did a shoot with the lovely model Liv Sage at one of my favorite places, Blackhand Gorge. I haven't really even looked at the whole shoot yet, but this one photo did stand out when we were doing it. I couldn't resist jumping the line and posting it. Thanks Liv.
May 16th, 2016
Pat's farm is lovely. Kelsey Dylan is also lovely. So a couple hours of wandering around the farm with Kelsey couldn't help but produce a few lovely photographs. Here are a few more from the time we spent waiting for the moon to arrive.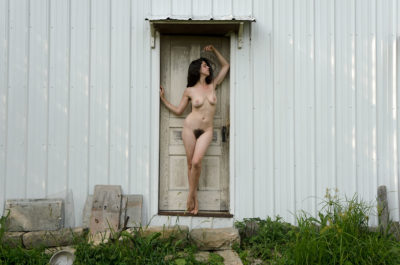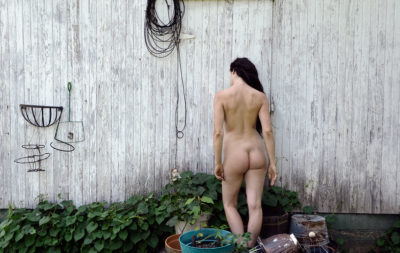 May 13th, 2016
Before the moonrise Kelsey Dylan and I wandered around the farm for a while and did some random photos. This is a lovely old farm with lots of interesting stuff. See for yourself.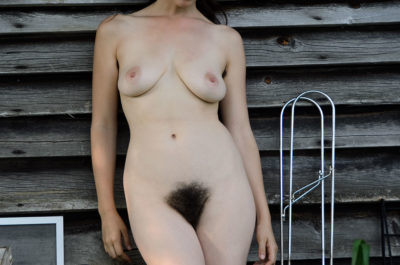 As you can see in this next photo, it was nice and sunny…but that didn't mean the moon was visible when it rose.
And, what kind of farm would it be if it didn't have a resident dog? This reminded me of a series of photos I did back in the 1970s, all called "Straw Hat." I would shoot one every year and enter it in the fashion category of the Ohio News Photographers Association annual photo competition. I won first place a few times and always placed in the top 3 every time I did that. Guess they liked straw hats.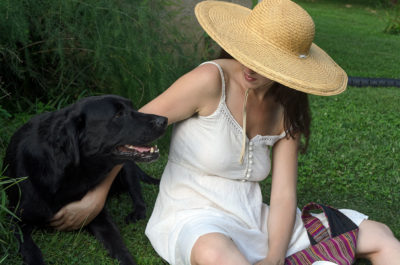 May 10th, 2016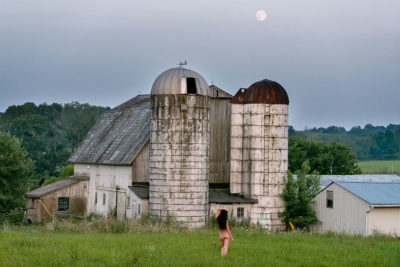 I like to take photos of the rising full moon. I'm always looking for a good location where I can get a good distance from a subject…a tree, a building or, especially, a model. I noticed that my friend Pat's farm might be a good candidate for a moonrise photo. Using The Photographer's Ephemeris I was able to determine where the moon would rise and where I should stand to get a photo.
Pat said, as usual, that I was welcome to come to the farm and do photos. So I asked the wonderful model, Kelsey Dylan, to go the farm with me to try from some moon shots.
Of course, if you want to photograph the real moon rising over a real scene, there are going to be problems. I've had people suggest that I just photoshop a moon into the photos. That isn't the same thing. I enjoy the challenge of doing it the old-fashioned way. Sure, you can fake it if you want, but is the result really a photograph?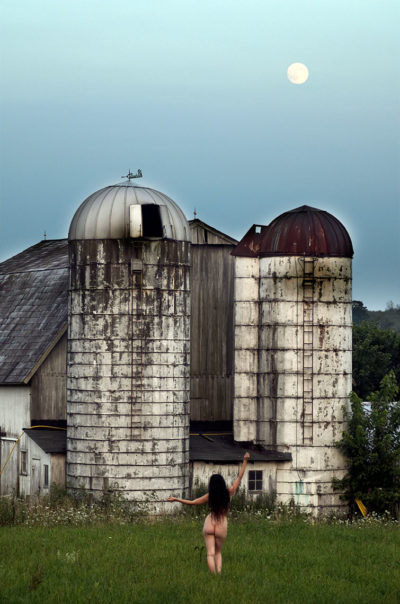 On this occasion, as usual, the moon was being uncooperative. The moon can be shy. We were watching for the moonrise and knew that the time had come, but there was no moon. And it was a clear evening, so the clouds that often cause trouble were not a factor. After a while we finally spotted the moon well above the horizon. There was enough haze and enough light from the setting sun that the moon had been obscured for the first minutes of its rising. That meant that the photos I wanted, with a long telephoto lens, were not going to be possible. The moon was too far from the subjects I intended to include to get the full telephoto effect.
But I was still able to get a few photos, as you can see. Kelsey did her usual fine job. So this part of the shoot was not a total success, but not a total loss either. That's how it is when you photograph nature. You take what you get and do the best you can with it.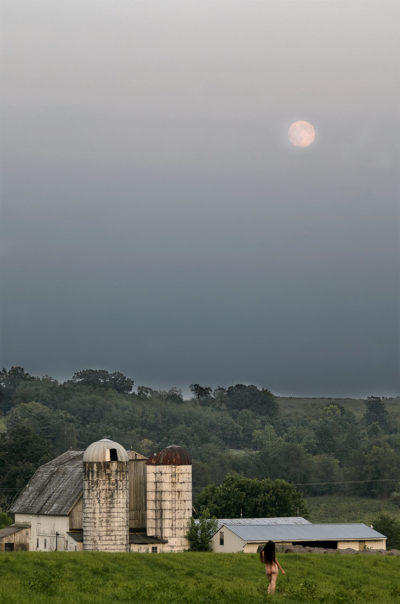 But, since we made the trip to the farm and had to wait around for the moon to arrive, we spent the afternoon doing some other photos around Pat's lovely farm. I'll be posting those photos next.
For those who care, these photos were done with a Nikon D7000 with an 80-200 f/2.8 and with a Panasonic G5 with a 100-300.
May 4th, 2016
This photograph was selected for inclusion in the show, "Art in Architecture" at the Darkroom Gallery in Essex Junction, Vermont. I took this photo from our hotel balcony during a trip to Hawaii. The show opens on May 26 and runs until June 19. It looks to be an interesting show. Check it out in person if you are in the Burlington, Vermont, area, or you can see the show on line at the link above.
May 1st, 2016
Just a few more of Kelsey shot with the pinhole.
This last one may end up being my favorite from this shoot.
April 29th, 2016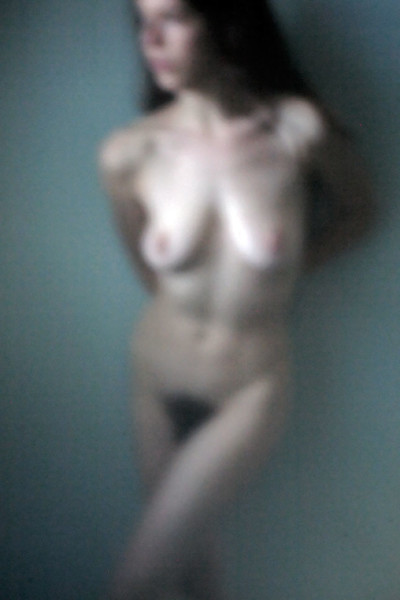 While playing around getting my pinhole stuff ready for Worldwide Pinhole Photography Day I heard from my old friend and model, Kelsey Dylan, that she was in town and wanted to get together. Kelsey is a full-time traveling model these days which means I don't get to work with her nearly as often as I would like. She didn't have time for a real shoot, so we just met to chat for a few minutes.
But I brought along one of my micro 4/3 cameras and a new pinhole that I had just made the old fashioned way, by poking a hole in a piece of metal with a pin. I needed to try it out and Kelsey was happy to be my subject.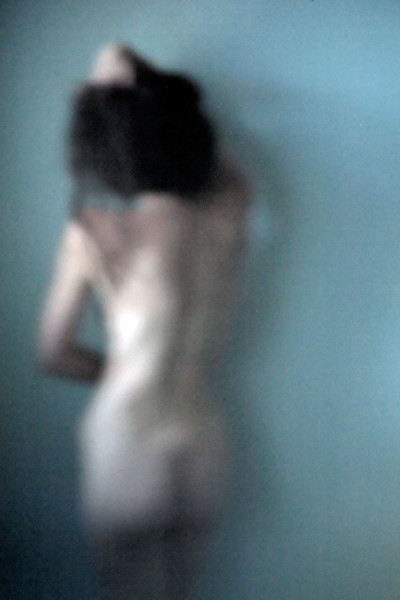 We found a spot with some nice window light, Kelsey dropped her clothes, and I started shooting.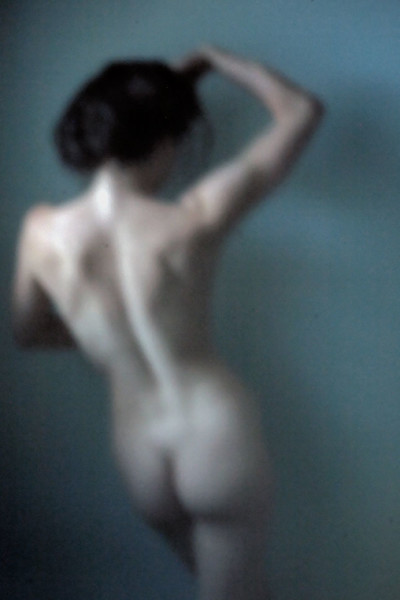 I had mounted the new pinhole on my oldest micro 4/3 camera, an old Olympus E-PL1. It's the old 12 mp sensor which doesn't have the greatest dynamic range or high ISO quality. But I wasn't exactly looking for the highest technical quality possible with this set-up.
I set the camera at ISO 1600…that's as high as I like to go with that sensor…and used aperture priority for automatic exposure. I have an accessory viewfinder on that camera and was able to use it to compose the photos. Even indoors with window light I was able to get a shutter speed fast enough to let me hand-hold the camera.
I'm pretty happy with these photos. It's hard to take a bad photo of Kelsey, but I think the pinhole did a pretty good job here. At least, I got what I was after. This pinhole turned out a little too large for most things, meaning that it is softer than a smaller pinhole would have been. But I'm liking what it does. I'll be mounting this pinhole on one of my newer cameras soon. The better sensor will let me use higher ISOs and that means an even faster shutter speed. And better dynamic range. The next shoot with it will be outdoors in full daylight.
But, in the meantime I have even more of these to share here in future posts. Thanks Kelsey, you are amazing.
April 25th, 2016
Yesterday was Worldwide Pinhole Photography Day. I spent part of the afternoon running around with some friends taking pinhole photos. The one above is the one I chose to upload to the WPPD website. You can see it on the site here. You can also go ahead and browse the gallery to see what pinhole photographers did around the world yesterday. Or you can search the gallery by location or the name of a photographer. It's a fun place to poke around.
I saw this photo on the street in Yellow Springs. Not sure what it's about, but the mannequin was pretty neat looking.
This year I used three cameras with three different pinholes.
Left to right there's my Olympus E-PL1 equipped with a home-made pinhole. I just poked a hole in a piece of soft metal using a needle and a hammer. Then I taped it to a Leica adapter designed to allow me to use Leitz lenses on my micro 4/3 cameras. That adapter placed the pinhole at a distance from the sensor that was close to a "normal" lens. Next is my trusty Panasonic G5 that has been my travel camera and primary pinhole camera for some time. It has a Pinwide wide-angle commercially made pinhole. And on the right is my newer Panasonic GF7 wearing a new commercially made pinhole. The photo I chose for the website was shot with the G5 and the Pinwide pinhole.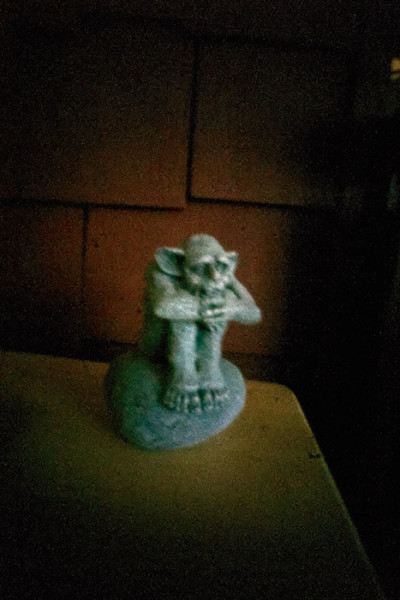 My wife, Emily, also shot a few pinhole photos yesterday. Above is the one she uploaded to the site. It was also shot with the G5 and the Pinwide pinhole.
And here are a few other snaps from the day:
A bicycling cow at Young's Jersey Dairy.
Decorative grain bins at Young's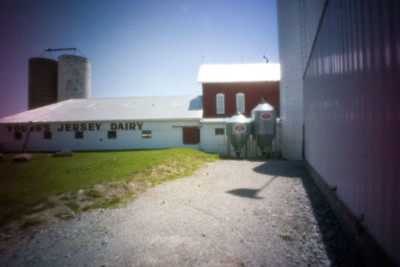 Some barns.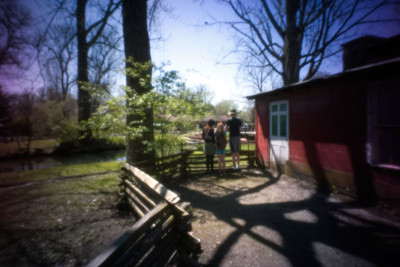 And my friend Ayn and her kids who were also shooting pinhole photos. This was taken at the Clifton Mill.
I like using the micro 4/3 cameras with their electronic viewfinders with pinholes. The electronic viewfinders are actually usable, so it is possible to see what the composition looks like. Auto exposure also works, so you can use the camera's meter to set the correct exposure by adjusting the shutter speed. And, with the high ISOs available in these cameras, it's possible to just hand-hold the camera. All of these photos were taken without a tripod, once considered essential for pinhole photography.