October 22nd, 2016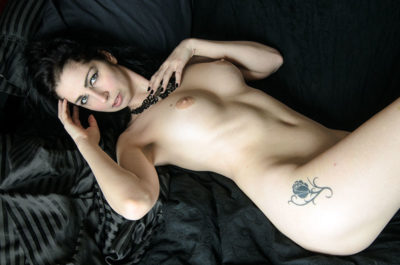 First, another shot of Theda showing off her then new tattoo.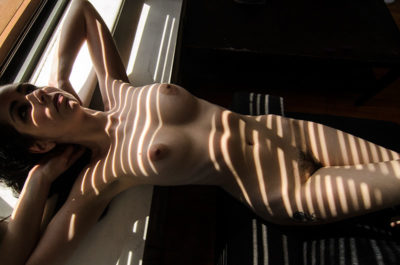 We did this shoot right around the time of Lucien Clergue's death. He was on both of our minds. So we did a few photos in memory of him and his wonderful use of 'striped light.'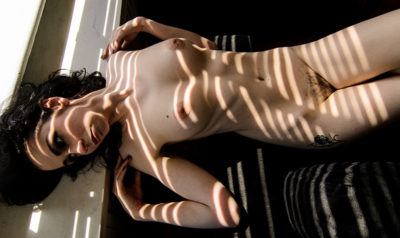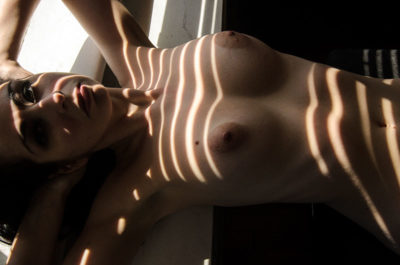 October 18th, 2016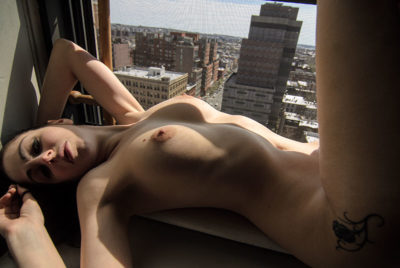 In April 2015 I was starting to feel better, though I was still far from recovered from my health crisis. But I felt well enough to make a trip to New York City. I didn't feel like doing any major shoots outdoors that would have required a lot of physical activity, but I did manage to haul some gear over to Theda's apartment to do a shoot with her.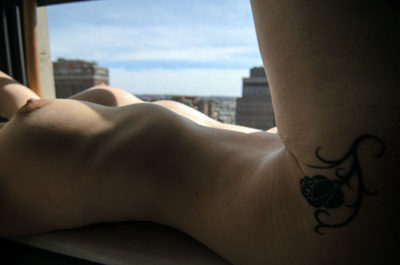 There was a nice view of downtown Brooklyn from her window, so I tried a few things working with that. And we wanted to feature Theda's brand new tattoo.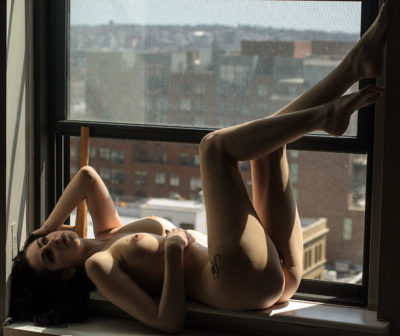 Theda is one of the best models I've ever worked with. And her personality must be experienced to be believed. It's always a pleasure to shoot with her, and there are always good results. There are more to come from this shoot.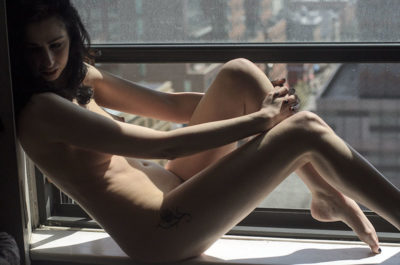 October 15th, 2016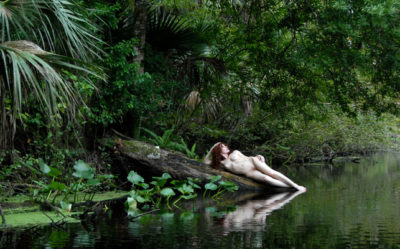 The photo above has been selected for the upcoming show, "Green," at The Darkroom Gallery in Essex Junction, Vermont. The model is the ever beautiful Peyton Fontaine. I took the photo some years ago at Wekiwa Springs near Orlando, Florida. It's my favorite place to go when I'm in the Orlando area. Forget the theme parks. This lovely natural paradise is right in the same neighborhood. And the price of admission is one hell of a lot more reasonable.
The exhibit opens November 10 and runs until December 4. It looks like a fine show, as is the usual case for The Darkroom Gallery.
October 11th, 2016
In April 2015 was feeling a little better, but still far from back to where I'd been before my little health crisis. A warm day came along and I took Angie out to a couple of our favorite waterfalls where we had shot many times before. I was slowly getting back into action with photography.
For all the years I had been photographing at the waterfall above there had been a large tree down across the stream blocking the view from the angle in the photo above. I was very happy that it finally fell on down out of the way and I was able to get that shot.
We went to a small waterfall in another park. I had never shot in this particular spot at it before. April is a good month for these waterfalls that sometimes dry up later in the year.
I've made a lot of successful photos at the spot in the photo above. A nice thing about waterfalls is that they are different every time you go to them.
Thanks, Angie, for helping me get going with my work again when we did these.
October 8th, 2016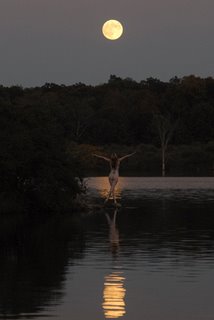 Today is the tenth anniversary of this blog. When I started it I was a few weeks away from retirement from my day job. Soon after I retired I took off in my pickup for a drive around the country taking photos. I called it my freedom ride. I planned for the blog to be a place to document that trip, but it kept on going and going and going. At first I tried to do a post every day, but soon realized that doing that meant the blog owned me. I had other things to do so I dropped to just posting when I had something to post, rather than searching each day for something to post. I think that's a healthier approach.
If you are interested in the earlier history of this blog, all the posts are linked in the column to the right.
I'm going to post some of the photos from the beginning. The photo above appeared in my first blog post. All these photos were posted in 2006 in the first months of my blogging. If you want to know more about a photo, you can look through the 2006 posts to find it and what I wrote about it. Or just enjoy the photos. Some of these photos were taken on that trip around the country. Others were taken earlier and posted to keep the blog active every day and to show my earlier work.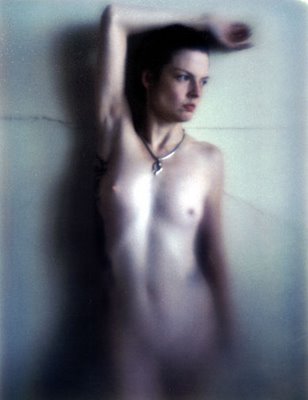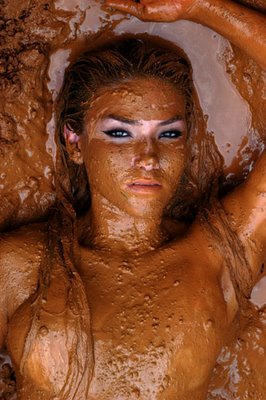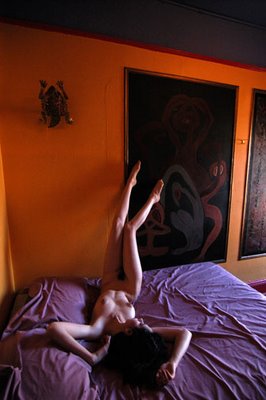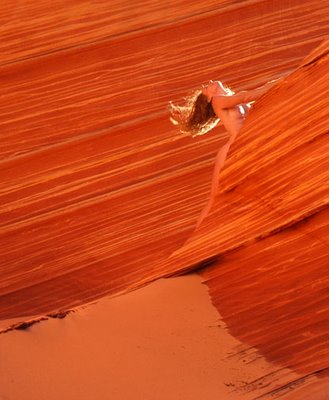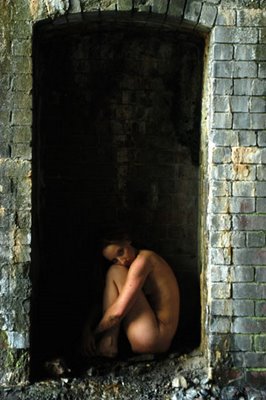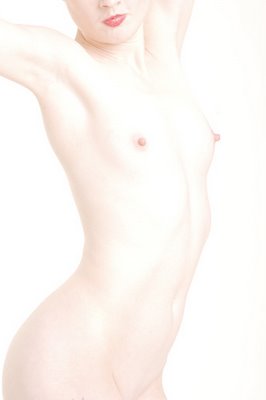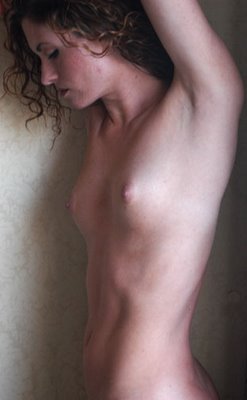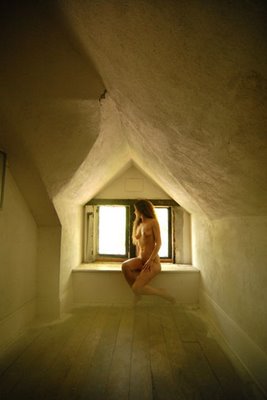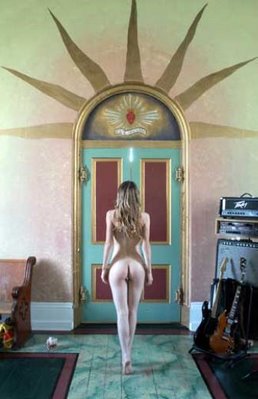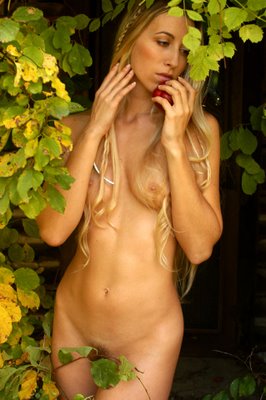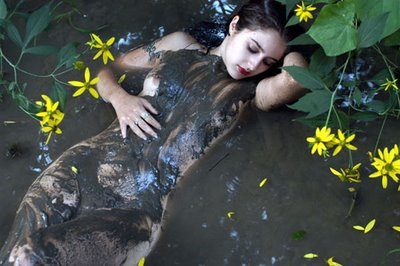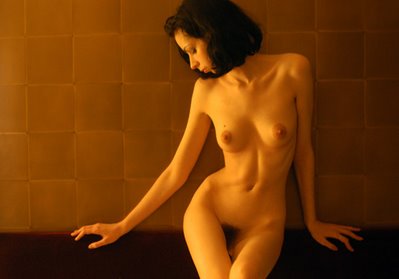 October 6th, 2016
I have a new camera. A Panasonic GX8. I'd had my eye on this camera for a while, but hadn't made up my mind. Then there was a sale going on that was just too good to pass up. I got it from Adorama with a "free" 12-60mm lens that seems just perfect and a $150 gift card, for under $1000. That's close to half price. It just arrived today, so I can't say too much, but it is pretty much love at first sight. Everything seems just right. I took this photo just to challenge the sensor with a lot of contrast. This is an unadjusted jpeg right out of the camera. All I did was reduce the size of the file. Pretty impressive. It was shot on program mode with no adjustment to the exposure.
Here's that same GX8 photo after processing the RAW file in DxO Optics Pro 10 plus a quick run through Photoshop CS6. All the detail is really there in the highlights, as you can see in the crop.
Here's the new toy sitting beside my battered old Leica M2 because that's the camera this new one reminds me of…except that the GX8 has much greater capability, instant focusing and exposure, and weighs about half as much as the M2.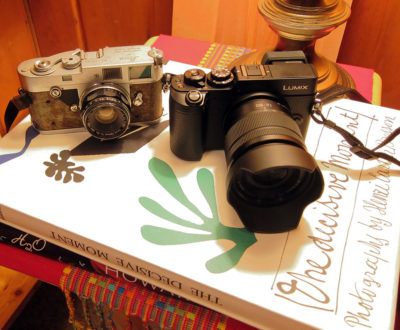 October 5th, 2016
If you've been reading my blog for a while you know that in January 2015 I had a pretty serious medical episode that put me in the hospital for a while. I blogged about it here and here if you care to read about what happened. That's when I started to get so far behind with my editing. For all of 2015 I was seriously slowed down by the after-effects of this. To be honest, I'm still not fully recovered, not back to the physical condition I was in before it happened, but I am much better now, almost back to my usual abnormal state.
Because of all that I didn't do any shooting for most of the first quarter of 2015. But at the end of March Kelsey Dylan was in the area and ready to shoot with me. I thought I should give it a try and see what happened. We went hiking at a park near Columbus that I had not been to before and I managed to come up with these photos.
Thanks, Kelsey, for getting me back to work and making my first outing since the hospital such a success.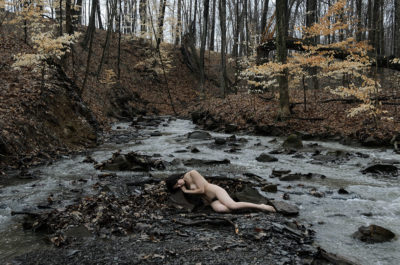 October 2nd, 2016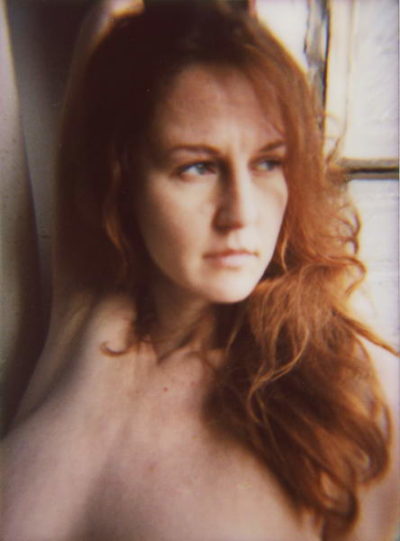 A while back I was suckered into participating in an on-line funding thing for a new Lomo instant camera. When I got it I found it was, as I have come to expect with Lomo products, a piece of junk. But it does take instant photos using Fuji's small instant film, producing prints that are about wallet size.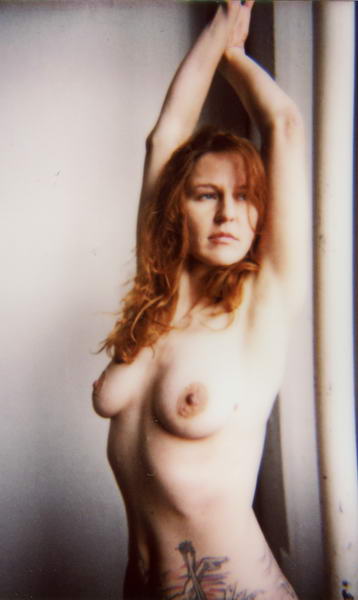 When the camera arrived I asked Ayn to come by the studio so I could try it out. I don't understand why Lomo can't make a camera that works with the camera controls that we are all familiar with. This camera is too automatic to start with, though it does have some provision to allow a bit of control. Not enough, but it's something. But the big problem is that Lomo insists on coming up with their own unique names for each control on the camera…and then marking those controls with only the first letter of their newly invented name. WTF!? It must be some stupid hipster thing. I can never figure out the controls without looking at the manual.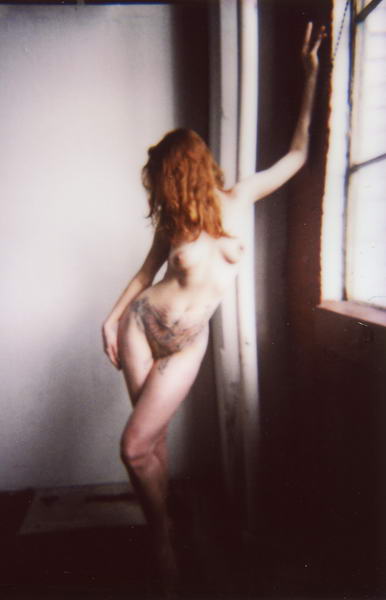 But I do manage to make photos with it now and then. I keep hoping that some company (Fuji, are you listening) will make a simple manual instant camera that just has shutter speeds and aperture controls. If it has a flash it must be possible to turn the flash off. How hard would that be, really? I'd even buy it from Lomo if they did it. Maybe I could put tape over their idiotic control names and write in what they really should be called. With Fuji discontinuing their "peel apart" instant films one after another, I'm guessing it won't be long before my Polaroid pack film back for my Speed Graphic will be useless because there will be no film for it. And don't get me started on the useless crap that the Impossible Project sells. Impossible to take good photos with, as far as I'm concerned.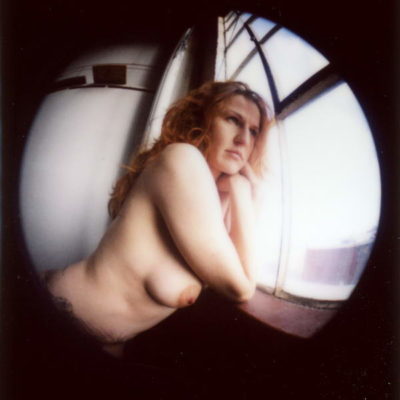 Good old hipster Lomo insists on producing hipster stuff like fisheye lenses for most of their cameras. One came with this camera, so I had to try it out. Not all that bad, I guess. And, as I play around with the incomprehensible camera controls, I get all sorts of results, some interesting…and, yes, I know that's the hipster thing…surprise results. I like controlled, purposeful results. I like to be able to replicate an effect. I think this last photo just shows the effects of underexposure, so I think I can make it happen again. I'll keep playing with this POS camera from time to time until I find something better.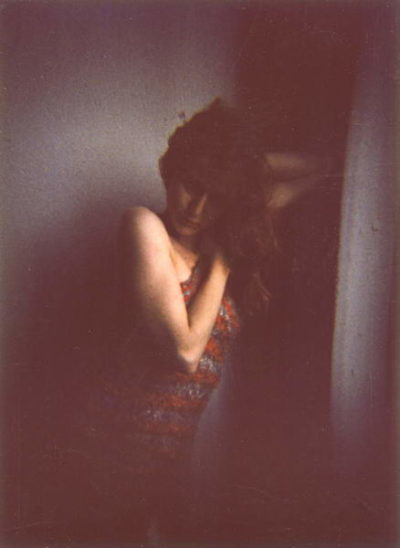 By the way, I did these photos in December 2014. And this is the last shoot of 2014. I'm finally caught up to last year on my editing. The next post, most likely, will be from a shoot in 2015. I'm slowly gaining ground on the backlog.
September 26th, 2016
More of Kelsey Dylan at the studio in December 2014.
First we shot while it was still light outside and we had a mix of daylight and the street light, which had just come on in the growing twilight.
Then it got dark and we had just the street light coming through the window.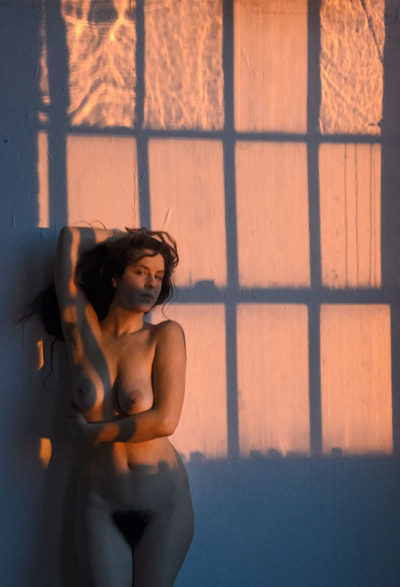 The ancient glass in some of the window panes makes the light even more interesting. Kelsey did her usual wonderful job and I think we ended up with a few fun photos.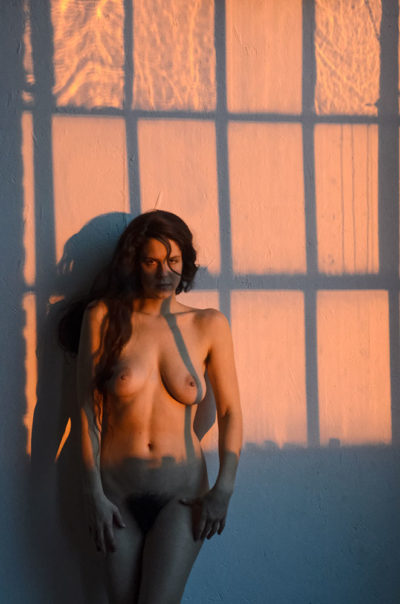 These were all shot with my Nikon D7000 and my old Nikkor 50mm f/1.4 stopped down just a little, between f/2 and f/3.5. That lens is pretty soft at f/1.4, but gets good at f/2 and is great anywhere above that. ISO was 1600, which is pretty much the same quality as ISO 100 with the D7000.
September 20th, 2016
I'm going to get to work with the amazing Kelsey Dylan again this week, so this seems like a good time to post some older photos of her. I'm almost finished editing shoots from 2014. We did this shoot in the evening at the studio a couple days after Christmas.
We were playing around with the window light created by a street light outside in the early evening.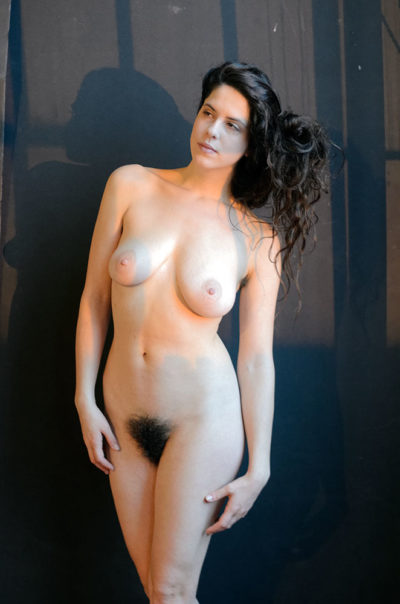 Kelsey is a lovely woman and a great model. I just turned her loose and let her play around in the light. These were all shot with my old 50mm f/1.4 Nikkor lens stopped down a stop or two.