September 1st, 2014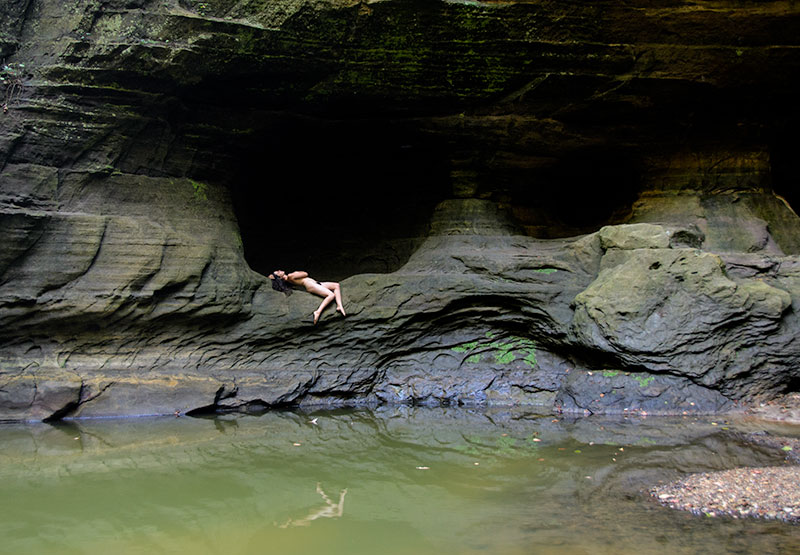 Actually I should say, A Wade In The Park. That's what we had to do to get to this great spot. It was a lot of effort, but it was worth it. I'm so lucky to work with such great models, like Kelsey Dylan, who are willing to go to the lengths needed to get the best photos.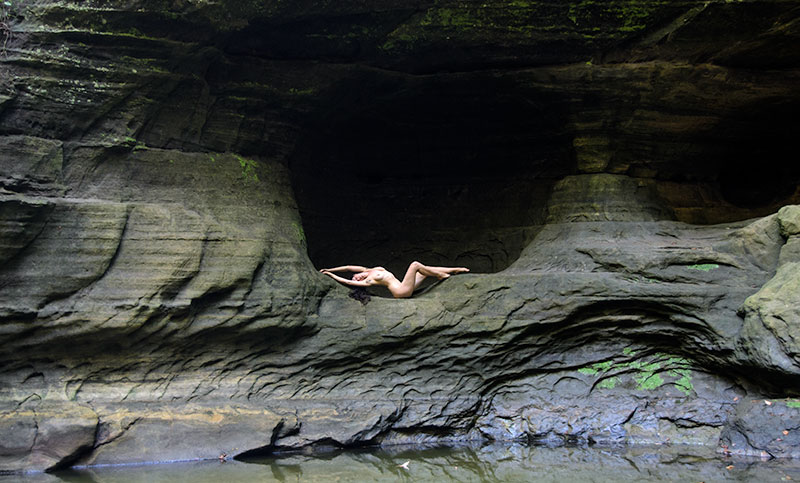 It's also great to work with wonderful models who are not only willing to go to great effort to get into a great location, but are also talented and able to do a great job of posing and relating their bodies to the particular spot where we are working. Thanks, Kelsey, for the fantastic job you always do.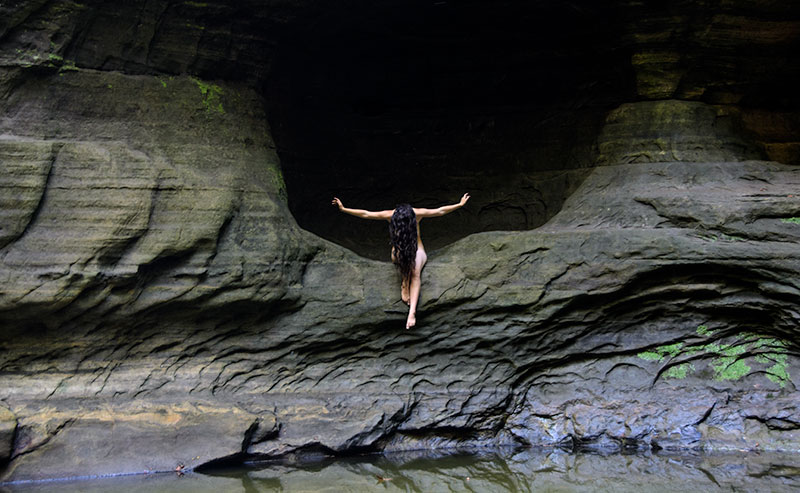 Often it's only the model who has to do the hard work while I just stand around and take photos of them while they do it. But, in this case I had to wade into a spot where I could train my camera on this scene. So I got to get wet too. Next time I'm bringing my Tevas to protect my feet when I have to wade.
More to come from this spot in the next post.
August 28th, 2014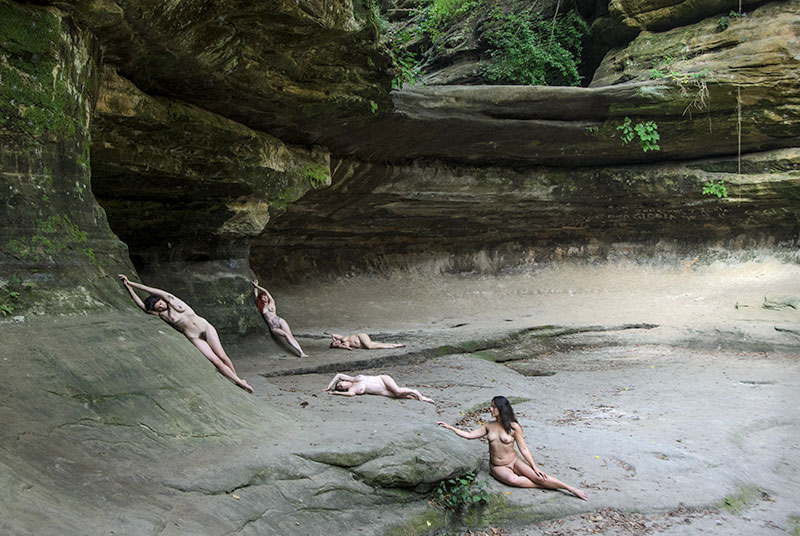 What do you do when you are in an amazingly beautiful location with five lovely nude models? Well, lots of things come to mind, but one of them is certainly to try to get a photo with all five of them at the same time. Pulling that off is a real challenge. Just so many variables to try to make work together. I think I did pretty well with this one, though.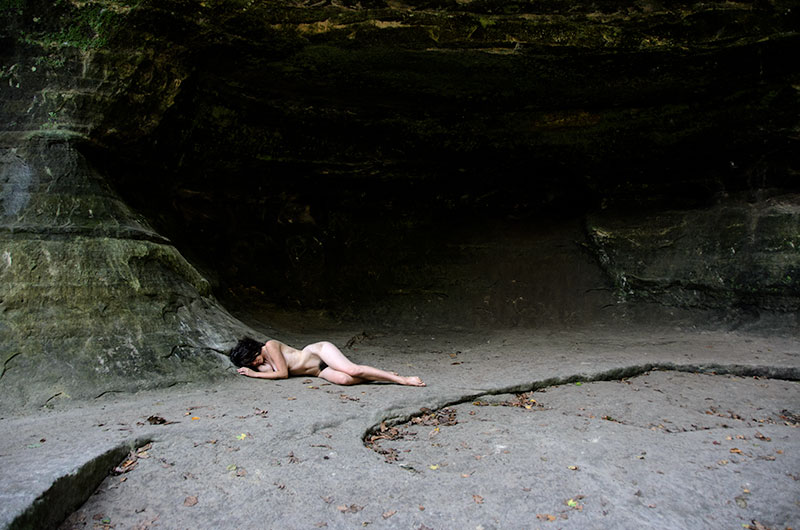 But most of the time I worked with just one model at a time. Sometimes two. That's a lot easier to manage.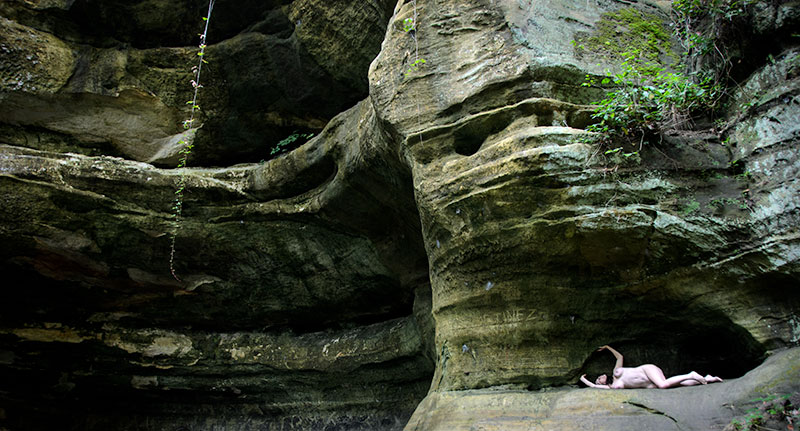 With so many great ladies there to help make photos, most of the time I just had them take turns so everyone got into the act.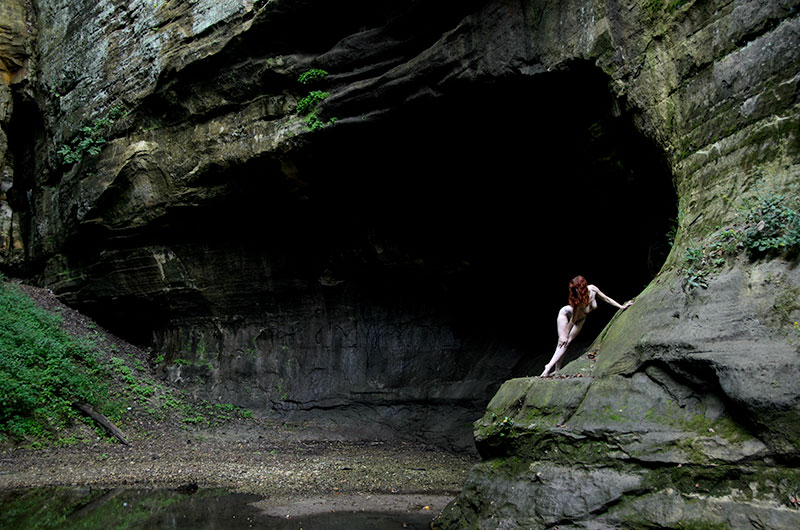 This really was a dream shoot. Thanks to the fantastic ladies who made it possible: Ayn, Claudine, Kelsey and our two anonymous amateur models.
August 23rd, 2014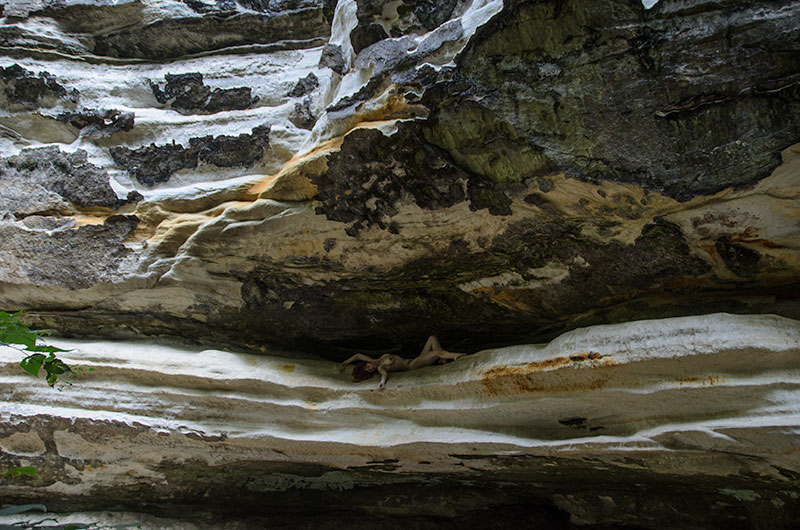 Ayn is the star of today's post from Starved Rock. The light at this particular time and place in one of the canyons was just breathtaking. But it required some brave model to get into a difficult spot and be beautiful for the composition to work.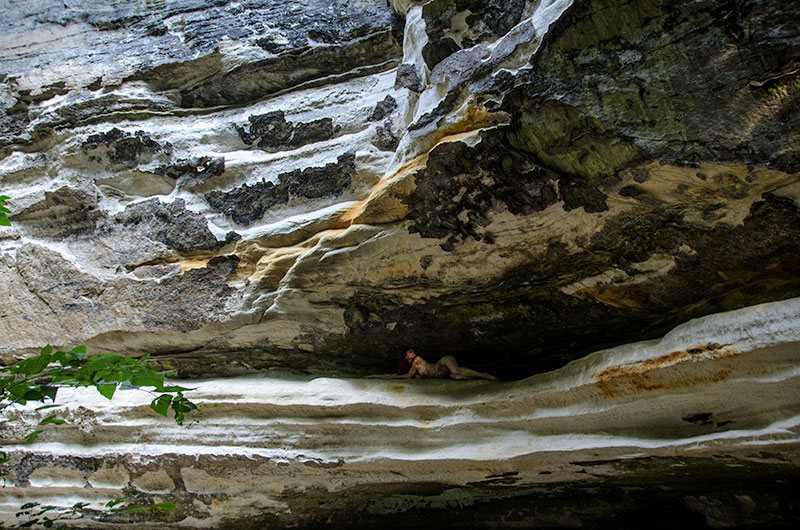 Ayn volunteered for this difficult and dangerous assignment and, as you can see, she did a fantastic job.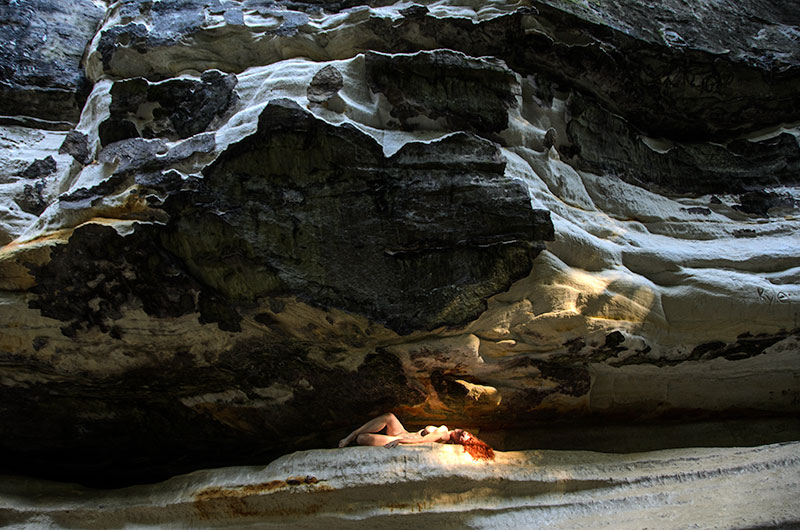 Thanks Ayn. You are fantastic. And that sunbeam…wow!
August 21st, 2014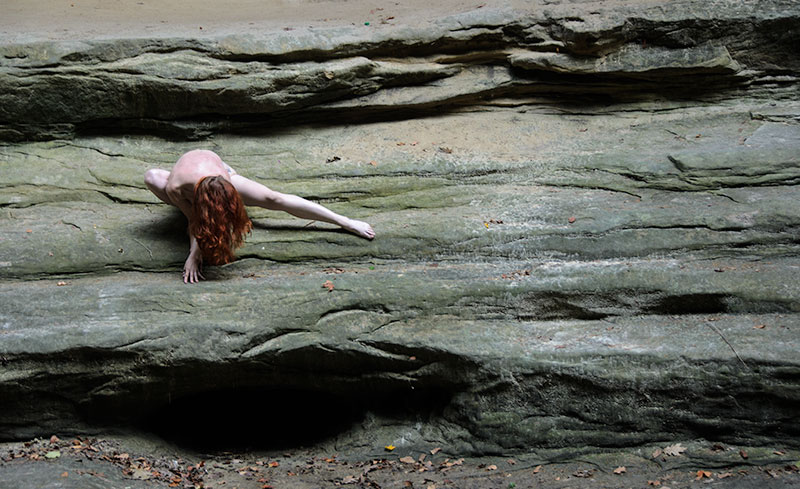 Some more from the amazing shoot at Starved Rock. This time with models Ayn, Claudine and one who shall remain nameless.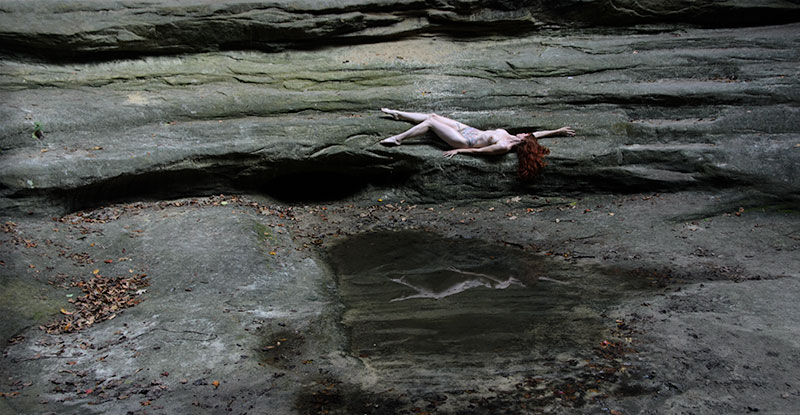 The many little caves and openings in the rock, combined with many little pools of water…and some large pools as well…that you find on a good day when there has been some recent rain, provide great opportunities to play with reflections and the contrast of the dark caves.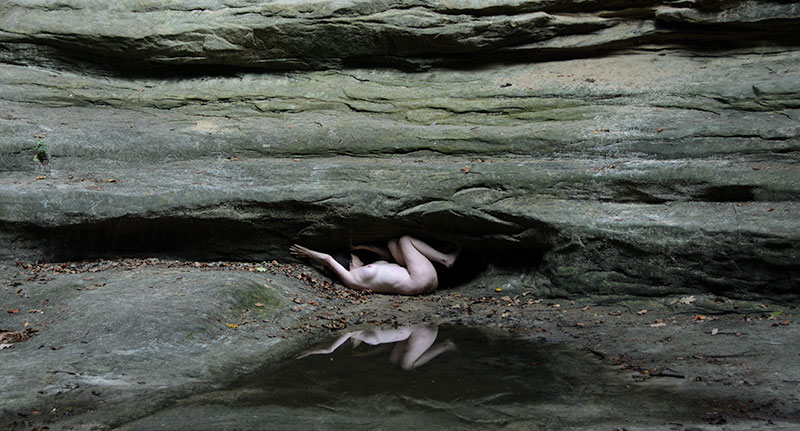 When you have a bunch of great models who are willing to do whatever it takes to get the photos…well, the possibilities are practically endless.
Much more to come from this shoot. It was a great day. Stay tuned…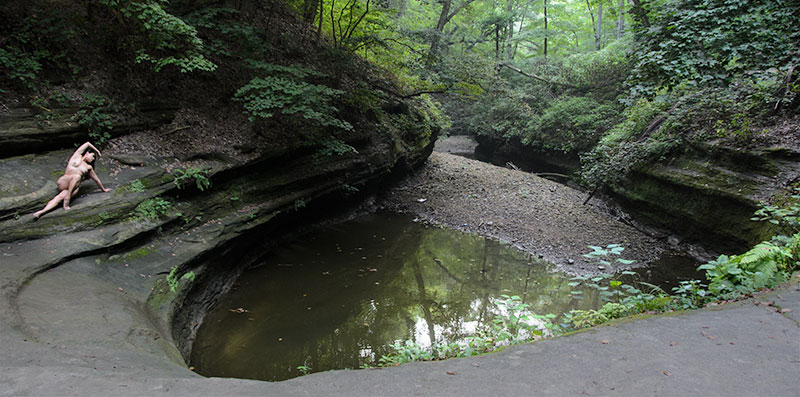 August 19th, 2014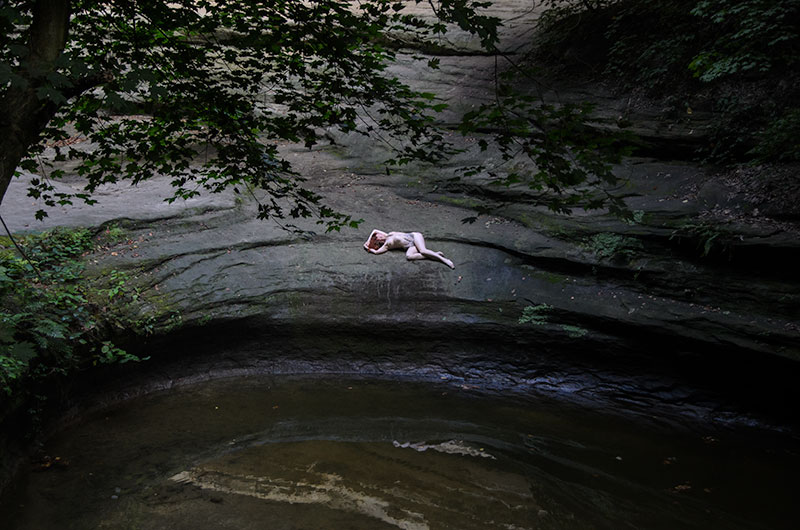 After the closing of my show at Gallery Provocateur in Chicago I had the immense good fortune to be able to go to Starved Rock State Park, not that far out of the city, to work with a  bunch of wonderful models.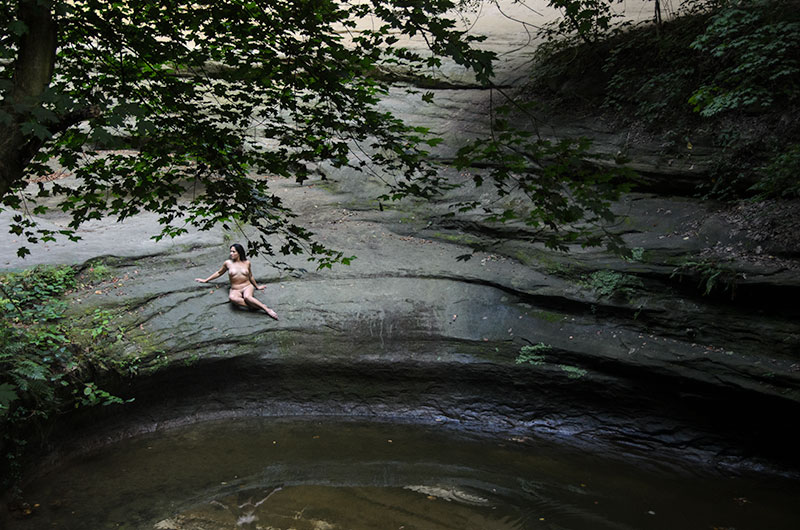 Several of my favorite models, Ayn, Claudine and Kelsey, made the trip. There were also a couple ladies who aren't really models most of the time, but decided to join in the fun.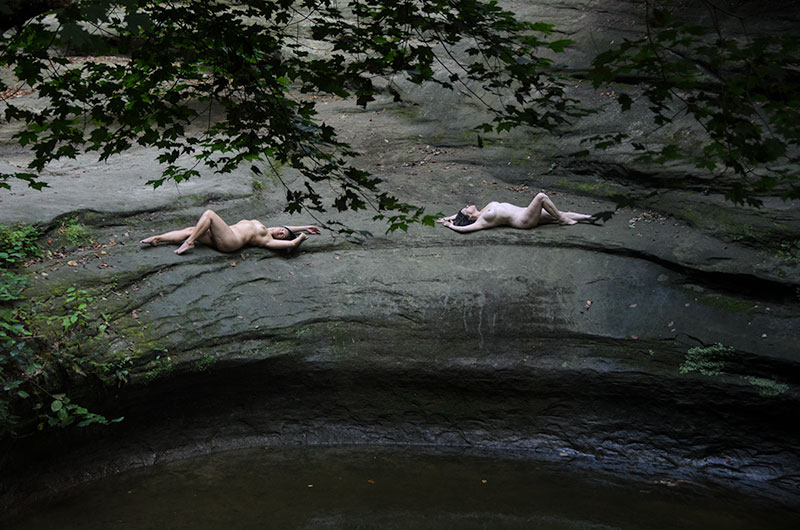 With so many models available there were all sorts of possible compositions for every one of the many amazing locations in that park. I did the best I could to take advantage of the opportunity.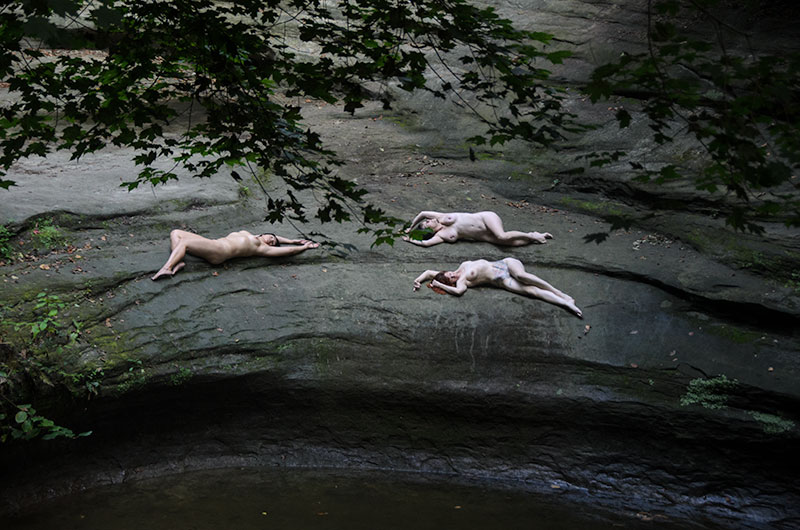 There's lots more to come over the next few posts from the two days of this shoot.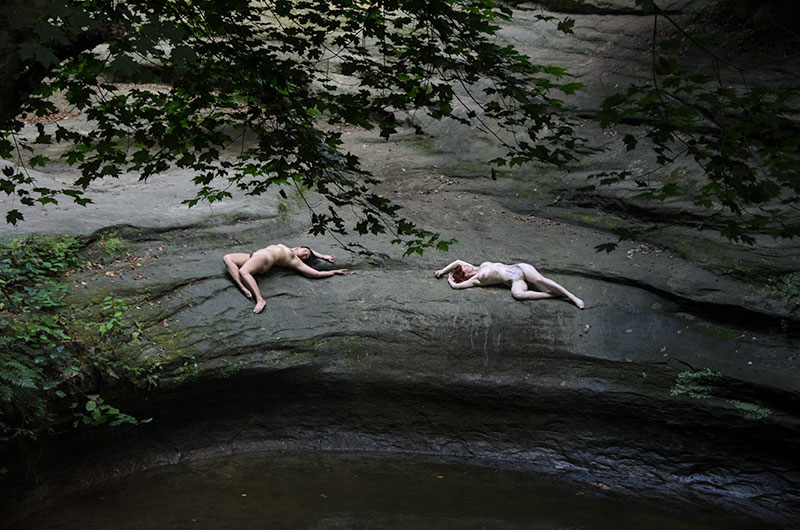 August 15th, 2014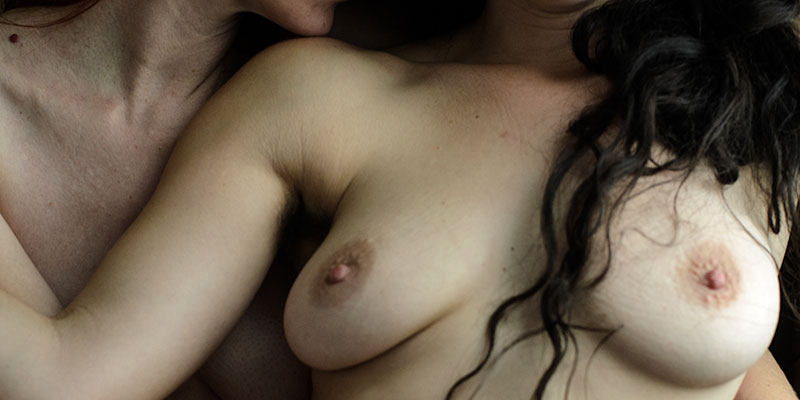 After all those outdoor photos, today I'll post some taken inside. Last September I went to Chicago for the closing reception for the show I had there at Gallery Provocateur. While I was there I did some shooting with several models, including two of my favorites in these photos, Ayn and Kelsey.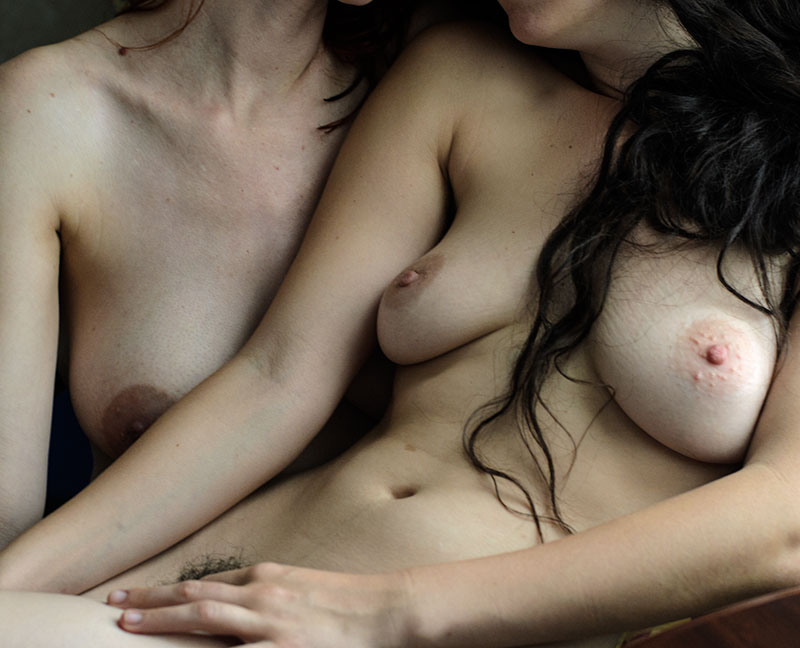 After the reception we all, along with several other models and a great photographer, went to one of the best locations on the planet for a couple days of shooting. Those photos will be coming in the next few posts.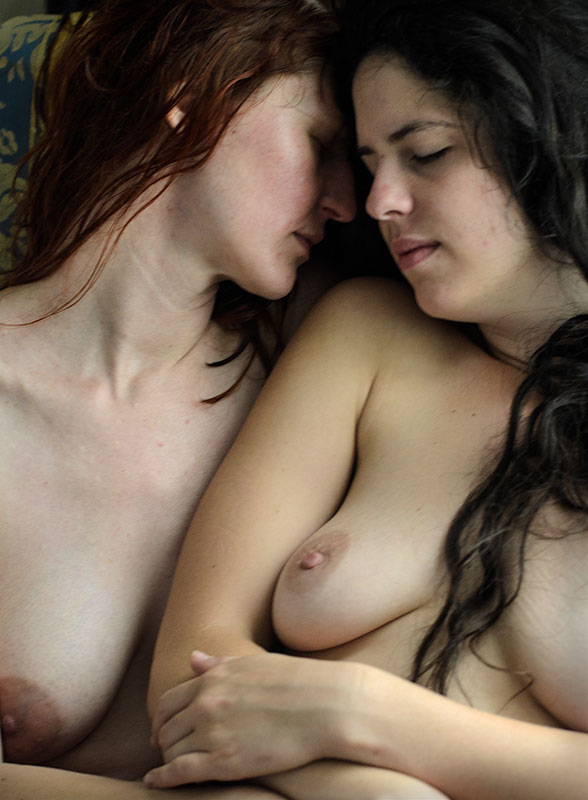 August 12th, 2014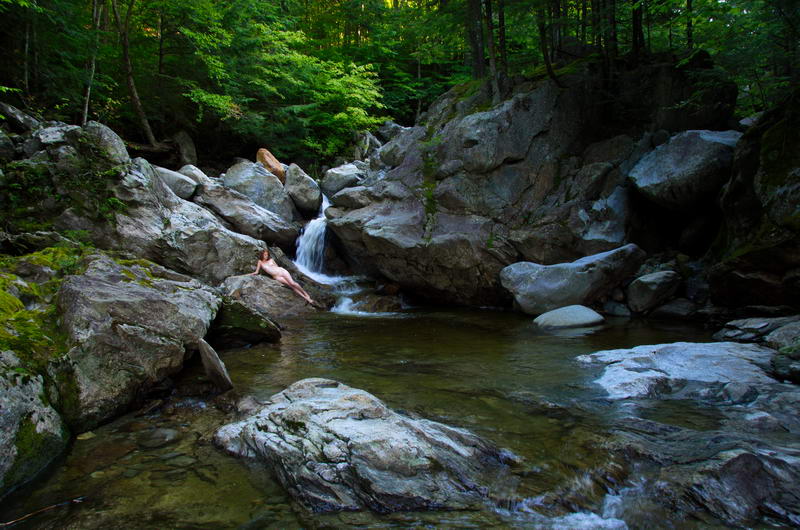 I'm a big fan of modern zoom lenses. They are great. I remember years ago when there wasn't a zoom lens being made that didn't suck so much that no one who cared about their photos would use them. But, thankfully that has changed. I still use a number of prime lenses from time to time when they are appropriate to what I'm trying to do, but for the most part my zoom stays on my camera and does it all.
Back in the bad old days when I was doing photojournalism I carried four cameras all day while I was working. A Nikon F with a 24mm, a Leica M2 with a 35, a Leica M3 with a 90, and a Nikkormat Ftn with a 200. That was my work uniform. I had a few other lenses in the bag for specific problems, but almost everything was shot with those lenses. Of course, using 4 cameras meant that I had at least 4 rolls of film to develop every day. Most days it was more like 10 rolls by the end of the day. And, since this was newspaper work, those all had to be developed, edited, printed and captioned the same day. I don't miss that work…and I don't miss the wet darkroom after years of doing that every day.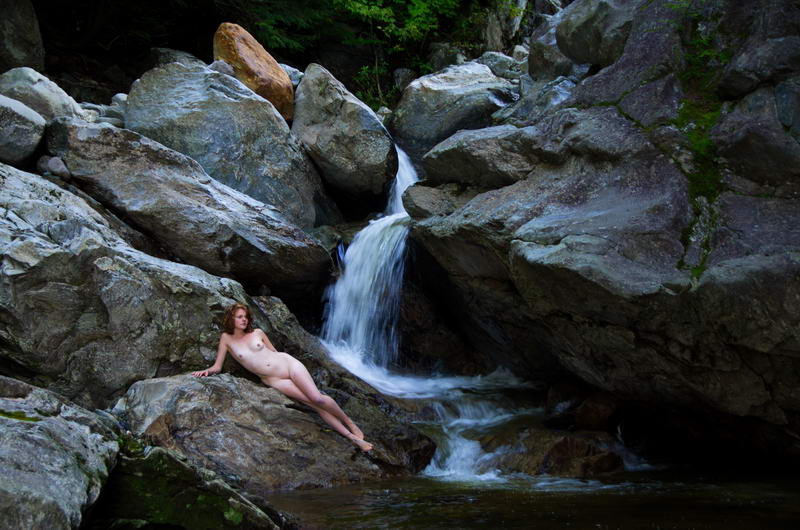 These days I take advantage of the zoom lens on my camera to compose a variety of compositions when a scene lends itself to that. Here I'm showing you three different versions of exactly the same location, model and pose. Thanks to my 18-200 lens I can shoot all of these and sort them out later. Or sometimes, like this, am just unable to chose only one version. I've not been able to pick a favorite from these three photos. I like them all for different reasons. Maybe you have a favorite…if you do, let me know and please tell me why you chose the one you do.
Or, just enjoy them all, like I do.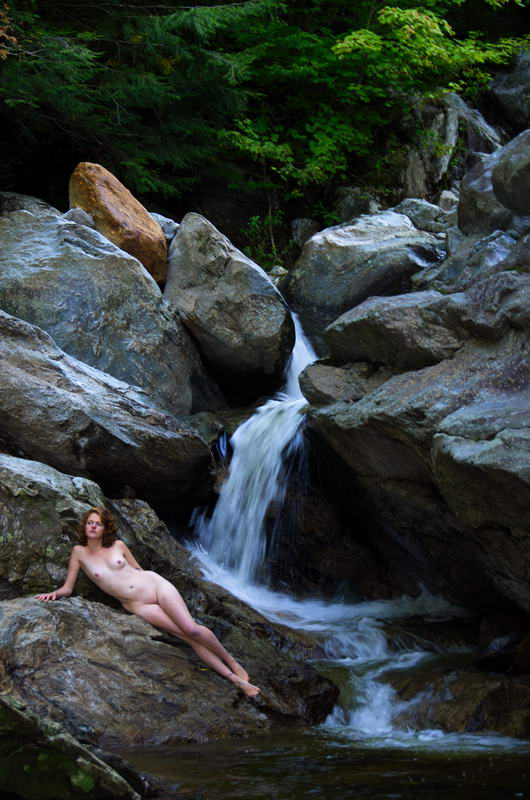 August 8th, 2014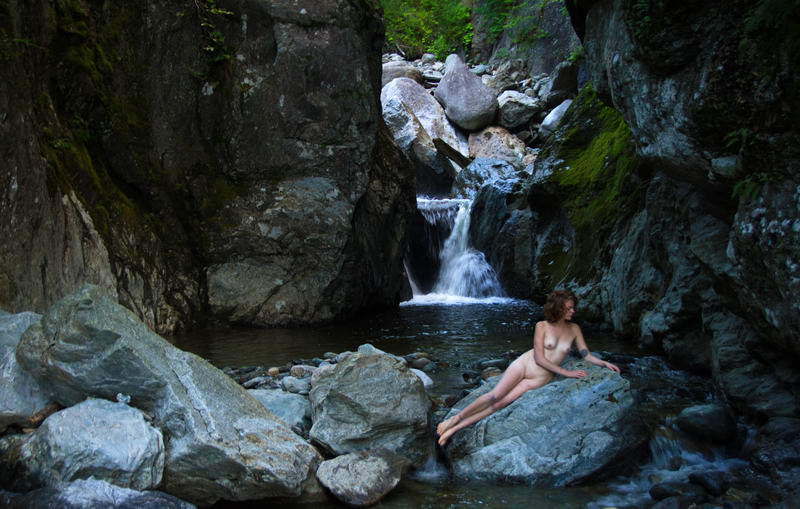 As promised, here are a few more photos of the lovely Sugar Spear at my favorite Vermont location.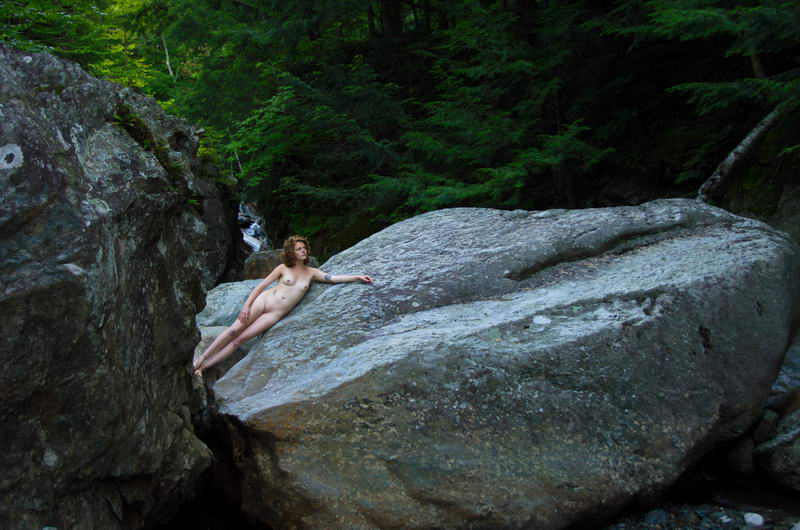 Still more to come in my next post.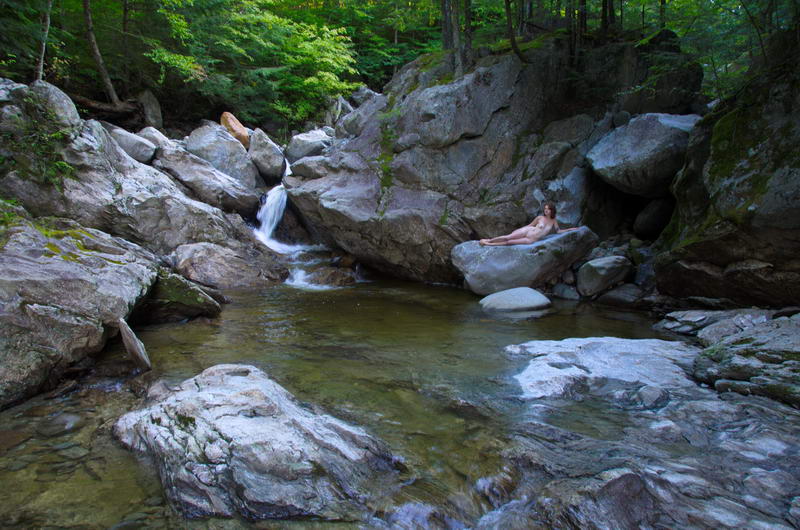 August 4th, 2014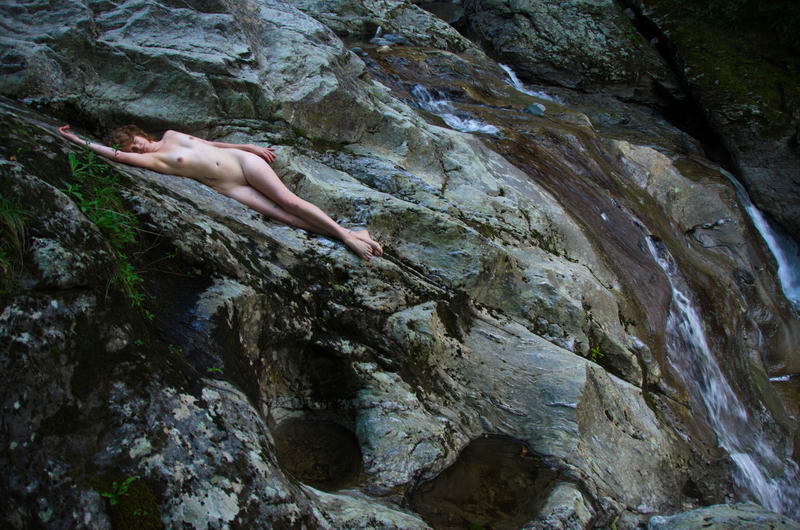 Almost a year ago I did a shoot at my favorite location in Vermont with a lovely young lady who is known as Sugar Spear. No link available for her, so you'll just have to be satisfied with the photos I did with her.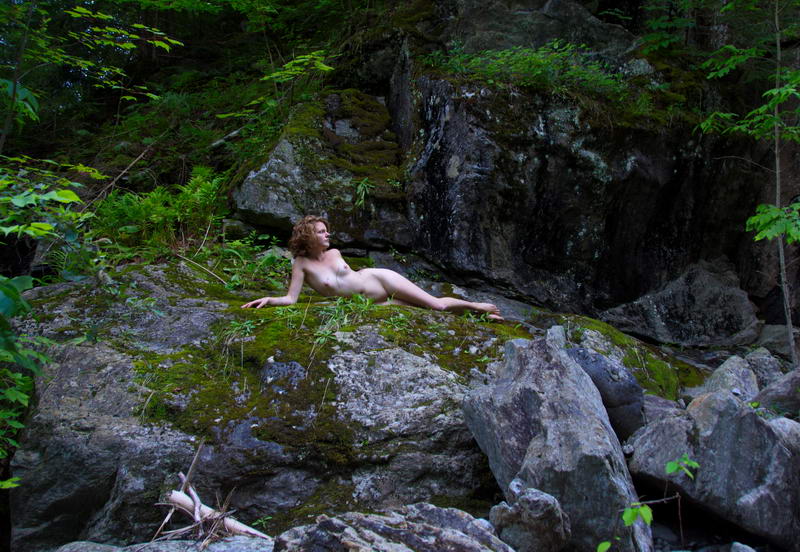 I had shot here before, but always when it was way too cold. It was nice to get to work here in a warmer month when it wasn't quite the challenge for the model. And, as you can see, Sugar is lovely and did a fine job of fitting in to the rocks and moss.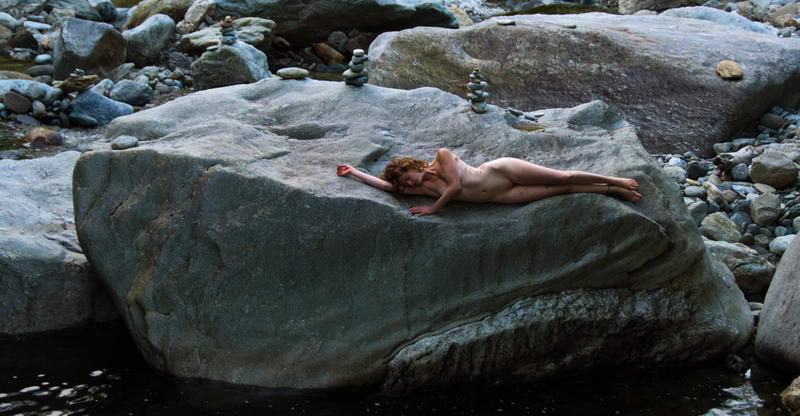 There is more from this shoot coming. I hope you enjoy them.
July 28th, 2014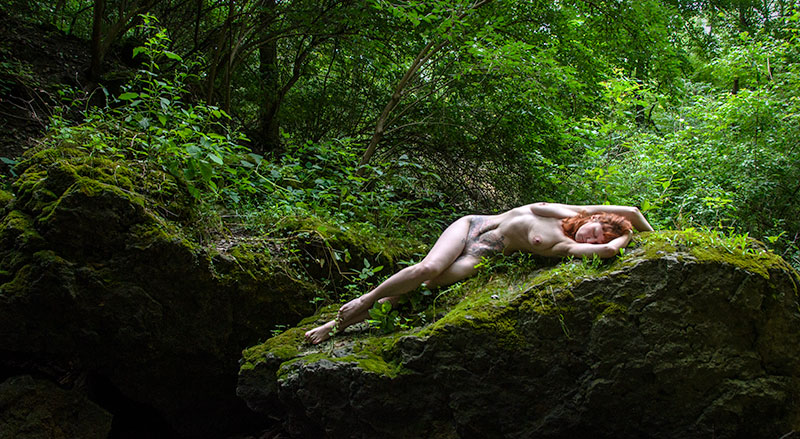 This has been a very good year for waterfall photos. It's been raining regularly all summer. I keep having to mow my grass. Most years, once a month in July, August and September is all that's needed. Not this year. But last year was more normal. That meant when Ayn and I went out to shoot at one of my favorite local waterfalls there was no water falling. There was a bit of moisture on the rocks, but that was all. Of course, we didn't let that little detail stop us from doing a few photos.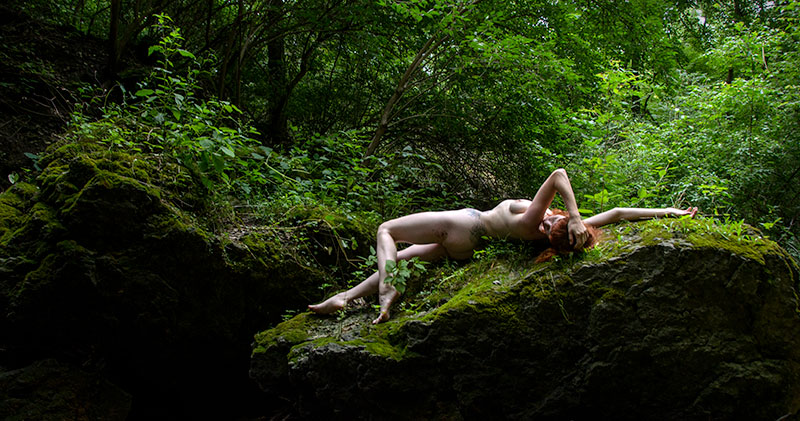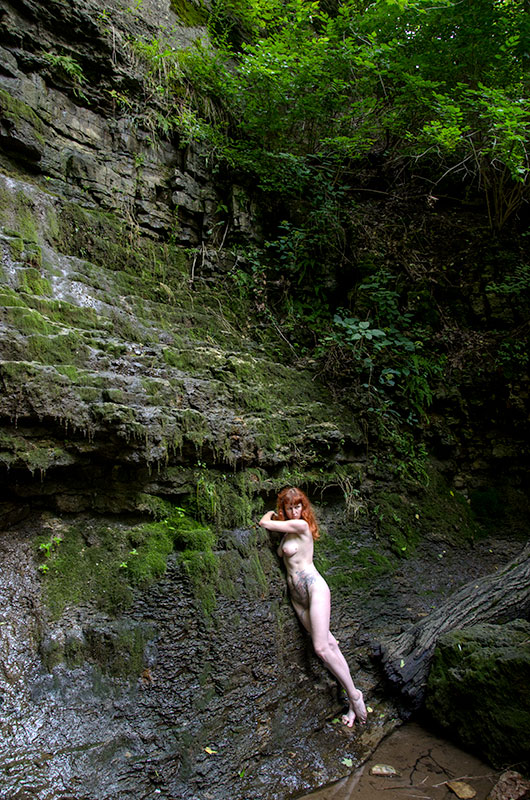 Ayn really wanted to do some photos with the water flowing. We were able to do that this year and I already posted those photos here. That's the same location as this shoot, but with the waterfall in action.