March 3rd, 2017
Sorry for the long gap since my last post. I've been on vacation with my family. I took some things to do posts while I was away, but frankly, I was just having too much fun to take the time to write a post.
I'll get back to the regular posting soon. But just after arriving back home I received word that two of my photos have been chosen by the juror for a show next month at the Darkroom Gallery in Essex Junction, Vermont. 
Amusingly, they are two very different photos, but both of them have two models. The one above, with models Kat and Brooke Lynne, was taken a few years ago in a slot canyon near Page, Arizona. The one below is a more recent photo taken in the Smokey Mountains with models Melissa Troutt and Stevie Macaroni. One in deep desert and the other in a mountain stream. And in each case the two models making the photos much stronger than they could have been with just one. Thank you ladies!
The Darkroom Gallery does excellent shows. I'm always proud to be included in them. If you are in the Burlington area you should check out the show. My friend, Dave Rudin, also has two photographs in this show.
February 18th, 2017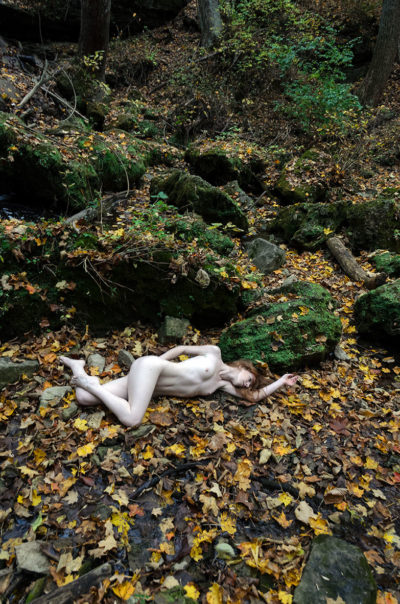 I'm making progress on my backlog of editing. I think soon I'll be less than a year behind. This shoot was with ASmallWoman in October 2015.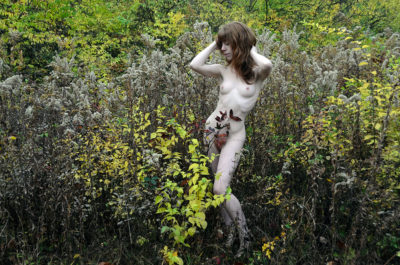 We just wandered around in the woods at a couple parks near my home and shot in the fall colors.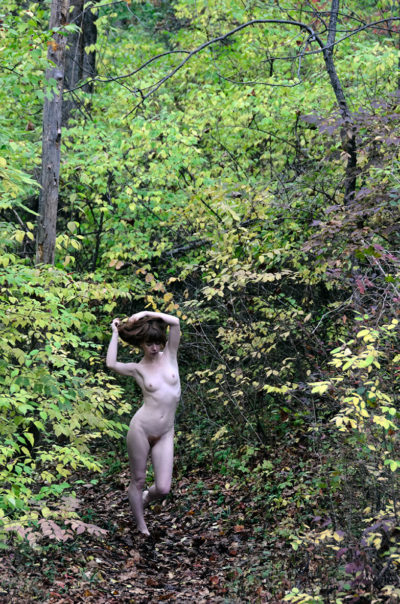 ASmallWoman is a wonderful person and a fine model. I always enjoy working with her.
There are a lot more photos of ASmallWoman coming in future blog posts. We did a number of shoots together around this time.
February 14th, 2017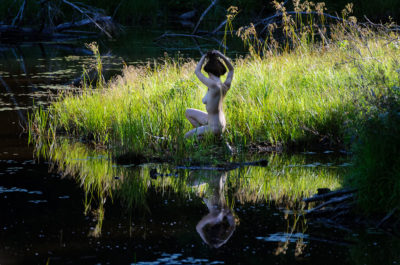 After our morning shoot in Vermont a friend took us to a beaver pond in the woods. The light was incredible for a few minutes and Kelsey Dylan helped me take full advantage of it.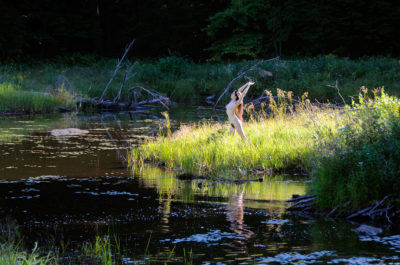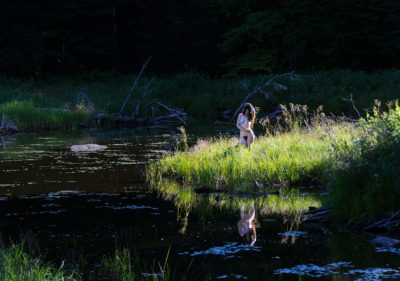 Then as the light was fading Blueriverdream went into action and delivered some lovely poses.
All in all a very successful day of shooting thanks to great locations, great friends and wonderful, beautiful models. Thanks to all who worked to make this shoot a tremendous success.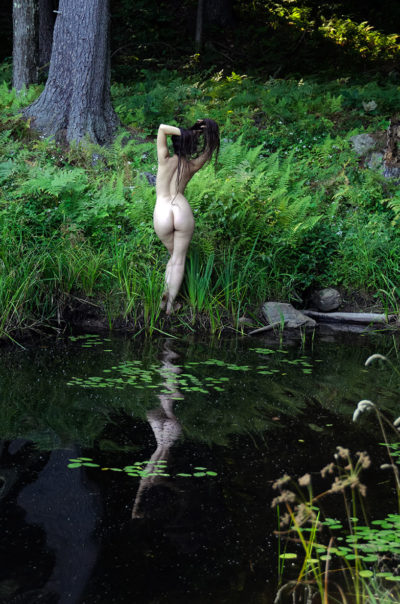 February 8th, 2017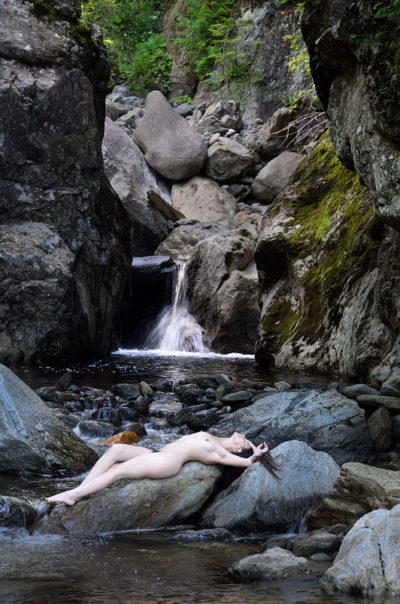 After our shoot in the Catskills in August 2015 Dave Rudin and I, along with two of the models we had been working with, went up to Vermont for some more photography.
I took Dave and Blueriverdream to one of my favorite Vermont locations.
Of course, Blue did her usual wonderful job of modeling and we got a few photos that I'm very happy with.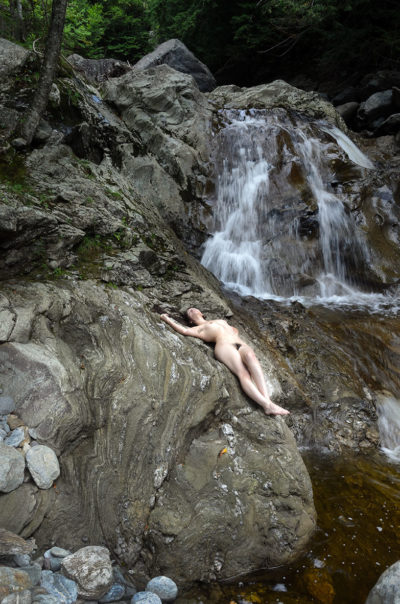 And Blue wasn't afraid to get wet…which resulted in this photo.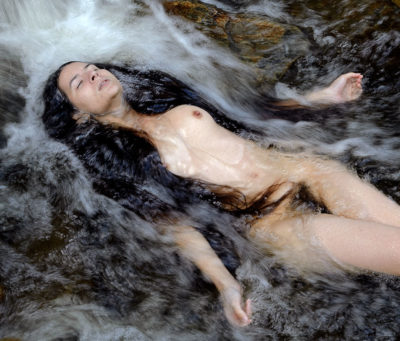 And, finally, here's one of Dave working with Blue.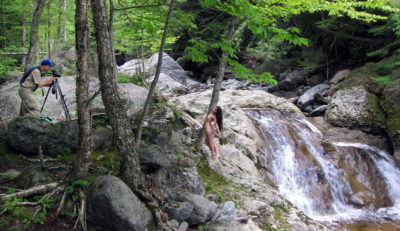 February 4th, 2017
While it can be fun to shoot a lot of models at the same time, it's probably better to work with just one model at a time for the best results. That's especially true when the model is Erica Jay.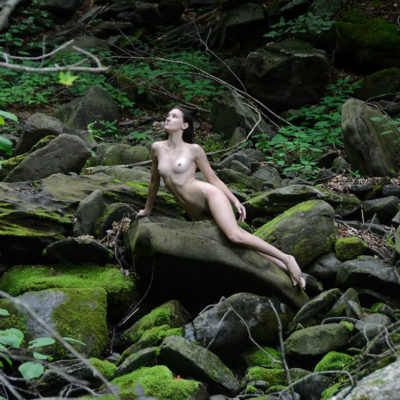 The two of us spent a little time working together on this shoot in the Catskills and Erica did her usual fantastic job of modeling. In fact I think she went a bit above and beyond her usually very high level of work for these photos.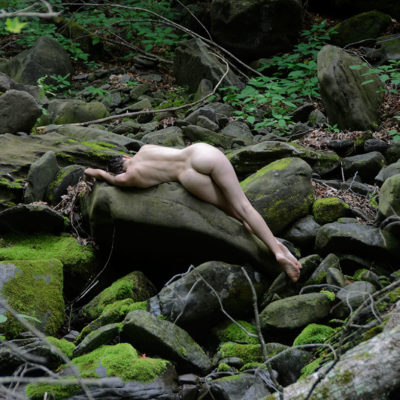 Thank you Erica. You really made these photos work.
January 30th, 2017
Of course, with all those models available, I couldn't resist getting them all together in a few photos.
Thanks to Blueriver Dream, Erica Jay, Claudine, Brooke Lynne, Kelsey Dylan, Stevie Macaroni, Nadine Theresa, and Dane St. Clair.
They all did a wonderful job. And I even shot a few photos of fewer than the full complement of models there for the day. Thanks to my friend, Dave Rudin, for organizing this amazing outing.
January 24th, 2017
With all those models up in the Catskills we, of course, went out for a second day of shooting. Dandelion had to leave us, but that still left eight models for this day's shoot. Above and below are Kelsey Dylan, Blueriverdream and Stevie Macaroni.
And this next photo has Kelsey, Stevie and Nadine Theresa.
And one more for today of Claudine. More to come from this day's shoot.
January 20th, 2017
Despite being surrounded by a crowd of beautiful, talented models, I decided to spend some time working with a few of them just one at a time. Above is Brooke Lynne posing below the lovely waterfall where we were all shooting.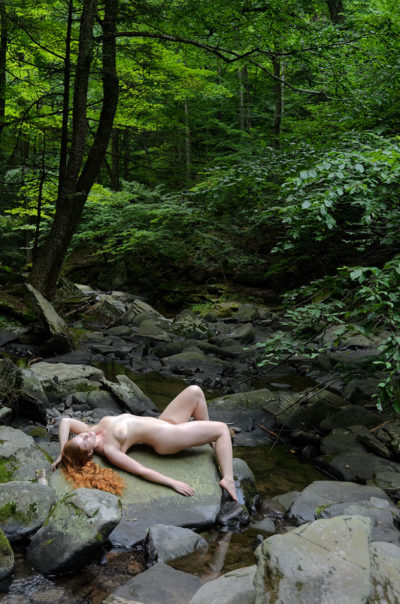 Of the nine models that my friend, Dave Rudin, had arranged to shoot with us this day, there was only one who I didn't already know and hadn't worked with before. So I thought it only right that I spend a little time with AE Dandelion who had come all the way from New Orleans for this shoot.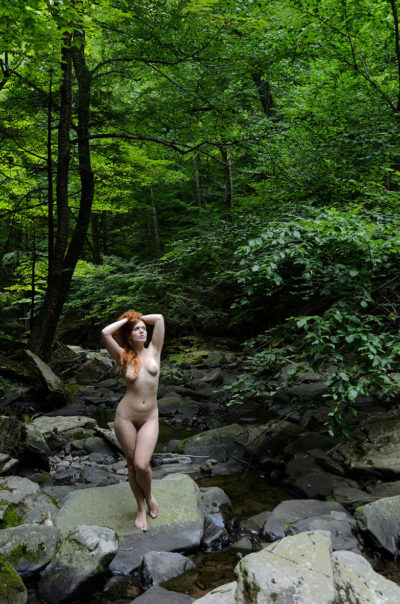 She is not only lovely and a very talented model, but also a truly delightful young lady. It was a great pleasure to meet her and work with her. I wish she were closer to me so we could work again often.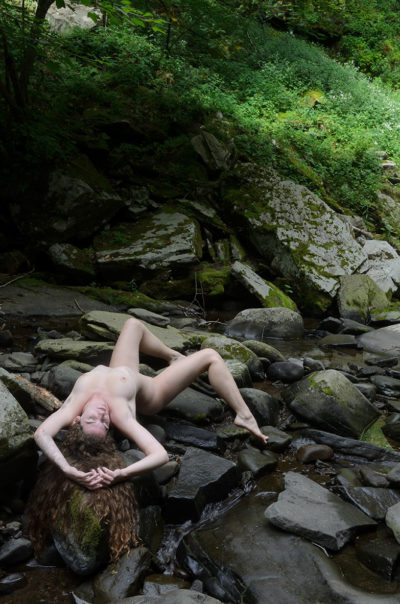 While usually I try to stay away from direct sunlight for my photos because I tend to prefer the softer light and richer colors in the shade or on overcast days, when I saw the light glistening off the skin and water drops on Dandelion in the shot below I couldn't resist making an exception to that rule. Sometimes the sun is what you want, especially on a beautiful redhead.
January 16th, 2017
After Brooke Lynne and I spent a couple days shooting we went to Woodstock, NY, to meet up with my old friend, Dave Rudin, and eight more models who Dave had invited to join him to celebrate the 2oth anniversary of the first time he photographed a nude at a workshop in that iconic town. That's a photo of all the models posing at the site of that first shoot by Dave R. Here's Dave R's post about this shoot:  https://figuresofgrace.wordpress.com/2015/09/02/woodstock-more-from-my-20th-anniversary-celebration/
The lovely models are (in no particular order): Blueriver Dream, Erica Jay, Claudine, Brooke Lynne, Kelsey Dylan, Stevie Macaroni, Nadine Theresa, Dane St. Clair and Elisa Dandelion.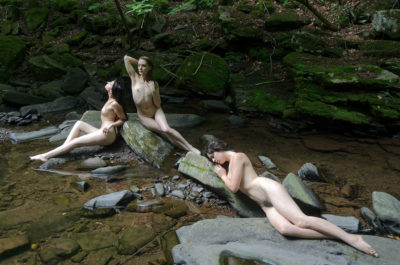 We all went out to a location in the Catskills to shoot. Dave R did a bunch of photos with all nine models, but then we each worked with smaller groups of models. In these photos I was working with Brooke Lynne, Blueriver Dream and Kelsey Dylan.
More to come from this shoot.
January 11th, 2017
Brooke Lynne and I worked together in the Catskills for two days. These are from the second day of shooting.
A beautiful place, a beautiful, highly skilled model. It's hard to miss with that combination.