October 30th, 2015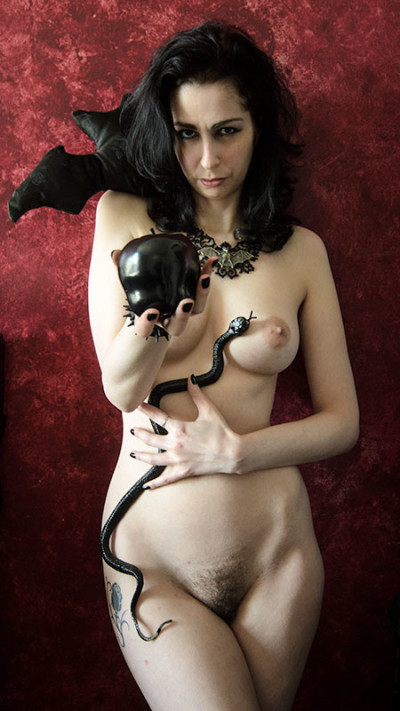 Happy Halloween. Would you take a black apple from this woman? Be careful out there.
Model is the dark and incomparable Theda   http://www.modelmayhem.com/1518
October 27th, 2015
I've published another calendar. You can click on the cover above to go the page in my on-line store to order a copy. I've also added it to the column on the right here. There are no nudes in this calendar. It's all just snapshots from my trip to Alaska this summer. I'm making no claims that it has great landscape photos, but there are some nice snapshots.
October 25th, 2015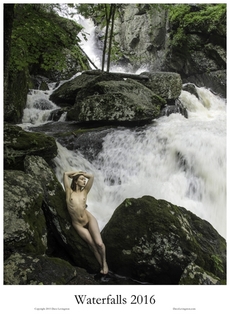 I've published a couple new calendars for 2016. They are available in my store on Lulu.com.
The "Figure In Nature" calendar has many of my best photos from over the years. The "Waterfalls" calendar, as you might guess, is all nudes at waterfalls. I seem to shoot too many waterfall photos, so I thought I'd just admit it and put a bunch of them in a calendar.
You can preview the calendars…and, I hope, buy them…at my store. I've also added the new calendars, with links, to the column at the right.
Enjoy.
And I have a deal for you. If you order before 11:59 tomorrow, October 26, you can get 30 percent off your order by using the code: OCTFLASH30 
October 18th, 2015
This is a good read. An interview of W. Eugene Smith by Philippe Halsmann done in 1956. Smith was a truly unique individual. I met him once. An interesting person.
http://lens.blogs.nytimes.com/2013/01/03/w-eugene-smith-i-didnt-write-the-rules-why-should-i-follow-them/?smid=fb-share
October 17th, 2015
Last night I saw a wonderful concert by Arlo Guthrie, celebrating the 50th anniversary of Alice's Restaurant. Really great show. He opened his concert with this video. Probably the worst song lyrics ever, but the video is pretty funny.
October 14th, 2015
One of the fun things about a new house is seeing what the light does at different places and different times of the day.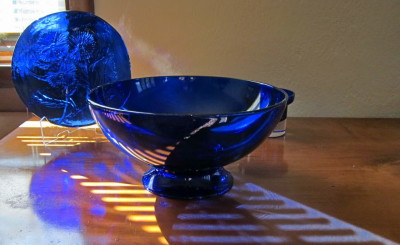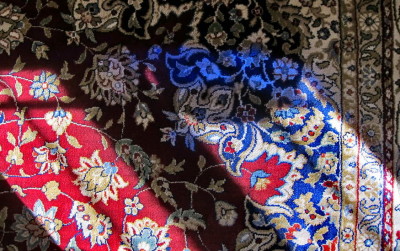 There is no blue in that carpet. That's all from the sunlight passing through the blue glass bowls.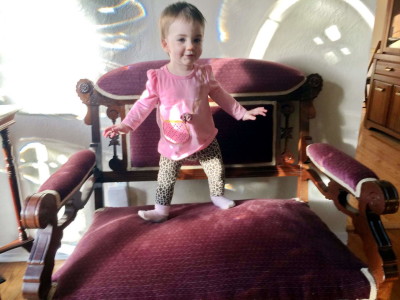 Granddaughter Fiona playing in the funny light. Snapped with a cell phone. The other two were shot with my Canon S90.
October 11th, 2015
The time I have feared has come. Windows 10 broke PhotoShop CS6. I was able to install it from my disk (which I purchased legally, btw). But it would not update to add the changes that have happened since I bought it. Adobe, of course, offered no help at all. Their attitude is: "tough luck, sucker."
So I'm hanging on to my Vista computer, which has all the updates on its CS6. And I'm looking for options.
Unfortunately, I'm starting to feel that my best option is to buy Lightroom. That really hurts, because I know that's exactly what Adobe is trying to force me to do. And there are a lot of things about Lightroom that I really don't like. But it has the features I need for photo editing and is still being maintained by Adobe, so it will do RAW conversions on newer cameras.
And, at least for now, I can still buy it, rather than rent it. Of course there's no telling when Adobe will decide to take that option away, like they did with PhotoShop, and try to force me to rent it and pay them every month, whether I want updates or not.
I'm really disgusted with Adobe and the abusive way they treat their customers. It's obvious they consider us just ATMs that are here to provide them with money every month. That's their priority. That's what happens when one company gets a monopoly. And there really isn't any competition out there, at least not that I can find.
I'm just hoping some other company will offer a decent option, treat their customers right, and break Adobe's monopoly. I'll be happy to support that company if they can produce a truly competitive product.
Meanwhile, I guess I'll just go ahead and order Lightroom and force myself to learn to use it.
September 28th, 2015
I've been sorting through some old stuff and came across this. I've saved it all these years because this performance changed my life. I was a clueless 18-year-old college freshman, pretty much overwhelmed by the whole college experience. I was not well prepared for college by my high school. I'd never really been exposed to things like modern dance or "classical" music.
But I was taking a required course called Comparative Arts. Going to this concert was a requirement of the class. (Thank you Ivan West.)
I had no idea what to expect when I walked into "Mem Aud." I certainly couldn't have imagined what was to come. Before the concert began they were playing one of John Cage's compositions. It, of course, made no sense to me at all. Just seemed like discordant noise.
But that didn't prepare me for what was to follow. In later years as I studied John Cage I learned what it was he did at that concert, though I couldn't figure it out that night. He was reading from two decks of cards. One deck had numbers on it, the other short stories or koans. He would draw a card from each deck and read the story for the number of seconds indicated on the number card. Merce Cunningham danced to this.
Most of my classmates were upset and even angered by this concert and were quite vocal about it in class. My reaction was very different. I knew there was something important and meaningful in what I had seen and heard. I wanted to understand it. That concert was the real beginning of my education. The experience I had that night has obviously stuck with me. It has influenced, even directed, my work ever since.
It opened my mind. Thank you John Cage and Merce Cunningham.
September 24th, 2015
My copy of Streetwise Revisited arrived today. I waited for a quiet moment to spend time with it. I'm glad I took my time. This is Mary Ellen Mark's last book, finished just before her death. It's a fitting tribute to her remarkable career as a photographer. This book is a shining example of the best that photography can be and shows brilliantly what a master of the medium Mark was. It also shows clearly what a kind, loving caring woman Mary Ellen Mark was.
You should buy this book. It should be in every photographer's library.
September 20th, 2015
A few more photos from the trip to Alaska. These were taken along the way as we traveled by train to Vancouver, in Vancouver and at Glacier National Park where we stopped for 3 days on the way west.