January 6th, 2017
In August 2015 I was still trying to fully recover from my heath crisis in January. But I was feeling well enough to go on a bit of a photo expedition to the wilds of the Catskill Mountains in upstate New York.
This was an especially good trip because I was joined by my favorite model, the lovely and talented Brooke Lynne. We spent a couple days exploring locations in those mountains and making some photos.
If only Brooke lived nearer to me instead of in the frozen north of Minnesota I'm sure we would work together much more often. But every shoot with Brooke is a treat and never fails to generate some more photos that I can be proud of.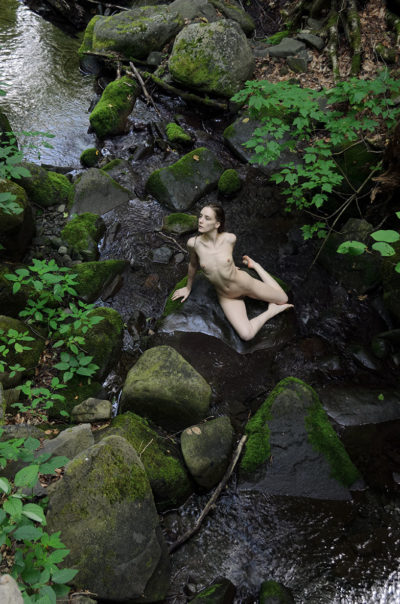 These were all from our first day of shooting. More to come from the second day.
January 2nd, 2017
Well, it's now 2017 and I'm still editing shoots from the middle of 2015. I seem to be slowly making progress, though. I might actually get to only being one year behind soon.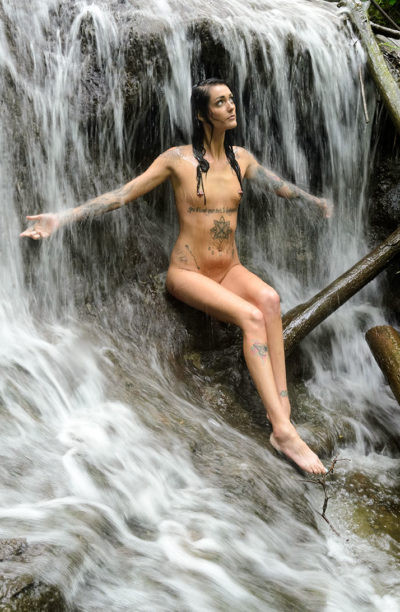 This was a shoot with a new model, Hayden, getting her "baptism" in working with me in my favorite local waterfalls.
I enjoyed what was happening when I got some spray on the lens, so I just worked with it for a while.
And my model did a fine job, considering it was her first experience with posing in the challenging environment of a waterfall.
I hope you are all enjoying the new year and that it will bring peace and happiness to all of us.
December 29th, 2016
I've already posted a few photos from this shoot with an old friend. We did the shoot to mark her 50th birthday. She first modeled for me back in the 1980s and is still a remarkably beautiful woman. She's also one of the nicest people I've ever met.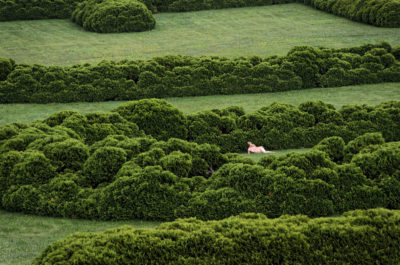 For this shoot we went to a place that has special memories for both of us. And we had a great time.
If that photo above looks familiar it might be because I already shared another from the same spot. The other one was published in French PHOTO magazine last year. I still love the one that French PHOTO chose, but I like this one a lot too.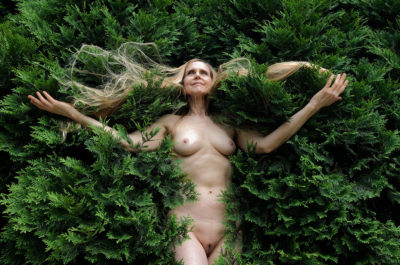 And just one more with my friend sort of looking like she is ready to become the sacrifice to some ancient gods.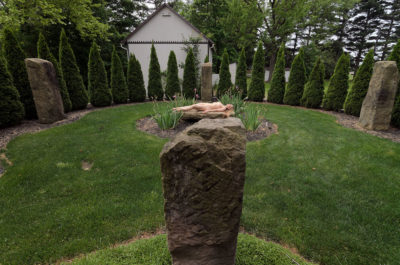 Happy New Year everyone. I'll be back in 2017.
December 22nd, 2016
I hope you haven't gotten tired of seeing my photos from the Smokey Mountains. If you have, you won't have to see them any more after today. This is the last post I'll be doing from that great shoot.
It's a nice problem to have when a shoot goes so well that you have a ton of good photos to chose from. I'm usually happy to get 4 or 5 shots that I'm happy with from a day of shooting. This trip to my favorite mountains with this great crew of models consistently produced at least 5 times that many photos each day.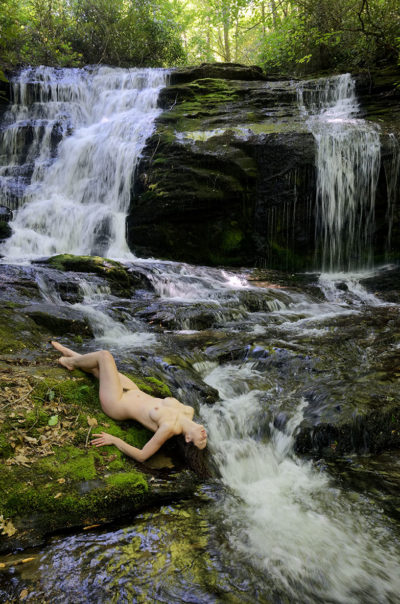 On this final day of the trip Nadine and Lilith kept the hits coming. I can't thank them enough for their great work.
But that's all for this set of photos. I hope you enjoyed seeing them half as much as I enjoyed working with these beautiful models in my favorite mountains to produce them.
December 19th, 2016
Lilith Noir and Nadine Stevens did a great job finding places to pose around this pretty waterfall. There are almost too many good photos from this day.
Such a nice problem to have so many photos to chose from. Still more to come in the next post.
December 16th, 2016
On the final day of my shoot in the Smokey Mountains I was joined by a lovely local model, Lilith Noir.
We returned to that beautiful little waterfall from the day before to see what else we could shoot there.
Nadine Stevens was still with me on this final day and she and Lilith did a fantastic job working at this spot. More to come in future posts.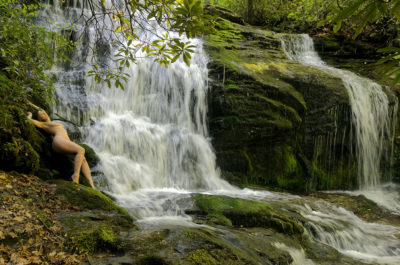 December 12th, 2016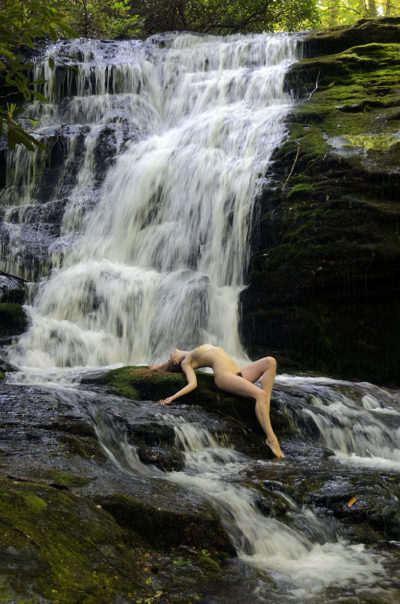 When the arrival of other people at Triple Falls ended our shooting there, it did not end our work for that day. We just went to another more out-of-the-way waterfall nearby and continued our work.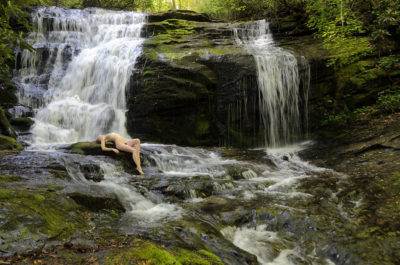 Stevie Macaroni and Nadine Stevens continued to do fantastic work and we got quite a few more photos at this lovely hidden spot.
As you can see from all the recent posts, this trip to the Smokey Mountains was very productive. One of my most successful trips ever.
It's hard to miss with such a tremendous crew of great models in one of the most beautiful places on the planet. Thank you, ladies.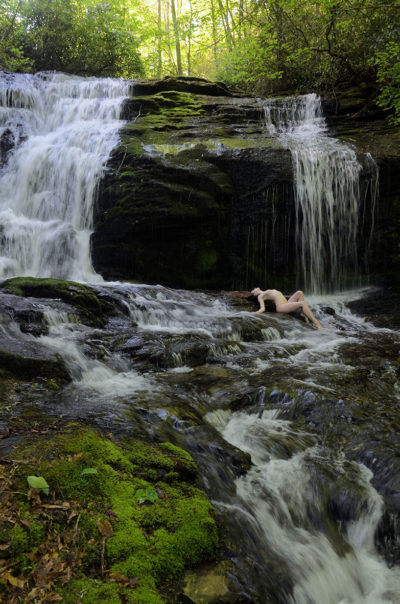 This isn't the end. More to come in the next post.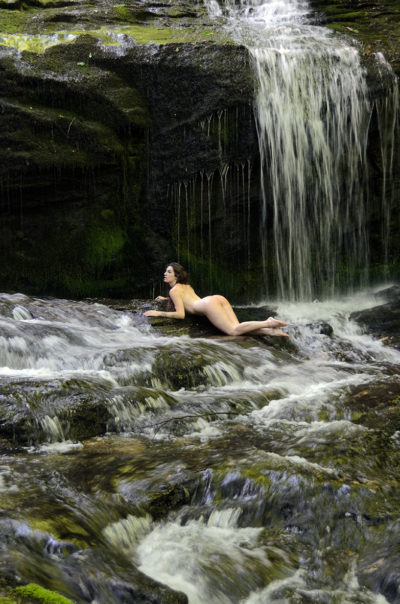 December 9th, 2016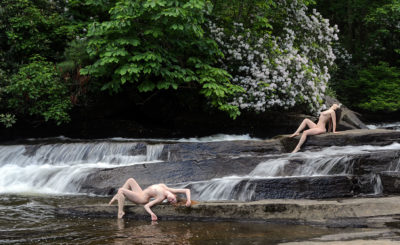 Triple Falls was an almost inexhaustible location. If people hadn't started showing up I think we could have shot there all day and never run out of ideas.
Nadine Stevens and Stevie Macaroni were wonderful, working hard at finding creative poses to work with the amazing scenes.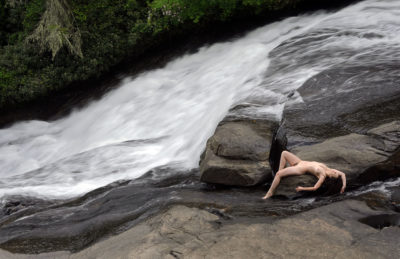 This is the last post I'll be making from Triple Falls. But there is still more to come from this trip to the Smokey Mountains.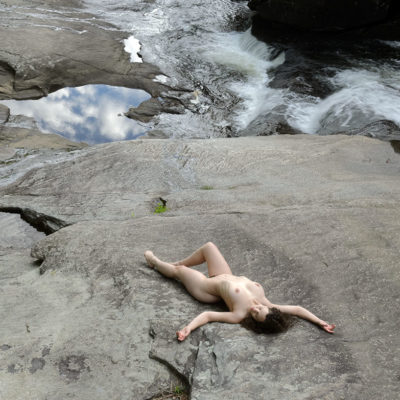 December 6th, 2016
We were able to work for several hours at Triple Falls in the early morning before other people started showing up and we had to stop. Stevie Macaroni and Nadine Stevens worked hard and did a lot of great posing to make these photos possible. It was a fine day of shooting in a fantastically beautiful location.
Those of you who are old, like me, might remember the movie "The Last Of The Mohicans." Scenes for that movie were filmed at this location.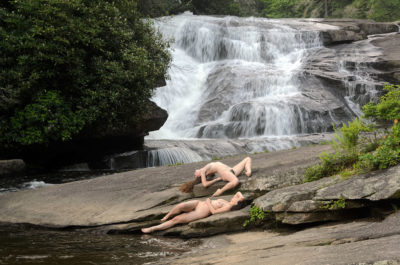 More from this fantastic spot will be coming in my next post.
December 2nd, 2016
The next day of shooting in the Smokey Mountains was with Nadine Stevens and Stevie Macaroni. For this day we went to DuPont State Forest, an amazing place just full of beautiful waterfalls.
These photos are all from Triple Falls. I understand that this was the location for some scenes in the Hunger Games movies.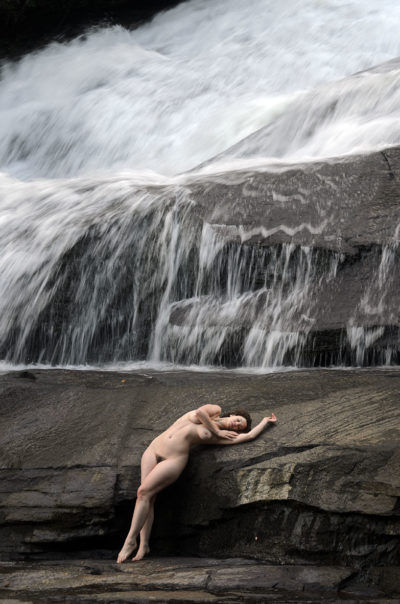 Nadine and Stevie did a great job, as you can see. Thanks Ladies.