May 17th, 2017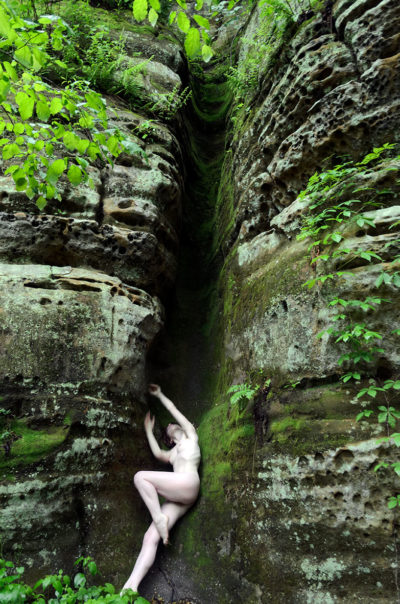 Liv Sage was in a twisty mood when we were shooting at Blackhand Gorge, as you can see in these photos.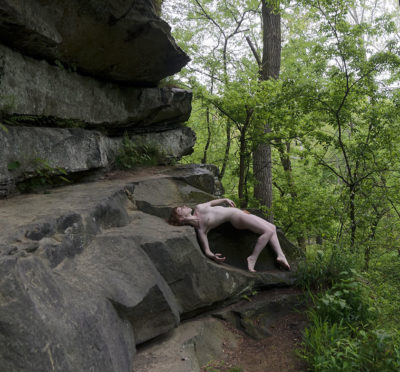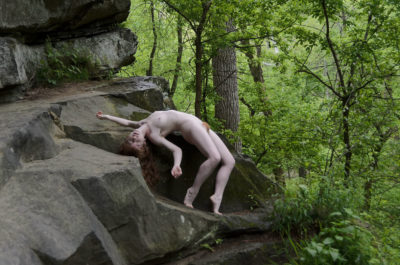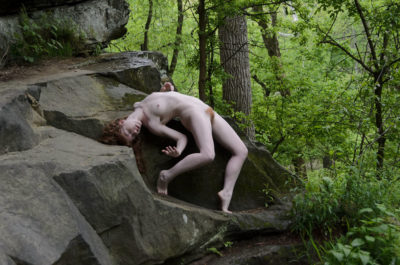 Liv is certainly a very flexible lady along with being quite lovely. Have I mentioned that she's a really nice person too? And a dedicated, hard-working model.
That's the end for today, but there is lots more to come in future posts. Stay tuned.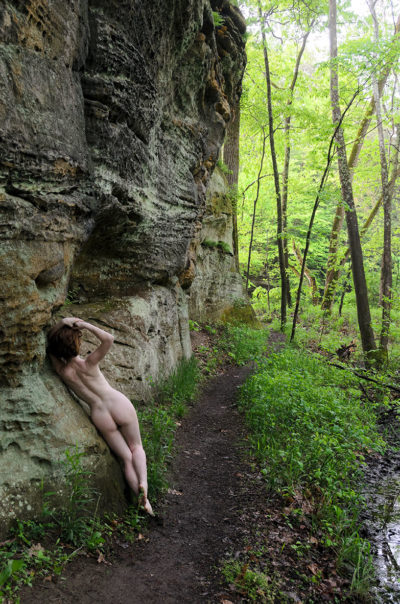 May 14th, 2017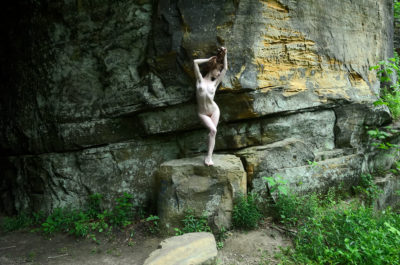 I worked with Liv Sage/ASmallWoman a lot last year. I wish she still lived nearby so I could keep doing that. But I still get to shoot her every now and then when she visits.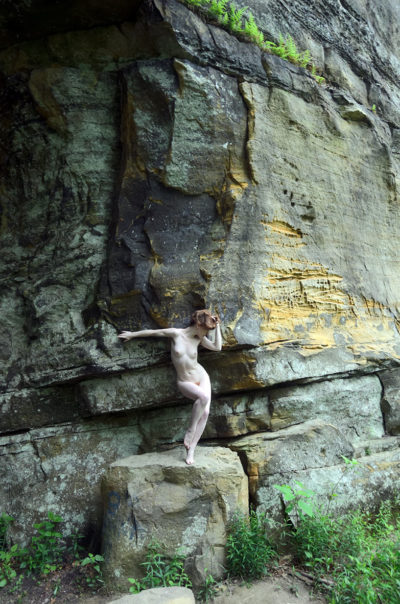 As you may know if you follow my blog regularly, for some years now I've been working on a series of photos taken at Blackhand Gorge, a beautiful natural area near where I grew up. I went there as a kid and a teenager and decided to return to use it as a setting for my work. Last spring I took Liv there.
The spot you see here is one where I've tried for years to get a successful photo. It is a sort of pedestal that seems a natural place for a statuesque model to stand. The problem is that there is an overhanging rock that makes it almost impossible to stand straight up. So this is another reason I really like short models. Liv was able to produce not just one, but several successful poses in this spot, as you can see.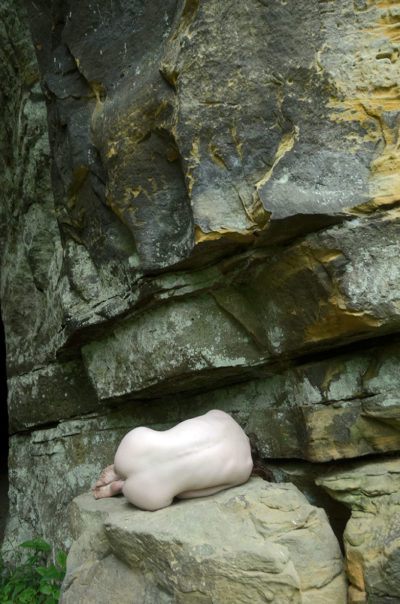 Lots more to come from this shoot with this extremely lovely and versatile model. Thanks Liv!
May 10th, 2017
During this shoot with Liv Sage/ASmallWoman last year I did a few pinhole photos along with the regular photos.
For the one below I asked Liv to move her head during the long exposure.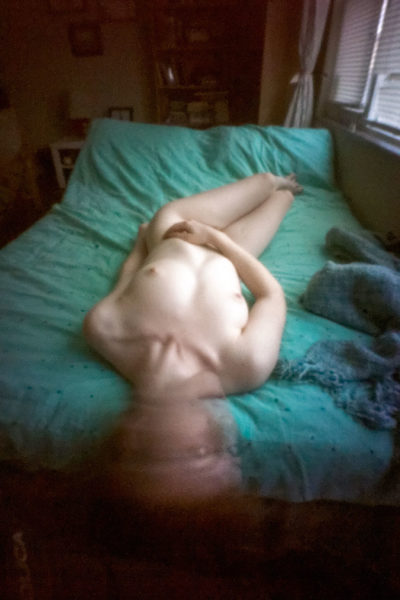 It doesn't matter what sort of lens or non-lens you point at Liv, wonderful photos always result.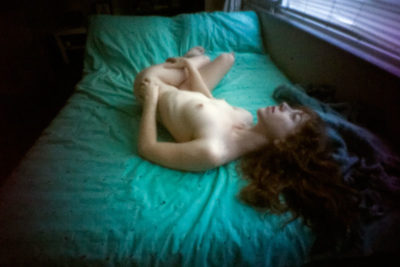 May 7th, 2017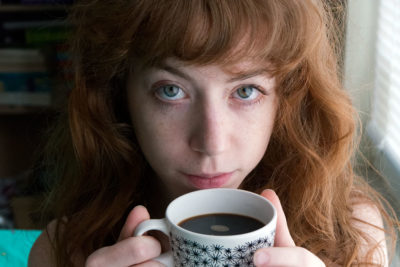 A few photos from a shoot with the lovely Liv Sage aka ASmallWoman back in March of last year. When I finish posting from this shoot I think I'll be less than a year behind on my editing. I'm actually gaining ground. Might even catch up someday since I'm not shooting all that much lately.
These were shot in Liv's apartment back when she lived in Columbus. I'm still mad that she moved away and I don't get to shoot with her as often as I used to.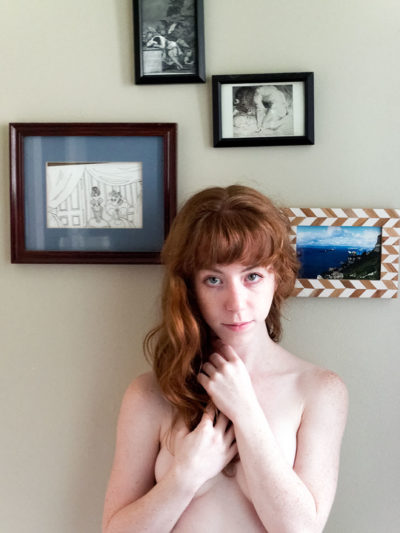 But at least I have these photos from the good old days to enjoy…I hope you enjoy them too.
I'll have more from this shoot in a future post.
April 30th, 2017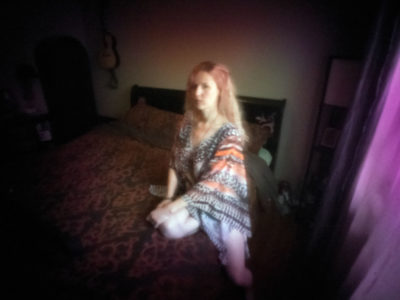 Today is Worldwide Pinhole Photography Day so, of course, I made some pinhole photos.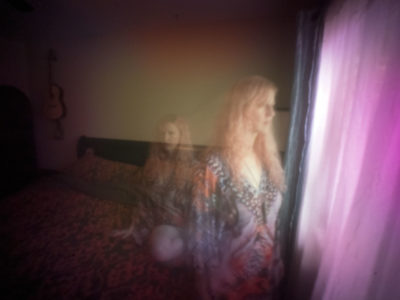 My friend Ayn was kind enough to take some time out of her busy day to pose for me with my pinhole.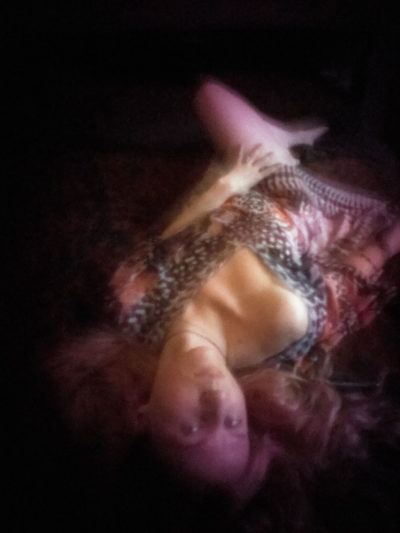 I haven't decided which of today's photos will get uploaded to the Pinhole Day site, but it will be one of the three above. Let me know if you have an opinion on which one I should upload.
I used my Panasonic GX8 camera with my trusty old Pinwide wide-angle pinhole.
I don't upload nudes to the Pinhole Day site because there are a lot of young people participating in the day, but that is no reason not to take a few nudes and share them here.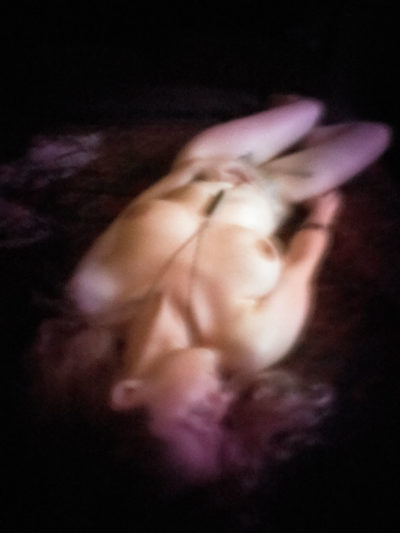 Thanks Ayn!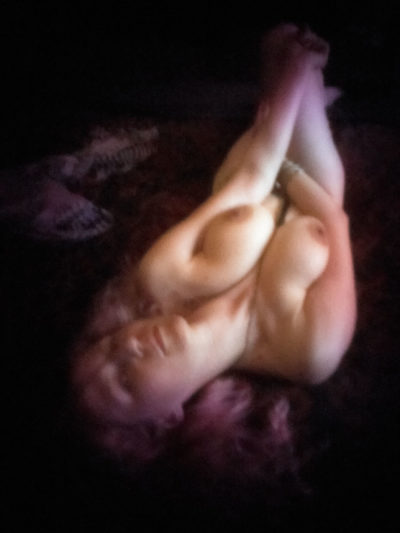 April 28th, 2017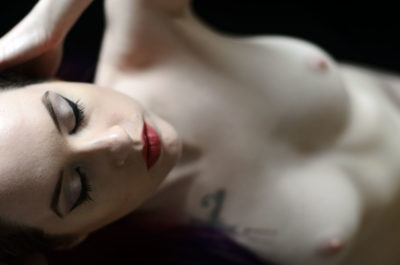 As promised, here are some photos of Reveille taken with a "real" lens.
I was using my old 50mm f/1.4 Nikkor for these photos, playing around with depth of focus.
That lens is definitely not sharp wide open at f/1.4, but stopped down one or two stops it gets very nice.
Reveille looks great in or out of focus.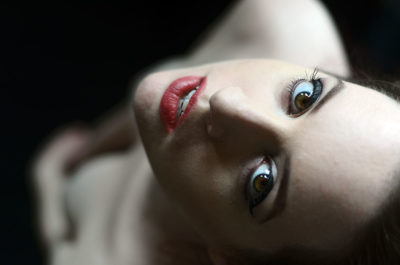 All the photos above were shot at f/2. For this last one I stopped all the way down to f/4 for a different look.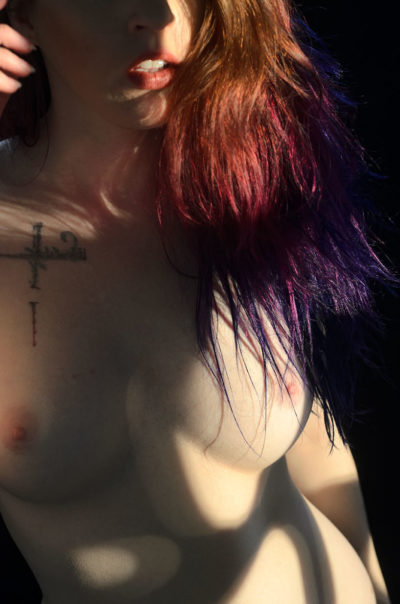 Another reminder: Worldwide Pinhole Photography Day is Sunday. Get out there and take some pinhole photos and upload one to their website, just for fun.
April 22nd, 2017
It's almost time for Worldwide Pinhole Photography Day. It's always the last Sunday in April, so that makes it a week from Sunday, April 30, this year.
I always try to participate and upload a pinhole photo taken on pinhole day to their website.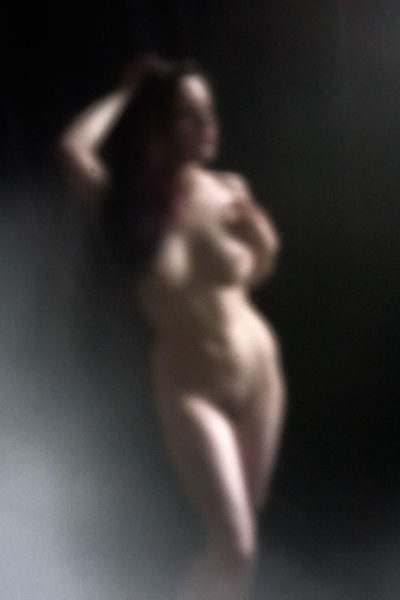 I don't upload nudes to the Pinhole Day website because there are many young people involved in the day and I don't want to cause any issues over nudity.
But I use my pinholes regularly to do all sorts of work, including nudes.
These were shot almost a year ago and feature the wonderful model, Reveille.
I'll have some more work with Reveille in my next post…and those will be photos done with a lens instead of a pinhole.
Don't forget, get your pinholes out and go out on April 30 and make some pinhole photos. I love the way pinholes get you away from the silly pixel-peeping that goes on and takes you back to the origins of photography. Pinholes were making images long before a way to save the images had been invented. And, ironically, modern digital cameras, especially mirrorless cameras with electronic viewfinders, make working with pinholes much easier than ever before. With my Micro 4/3 cameras I can actually use the viewfinder and see what I'm getting. And with the high ISOs available on modern digital cameras, I can shoot hand-held if I want to. It's never been easier to shoot pinhole photos. Give it a try.
April 19th, 2017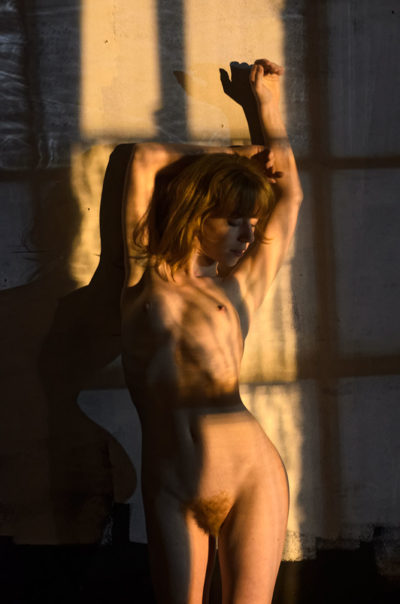 Sorry it has been so long since I've posted here. A lot has been going on. For several weeks I was moving out of my old house and getting it ready to put on the market. We worked right up to the last minute on that, and then the next day headed out for a drive across the country. We followed (kind of) Rt. 66, staying in old motels from the days of the Mother Road. We visited Las Vegas, Death Valley, Los Angeles and Yosemite before returning home traveling across Nevada and Utah on Rt. 50, "The Loneliest Highway in America." It was a great trip and we got to visit with several friends along the way.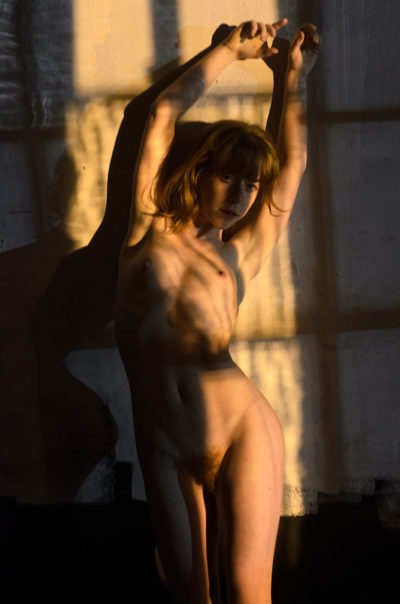 So, I'm back now and I'll try to get back to posting regularly. I still have quite a backlog of shoots to work through and I'll probably post some photos from this trip when I get them edited. They are being downloaded from my portable drive to my desktop as I type this.
Meanwhile, here are a few photos of the lovely ASmallWoman taken at night by the light of a streetlight through the windows of my old studio in Dayton.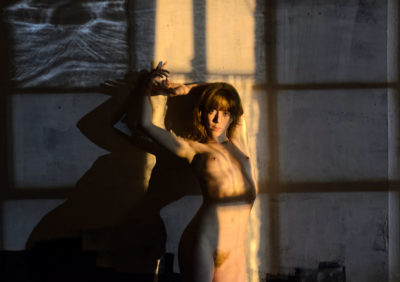 March 3rd, 2017
Sorry for the long gap since my last post. I've been on vacation with my family. I took some things to do posts while I was away, but frankly, I was just having too much fun to take the time to write a post.
I'll get back to the regular posting soon. But just after arriving back home I received word that two of my photos have been chosen by the juror for a show next month at the Darkroom Gallery in Essex Junction, Vermont. 
Amusingly, they are two very different photos, but both of them have two models. The one above, with models Kat and Brooke Lynne, was taken a few years ago in a slot canyon near Page, Arizona. The one below is a more recent photo taken in the Smokey Mountains with models Melissa Troutt and Stevie Macaroni. One in deep desert and the other in a mountain stream. And in each case the two models making the photos much stronger than they could have been with just one. Thank you ladies!
The Darkroom Gallery does excellent shows. I'm always proud to be included in them. If you are in the Burlington area you should check out the show. My friend, Dave Rudin, also has two photographs in this show.
February 18th, 2017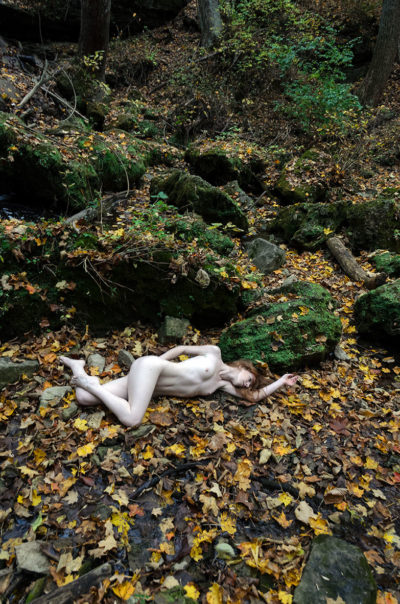 I'm making progress on my backlog of editing. I think soon I'll be less than a year behind. This shoot was with ASmallWoman in October 2015.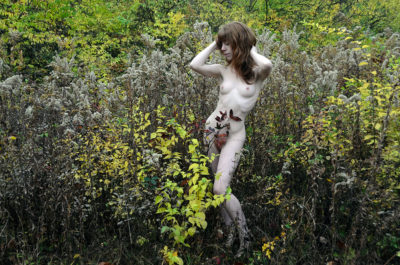 We just wandered around in the woods at a couple parks near my home and shot in the fall colors.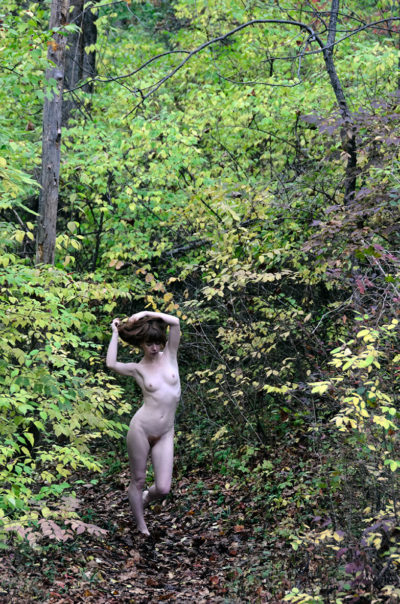 ASmallWoman is a wonderful person and a fine model. I always enjoy working with her.
There are a lot more photos of ASmallWoman coming in future blog posts. We did a number of shoots together around this time.