Mob O' Models In Woodstock
January 16th, 2017
After Brooke Lynne and I spent a couple days shooting we went to Woodstock, NY, to meet up with my old friend, Dave Rudin, and eight more models who Dave had invited to join him to celebrate the 2oth anniversary of the first time he photographed a nude at a workshop in that iconic town. That's a photo of all the models posing at the site of that first shoot by Dave R. Here's Dave R's post about this shoot:  https://figuresofgrace.wordpress.com/2015/09/02/woodstock-more-from-my-20th-anniversary-celebration/
The lovely models are (in no particular order): Blueriver Dream, Erica Jay, Claudine, Brooke Lynne, Kelsey Dylan, Stevie Macaroni, Nadine Theresa, Dane St. Clair and Elisa Dandelion.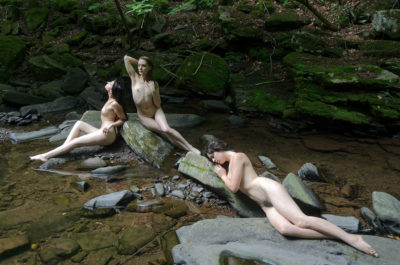 We all went out to a location in the Catskills to shoot. Dave R did a bunch of photos with all nine models, but then we each worked with smaller groups of models. In these photos I was working with Brooke Lynne, Blueriver Dream and Kelsey Dylan.
More to come from this shoot.