Abundant Beauties
November 18th, 2016
In addition to working with Melissa Troutt for the first time, I was also blessed with three other models on this shoot in the Smokey Mountains. Nadine Stevens was also with me, along with Stevie Macaroni and another model new to me who turned out to be quite wonderful, Bunny Luna.
As you can see, with that many great models available I couldn't resist getting them all in a few photos.
And Melissa and Stevie worked very well together for some other shots.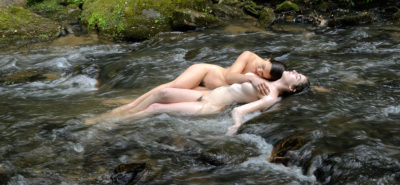 My next post will be behind-the-scenes photos from this day of shooting. Stevie and Bunny are are also both very fine photographers. So they did a lot of their own work while we were out there. I'll be showing you what that looked like.