More From My Trip
September 6th, 2016
Thought I'd post a few snaps from my trip last week. These were shot in the White Mountains of New Hampshire. Above you see me trying to walk in the 80mph wind on top of Mt. Washington.
That was fun, but there really wasn't much of a view. We saw hikers who had climbed the mountain and were determined to make it to the summit a few yards from the building at the top. They were roping up to keep from being blown off the trail. We didn't try for the summit.
The view was much better just a little way down the road from the summit.
After going up Mt. Washington we hiked to Glen Ellis Falls, I nice easy hike. I shot these closeups of some of the plants along that trail.
The next day we drove the Kangamagus Highway and did a climb on a "moderate" trail that was pretty tough going for us old folks. This view was the reward at the top of that mountain. Considerably lower than Mt. Washington.
At the end of the day we stopped at Lily Pond along the Kangamagus to see if any moose were hanging around. Didn't see any moose, but it was still a pretty place.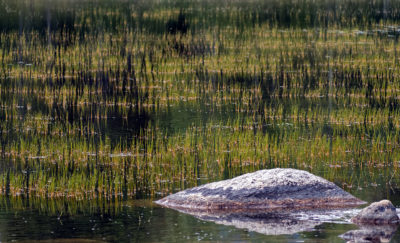 All these photos were made with my little travel cameras. Micro 4/3 and also my old trusty Canon S90 that is always on my belt.