Some Romahni Portraits
June 8th, 2016
While we were down at the cabin in the Hocking Hills I did a few portraits of Romahni Rose.
Back in 1969, when I graduated from high school, I got some money as graduation gifts. Enough money that was able to buy my first Nikon. It was a Nikkormat Ftn. I still have that camera and it still works, despite being used hard for many years and even dropped once on a cement sidewalk. It hit the sidewalk hard enough to dent the top plate, which kept the rewind knob from turning. I used a hammer to pound the dent out. The camera still works to this day. They don't make them like that anymore.
Along with that Nikkormat I bought the standard 50mm f/2 lens. I still have that lens. It's a great lens. It's sharp at every aperture. A beautiful, simple little creation. I didn't use it a lot in the old days because 50mm just wasn't my focal length. I mainly used 24, 35 and 85mm lenses. Once in a while, a 200mm. The old 50 is manual focus, of course, so with modern auto-focus cameras it got no use at all. You just can't focus these new cameras manually, something I've never really liked about them. I wish I could get a new Nikon with the old "Apollo P" focusing screen which had a microprism ring around a diagonal split focus finder in the middle. I suppose there's a reason they can't put that screen in new cameras, but I wish they could or would.
So, by now you are wondering why I'm rambling about these old cameras. Well, since I started shooting with Micro 4/3 cameras I've been sometimes using that old 50mm as a portrait lens with my Panasonic G5. The G5 has excellent focusing aids for manual focus, instantly magnifying the image in the electronic viewfinder as soon as you turn the focus ring, then instantly going back to the full view at a light touch of the shutter button. And the 2x magnification of the image in the M4/3 sensor means the old 50mm becomes effectively a 100mm…a perfect portrait focal length.
So, that's the kit I used for these portraits of Romahni. I love how these look. And the bokeh with this lens is very pleasant. There were some little colored lights in the cabin. I thought it was interesting the way they rendered out of focus in the background, as you can see in this last shot.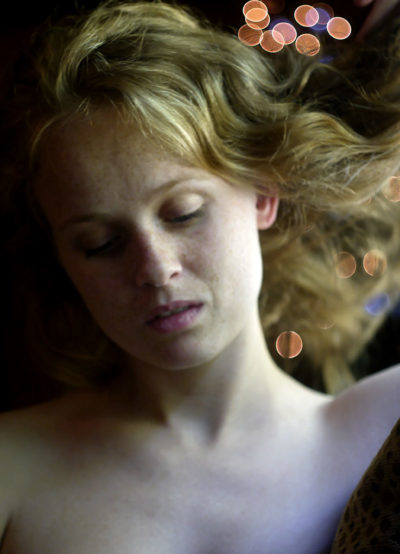 For those of you who are disappointed that you didn't get to see more of Romahni in this post…there are some more photos from this set coming in my next blog post.