Moonrise Over Pat's Farm
May 10th, 2016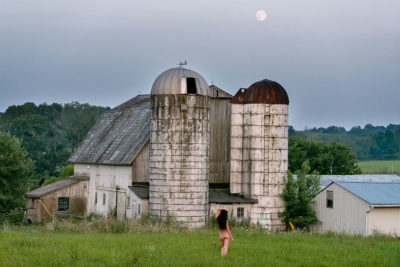 I like to take photos of the rising full moon. I'm always looking for a good location where I can get a good distance from a subject…a tree, a building or, especially, a model. I noticed that my friend Pat's farm might be a good candidate for a moonrise photo. Using The Photographer's Ephemeris I was able to determine where the moon would rise and where I should stand to get a photo.
Pat said, as usual, that I was welcome to come to the farm and do photos. So I asked the wonderful model, Kelsey Dylan, to go the farm with me to try from some moon shots.
Of course, if you want to photograph the real moon rising over a real scene, there are going to be problems. I've had people suggest that I just photoshop a moon into the photos. That isn't the same thing. I enjoy the challenge of doing it the old-fashioned way. Sure, you can fake it if you want, but is the result really a photograph?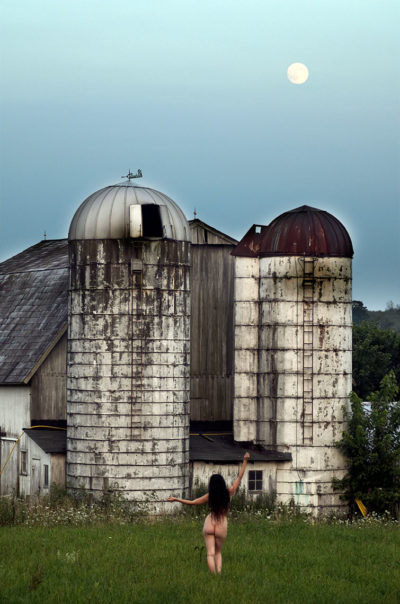 On this occasion, as usual, the moon was being uncooperative. The moon can be shy. We were watching for the moonrise and knew that the time had come, but there was no moon. And it was a clear evening, so the clouds that often cause trouble were not a factor. After a while we finally spotted the moon well above the horizon. There was enough haze and enough light from the setting sun that the moon had been obscured for the first minutes of its rising. That meant that the photos I wanted, with a long telephoto lens, were not going to be possible. The moon was too far from the subjects I intended to include to get the full telephoto effect.
But I was still able to get a few photos, as you can see. Kelsey did her usual fine job. So this part of the shoot was not a total success, but not a total loss either. That's how it is when you photograph nature. You take what you get and do the best you can with it.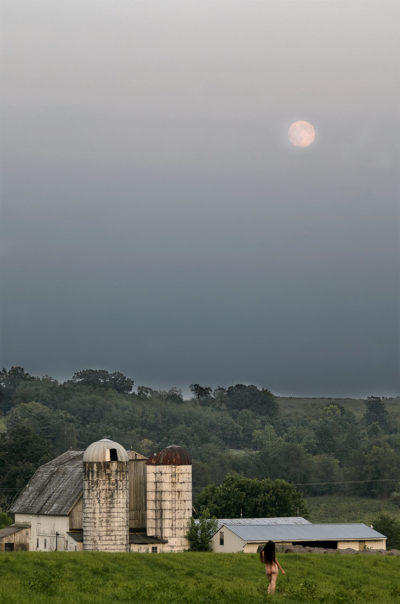 But, since we made the trip to the farm and had to wait around for the moon to arrive, we spent the afternoon doing some other photos around Pat's lovely farm. I'll be posting those photos next.
For those who care, these photos were done with a Nikon D7000 with an 80-200 f/2.8 and with a Panasonic G5 with a 100-300.