Different Views
September 27th, 2014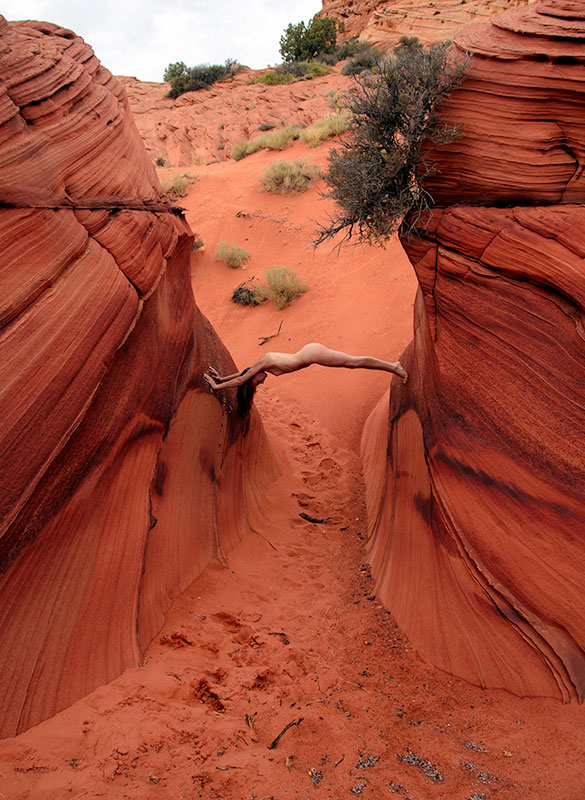 I'm proud to announce that the photo above is published in the current issue of Clear Nude magazine. This is an excellent magazine and I highly recommend it to your attention. It's available both on line and in print. You can order the print version on Amazon too.
In my next post I'm going to talk a lot more about the magazine. But for today I want to talk about the photo that they published. The photo was one of many illustrating an interview with my favorite model, Brooke Lynne. It is one of Brooke's favorite photos from our trip to the desert southwest. It's not one of my favorites. But that is ok.
I have a different view of the relationship between photographer, model and photographs from most photographers. I think differences are good. I do things my way and I'm happy to let everyone else do things their way, so you won't hear me trying to talk other photographers into working the way I do. It's a choice and we all get to make our own choices.
I consider my models to be co-creators with me of the photos we make together. I'm serious about that. I share copyright with my models. They get all the photos and they have full rights to do anything they want with the photos.
So, Brooke likes this photo for some reasons that don't really matter to me. She is very pleased with her pose. I understand that. It's a really difficult pose and was hard to get into, and even harder to get out of. She did it like the master of posing that she is. She's an amazing model. This photo demonstrates that. But this photo does not work for me as far as what I'm looking for in a photo. My goal is to show the beauty of the model in relationship to the beauty of  nature. The model has to fit into the scene and reflect the forms of the scene in her pose. That's not really happening in this photo. In fact, to my eye Brooke stands out too much and doesn't blend or relate to the forms around her. She's sort of at odds with them.
But, and I can't emphasize this enough, that's ok. This photo is Brooke's just as much as it is mine. I'm glad she finds something in it that works for her and I'm very happy that she has had it published in a great magazine. I am not complaining in any way and I never will.
That said, my differences with Brooke over this photo do not end with the selection of this shot. I would also crop this photo differently. In fact, nearly all the shots I took of Brooke here were cropped differently in the camera. I find the sky a distraction in the composition. It seems to me discordant. It draws my eye up to the top of the frame and away from Brooke, who is really the subject of this photo.
But that's just my opinion. Brooke is completely free to crop it as she sees fit. Again, I'm not complaining, just commenting on how two people, both involved in the production of a photo, can have different ideas about how it looks best. I'm sure Brooke picked this frame because it has the most perfect execution of the pose to her eye. She did crop some of the sky out of the original frame, so I know leaving some sky was a deliberate decision on her part. And I'm fine with that.
I know most photographers are much more territorial about their photos. I have never really understood why the subject, who is working hard and has agreed to be nude in the photos, shouldn't have at least an equal right to the photos. After all, the model is really doing all the hard work and I'm just taking photos of her while she does it. So, that's how I work.
And, here's how I would crop that photo…I get to have my opinion too, of course.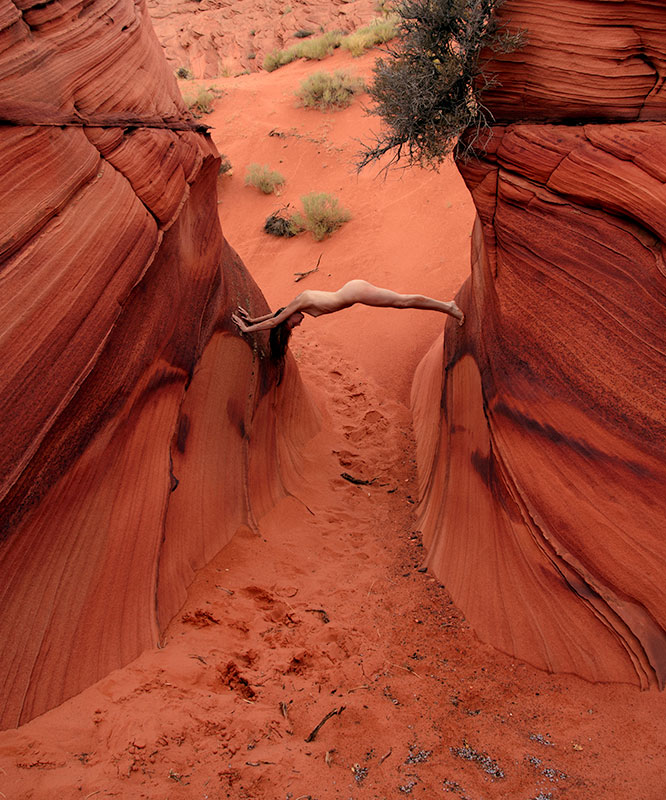 And here's another photo of Brooke taken near where the one above was shot. This photo shows more of what I'm looking for. It's our differences that make life interesting. We should learn to enjoy them.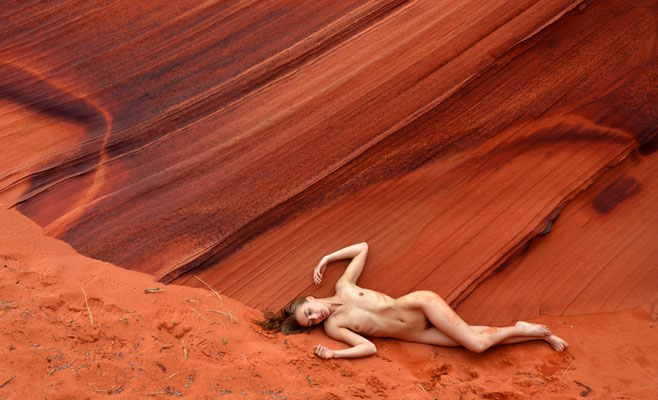 I'll have much more to say about Clear Nude magazine in my next post.
And, I'm now on Ello. Are you? Come on over there and connect with me if you want. Find me at https://ello.co/davel51