An Interesting Rant
September 17th, 2014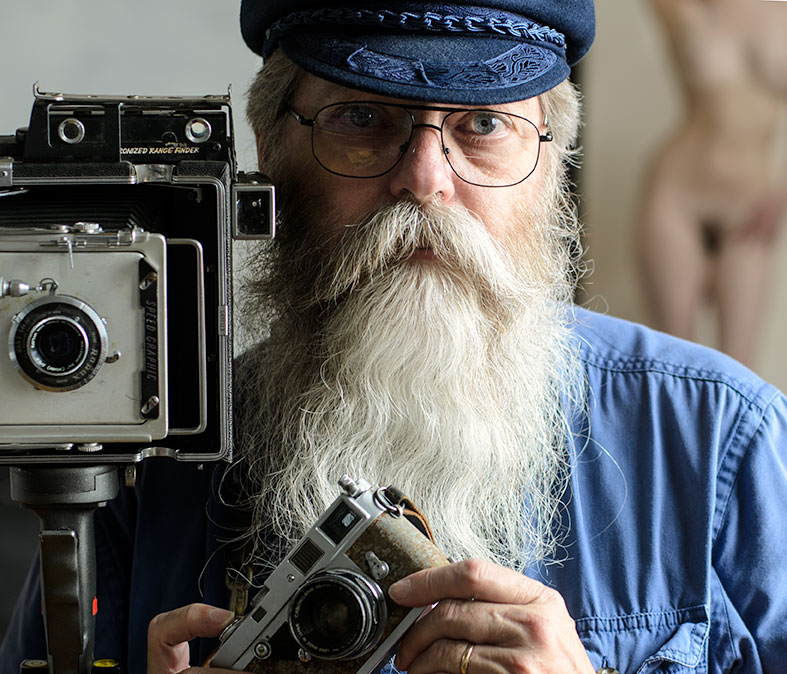 I read a blog post this morning that I found interesting and provocative. So I decided to take a break from posting Starved Rock photos and share that post and write a bit about it myself.
Go here to read the post by Randall Armor.
Ralph Gibson has been a "famous photographer" since the days when I was in photo school. As you can see from my self-portrait above, that was quite a while ago. Mr. Gibson is even older than me. And he's famous, at least in the photo community. I've never met Mr. Gibson, though several of my favorite models have also modeled for him. I'm sure he's a reasonably nice guy. And I often say that I'm sure he is an artist because I can only understand about a third of his photos.
But I have a pretty low tolerance for bullshit, especially the bullshit that tends to be all over the place in the world of art.
As to the whole digital vs film debate, I think it's pretty stupid and pointless. Those are my cameras in that self-portrait. I know how to use them. The Leica was one of two that were part of my daily kit, along with two Nikons, when I was working as a photojournalist. The Leica doesn't get much use these days, but I still use the old Speed Graphic to shoot with instant film.
All my life as a photographer there has been someone saying that the latest advance in photo technology was wrong somehow. Starting with "No professional photographer would use a camera with a light meter built in." Of course, I started doing photojournalism with 35mm cameras when many were saying that no professional photographer would use that "amateur format." All of that is just pointless hot wind as far as I'm concerned. And that includes the digital/film debate.
I have some very good friends who only work with film and consider digital to be an inferior way to make photos. I disagree with them, but we are still friends. Everyone is entitled to their choice of tools. That includes those who insist on using film. But it also includes me and others who have decided that digital cameras are the best choice for their use. It's really no one's business other than the photographer.
And I like to remind my "film friends" that it's not really photography unless you coat your own plates. After all, if you just buy factory-made film, you are limited to what the manufacturer has decided will be the characteristics of that film and aren't really in control of your process.
The debate is stupid. I'm sad that someone whose work I admire has displayed such a silly opinion. But I'm not really surprised to learn that he tends to talk a lot of the art-world bullshit. I guess that's one of the requirements to become a famous photographer. It's bad enough that the critics spout so much bullshit. It's a shame that the artists have to get involved in too.
And that made me think of this WUMO comic from yesterday:
I also enjoyed the R. Crumb recording of Fine Artiste Blues that was quoted in Mr. Armor's blog post. You might enjoy it too. Here's a link to it on Youtube. I liked it enough to go ahead and buy the track.
Anyway, feel free to comment if you are so inclined. I'd particularly be interested in hearing from my friends who have met Mr. Gibson.