When Things Go Wrong Right
September 8th, 2014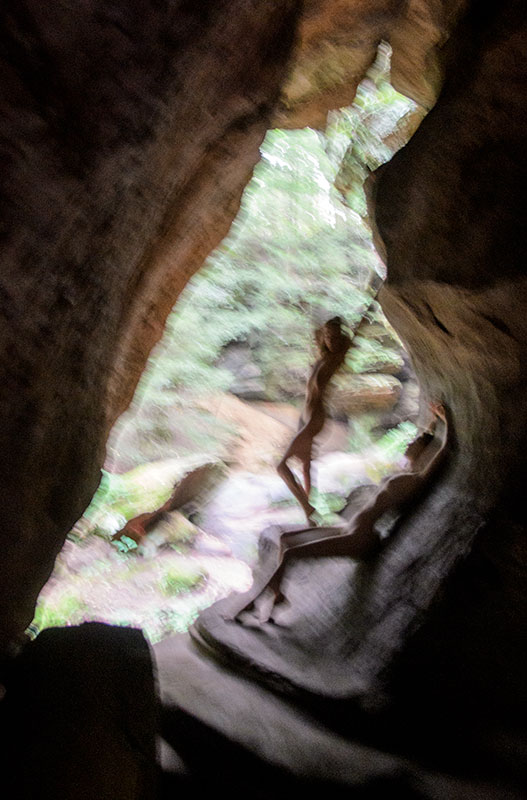 I love it when things fail in an interesting way. That's what happened here while I was shooting with Brooke and Romahni. The situation was a difficult one. It was dark in the cave and a lot lighter outside. But it was still, overall, pretty dark, so the exposure was long. The exposure for this shot was 1/5 of a second at f/3.5. The ISO was at 1600. Like I said, dark.
But my lens has Nikon's Vibration Reduction which is usually good for 3 or 4 stops of steadiness. So that gets us to somewhere around 1/60 of a second in terms of controlling camera shake. But, obviously, the VR just wasn't up to the task for this particular shot. But I like the result. I've found that VR tends to produce a very different sort of blur when it fails. It seems that parts of the photo are sort of sharp while other parts are blurred in weird ways. There can even be two sharp images, almost like a multiple exposure. And sometimes that makes something fun.
Anyway, I like this photo. And that's all I really care about.
I've noticed this happening before and look for success in failure when it does happen. Here's another photo with the same sort of things going on that I shot years ago with a fantastic model, Virginia Red. The shutter speed for this one was 1/4 second. I think I may be starting to identify a sweet spot for making this happen. More failures like these may be in my future.