Worldwide Pinhole Photography Day
April 27th, 2014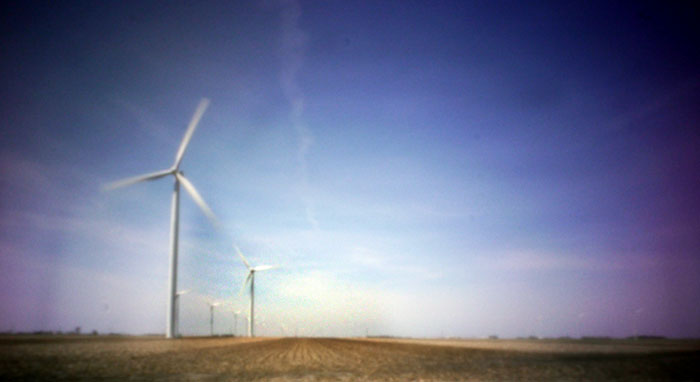 Today is Worldwide Pinhole Photography Day. There's still time for you to go out and take a pinhole photo. You can then upload it to the WPPD site. I just uploaded mine. That's it above. Once again, nothing great. I was traveling home from Chicago today, so I stopped and did this shot of windmills along I-65 in Indiana. One of these years I'll actually be able to set up something interesting for this day.
I used my Panasonic G5 with my Pinwide brand wide-angle pinhole. I cropped the image a bit to help the composition. I couldn't get close enough to the windmills to take full advantage of the wide-angle effect of this pinhole. I did get reminded of something I already knew. The pinhole is an opening. Unlike a regular lens, it doesn't provide a seal to protect the sensor from dust. And it was very windy out there today. As a result of those two factors, the wind pushed a considerable amount of dust through that tiny pinhole and onto my camera's sensor. I had to clean up a bunch of dust spots in this photo. I'm hoping the camera's built-in sensor cleaning will take care of the problem. We'll soon see.
One nice thing about using a pinhole on a micro 4/3 camera is that thanks to the electronic viewfinder, it's actually possible to see what you are getting while you are taking the photo. A regular DSLR optical viewfinder is useless with a pinhole…you can't see a thing. Also, the meter worked just fine, giving me a perfect exposure just by following the built-in meter. I like this. I was never a fan of the inability to have any idea what was going to happen with a conventional pinhole camera and film. It can take weeks to figure out exposure and composition with those contraptions. I like to see what I'm getting and know that I have the right exposure. I know others enjoy the "mystery" of working with all those unknowns. I'm not one of them.
Here's the link to my photo on the WPPD site:  http://www.pinholeday.org/gallery/2014/index.php?id=606