My Accidental Camera System
April 6th, 2014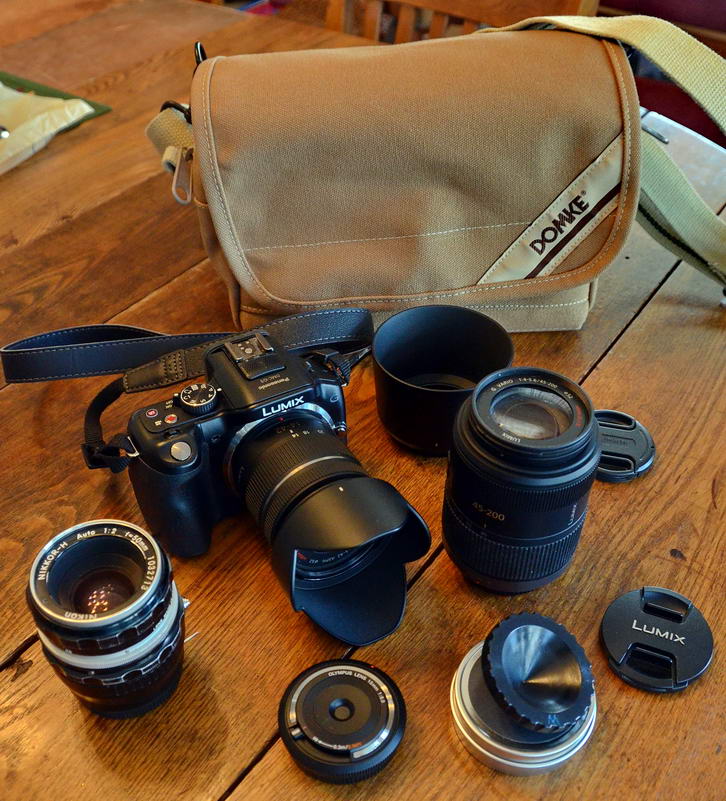 I don't need a second camera system. My Nikon D7000 produces beautiful files and will use the many lenses I've accumulated from being a Nikon user since 1968. And I blame Mike Johnston at The Online Photographer blog for sending me down this path. He was the one who posted that the Panasonic G5 was on sale at Amazon for less than $300 with the kit lens.
Now, I don't automatically buy a camera just because it is a good deal. There are lots of good deals out there. But I've been looking for a good travel camera…something that would take up less space and weigh less for trips where I'm not really doing serious photography, but just want to be able to make some good vacation snaps. I'd tried out several "super zoom" cameras and found them lacking. I'd been looking at the Sony NEX system, but didn't think it was really ready and was waiting for some improvements and expansion of the lenses available before making that jump.
And then I saw Mike's announcement of that sale. I already had a first-generation Micro 4/3 Olympus camera. It was ok, but not quite there for image quality with the 12mp sensor. But this Panny had the new 16mp sensor. Resistance was futile. I placed the order and just hoped my wife wouldn't figure out what I had done.
Now I know this isn't the latest and greatest camera from Panasonic. Everyone is raving about the G6, but it costs more than twice what I paid for the G5. And I'm pretty sure it has the same sensor. And the G series is the cheapie version of Panasonic's Micro 4/3 line. I'm sure I'd enjoy the features of the more expensive cameras, but I don't see myself plunking down something in the neighborhood of a thousand dollars or more for a vacation camera. I can live with the more limited feature set and controls on the G5. After all, as I like to say, P is for Professional.
I'm not going to go into a detailed review, there are other places on line where you can find that…including the link above to DPReview. But I'll just say that I love this little camera. It's turned out to be the perfect solution to my problem of finding a smaller, lighter travel camera.  And, as you can see from the photo above, it's growing into a nice little system.
I guess I'm supposed to tell you that I'm not being compensated in any way for writing about this camera. I bought mine and paid the "full" sale price. So what I'll be saying about the camera and lenses is simply my opinion. If someone wants to send me free stuff to write about, I'd be all for it, but that has never happened and I doubt it ever will.
OK…so how good is it? I'm just going to give you my impressions…and I'll share a few photos. No pixel peeping here…that just doesn't interest me. I just care about getting photos that I can use.
I'd say that the files from the G5 are not as good as the files from my D7000. But the differences are not that great and mostly fall around the margins. There seems to be a bit less dynamic range, but that only matters in fairly extreme lighting situations. And the high ISO performance is not quite as good as the D7000…but only by one or two stops. The G5 performs just fine up to at least 1600 ISO. Above that you are probably going to want to use some noise reduction software. I'm happy with the files out of the D7000 up to 6400 ISO without using noise reduction…so that matters if high ISOs are needed.
But, that said, I think the G5 is greatly superior to what you could do with 35mm film. Its 1600 ISO looks one hell of a lot better than Tri-X processed in Acufine. And I'd say the G5 files are at least as good, if not better, than the files from my last digital Nikon, the D200. So, just how good does a camera have to be to be good enough? The G5 is good enough for me for most things. I can make 17 inch-wide prints on my Epson 4900 that look just fine. That's all I need from a camera.
Here's a snapshot of some friends at 1600 ISO. It was shot with the kit lens at 14mm, exposure 1/20th at f/3.5: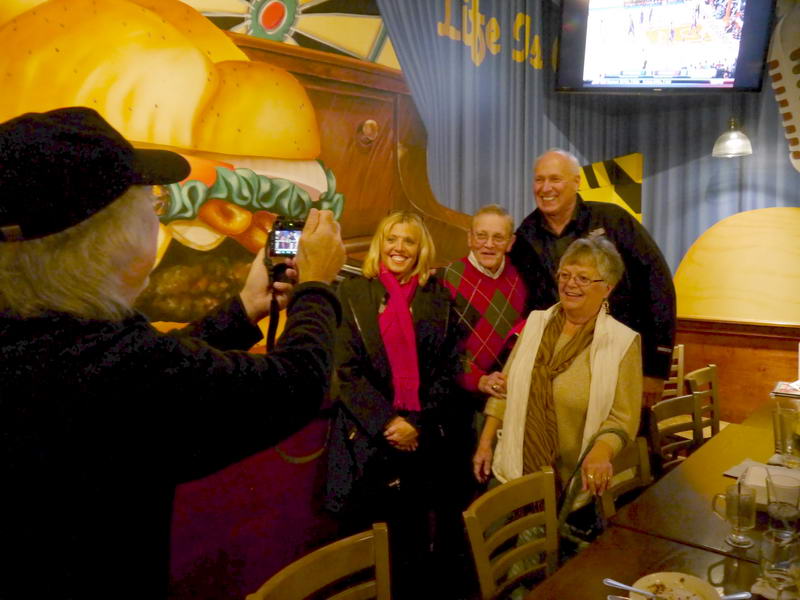 Here's a shot done at ISO 160, again with the kit lens. 1/200 at f/6.3: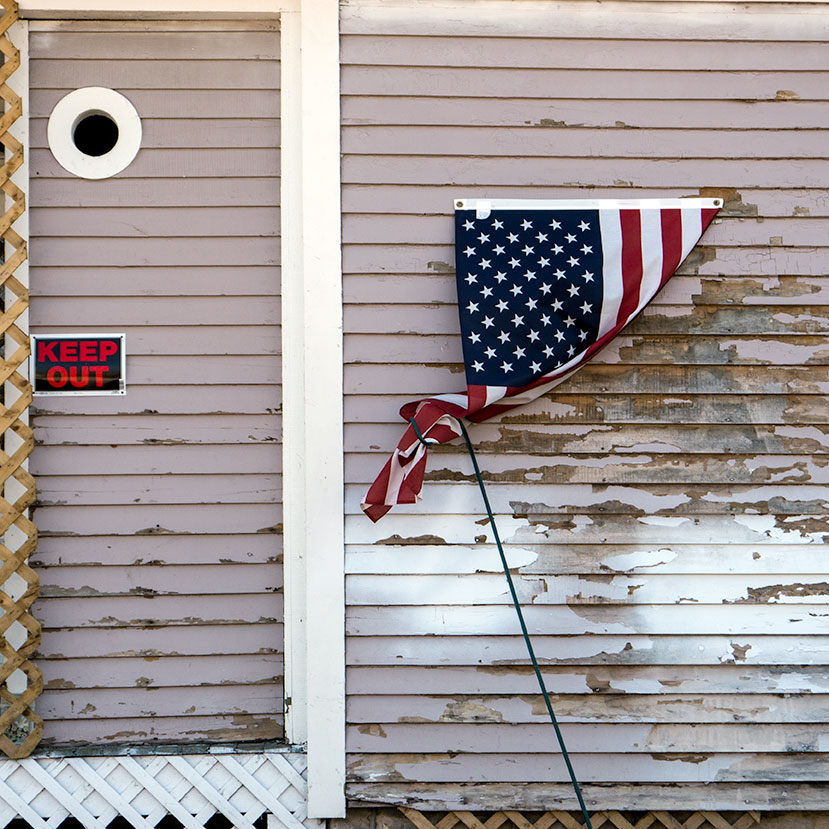 And you'll note one of the little things I like about using an electronic viewfinder. The G5 (and most, if not all Micro 4/3 cameras) allows you to select the format of your photos. I worked for many years with square-format film cameras and I enjoy working in that format, so I've been using the G5 in square format. I switch when the subject requires a different rectangle, but keep it in square most of the time.
I have a lot more to say, but this post is long enough for now. More to come about the rest of the system in future posts.