Chicago Reception
September 20th, 2013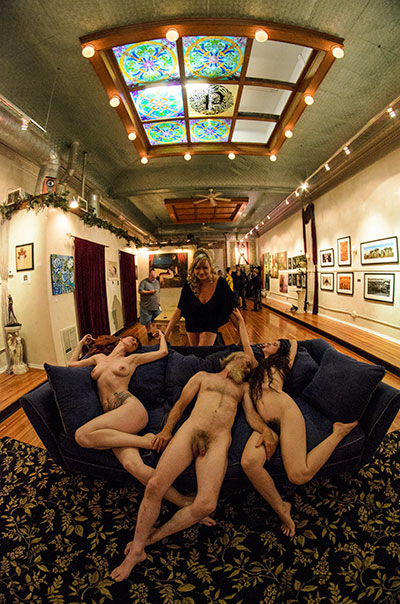 I didn't take a lot of photos at the closing reception of my show at Gallery Provocateur in Chicago earlier this month, but I did play around with the fisheye lens and got a couple that are worth sharing.  That's gallery owner Veronika behind the couch with muses Ayn and Kelsey Dylan flanking my photographer friend Dave Swanson on the couch.  The fisheye shows off Veronika's lovely gallery pretty well.  I've promised her that I'll bring it along the next time I'm up there so we can do some shots with it on a tripod and with a low ISO to properly show the gallery.
A couple of my prints are still on the wall at the gallery because Veronika has graciously offered me permanent representation.  Soon I'll be printing up a small portfolio of prints for her to keep on hand to show buyers who visit the gallery.  She does such a great job with her gallery and her shows that I'm very pleased and honored to be associated with Gallery Provocateur.  And, as you can see, you just never know what might happen at one of her openings.
She has a new show coming up that is connected with Chicago's fashion week.  Another of Veronika's many talents is as a fashion designer.  The next exhibit at the gallery features fashion photography.  Click here for the details on the show.  She is also having a runway show at the gallery.  Click here for details on the runway show.
And, here is one more photo with the fisheye at the opening, featuring the lovely models Ayn and Kelsey cavorting with all of my prints on display in the background.  See what you missed.