Good Luck at Starved Rock
September 11th, 2013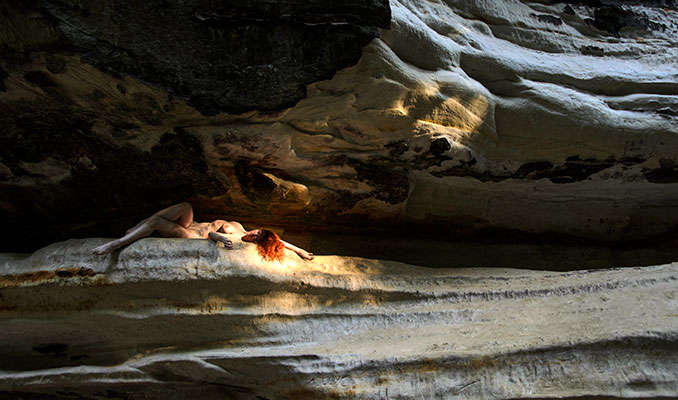 As you know if you follow my blog, I'm about a year behind on editing and posting my photos.  But today I'm making an exception.  After the closing reception for my show at Gallery Provocateur in Chicago I went with some friends to Starved Rock State Park, southwest of the city.  It's one of the most beautiful places on the planet…and a great place to shoot figure work, if you know where and when to do it.
Generally one of the nice things about Starved Rock is that the canyons are so deep and narrow that the sun only reaches into them at mid-day.  That makes for nice subdued light.  And generally that's what I'm looking for when I'd doing nudes in nature.
But it pays to pay attention.  Sometimes the photo gods will smile on you in unexpected ways.  Ayn and I were working on some nice photos near where this one was taken when I noticed this little beam of sunlight hitting the canyon wall in a lovely way.  Ayn quickly maneuvered herself into the right spot and did a perfect pose.  Her red hair was definitely the right touch for this photo.  In a few minutes the light was gone and the canyon was back to its normal subdued look.  But I had just enough time to get this shot.  I think it will be in my portfolio from now on.
I'll go back to my normal way behind schedule of posting now.  You'll be seeing some photos from the closing reception soon.  But this photo was just too good, at least to my eye, to wait in line to show up here.  Thank you Ayn for helping me make what I consider a fine piece of art.