By Dawn's Early Light
September 2nd, 2013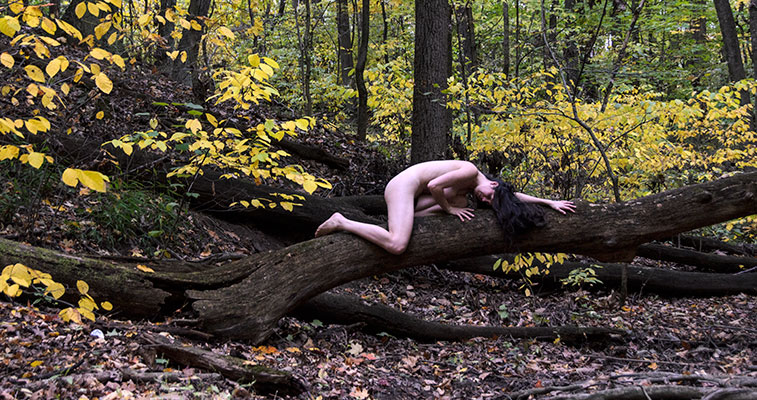 It's the beginning of September which means the end of summer is at hand and fall will soon be with us.  I love the fall.  It's my favorite time of the year.  And I love the early morning both for the quality of the light and for the privacy that is available out in the woods, even near a city or in a popular park.  Not many people are actually willing to get up early enough to be out in the woods when the sun comes up.  Fortunately for me, one of my favorite models, the lovely and talented Kelsey Dylan, is willing to sacrifice her morning slumbers for the sake of my art.  So early one October morning last year we headed out into the woods as the sun slowly moved into view on the eastern horizon.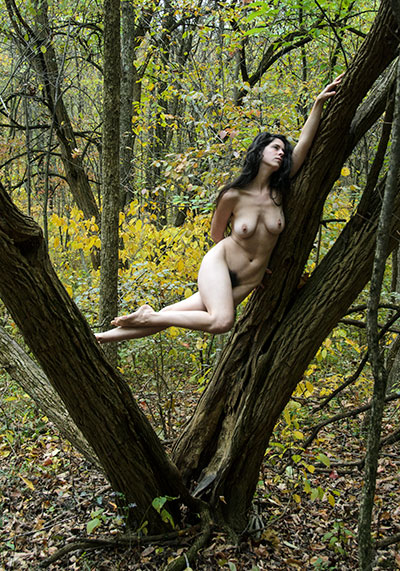 The light is funny at this hour and I like that.  The color of the light tends toward the blue end of the spectrum.  I always debate a bit just how much to change that color back to what some consider "correct color."  I don't really believe in correct color.  I'm much more interested in the changes of color and how they affect the nature of the scene.  I've done some correction on these photos…different degrees of correction depending on what I thought worked best for each photo.  I'm sure you can see the differences.  Of course, what you see depends on the variations of your particular monitor too.  My monitor is calibrated, so I have a pretty good idea of what these should look like.  But in the wild world of the internet, there's no telling what each viewer is going to see, at least in respect to color.  So it goes.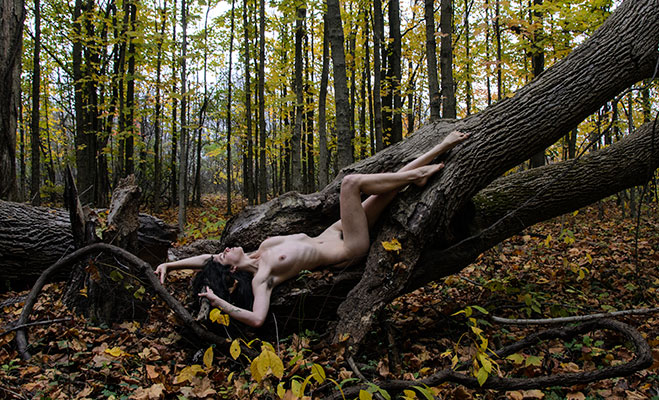 After traipsing around in the woods for a while the sun came on strong above the horizon and people began to appear in the woods.  So we went a little way down the road to a favorite bridge of mine.  All my life as a photographer I've enjoyed the light and the backgrounds that are available under bridges.  On this day the direct sun was doing some fun things.  I keep seeing Mr. Magoo with hair in the shadow Kelsey is casting here.  Who do you see?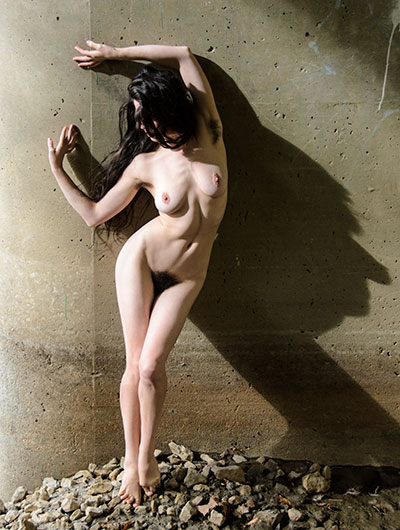 Don't forget the closing reception for my Chicago show at Gallery Provocateur this coming weekend.  Saturday, Sept. 7 from 8-11 p.m. 1621 Kedzie Blvd.  I'll be there.  So will Kelsey and some other favorite models.  You really don't want to miss this.