The Moon Over Moonville
August 17th, 2013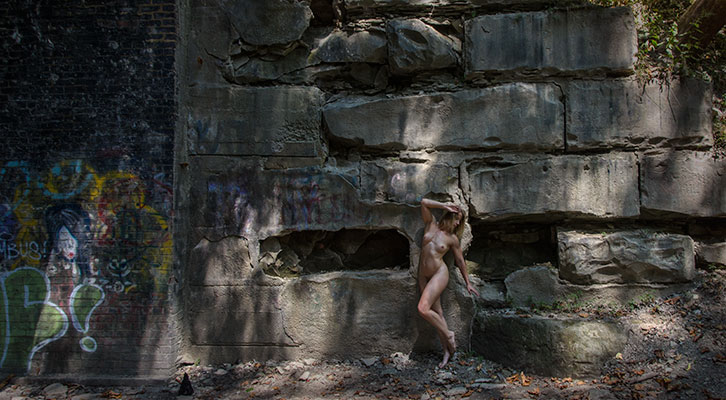 After Artistic Physique had spent the morning working at Hocking Hills we rounded up some lunch and went looking for some other places to shoot.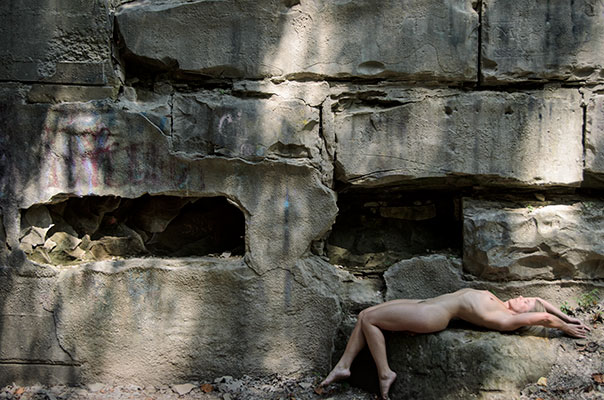 I had heard for years about Moonville…an abandoned town in the Zaleski State Forest, but had never been there.  I got some directions and we set out, finding it with no difficulty.  Nothing left of a town, but there is an abandoned railroad tunnel there.  The tunnel itself was not that interesting, but at one end of it the deteriorating stonework combined with the sunlight through trees and the inevitable graffiti made for an interesting background.  And AP, being of a somewhat compact size, was a good fit for the openings left by some of the missing stones.  We saw no signs of the famous ghost, by the way.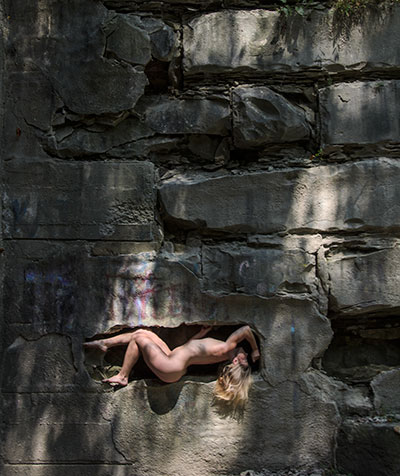 One reason I decided to visit Moonville on this particular day was because it was the day before the full moon.  That's the day when the moon and the sun are both above the horizon at the same time for as little as a half hour to as much as an hour and a half, depending on the month.  I thought it would be fun to do a moon photo at Moonville.  Well, as soon as we got to the tunnel I saw that it obviously was not going to work as a location for a moon photo.  There was no place there where I could get a clear view of the horizon in the direction where the moon would rise.  So we did our Moonville photos and went looking for a spot to shoot a moonrise photo.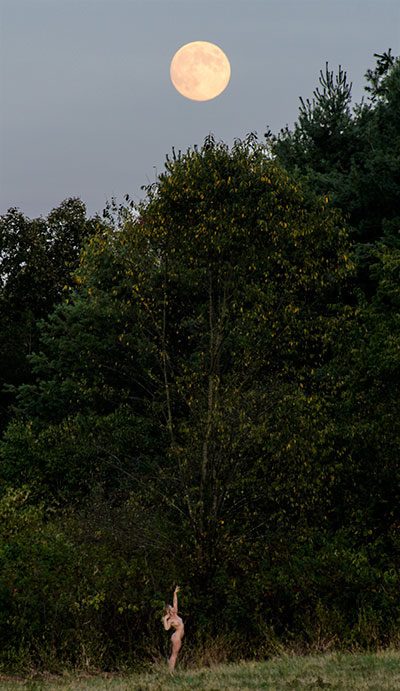 As you can see, we found a place…though not a good one.  This is just an ok moonrise photo.  So I'll still be out there looking for a better location until I get the photo I'm after.  One of these months.  Everything has to fall into place perfectly to make this work.  All it takes is a few clouds on the eastern horizon to make the photo impossible, regardless of the quality of the location.  And, please, no comments about how easy it is to just photoshop the moon into a sky.  That's not the point and if you don't understand the issues with that approach, we don't really have anything to discuss.