Three Amigos
June 29th, 2013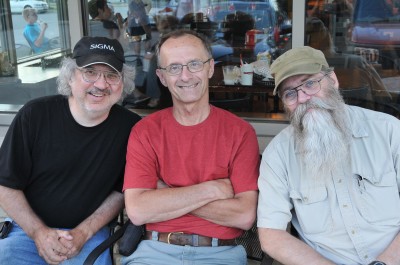 Just a quick post with a little personal history.  I got together with a couple old friends last night.  We have been friends for a long time and we stay in touch and see each other regularly.  But often there are a bunch of other people with us, which is nice, or it's just two of us meeting.  But last night was kind of special for some unknown reason.  It was all three of us and just the three of us.  We talked about everything, discussed all the world's problems and devised solutions for them.  We sat outside a burger joint on the north side of Columbus.  The weather was perfect.  The spot was perfect.  The burger joint closed up for the night and we were still there loitering on their outdoor furniture.  It was a fine night.
This all started in the 1970s when I bought a house and invited those two to move in and share the place with me.  Tim, on the left in the photo, was a photographer for the local daily newspaper…the same job that I had at the start of my career as a photographer.  Ken had left his job at an ad agency and started his ultimately very successful commercial photography business while we were all living together.  I was working for the government as a photojournalist…a job that actually paid enough that I could buy a house.  We called my house the Home for Wayward Photographers.  That name stuck and we still refer to ourselves as the Wayward Photographers.
Tim went on to work for the Associated Press in Chicago and New York City.  More recently he has been doing freelance photo work.  Ken's business did very well and continues to this day.  I'm retired now after a 30+ year career with the government.  Life is good.
Here's a photo that Ken took with a timer in the studio he had set up in the Home for Wayward Photographers back in the days of olde.  We really haven't changed a bit.