Worldwide Pinhole Day – Sunday April 28, 2013
April 27th, 2013
I've been intending to get back to posting nude work from last year, but life keeps getting in the way.  For the past week I have been down with a very nasty cold that has simply put me on my back and made it impossible to get anything done.  Today it feels like I may be coming out of it.  Still feeling rotten, but I didn't want to let this annual event go by without talking about it here and participating.  I hope I'll be back on my feet in a day or two and I'll get back to posting my usual things here.
Yes, tomorrow, April 28, is Worldwide Pinhole Photography Day.  Don't miss it.  Have some fun and take some pinhole photos.  Pick one you like and upload it to the website.  That's all there is to it.
Don't have a pinhole camera?  Well, you have plenty of time to make one.  There are instructions for a variety of pinhole cameras linked on the website.
I've participated in Worldwide Pinhole Photography Day many times.  I've used a wide variety of cameras.  I've punched a pinhole in a piece of soft metal and duct taped it to the front of my Speed Graphic and shot with the Polaroid back.  One of my favorite methods was to take an old T-mount lens adapter and stick a hunk of sheet metal into it with a pinhole.  By pushing it to clear to the back of the lens adapter I could get close to a normal lens focal length.
Another time I got fancy with that same approach and put a piece of foam core with a small hole into the T-mount adapter.  Then I taped a commercially made, laser-drilled "pinhole" to the back (camera) side of the foam core.  Frankly, I didn't see a lot of difference between the pinhole I made with a pin and the fancy one made with a laser.  YMMV.
One of the fun things about a pinhole is, although they are seldom very sharp (after all there is a reason we use lenses for most of our work) they are equally (un)sharp no matter the distance of the subject from the camera.  You don't need to focus a pinhole camera…everything from a millimeter in front of the pinhole to infinity will be equally (un)sharp.  Knowing that can help you also understand that the "focal length" of a pinhole is solely determined by the distance from the pinhole to the film or sensor.  So, the closer the pinhole to where the image is formed and recorded, the wider an angle will be taken in.  And, of course, the further you place the pinhole from where the image is recorded, the more of a telephoto effect you will have.
In general a wide-angle view tends to be preferred since it can better show off the unique infinite depth of focus that pinholes provide.  The problem with using pinholes on SLR or DSLR cameras, as I have in the past, is that the action of the mirror in the camera limits how close the pinhole can be placed to the sensor or film.
I've lived with that limitation in the past, but this year is different thanks to my little Olympus E-PL1.  Because this is a mirrorless camera, the pinhole can be placed deep inside the camera body, creating a wide-angle effect.  Wanderlust makes the Pinwide pinhole that does this this.  So, that's the set up I'm using this year.
Here's the camera with the pinhole mounted: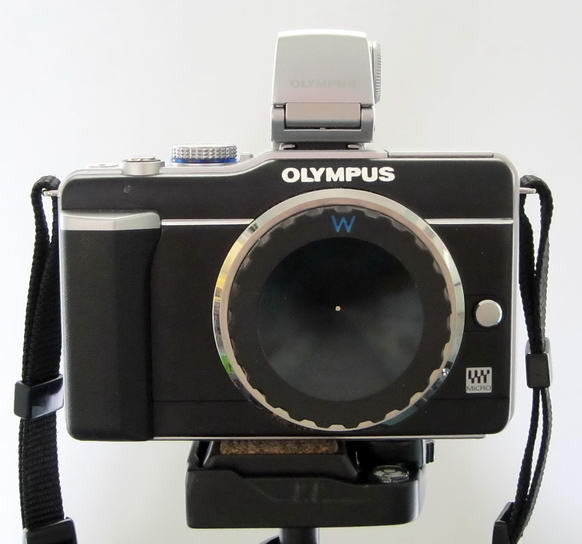 And here's a test photo I just took of a couple gone-by tulips in the living room.  A six-second exposure at ISO 400 at whatever aperture this pinhole may be.  Not too sharp, but that's what you get with a pinhole: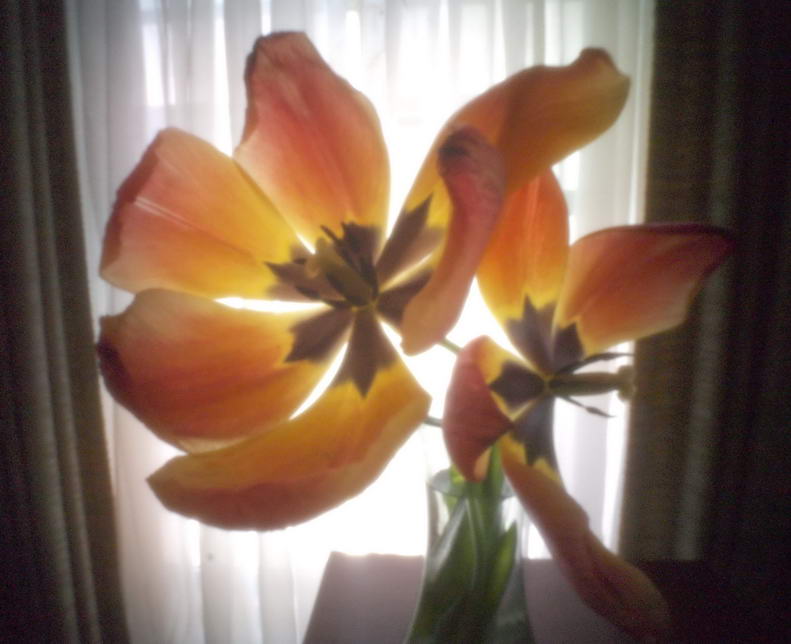 I'll play with my pinhole more tomorrow if I'm not feeling too under the weather.  I hope you will too.  Pinhole cameras have been around longer than photography.  Anybody can make one and take photos with it at very little cost.  Give it a try.