All My Life's a Circle
October 10th, 2012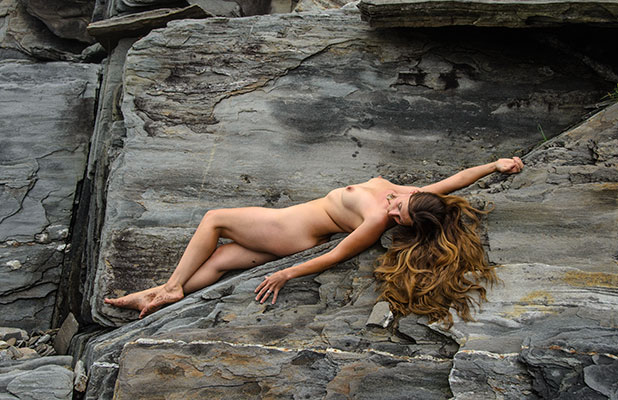 The trip I took to Maine this summer was special in many ways.  It marked a decade since I had made my first trip to Maine to do nude photos, back in 2002.  The shoot I did on the coast with two wonderful models was my "Eureka" moment when I realized that I should be doing the figure in nature (or as I've come to refer to it only partly in jest, "Naked Chicks on Rocks") as the main thing I focused on in my photography.  For the past decade that's what I've done.  It was one of those pivotal moments for my life as a photographer.
I didn't know it when I left for this latest Maine trip that it was going to be my last trip to do nude-in-nature photographs.  That was a realization that came to me during this trip.  The real catalyst was, once again, having one of those "Eureka" moments when I realized what I needed to do next.  That realization has resulted in two new projects. One of them is under way and you can see the early work here: Ladies and Gentlemen of the Press.
I'm not completely finished working with the nude, but these new projects are now my priorities.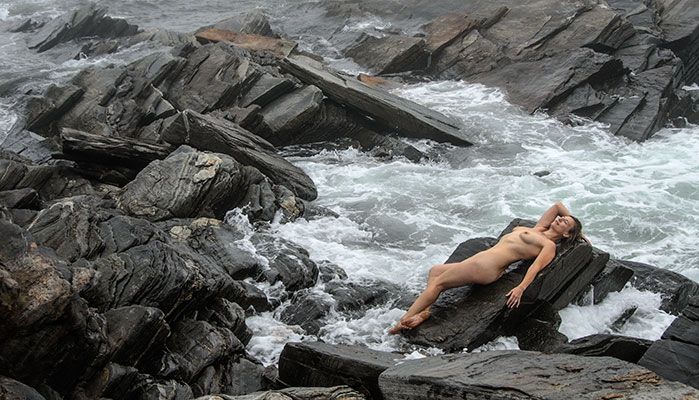 But I couldn't have had a better trip to cap off the past decade. One thing that made it extra special was getting to work with Rachel again. She was one of the two models I shot in Maine way back when I started this figure in nature work.  And we went back to the same rocky coast location where it all started for me.  The place looked the same, and different.  I think there is a definite difference in the photos I made this time, compared to a decade ago.  Partly it's equipment changes, but I think my way of seeing has grown a bit over this time too.  Back in 2002 I was working with a Nikon 990 digital camera.  It was a three megapixel camera.  It cost $1000 back around 2000 when I bought it.  I had a 128 meg (not gig) compact flash card for it.  That card cost $350.  I think I still have it somewhere…probably under a table leg to level the table.
Cameras have changed.  This photographer has changed.  Rachel and the coast of Maine are still breathtakingly beautiful.
Here's one of the photos from that first time shooting up on this coast. That's Rachel in the front.