Sometimes the Magic Works; Sometimes It Doesn't
October 6th, 2012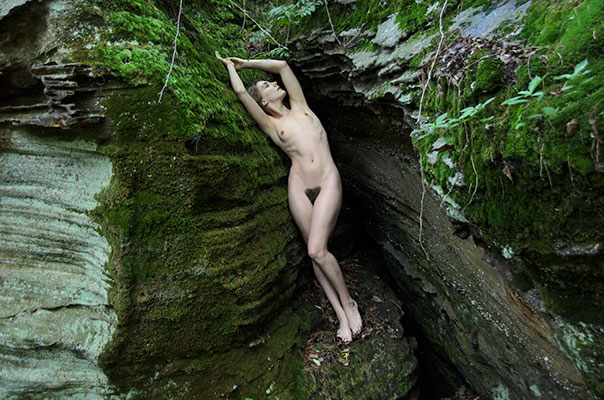 "Sometimes the magic works; sometimes it doesn't."  That was one of the many wise things that Old Lodge Skins said in the movie, Little Big Man.  And it wasn't something he was upset about.  It was just a fact.
Well, it's true of the magic of photography.  Especially true when you are dealing with the forces of mother nature.  And it's important to never let it upset you when the magic isn't working.  It's just a fact that must be accepted.
For many, many years, decades actually, I've been driving regularly across southern New York state on a very beautiful road.  And all those years I've been thinking, "I really need to bring a model here and shoot in this landscape."  Well in late July I got the chance.  Brooke Lynne, my all-time favorite model, came to Ohio and we set out for Maine, following that familiar route.  And, though we could easily have made it most of the way to Maine in a day, I allowed two full days just for that road so we we could stop as much as we wanted to shoot along the way.
But the magic just didn't work.  Mother nature was being very uncooperative, with bright sun the whole time making many of the best places just not well lit for good photographs.  But it was more than that.  I just wasn't feeling it.  The magic wasn't there.  It was a funny thing.  When we got to Maine a couple days later the shooting was wonderful.  You'll soon be seeing the evidence of that.  But strangely, it just wasn't working for those two days along that very familiar road.
Looking back on it I at first thought that I'd just been wrong all those years and that, although the area is breathtakingly beautiful, it just wasn't well suited to shooting the figure in nature.  But I just drove the route twice again in the past week and I still think there are photos for me to make there.  Of course, on these trips when I had no model with me the light was perfect with a lovely overcast the whole time.  So it goes.
So, I guess I'll go back again another time with a model or two.  Maybe I'll see if I can make it a dedicated trip to just that area and stay for several days, maybe even a week.  And I'll see if I can arrange it so I can go when the weather is what I want, though that's really hard to do when there are multiple schedules to coordinate…but I'll see if I can make that work.
Meanwhile, here is one photo from our first day on that road.  Brooke did her usual wonderful job.  And the light was being a little cooperative at this particular moment.  There's more to be done in this neighborhood, so I guess I'll have to go back and try to do it.
But, just wait until you see the kick-ass stuff we shot on the coast of Maine a couple days later.  It was magic.