In The Studio with Sugar Dumpling
July 17th, 2012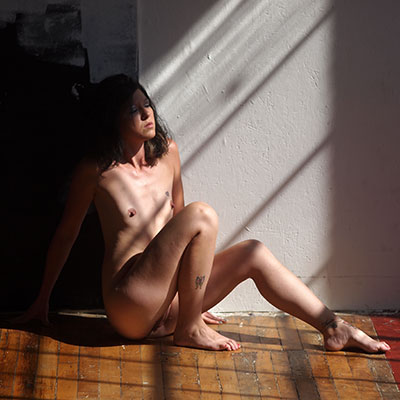 Sugar Dumpling  was good enough to come by the studio so I could play around with a bunch of lenses on the Olympus.  Of course, being the totally organized person that I am, I failed to take notes on which lens I was using for which photos, and since there is no lens data in the EXIF data when using the lenses on the adapters, I now have no real idea which lens I used for which photos.
But this wasn't intended to be a serious test.  I was just trying a bunch of lenses on the camera and seeing what happened.  What happened was nice.  In the studio with a model I didn't have the issues with subject movement that Jake and Elwood presented.  Models are pretty good at following orders when you tell them to hold still.  So the percentage of sharp files was much higher.  And the camera worked very well.  I kept it on Aperture Priority and made no exposure adjustments.  It does a great job of nailing the right exposure, even when presented with a high-contrast situation like this one.  With most of my cameras I know I'd be making an adjustment to the indicated exposure to get a good file from this scene.  Didn't need to with the Olympus.
On that same day I also played around with some old Polaroid film that had been stashed in a corner in the studio for years.  It was way out of date.  I had some black and white, but when I tried to use it I couldn't even get it to pull through the rollers…it just tore apart.  So I tossed it.  But the old color packs seemed to work ok.  The colors are pretty far off, though in an interesting way.  Here's an example: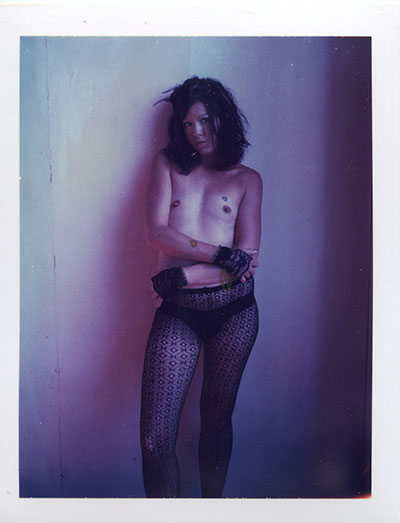 I haven't quite decided what to do with this old film yet.  I'm not really that into what it's doing with the color, so I might just give it to someone who will make better use of it than I would.  I shot this with my old Speed Graphic using a 90mm lens.  This is pack film.  I have a pack film holder that goes into the 4×5 back of the Speed Graphic.  I even have the original overlay on the ground glass that shows the image area of the pack holder.
In other news, I finally broke down and ordered the upgrade to PhotoShop CS6.  It arrived today, so I went ahead and installed it and used it to do the editing on both of these photos.  It worked fine.  I haven't noticed much difference from CS4, but I assume there will be some things that will be better.  I didn't really do much to the files.  Just an auto contrast adjustment on the Olympus file and some despeckling along with auto contrast on the Polaroid.  Then smart sharpening on both files.
Of course, I'll be getting into more work with CS6 soon and I'll let you know what I think of it.  With the way Adobe is going with their products and upgrade policies I'm thinking it's likely this will be the last time I upgrade PhotoShop.  We'll see…