Jake and Elwood
July 14th, 2012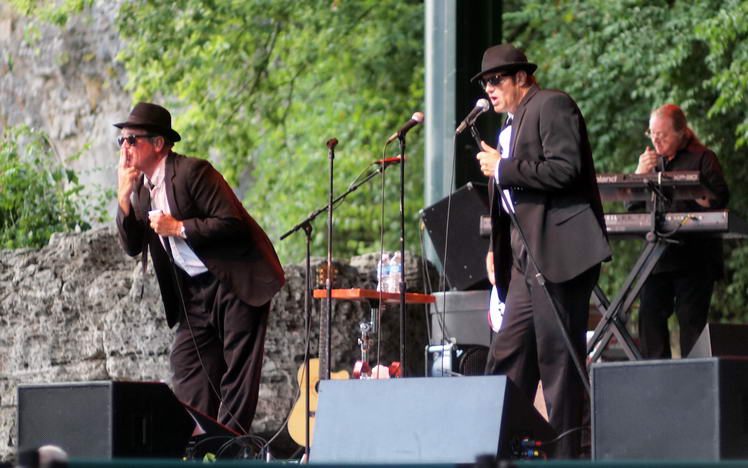 A little change of pace.  Last night Jake and Elwood were playing in the park near my house.  I stuck the old 85mm f/1.8 on the Olympus E-PL1 to see what I could do with it.  Despite forgetting to go put out chairs at 6 a.m., I was still able to find some good spots for the folding chairs when I went down to the park around noon.  They had good craft beer and Chicago hot dogs in the concession stands.  I opted for Italian Sausage and a soft pretzel.  The weather was perfect.  And the band backing these clowns up was excellent.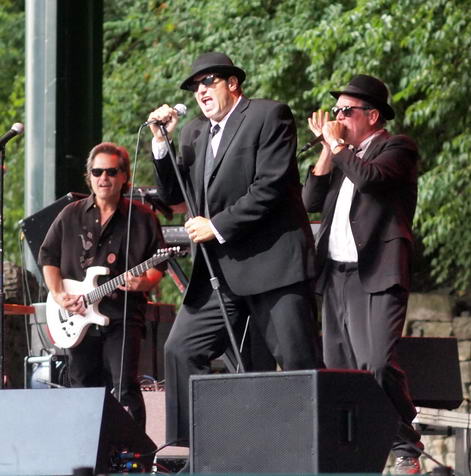 With the the 85 on this camera the 2x crop factor makes it effectively a 170mm…and with f/1.8, that's a pretty powerful lens.  I love that old 85.  I shot a lot of photos with it back in the day.  It's manual focus, of course.  And it's made out of metal.  Big chunks of solid metal.  You can use this lens for a hockey puck between shoots and never notice any difference.  Of course, that makes it heavy and it was a little over-balanced on the little Olympus.  And made it a lot heavier to hang around my neck for the evening.  I'd guess this lens must weigh at least 3 times as much as the Olympus body.  But I just took it off and hung it on the arm of my chair when I wasn't shooting.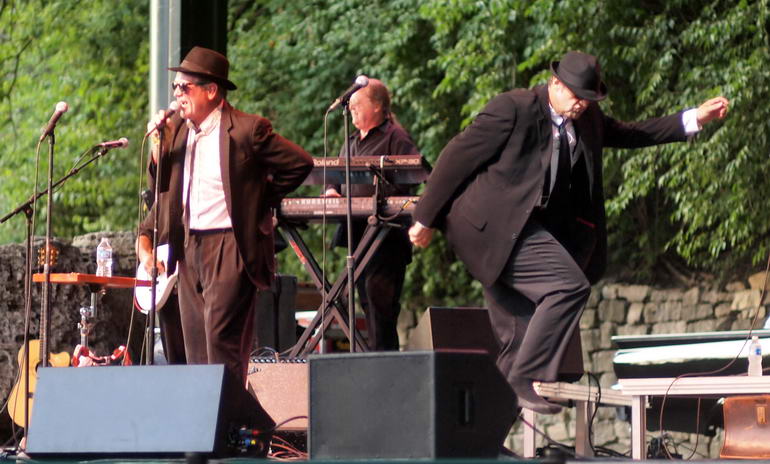 I set the Olympus to auto ISO, limited to 800 on the top end.  I used aperture priority and varied the lens aperture between f/4 and f/1.8.  Best results were around f/2.8 which gave me a shutter speed around 1/125 and a bit of depth of field to make up for the unavoidable focus errors.  I focused by zooming in with the magnifier on the rear lcd screen.  That let me get good, accurate focus…but then Jake and Elwood would move around, so there are a lot of slightly out of focus frames.  Not the best system for this kind of subject, yet I was still able to get a few decent shots.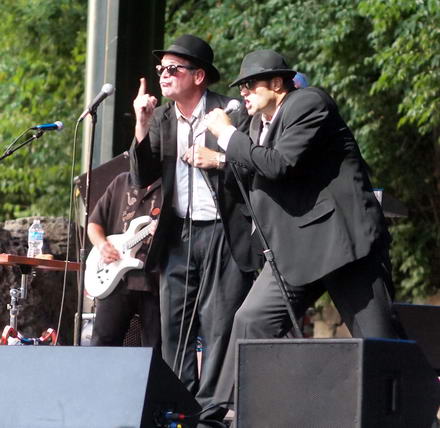 Obviously these are cropped a bit…but not all that much.  And they were lightly edited in ACDSee Pro 5.  Just a little bit of auto levels, actually.  No sharpening, no noise reduction.  The auto ISO selected by the camera ranged from 200 to 800.  I didn't use any exposure compensation, so the exposures were what the camera chose, and they are pretty much dead on.
I'm going to another concert tonight.  An Eagles tribute band, Hotel California.  I'm going despite not being much of an Eagles fan and actually seriously hating the song that the band chose for their name.  But, what the heck, these concerts are free and fun.  I thought about mounting my 200mm f/4 on the Olympus for tonight, but checked the camera bag and saw that it is locked up in the equipment locker at the studio, and it's not worth the drive to the studio to get it today.  I'll save that experiment for another concert…or maybe a moon rise photo.