There's an Empty Place in my Life Tonight
July 3rd, 2012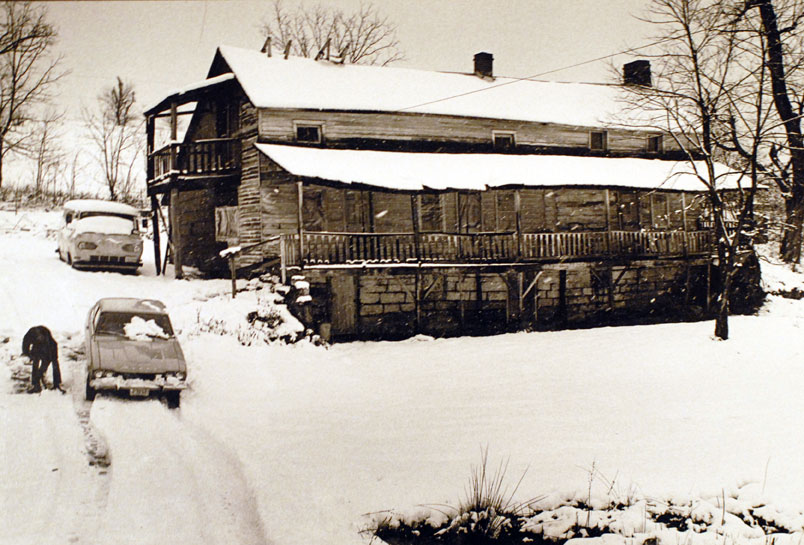 That's a very old photo of a very old friend at his very old house.  It's a bad scan of a print from the 1970s.  Actually, I don't think it's a scan…I think I just shot a photo of the print with a digital camera.  The digital file has been around a long time, so I don't really remember anything about how it came to be.
But I remember John.  I'll always remember John Allee.  One of my oldest and best friends.  I took this photo shortly after John bought that house.  He lived in it from then on.  I lived in it for a time.  My room was upstairs.  I went in and out through that "porch" on the side of the house.  I helped John restore that place.  Part of it is log.  There's a date…I think it was 1820…carved in one of the logs.  It's a special house.  Many thought he should just tear it down and start over after he bought it, but John wouldn't have ever even considered doing that.  He wanted to restore and preserve the place.  And I was honored to be able to help with that project.
We all (I hope) have friends. Some of us have many friends. But, if we are lucky we have a few special friends who will always be part of the fabric of our lives. Friends who have made us who we are because of their friendship.
This morning I lost one of my special friends.  John and I worked together at the newspaper where I got my first job as a photographer back in…well, a long, long time ago. He taught me pretty much everything that matters that I know about photography. Much more than I learned in the years I studied it in college. And he taught me a lot about life as well.
I lived with John in his almost pre-historic log house for a while. I was living with him when he was dating Judith, who became his wife, and who lost her beloved husband today. I was his best man at their wedding. John was my best man…twice.
John was a good man. He was also a great photographer. He was wise and witty. He made my life richer. He made the world a better place just by being in it.
John had been very sick for a long time. I went to visit him today, but he died this morning before I got there. But I'd had other recent visits…and nearly a lifetime of the pleasure of his friendship. I miss him. I'll always miss him.