Ayn's Back
May 15th, 2012

Yes, Ayn is back with some more photos from my test shoot with this new lighting style.  And, of course, that is Ayn's back in the photos.  I'll be working more with this light from time to time.  Thanks again to MC Grain for freely sharing this technique with me.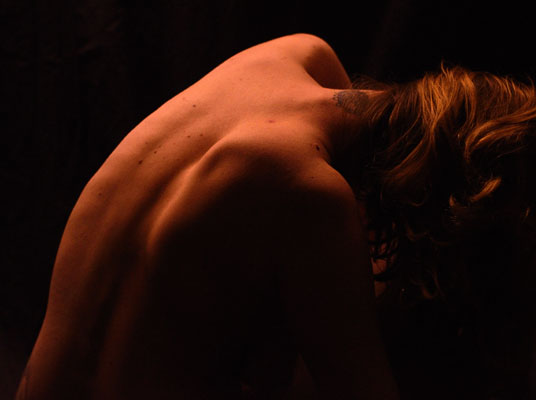 For those who care about the technical stuff, these were all shot with my 50mm f/1.4 Nikkor lens.  The top shot is wide open at 1.4.  For the other two I stopped down a bit, to 2.8.  They were all shot at 1600 ISO with my Nikon D7000.  As I've said, the quality is so good with this camera that I use ISO 100 to 1600 as just ways to set exposure.  None of these have any noise reduction used on them.  When I shoot dance performances I go up as high as 6400 ISO and still the noise or grain is much better than I could get with Tri-X in Acufine back in the old days of film, so I'm completely happy with the results…still with no need for noise reduction to my eye.
And, in other technical stuff, I'm pretty settled now on shooting RAW and processing the files in Nikon View NX2.  For these photos I pretty much nailed exactly what I was after in the camera, so all I did in View was convert the files.  A few slight tweaks to the tonal relationships in PhotoShop and I was finished.  I didn't even sharpen these in PhotoShop since I liked the slight softness of the files as they were.