Ouch!
March 19th, 2012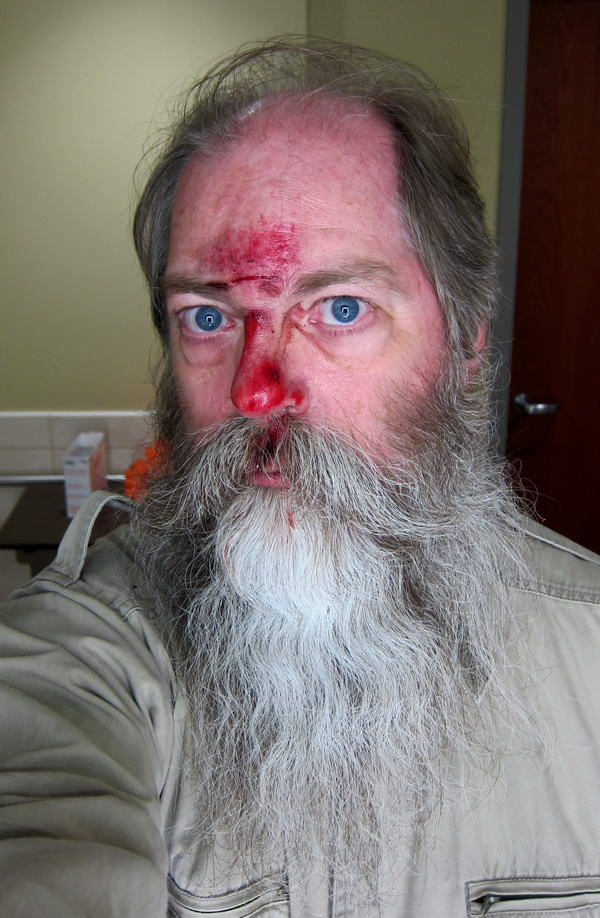 Never try to steal girlscout cookies from a motorcycle gang.
I thought I'd go ahead and post this here for those of you who haven't seen it on facebook.  I had a little accident yesterday.  I wish it were a better story, but it is pretty mundane.
I went to the grocery store to buy stuff to make a special Irish stew for dinner Sunday night. On the way out of Meijers with my hands full of grocery bags I stepped in a small hole and twisted my ankle. That made me lose my balance and I couldn't catch myself. I did a major face plant into the asphalt.
There were some great people getting in their truck right beside me and they immediately pitched in and helped me. Then some folks came out from the store and did a really good job patching me up and taking care of me until Emily could get there and take me to the ER.
Three and a half hours at the ER, a dozen X-rays and they wiped me off, smeared on some cream and sent me home. Nothing serious. It doesn't even hurt much.  Most of the pain is in my ankle, which is badly sprained, and in the knee above it which hit the asphalt hard enough to tear my jeans.  Went to Eyemart today and got new glasses.  The old pair were toast.  I'm fine, really, just a little tired.  I'll be taking it easy for a few days, but all is good.
I've really got to come up with a better story…