Farewell to Buckskin Gulch
February 4th, 2012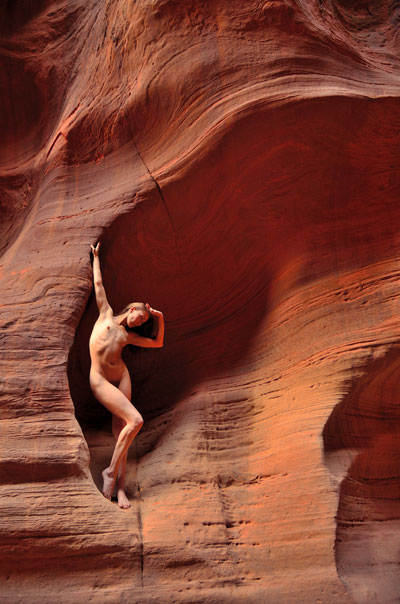 We didn't spend a lot of time in Buckskin Gulch.  Soon it was time to turn around and head back out through Wirepass Canyon.  So this shot of Brooke, taken with my 12-24mm lens at 12mm, will be the last slot canyon photo from the trip.
This month is turning out to be quite a month for gallery shows.  It's been keeping my very busy just getting all the prints made, framed and shipped off to the various shows.  Right now I have three prints in the show at the Darkroom Gallery in Essex Junction, Vermont.  I'll have prints in both the Dirty Show in Detroit and Nude Nite Orlando, both opening next weekend.  Then there's the "You'll Find This Offensive" show in at the Red Door Space gallery in Pittsburgh on February 24 and Nude Nite Tampa the first weekend in March.
I still need to frame the prints from Pittsburgh and Tampa, but everything else is done.  With some luck, maybe someone will buy a print or two and I'll at least break even on all the costs involved in shows like these.  And, of course, there are more shows coming up to enter.