Back to Wirepass Canyon
January 8th, 2012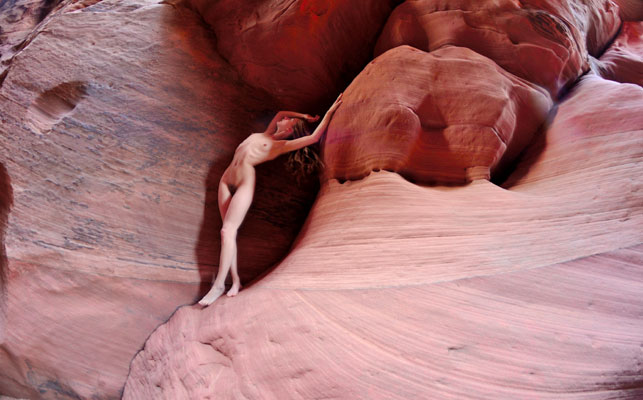 I hope you aren't getting tired of slot canyon photos because we are still wandering (if you can wander on a path that is 2 feet wide and has walls 200 feet high on each side…kinda hard to get off the path) down Wirepass Canyon and haven't even gotten to Buckskin Gulch yet.  But we are getting close to the intersection.
That's Brooke above, of course.  And this may be the best use I was able to make of my new fisheye lens that I bought because I thought it would be perfect for slot canyon use.  Would you have known this was a fisheye photo if I hadn't told you?  This was a wide place in the canyon…I must have been as much as 4 or 5 feet away from Brooke when I shot this frame.  I'm thinking the lens paid for itself at this instant.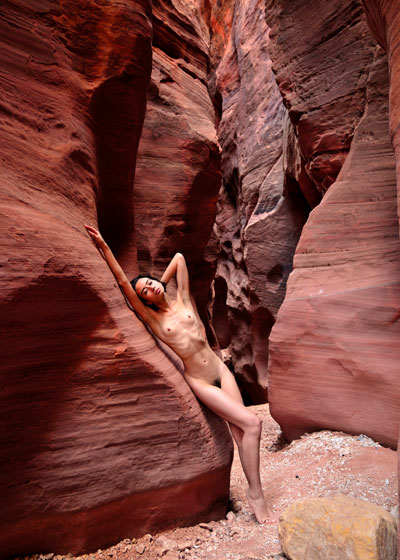 Of course it wasn't far before the canyon got narrow again.  And I went back to my 12-24 lens.  This is what major portions of this canyon looks like.  And that's what the beautiful and talented Kat looks like when she poses for me.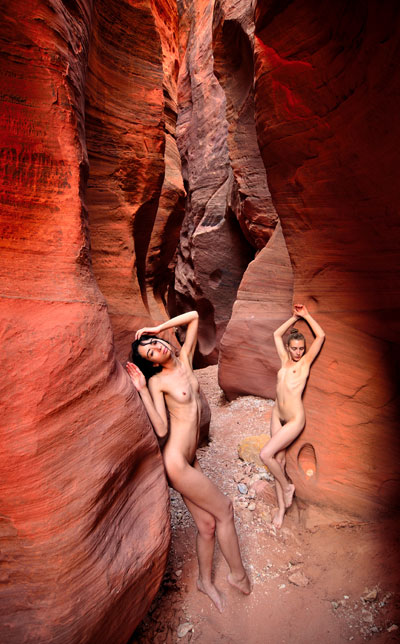 And here, just a little farther down the canyon, we have both Brooke and Kat.  Again I was using the 12-24.  If you look closely you can see that we've actually only moved about 20 feet or so from the photo of Kat above.  One of the problems working in these canyons is forcing yourself to stop and move along because there's a new photo every 10 feet or so.  It requires some mental editing to chose the best spots and reject those that are only wonderful, not incredibly wonderful.
And, for those who are following my technical adventures as I work on these photos, I went back to using Nikon View NX2 for these three photos.  I inspected them closely for any signs of the color blocking that I saw on some of the earlier photos and could find none at all.  So, I'm thinking that, with care to watch for any problems that might come up, View NX2 is going to be my main software.  My workflow also includes opening the tiff file that is output from NX2 in PhotoShop CS4 and doing some minor adjustments of levels and, sometimes some "dodge and burn" stuff using layers.  I also sharpen in PhotoShop rather than in NX2…though I'll probably be doing some experimenting to see what sharpening routine I like best, but for now I know how I like to sharpen in PhotoShop and I don't want to introduce that as a new variable until I'm pretty solid on how I'm doing things with NX2.