Welcome to Twenty-Twelve
January 1st, 2012
"You cannot see wilderness from a road.
What you see from a road is something different- a scene, a panorama, a picture;
but you do not feel anything."
–Edward Abbey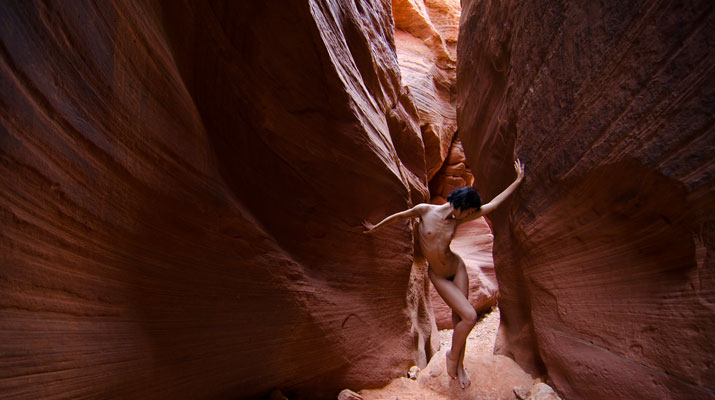 Getting this new year started off with a post.  I'm looking forward to 2012 with hope.  It could be a great year.  A lot of whether that is true or not depends on us.  Let's all do what we can to make it a great year.
These are a couple more photos of Kat and Brooke as we wandered on down Wirepass Canyon toward Buckskin Gulch.  It's a beautiful canyon and Kat and Brooke are beautiful and talented models.  A photographer like me couldn't really ask for much more.  It doesn't get much better than this.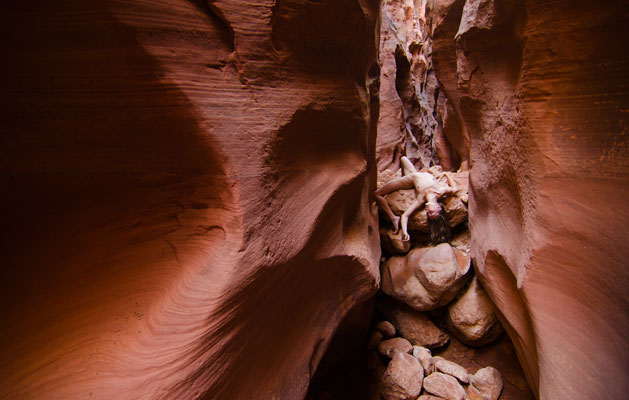 But what isn't getting any easier is figuring out the best way to edit these slot canyon files and what software to use.  I worked these first with Nikon's View NX2.  But when I got done I didn't like what they looked like.  So I started over using PhotoShop Elements 9 this time and doing the RAW conversions in Camera Raw.  I liked those results much better.  That is what you are seeing here.  The rendering of the colors in the canyon is much different.  I think these are more realistic…a better representation of what it really looks like.  It looks so simply unearthly down in there that it is a real challenge.  But I was seeing artifacts and blocked up patches of color in what the Nikon software was doing, so I didn't want to use that.
I'm on the road for family visits right now, so I'm working on my laptop…which adds another element of variation in what I'm doing…though the laptop screen is calibrated with the same instrument as the desktop computer that I usually use.
Once again, your comments on how these look to you are encouraged.  The photos in the last post were processed with Nikon View NX2, if you want to compare.  But I didn't have the problems with artifacts and color blocks in the last batch.