Playing (In) The Slots
December 21st, 2011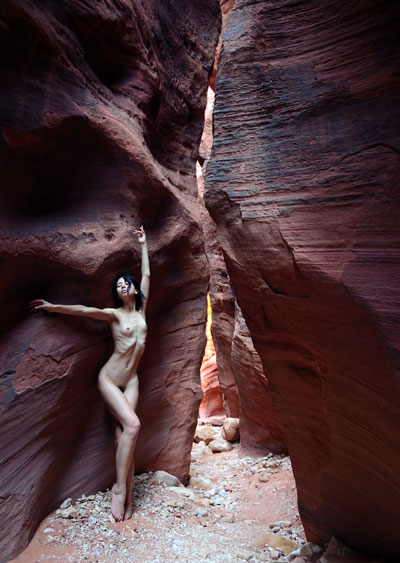 After we escaped from the simply awful San Juan Inn and stopped for a great breakfast at Gouldings we drove on through Monument Valley and headed toward Page, Arizona.  But we drove on through Page and continued on to St. George which was the closest place I had been able to find to rent a 4WD for our upcoming desert adventures.
The rental place was at the St. George airport.  You'd think that would be easy to find.  St. George isn't that big a place.   Well, I had google maps directions and the GPS seemed to know about the St. George airport, so I didn't expect any problems.  Wrong.  We arrived at the place both google and GPS thought would be the airport.  It was obvious that there had been an airport there, but clearly it was no longer in operation, at least for passenger service.  After some driving around aimlessly I called the rental place and got directions to the new airport.  It's out in the middle of the desert way south of town on an entirely new road that isn't even on google maps, let alone the GPS map.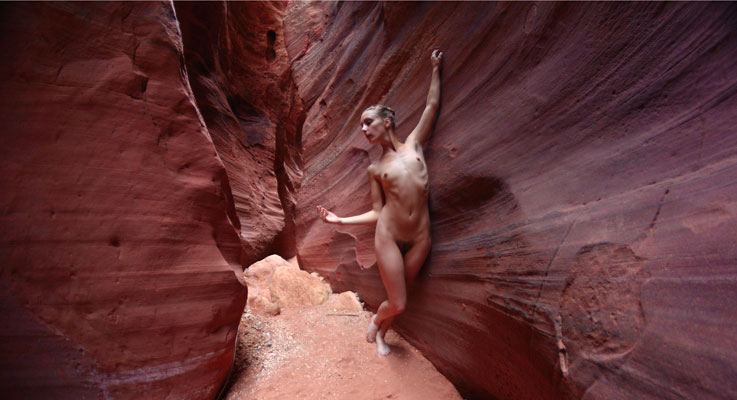 But eventually we picked up a RAV4 and drove back to Page.  We stayed where I've always stayed in Page, at the Motel 6.  It's a nice, new Motel 6.  Even has an elevator.  Big step up from the San Juan Inn.
The next morning we headed out to the ranger station where we got our permits for the following day to visit South Coyote Buttes.  Then we drove on down to the Wirepass trailhead and headed into Wirepass Canyon.  The permits for this area can be picked up at the trailhead.  This is also the trailhead for the famous Wave.  I've been there, almost 10 years ago.  It has now gotten to be so popular that it's almost impossible to get a permit to go there.  On the morning when we picked up our South Coyote Buttes permits there were more than 50 people at the ranger station for the morning drawing for 10 permits to go to the Wave.  I'm glad I went when I did.  I doubt that I'll ever go back there.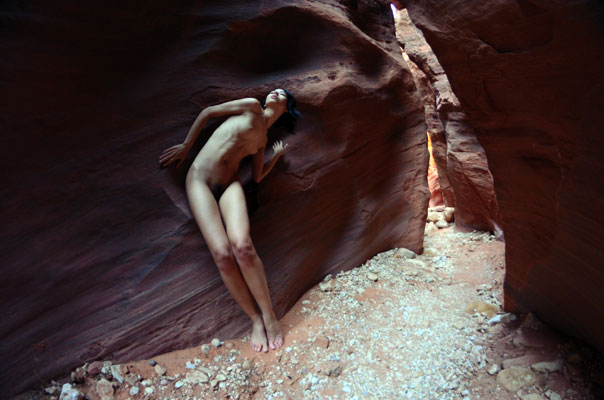 The ranger station had some photos and warning signs about rock falls in Wirepass.  They didn't look like too much of a problem, but I wondered how different it would be from the last time I was there, about 6 years ago.  Turned out there was really nothing new in the way of obstacles.  There have long been a couple places where you have climb up and down some drops in the canyon floor of about 10 feet or so.  No big deal. 
Wirepass Canyon is a short canyon that connects to Buckskin Gulch.  We hiked down to Buckskin and first went left, then right in Buckskin Gulch.  Even though I felt like all three of us were a little off our best game on this day after so much difficulty on the trip, still when I sat down today to edit what we shot that day I ended up with 75 keepers.  That's an incredibly high number of photos for one day of shooting.  I'll be posting photos from that day for the next few posts here.  Brooke and Kat did outstanding work.  I used my 12-24 and my fisheye, both of which are well suited to the slot canyon environment.  I couldn't be more happy with this day of shooting.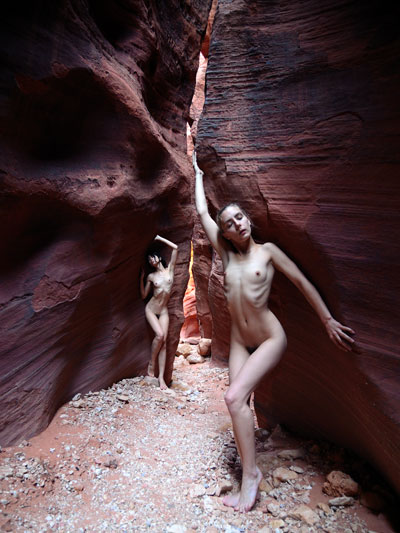 Getting back to technical issues, I think I've found the solution to my editing software problems.  It was sitting here right under my nose all the time.  My good friend, Tim, read my blog and called to offer his advice.  Tim really knows his stuff, so I always pay attention to him.  He asked why I didn't just use Nikons ViewNX2 software to do my conversions. 
Well, I already had that program loaded on my computer, but I never use it.  I pretty much hate all software from Nikon for the simple reason that it all really sucks.  ViewNX is buggy.  It crashes with disturbing regularity.  The user interface seems like it must have been designed to deliberately confuse the user.  I really hate it.  I've paid for Capture in the past and will never do that again because it's equally awful.  At least View is free.
But Tim assured me that View could do a pretty good job with my RAW files if I could stand to use it.  He agreed with me about the user interface, but said it is possible to get used to it.  And, I immediately realized just what my problem was and knew that it was likely View would solve it.
The thing is, I really, really like the way Nikon renders jpegs.  That's one major reason that I resisted shooting RAW for a while…that plus the fact that the D100 which was my first DSLR was essentially useless when it was set to shoot RAW files.  I could have worked faster with an 8×10 view camera.  But, of course, that problem is ancient history.  And the thing about View is that it will do the RAW conversion in essentially the same way that the camera produces jpegs.
So I fired up ViewNX and used it to edit the photos with this post and all the rest of this day's shooting.  I think I'm getting the results I was after.  Comments are welcome, since I'm always interested to hear how things look on other peoples' monitors.  But, despite not liking the way I have to interface with the software, and not liking that I have to output the converted files as tiffs, I think I'll be using View for my conversions from now on.  That solves the problem and requires no purchases, which is always a good thing.