Snapshots
December 18th, 2011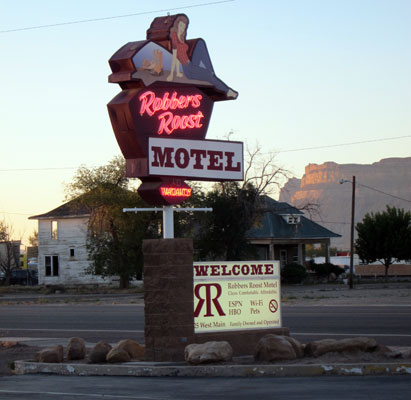 The season has gotten to me.  Sorry, but life and Christmas have been keeping me from doing new posts here.  I'll be back at it soon, but since I haven't had time for editing and playing around with software to try to get the files to look the way I want them, I thought I'd just share some snapshots and tell you a bit about our trip.
After we finally got the truck repaired and escaped from Alliance, Nebraska, we made a wonderful drive through Denver and on over the Rockies at sunset, arriving late at night in Green River, Utah.  Now, Green River isn't much of a town.  In fact, it made Alliance seem like a teaming metropolis by comparison.  But, Green River is only a few miles from Goblin Valley and Little Wild Horse Canyon.  There's lots of other stuff in the general area.  I had planned to spend three days here exploring many of those spots and doing photos.  But, because of the deer in Nebraska, we only had two nights with one full day of shooting.  And that still left us behind schedule. 
Based on a great-looking web site, I had chosen the Robber's Roost Motel for our stay in Green River.  That's their sign up above.  Even the sign looks interesting.  And I have to say that the folks running the place were very nice.  The rooms were, unfortunately, barely adequate.  Just an average '50s motel room with not much to make it interesting.  Served the purpose, but a little of a let down from my expectations.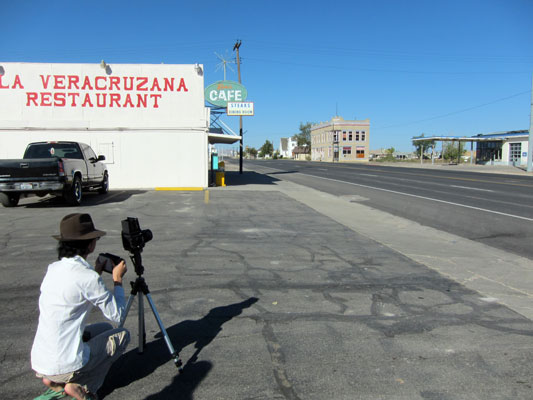 Above is Kat doing some shooting in "downtown" Green River.  The place seemed pretty close to a ghost town.  That is a real shame, given its location so close to so many great locations and right on I-70.  It looks like the downturn in the economy has really hit Green River pretty hard.  Below is my shot of one of the local former establishments.  The town really needs a good simple little diner…just finding a place to eat was a challenge.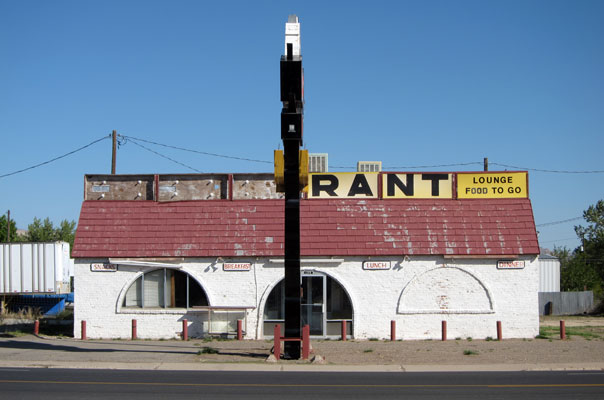 Another of the great points of interest near Green River is Arches National Park.  It's just up the road.  When we finished our shooting at Goblin Valley and Little Wild Horse we spent the night and headed out the next morning, stopping first at Arches.  Arches is way too popular to be a place where shooting figure work is possible, so we just spent much of the day shooting the scenes there.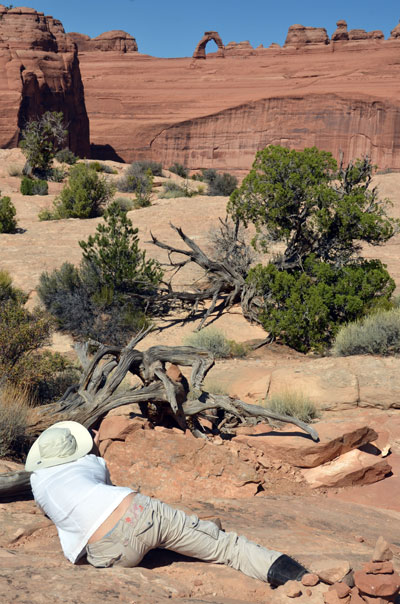 When the models are also photographers it's good to take an occasional day off on a trip like this to let them have time to shoot whatever they want.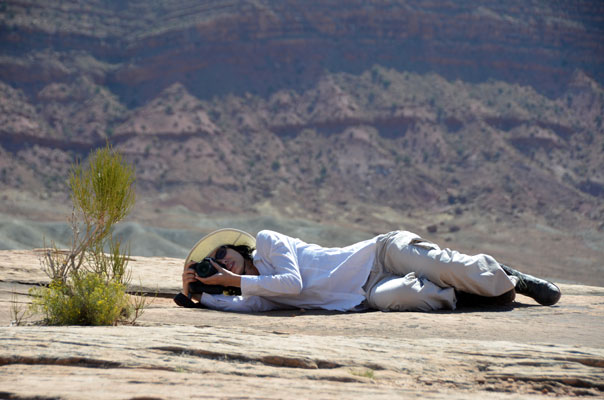 Both Kat and Brooke shot quite a bit at Arches.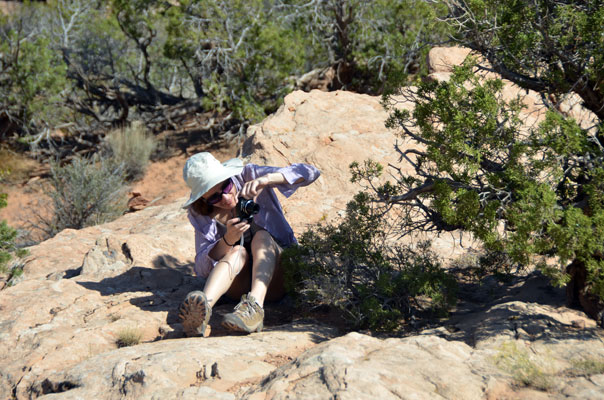 The matching hats came from the gift shop at Arches…both ladies really needed a good desert hat.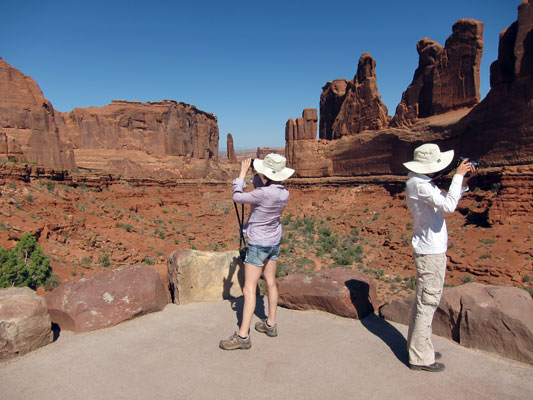 Of course, just outside the entrance to Arches is the town of Moab.  It's pretty much the opposite of Green River.  No sign of a depressed economy there.  If you like yuppified food and overpriced shops full of kitsch, this is the town for you.  Lot's of places to stay, lots of places to eat.  All kinds of food.  Everything grossly overpriced.  Kind of a ruination of everything I love about this part of our country.  But, hey, it seems to be what people like.  Not for me, though.  We had lunch there and walked around a bit.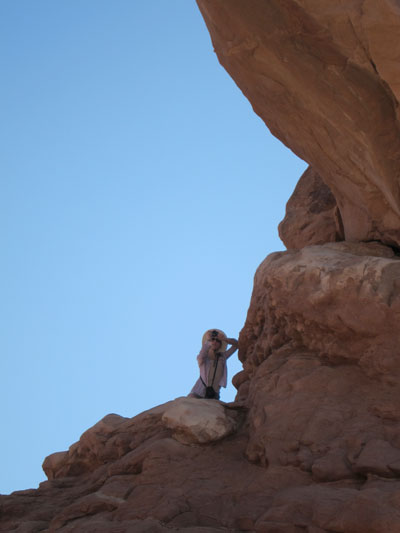 After lunch in Moab we headed toward Monument Valley.  Our destination was a motel in Mexican Hat.  It was dark by the time we reached it.  If the Robber's Roost was a bit of a let-down, our motel in Mexican Hat, The San Juan Inn, was a total disaster.  Seriously, if you are traveling out to the Monument Valley area and look at this place's web site you will think it is a very nice place.  Nothing could be further from the truth.
Well, it could be a nice place.  It's built right below a beautiful red rock cliff and faces a scenic river.  If someone who had a clue how to run a hotel owned it, it could be a gold mine.  But the owners have created a nasty disaster of a place.  The rooms have been horribly "re-muddled" in what appears to be an effort to make them as inconvenient and uncomfortable as possible.  The view of the river is obstructed and access do get down to it, or even see it, has been blocked deliberately.  And then there was the question of internet access.  I've never encountered such an idiotic situation before.
When we checked in I, of course, asked how to get on line.  The surly woman who checked us in (I assume she was an owner) snarled, "Bring your things down here and I'll tell you the access code.  But I don't want you writing it down!"  Well, we did surreptitiously write the code down, and it's a good thing because we kept getting bumped off and having to re-enter the code to get back on.  But we soon gave up because the speed of the connection made dial-up seem fast. 
Eventually I went to the office and asked what the problem was. 
"There's something wrong with the dish," was the woman's snarled reply.  "They are supposed to send someone out to fix it, but they have to come from Tennessee, so I have no idea when they will get here."
Oh, and that same dish apparently provided the TV for the rooms.  Only one fuzzy channel with no sound was available.
So we gave up on the internet and went to dinner at the restaurant beside the motel which displayed signs saying it was not affiliated with the motel and there were no discounts for motel guests and no free breakfast.  Well, ok…that might be good.  And they did have a sign saying there was free wi-fi for customers.
So, we go in, sit down and when the waitress comes we place our orders and ask how to get on the wi-fi.
"You have to go next door to the motel and ask the woman at the desk to give you the access code."
The next morning we got out of that place as fast as we could.  We had no interest in trying to get breakfast at the restaurant there, we just wanted to put the place behind us.  The first place we came to for breakfast was Gouldings in the heart of Monument Valley.  A great place.  I had looked at it as a possible place to spend the night, but passed because their room rate is outside my budget.  But, if you can afford it, it's a great place in a perfect location.  Great restaurant, great views.  I'm sure the rooms are fine, too.  There might even be internet and TV, who knows.  Seems like, if I remember right, we were able to get on line and catch up on e-mail while we were having breakfast.
But if you can't afford Gouldings, don't make the mistake I did and plan to spend the night in Mexican Hat.  Instead go to the other side of Monument Valley and stay in Kayenta, Arizona where there are several reasonably-priced motels, any of which will be much, much better than the San Jose Inn.
That's Brooke enjoying the view of Monument Valley from Gouldings in the final photo.