Kat in Little Wild Horse Canyon
December 12th, 2011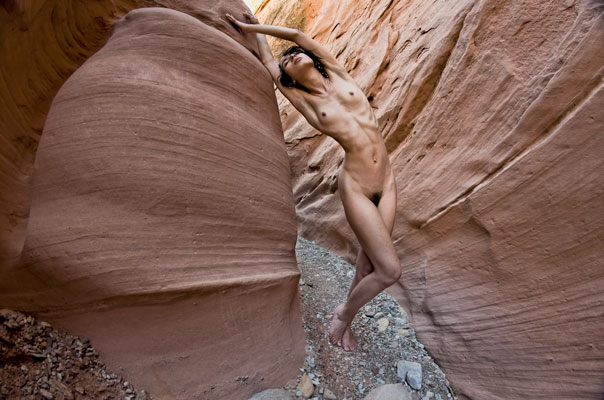 "Our job is to record, each in his own way, this world of light and shadow and time that will never come again exactly as it is today."
 – Edward Abbey                     
Here's Kat being beautiful in a couple narrow twisty bits of Little Wild Horse Canyon.  These were shot with my 8mm fisheye lens.  In fact, this canyon and another that you will be seeing soon were the reason I decided to buy this fisheye lens.  I thought the combination of the fisheye effect with the curves of the slot canyons and the lovely curves of my models would be an unbeatable combination.  I'm pretty pleased with the results. 
I'm also still trying to figure out the best workflow with the new software I'm testing.  I made some more changes and I think it's working better now.  These were processed in DxO Optics Pro with no color adjustment (leaving white balance set to "as shot"), just keeping DxO's automatic adjustment for highlights and shadows, noise reduction and sharpening.  Then I exported the file as a DNG file and opened it with Camera Raw where I adjusted the white balance to "cloudy" which gives a more accurate view of what the red rock looks like. 
I think this has eliminated the problem of Camera Raw not recognizing that I had adjusted the white balance before I opened the file in Camera Raw.  Camera Raw was treating the adjusted white balance as "as shot" and really screwing up the colors as a result.  I usually keep my camera set for auto white balance which tends to try to remove the red from the rock and make it a more neutral gray.  Auto white balance usually gives me just what I'm looking for, but the red rock desert is a major exception.
So, I'd be interested to hear what you think of the colors in the last few posts.  There are so many variables involved in showing photos on the web that it's very helpful to hear what others are seeing.  In the next few days I hope to find time to play around with some more "normal" files and see what I get with this new version of a workflow.  A slot canyon in the red rock desert is such a major departure from anything that might be called "normal" lighting that it's hard to tell if I'm on track or not.