Brooke in Little Wild Horse Canyon
December 10th, 2011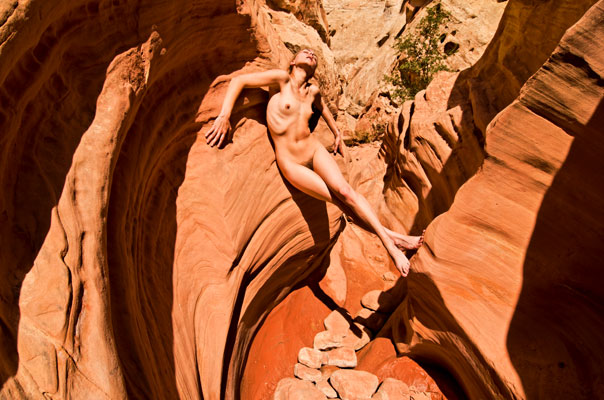 "The artist's job? To be a miracle worker: make the blind see, the dull feel, the dead to live." 
–Edward Abbey
Here are a couple photos of Brooke down in Little Wild Horse Canyon.  This canyon is fairly shallow and open, compared to some others, and we were there at mid-day, so we had a lot of sun down in the canyon.  Direct sun is, of course, problematic, especially in a situation like this that presents dark, deep shadows.  DxO Optics Pro seems to be doing a great job of holding the shadows and highlights from my raw files, though.  But I'm finding that it is creating some other issues. 
This shoot may not have been the best one to use to learn this new program.  Figuring out what to do with color in a slot canyon is a serious challenge.  The rocks are red.  The light is red.  So what's a correct color?  Anything that works automatically tends to remove the red…including DxO.  On the last post I tried to adjust the color simply by adjusting the preset color balance…setting it for cloudy, which gave pretty close to a feel of what it really looks like. 
But I seem to have caused a problem when I exported the files from DxO as DNG files.  I then opened them in PhotoShop, through Camera RAW.  And Camera RAW did not like what it saw in the files that had already been processed in DxO.  I think Camera RAW took the adjusted color balance and treated it as "As Shot" which made everything too red.  I tried to adjust that in PhotoShop, but was less than totally successful.  I think Camera RAW was also applying some sharpening that I didn't want as well.
So, I'm working on a different approach.  These two files were exported from DxO as Tiffs, which avoided sending them through Camera RAW on the way to PhotoShop.  The color seems to be more in line with the real look of these canyons.  And you have two different situations to study, one in full sun with deep shadows and the other in a fully shaded area of the canyon wall. 
Figuring this stuff out might have been a little simpler if I'd been working with a more "normal" lighting situation and subject matter.  Back in the film days these would have just been shot with daylight film and they would have come out red, red, red.  But digital allows for more subtle treatment of the light.  Now I just have to figure out how these software programs are interacting with each other so I can get what I want out of them.
Of course the one constant in all of this is the lovely Brooke doing her usual great job of posing and relating her pose to her environment.  And, slot canyons are a place for wide angle lenses.  These were both shot with my 12-24 at pretty close to the wide end of the zoom range.  I'll have some fisheye shots to post soon.