Little Wild Horse Canyon
December 7th, 2011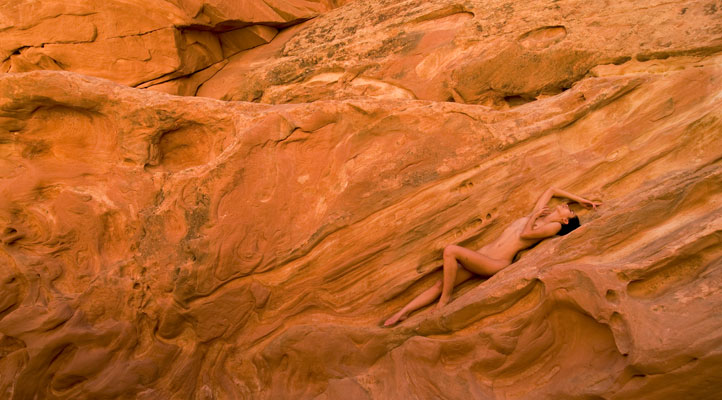 "All we have, it seems to me, is the beauty of art and nature and life, and the love which that beauty inspires."
                      –Edward Abbey     
After our pause at the twin trees we headed on down into Little Wild Horse Canyon.  This was my first time in this canyon, so I wasn't sure what to expect, but found it to be well worth the hike.  Beautiful red rock walls, scoured by flash floods that create  wonderful curves in the surface of the rock.  And, as in all the slot canyons out in this desert, the light becomes intensely red as it filters down into the bottom of the canyon, bouncing off the red rock walls on the way down, getting redder and redder.  By the time it reaches the bottom everything simply glows red. 
These photos were took at one of our first stops after entering the canyon.  Kat is lovely posing on a tiny ledge in the rock wall. 
These files were processed in DxO Optics Pro and then received just a little touch-up in PhotoShop CS4.  I'd be interested to hear what you think of the file quality.  Of course, they have been greatly reduced to fit through the tiny tubes that are the internet, but you can get a general idea.  I'll be printing some of these from the full-resolution files soon.  I'm very interested to see how they look printed large.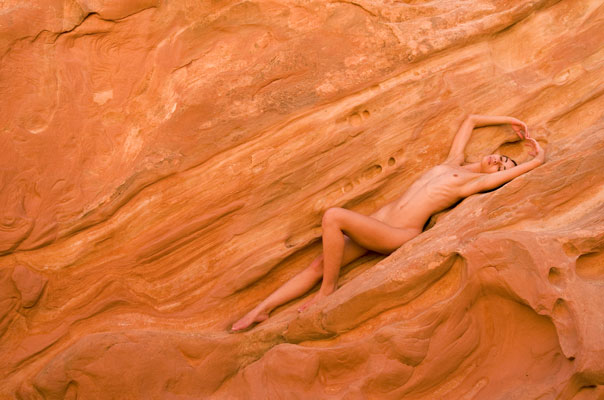 Blog Note:
Well, that was an unpleasant surprise.  Ever since I moved my blog to wordpress a major annoyance has been that photos uploaded at a size wider than the column of the blog would be distorted and crammed into the space available.  So I always resized photos after they were uploaded to make them fit.  Recently I noticed that photos were being properly resized so they fit without distorting the proportions.  All good, right?  But shortly after I made this post, not resizing the photos, I was watching Jeopardy and checking e-mail on my i-pod when I clicked over to see how the blog looked…and found the photos in this post all scrunched up.  So I just now fixed it.  I wonder if other browsers were also showing the photos in a disproportionate manner.  If any of you faithful readers out there have noticed this problem could you please let me know?  And let me know what browser you were using when you noticed the problem?  Thanks.