Moving On
December 5th, 2011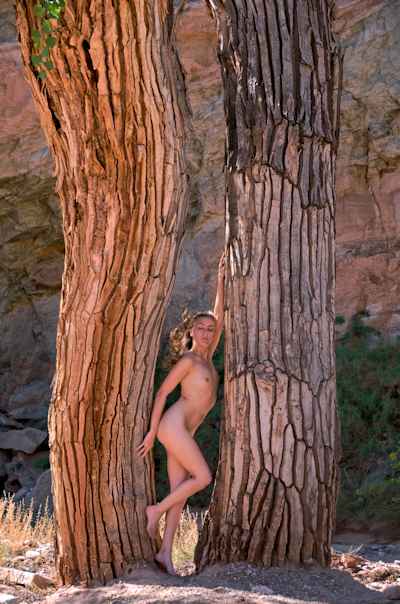 Getting back to the account of our trip out west…After spending some time at Goblin Valley, we moved on to Little Wild Horse Canyon, a nearby slot canyon.  We had planned to dedicate a day to each of these locations, but thanks to the deer in Nebraska we were reduced to just one day for shooting in this general area.  So we headed over that way when the sun got high in the sky and more people started wandering around in Goblin Valley.
But, before we even got to the slot canyon I spotted these two trees that just looked wonderful to me.  And they looked even better with Brooke posing between them.   I love the light and the contrast of textures.
Next post:  Into the slot canyon.
For those who are paying attention to the technical stuff, this photo was first processed from the original NEF file in DxO Optics Pro.  It was output from that program as a DNG file which I then opened in Corel PaintShop Pro for a bit of tweaking before I reduced the size and saved it as a jpeg for use here.  In a week or so when I have more time I'll download the ACDSee professional program trial and see what I think of it.  But I've already learned that there are plenty of high quality alternatives to Adobe's product at much more reasonable cost.  Now it's just a matter of chosing the one(s) I like best and that give me the best results with the least pain.