Goblin Valley
December 2nd, 2011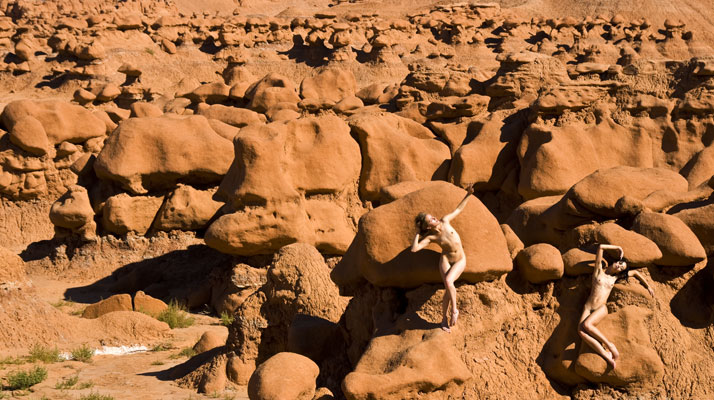 We return now to the days of Yestermonth.  Our heros are finally freed from their Bambi-imposed stranding in less-than-scintilating town of Alliance, Nebraska.  The truck is repaired and they set out again on their search of the southwest for beauty and art.  After a breathtaking drive through Denver and over the Rockies at sunset they arrived in another town with not much to offer, Green River, Utah. 
But, though Green River isn't much to talk about, it is very close to some of them most amazing landscapes on this planet.  We had planned to spend three days here exploring all that local beauty, but Bambi's attack on the truck meant we only had one day to take it all in.  First stop: Goblin Valley.
What an amazing place.  Miles of small hoodoos, side by side, filling the valley.  Not many people around.  We had no problem doing our work without an audience.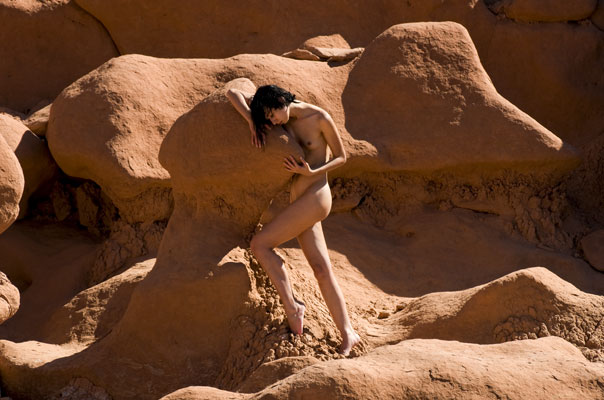 Of course, the lovely models are Brooke Lynne and Kat.  They had a pretty good time here.  It was wonderful to get back to what we came out there to do after the three days of boredom waiting for the truck to be ready for the road again.
These photos were processed in DxO Optics Pro, but then exported as DNG files and worked on some more in Camera Raw and PhotoShop CS4.  DxO didn't seem to like that the rocks are red.  It wanted to make them gray.  A simple adjustment of the color balance did most of the correction needed.  I hope I can learn how to fine tune what DxO does so that I can get it right in there.  I love the way DxO sharpens and I'm pretty much ok with the optical corrections it does.  I'm still thinking about those optical corrections, though.  It knows what camera and lens I'm using and it "fixes" all the optical issues that the combination has.  Problem is that I actually like the way my lens performs…I like some of those optical problems.  So how I handle that will be an on-going exploration.
But for now I can say that I like what DxO is doing in general.  And, it does it all automatically, so my time spent at the computer messing around with the files is reduced…and I like that.