Juror's Choice
November 6th, 2011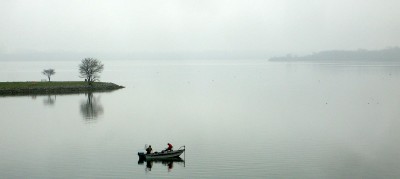 First let me remind you all about the show that is currently up in Pittsburgh, Naked In Pittsburgh.  I went over there for the opening on Friday and it was a huge success.  The show is beautiful and the turnout was massive.  It was hard to even make my way through the gallery to see everything, there were so many people there.  The show will be up through November 20, so if you missed the opening and want to see it, there is still time.  I think you'll enjoy it if you go.
Now, about that photo at the top of this post.  A couple weeks ago I was looking at a call for entries for a nude show at the Darkroom Gallery in Vermont.  As I was looking at their web site I noticed that there was also a call for entries for a landscape show that was due to close in just a few days.  On a whim I decided to send some photos in for that show as well and pulled up a few of my favorite landscape shots and sent them in.
At the end of last week I received an e-mail telling me that my entry, the photo above, was the Juror's Choice for the show…i.e., the "winner."  I'm, of course, very pleased and honored by that selection.
But, there's a bit of a problem.  The gallery wants to make a banner with the photo to advertise the exhibit.  The banner will be 35 inches long. 
Now, the best camera for any photo is the camera you have with you at the time.  It happens that this photo was taken at a lake near my home where I often walk in the mornings.  On one of those morning walks a few years ago I saw this photo and pulled out the little Casio point and shoot camera that I always kept in my pocket back then.  It let me take the picture.  But the file isn't the prettiest digital file I've worked with by a far cry.  I've tried to make a large print from it because it really looks like a photo that would be good large, but it just seems to fall apart at a size above about 11×14.  Of course, part of the problem is that the fog makes everything seem soft, so it isn't just the fault of the camera.  I had planned to send the gallery something on the order of an 8×10″ print if this one was accepted for the show.  Now I guess I'll see if I can print it a little larger…maybe about 15″ wide…since it won that award.
So, I wrote back to the gallery and told them all that.  They asked me to go ahead and send them the best quality file I could and they would see what they can do.  So that's what I've done.  I went back to the original file and did a re-edit to make it as good as my limited PhotoShop skills can make it.  Maybe the material that the banner is printed on will be kind enough to the photo to make it work.  I hope so.  I'd love to see my photo on a banner at a gallery.