Home Again
October 19th, 2011
I'm back home.  No incidents with the truck or deer or anything like that on the drive back from LA.  In fact, I'm so pleased with the overall performance of my 2002 truck, despite all the issues caused by hitting the deer, that I've decided to see if I can keep driving it for at least another five years.  Maybe see how close I can get to half a million miles on it.
I've been real busy since I got back at the end of last week.  There's been family stuff and truck repair stuff.  And just about the time I got back home I also got the notification that I had four photographs accepted for the Naked In Pittsburgh show.  I had already written to the organizers of this show to complain about their schedule for the thing.  They allowed about two months for people to send in entries, but then only a week and a half from the date of notification until the date that the prints were due at the gallery.  That's just not enough time to get prints ready.  I normally order mattes and frames from an excellent place, Frame Destination.  They have great prices and the quality is as good as any other place I've used.  And their turnaround is very fast…but not fast enough to get to me in time for this show.  So I got mattes cut locally for quite a bit more money than if I'd ordered them and I'm just using old frames I already had. 
Today I made the prints with my new Epson 4900.  I continue to have an interesting problem getting good results out of that printer.  I started out doing it the "right" way.  Using PhotoShop, letting PhotoShop manage colors.  The prints were awful…not even close to what I was seeing on my calibrated monitor.  I worked on the files to try to get the print to look the way I wanted it.  I tried different things, like still using PhotoShop, but letting the printer manage colors.  Finally I went to ACDSee and printed from it…which is not a color managed workflow.  The prints were perfect.  Exactly what I wanted.  So, I just went ahead and made all the prints for the show using ACDSee.  When I'm not under a deadline I'll try to figure out what's going on that is causing this problem…or maybe I'll just print with ACDSee and not worry about it.  Results are what matters, not how you get there.
OK…I know you are looking for some photos, and I'll get to that soon.  There's a ton of good stuff from the trip, despite the efforts of that damn deer.  But I just have not had the time and attention to apply to editing yet.  Too many other things going on.  But I'll get to it soon.
Meanwhile, here are a few snapshots from the trip, just for kicks.
Here are Brooke on the left and Kat on the right with beautiful model and talented photographer Tanya Dakin in the middle.  Tanya happened to be in Las Vegas while we were there and we were able to meet her for breakfast as we were heading out of town to LA.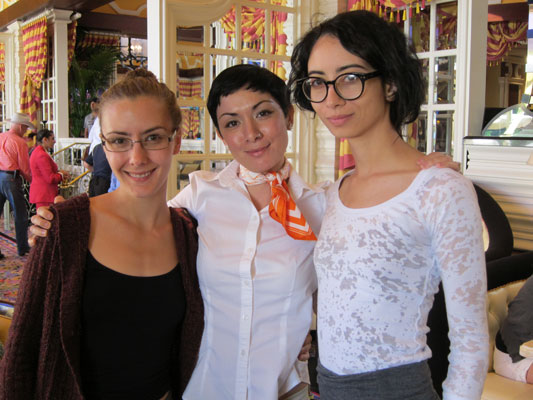 Here are Brooke and Kat with friends Clay and Lucky at the opening of Gary Breckheimer and Renee Jacob's wonderful show at the Skotia Gallery in Culver City.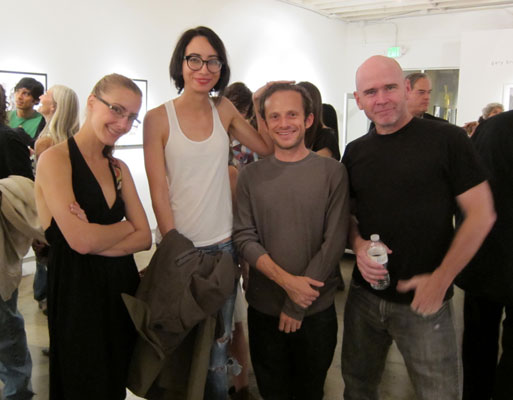 Here's the massive Gotham Police Department deployed on the corner of Wilshire where my daughter's apartment is located.  Yep, they were filming the new Batman movie right outside her building the whole time we were were in LA.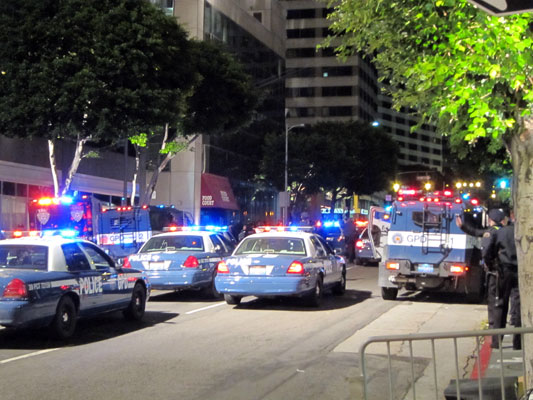 And one last snap…here's my truck parked at the Wig Wam Motel in Holbrook, AZ, on the first night of the drive back from LA.  A fun place to stay.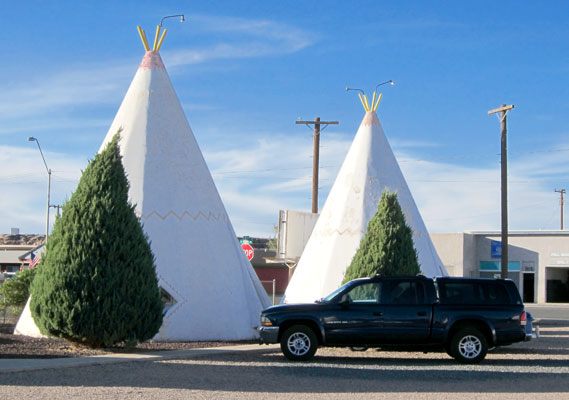 I promise I'll get to the editing and posting of the more "serious" photos soon.