Instant Julie and a PhotoShop Rant
September 9th, 2011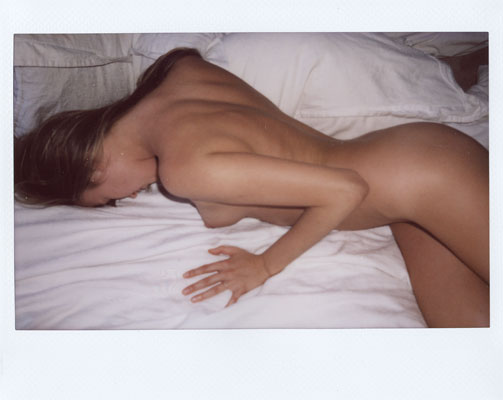 Like pretty much everyone else who has been doing photography for any amount of time, I've worked from time to time with Polaroid instant materials.  "Back in the day" I used Polaroids to check lighting and exposure when working with strobe lighting in the studio.  The digital equipment we use these days has completely eliminated the need for that.  I also used Polaroids for fun.  I have several cameras that can take several different kinds of Polaroid film.  But Polaroid film is pretty much a thing of the past.  Yes, I know about the Impossible Project…but in general its products are just impossibly expensive. 
But Fuji has come to the rescue of those of us who like to play with instant cameras, but don't want to spend our entire photo budget on the film.  So I bought one of the new Fuji instant cameras, which I tend to refer to as a Fujiroid.  I drag it around and play with it every once in a while.  I'm still getting the hang of the new camera and the new film, both of which are very different from what Polaroid gave us.  But the Fujiroid is fun. 
So, when I was shooting the lovely Julie Max in NYC last month, I pulled out the Fujiroid and shot up a couple packs of film.  We were both pretty happy with the result.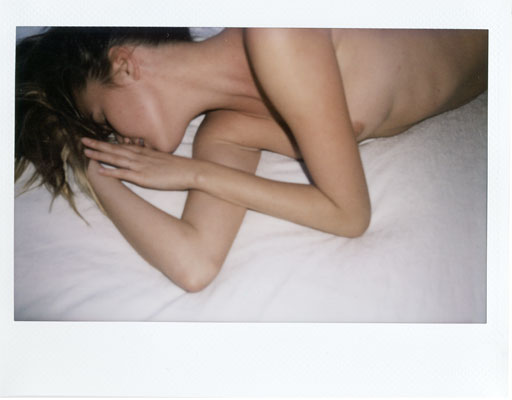 Now for the rant.  If you aren't a photo geek you may want to stop reading now.  But don't miss the third Fujiroid at the end of the post.
I'm really, really pissed at Adobe.  I feel insulted and abused by them.  I'm using PhotoShop CS4 for a lot of my editing.  That's one version older than the current version of PhotoShop.  But Adobe has completely stopped supporting CS4.  I think that is a totally unreasonable thing for a software company to do.  I don't buy every new version of any software when it comes out.  I always skip at least one generation.  The updates are just too expensive to shell out that kind of money every time the company decides to put out a new version.  I think every other version is a reasonable compromise that keeps me up to date enough for the limited kind of work I do on my photos.  And every other software I use continues to be supported by their makers well beyond a single generation.
But not so for Adobe.  The trouble started when I bought my D7000 in January.  No support for the RAW files in CS4.  What would it take for Adobe to simply update CS4 for the new cameras that come out…at least back a generation or two from their current version?  Really, I don't think that's unreasonable to expect.  At the cost of their software I think Adobe owes that kind of support to their customers.  Not doing so is disrespectful and abusive of the customers who they depend on to keep buying their products. 
And the trouble continues.  After I installed the drivers for my new Epson 4900 printer I discovered a new PhotoShop problem.  CS4 now, in what appears to be a random pattern, will sometimes refuse to print a file.  Not to the new printer, not to the old printer, not to anything.  It just puts up an error message saying there are no printers installed.  My other programs don't have any issues with the new printer and I can print with no problem at all from ACDSee.  In fact, the best results I'm getting so far with the 4900 are by using ACDSee to send the files to the printer.  But with PhotoShop now and then I'll get that error message.  If I get the message for one file in a folder, I'll get it for all the files in that same folder.  And, even if I move the files, or resave them, to a different folder, I still get the message.  But another file from a different folder will print just fine.
A little hunting around on the PhotoShop help forums informed me that this is a known bug.  And it also let me see that Adobe has no interest in fixing it.  Their attitude toward the many photographers out there still using CS4 seems to be, "Fuck You…buy the new program or go to hell."
So, I've found some work-arounds that let me get past this bug…but they take a bunch of time and are a pain in the ass.  It's much simpler to just print from ACDSee.  By the way, ACDSee always continues support for several older versions of their program…and when they are going to stop support they send out a notification to everyone who has a registered copy of the version they are going to stop supporting, so you know where you stand.  Is that really too much to ask, Adobe? 
Now, we all know that PhotoShop is the best thing out there for editing photos.  Of course, there's Lightroom, but I don't really care for it…tried it and didn't like it.  I've used ACDSee for many years, starting way back when I first went digital.  I like their program…it works well for what I need and they treat their customers with respect.  Not like Adobe.
So now I'm so mad that I'm thinking about trying to find a good alternative to PhotoShop.  ACDSee's photo editing functions don't quite get me what I need.  I like working in layers and doing my corrections on a series of layers that can be adjusted individually.  Is there something else out there that will give me that ability and not cost more than one arm or leg?  I'll be looking around.  I was planning to buy CS6…but I'm reconsidering now.
Ok, enough of that.  Here's another Fujiroid of Julie to make us all feel better.  Isn't she beautiful?