Primordial Cam
September 2nd, 2011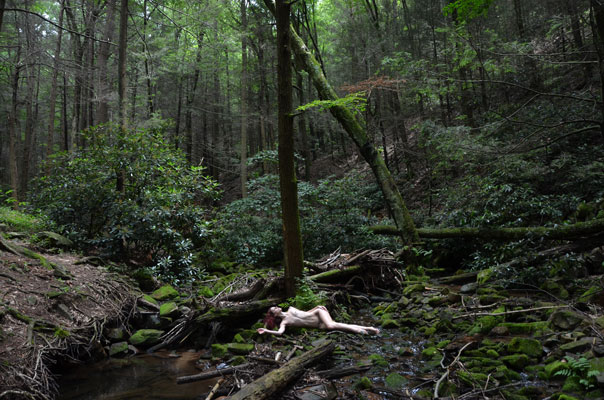 Here's the beautiful Cam Damage out in the beautiful forest where we went hiking and shooting last month.  It was a perfect setting for the work I do.  Cam was a great addition to the landscape too.  I love the almost pre-historic look of this forest and think that Cam fits right in as a part of it, a very lovely part, to be sure.
Everything in my life is at an in-between state right now, so I don't have much in the way of news to report.  But I'll mention some of the things that are coming up.
I've bought a new printer.  An Epson 4900.  It will be delivered Tuesday.  This will be the starting point for a new phase of my life as a photographer.  I'll be launching a printing project that I expect will be my primary focus for the next three years.  More about that project when the time comes, but first I'll have to learn how to use the new printer.
I'll be leaving in a few weeks for my major photo trip of the year.  Right now my truck is in the shop being made ready for the 5,000+ miles that we will be traveling.  More on the trip as it unfolds.
I have a bunch more photos to post from recent shoots and may even do a little more shooting before I head out for the trip.  So, there's lots more coming.