Dirty Pitchers
August 26th, 2011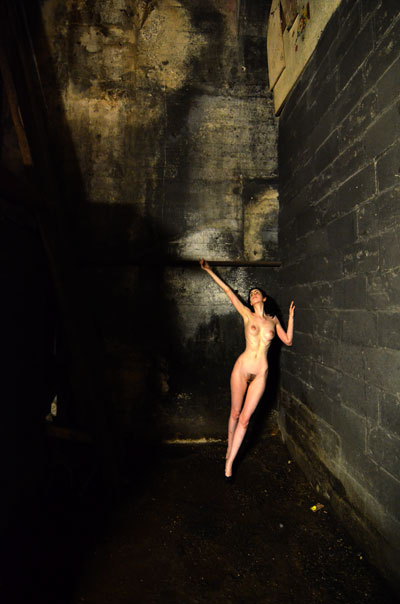 When I contacted Theda about my trip to New York so we could set up the shoot we always try to do when I come to town the leading question was, "Where?"  We've done a lot of shoots over the years and many of the more recent ones have been done in Theda's apartment.  It's a great place to shoot, but variety is a good thing too.  One time I took Theda up north of the city for an outdoor shoot that was great, but the timing wasn't really right to try for a repeat of that this time.
Theda's first suggestion was, "I've been wanting to shoot someplace dirty."  That sounded good to me.  Problem was trying to find such a location in New York City from my home base in Ohio.  I did a bunch of on-line searching and contacted some friends who I thought might be able to help, but no luck.  So Theda and I finally just settled on the idea of shooting at her apartment and also looking around her building for other spots that might work.  That's what lead to the first photo I posted of her from this shoot which was done in a tiny stairwell with my ultra-wide lens. 
Next stop was the sub-basement in her building.  Most of this was in pretty good shape and didn't really fit the look we were going for.  But there was an open door that Theda had never seen open before…and it lead to a REALLY dirty space.  It was exactly the kind of place we wanted.  That's the space in the photo above.  Pretty damn dirty.