The Wet Is History
August 13th, 2011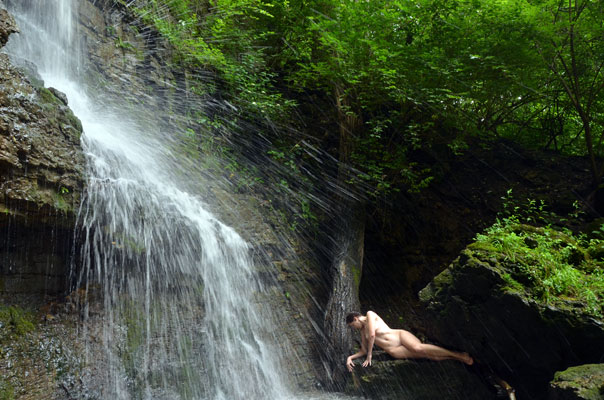 I took my friend Lost Coast Photo to see this waterfall yesterday.  The stream was completely dry.  That usually happens in June, but because it was so wet this year it didn't dry up until now.  But no more photos of water going over this waterfall until next year. 
So, here's another of Angie while there was still plenty of water.  Angie has worked with me at this waterfall many times, but she did a great job of finding new things to do that worked very well.  And she is so beautiful too.  That always helps. 
Lost Coast Photo left this morning to drive back to Chicago.  So life is back to normal here.  I have some new shoots coming up in the next couple weeks and lots of editing to do on all the things I shot on my NYC trip, so those will start showing up here soon. 
The weather has finally gotten back to normal with tolerable temperatures and humidity for outdoor work.  And the air conditioning in the studio now seems to be able to keep up with the temperature, so it's pretty comfortable there too.  It will probably get hot again, but not for much longer.  September is only a couple weeks away now.  I love the fall, and I have some big plans for some amazing photo work in the fall, so I'm really looking forward to it.