The Last of Char
August 5th, 2011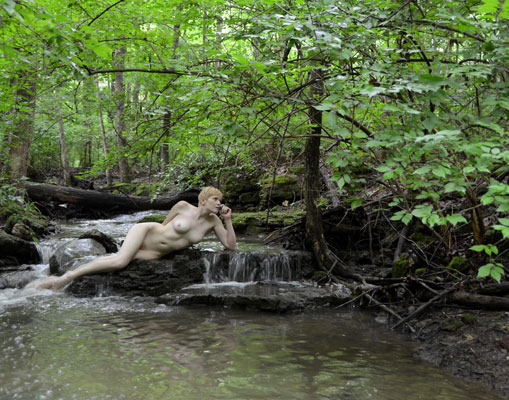 Well, I certainly hope it isn't the last photo of Char Rose to be posted here, but this will be the last one for now from this one day of shooting.  What a totally successful shoot that was.  It helps to have a beautiful and talented model.  This was up the creek above the waterfall where we had been shooting.  Nice little waterfalls to enjoy with the stream flowing much more than it usually does this time of year.  In fact, it is often completely dry by now.  But there is nothing normal about this year.
If all goes well there will be more shoots with Char coming in the near future.
And, speaking of beautiful and talented models, I worked with a new one (to me) yesterday.  On my way to New York City I stopped off in Pennsylvania for a day of shooting with Cam Damage.  I noticed her when she modeled for some friends of mine and we had been talking for more than six months about doing a shoot.  So I finally found the right time and we did it.  You'll be seeing the results here in the near future.
And, yes, I am now in New York, staying with my friend, Dave Rudin.  Tomorrow we are meeting some friends and going to the International Center of Photography to see the Elliott Erwitt show there.  Erwitt has always been one of the photographers who inspire me.  He was a star photojournalist back when I became aware of photojournalism and decided that was what I wanted to do with my life.  I later became disillusioned with photojournalism as a career, but never lost my respect and admiration for those, like Erwitt, who were able to show how it should be done.  Needless to say, I'm looking forward to seeing this show.
I also have shoots scheduled with a couple NYC models while I'm here.  One is one of my all-time favorites who I try to shoot every time I get to the city.  The other is a new model to me, but one who is a true beauty and has much experience and obvious talent.  So it should be a great visit if all goes well.  And I even found a parking space almost immediately when I got here, only a block from Dave's building.  That kind of made up for the hour and a half that it took me to go the last 20 miles to his place.  I'm glad I don't live here.  Love to visit, couldn't deal with it on a daily basis.  But it's a great city with much to offer.  I once thought I wanted to live here, but I think I've gotten too old to handle it.