More of Char Getting Wet
July 28th, 2011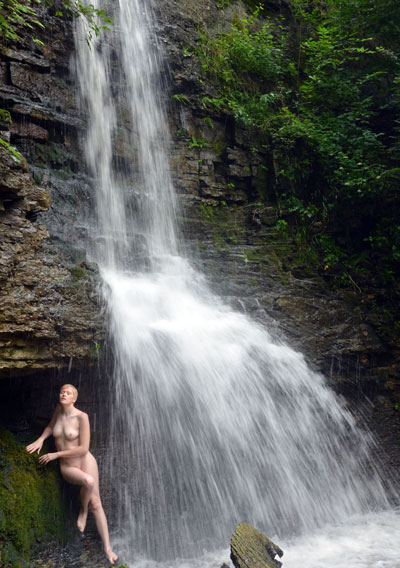 Yep, I got a lot of keepers on the shoot with Char at this waterfall.  This is the last one of her at this waterfall that I'll be posting here.  There are more to come from the shoot, though…we moved on to a couple more locations after this one.   The spray was really getting her in this spot.  Sounds good today as the temperature is back up in the mid-90s. 
There's a tree trimming crew working on the the giant Elm tree in our yard today.  It dropped a limb on our house and the neighbor's house last week.  I actually had a note to call the tree trimmers for this week, so I did and they are cleaning up the mess from the limb that fell and cleaning up the tree so it won't happen again.  We have the tree worked on regularly to try to avoid problems, but got caught this time.  Not a whole lot of damage to the houses, though, so it's not a big disaster.  Still waiting for the insurance adjuster to come and see it, though.
I've been looking for a few more models to work with on a regular basis and I think I found one this week.  I'll be setting up a shoot with her in August, so if all goes well, you'll be seeing her here soon.
Plus I have shoots with several other models, some new and some old favorites, coming up in the next week, so we'll have some new material here soon.  But I'm sure you aren't getting tired of Char yet, are you?  Who could get tired of a beauty like her?