Wet Char
July 23rd, 2011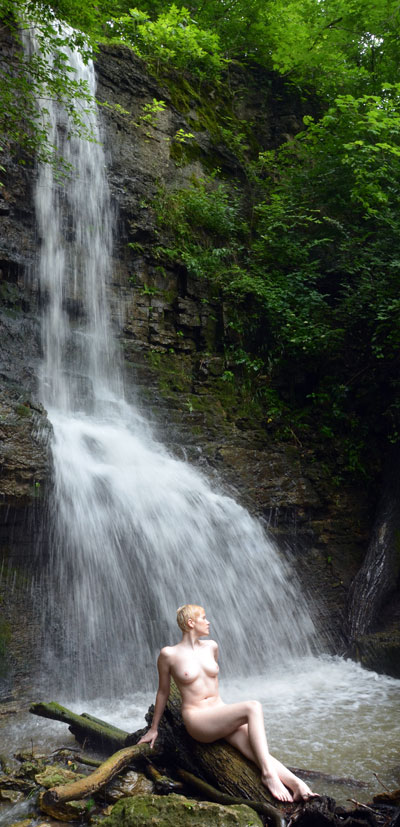 The heat wave continues.  I'm trying to just stay indoors in the air conditioning until it passes.  I had intended to do some work at the studio this past week, but the new, larger air conditioning units we have installed there seem to keep tripping circuit breakers.  I went in yesterday to find them both off and the temperature in the studio simply intolerable at 95F degrees.   I managed to get both units working again and made some changes that I hope will keep them running.  Maybe I can work there this coming week.
Meanwhile there's Char again, getting good and wet from the spray off that waterfall.  As I've said, she did a great job working the area around that waterfall, resulting in a bunch of photos that I'm very happy with.  She is a fine model…and a nice person to boot.  I hope we'll be doing a lot more work together.
In other news, a tree limb fell onto the corner of our house yesterday without warning.  We had been intending to get a tree trimmer out to work on the big tree in our our yard and to remove another smaller tree that died for unknown reasons this summer.  In fact, I planned to make the call to the tree trimmer this coming week.  But now I need to wait for the insurance adjuster to come and see what has happened.  Not a lot of damage, but it did break and knock some tile off our roof…and tile repairs always seem to be unreasonably expensive, so we'll see what the damage really is.