More Char
July 17th, 2011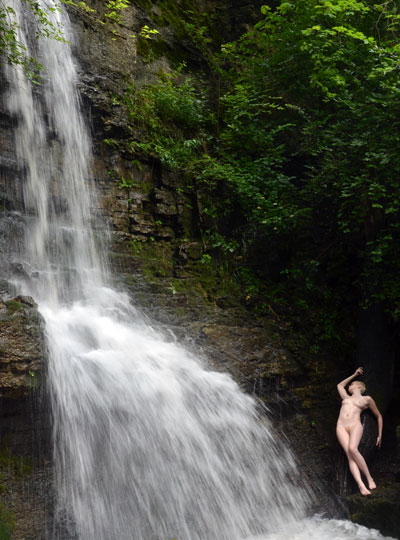 Here's another of favorite model, Char Rose, at another favorite local waterfall.  The waterfalls have been pretty amazing this year because of all the rain we've had, so it's been hard to resist making multiple trips to photograph at them.  In a normal weather year these falls would be all dried up by now.  As you can see, that's far from the case this year. 
We are looking at a week of temperatures in the 90s every day coming up.  I'm not looking forward to that.  I have one shoot scheduled at the studio, but I don't think I'll be spending much time there because the air conditioning units we have running just can't keep up when it's this hot, so it's pretty uncomfortable there as well as outdoors.  But I can, at least, go and stand in front of the air conditioners to cool off now and then.  And it does keep it cooler than outdoors most of the time.  So it's easier to shoot there this year than it was last summer when we had no air conditioning at all. 
Speaking of uncooperative weather, I thought I might be sharing a photo of the moon with a couple nude models in the foreground.  On Wednesday I saw the moonrise and realized it was a perfect time for that kind of photo.  The moon was almost full, the sky was clear, the timing was right to be able to shoot the moonrise just before the sunset, so the light would be right.  So I contacted some models and got a couple volunteers and spent most of Thursday scouting for a couple good locations.  We set out in the early evening to get the shot.  At the first location we found a bunch of kids fishing right were I needed the models to pose, so we went on to the second location, which also had many more people around than when I had scouted it earlier in the day.  It looked like we would be able to find an out-of-sight spot to do the shot, though.  But, it didn't matter.  After a full day of bright sun, a low cloud bank settled in along the eastern horizon.  It completely blocked the moon from view until it was well up in the sky, too high to be a photo element with the models, and too late anyway because the sun had already set and there was no sunlight to light the models.
So it goes.  Maybe next month.