She's All Wet
July 6th, 2011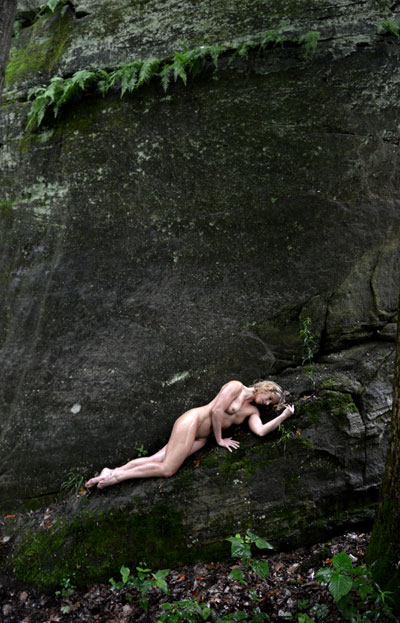 Here's another of Artistic Physique out in my new favorite shooting location near where I grew up.  No, I didn't oil her up out in the woods.  That's just water.  It rained while we were out there hiking.  Rain, as far as I'm concerned, is a great thing when I'm doing a shoot in the woods.  The light is often beautiful.  There are far fewer people out on the trails.  Many photographers and models think rain is a reason to stay indoors, so they miss the great light and opportunities found during rain.  And, hey, doesn't she look nice all slick and wet?
I often say, "If you want to take photos that don't look like everyone else's photos, wait until everyone says the weather is too bad to take photos outdoors and go outdoors and take photos.
It didn't actually rain all that hard during this shoot.  We knew it was a possibility and were well prepared for it.  And I'm very happy with the resulting photos.
Of course, this is another way that you can see just how wonderful my models are.  Thanks AP!