The Way Herb Sees It
June 4th, 2011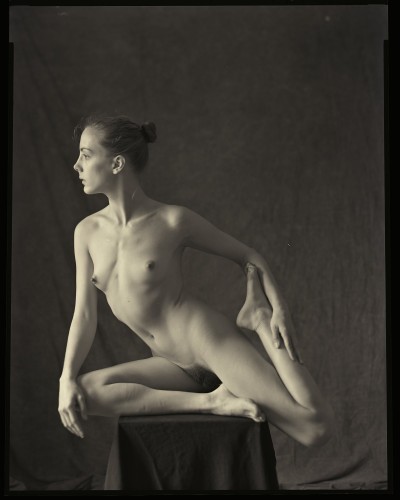 Usually any photos you see here on my blog are taken by me.  But Herb Ascherman has generously given me permission to make an exception and post some of his photos here.  Above is one of Herb's photos of Brooke taken in Herb's studio with his 8×10 view camera.  Take a look at that pose.  And then remember that Herb was using a 4 second exposure for these photos. 
I also must point out that what you see here, a jpeg on a computer monitor, can in no way come close to representing what Herb's platinum prints look like when you hold them in your hands.  Those platinum prints are absolute objects of beauty in themselves.  In another act of generosity, Herb also spent a few holders of that 8×10 film on yours truly.  So I really do know how hard it is to hold completely still for a 4 second exposure.  And Herb sent me a beautiful platinum print of the photo below. 
I really like Herb's portrait of me.  I think he made me look something like Rodin.  Not so sure I'm worthy of such a monumental presentation, but I can't help enjoying seeing myself in Herb's light.  And Brooke makes a pretty nifty background too, don't you think.  Thanks Herb.