A Different Way To Photograph
June 3rd, 2011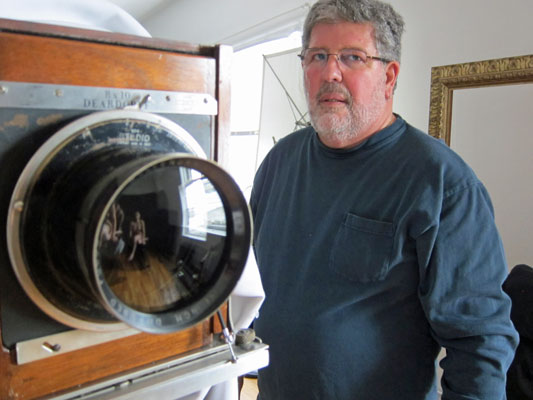 When Brooke was here visiting I drove her up to Cleveland so she could work with a friend of mine, Herb Ascherman.  Herb is a fine photographer with quite an international reputation.  And he works in the classic manner, using black and white film in an 8×10 view camera and making his prints using the platinum/palladium process.  I can tell you first hand that those platinum prints are wonderfully beautiful objects…a real joy to see.
Now, I've worked with an 8×10 view camera.  But when I did it I had to use many more four-letter words…in fact, I don't think I heard Herb curse or snarl at the camera even once.  He worked the ground glass, shutter and those giant 8×10 film holders like it was second nature for him…which of course, it is, since he does this all the time.  He did take many fewer photos than I usually do on a shoot…but then again those sheets of 8×10 film are a lot more expensive than the electrons I use to record photos.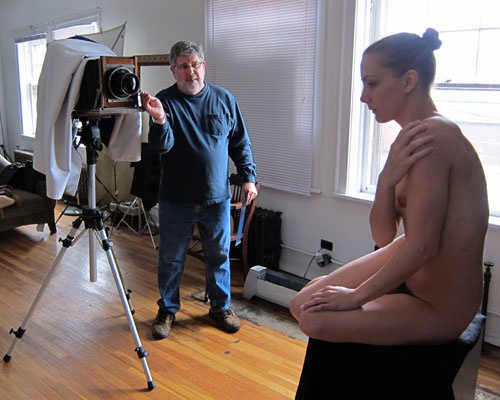 The sky was overcast on the day we were in Cleveland, and Herb prefers to work with natural window light.  But there wasn't a lot of that light, so the exposures ended up being four seconds long.  That's a really long time if you are trying to hold completely still.  But Brooke is an amazing model and did a great job.
Below you can get an idea of what things looked like from where Herb was standing.  I took all these photos with my little Canon S90.  Herb has shared his photos with me and I'll share a few of them with you in my next post.  Stand by for beauty…and maybe a little bit of beast.