Light At The End of The Tunnel
May 19th, 2011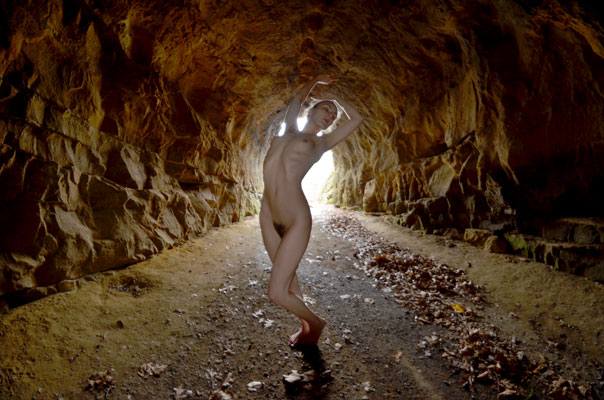 One of the features of the place I took Brooketo shoot when she was here is an old railroad tunnel.  It provides some interesting lighting opportunities.  And it gave me a place to do another fisheye shot that doesn't look all that "fishy."  It's fun exploring the characteristics of a new lens and learning what can be done with it.  A little light fill flash made all the tones in this one come together.
Brooke is on her way to France now.  I'll miss her this summer…I'd have surely looked for more chances to shoot with her if she were on the same continent.  But she'll have a wonderful experience and will be back in the fall…and I'm already working on some plans for then.
Meanwhile there are some other wonderful models who are nearby and I'll be working with them in the near future.  I'm starting to get dug out of the hole I found myself in when I got home from Florida.  I hope in a week or so to be all caught up and be better able to look toward future projects and be constantly trying to just catch up.
I could use a couple more models for the local projects I have coming up over the summer…so if any Ohio models are reading this and want to volunteer, send me an e-mail and let's talk.
And I should mention that this weekend is the Seattle Erotic Art Festival.  I have work on display at the festival and in the festival store.  Thanks to all the other travel I've been doing, I wasn't able to plan a trip out to Seattle to attend the festival.  I hope next year will turn out to finally be the year that I get to go to SEAF.  But if you are out that way, you shouldn't miss this festival.  And if you go look for my photo on the wall and let me know what you think.  And say hello to my friend, Mariah Carle, who is teaching a couple workshops at the festival.