Spring Flowers
May 2nd, 2011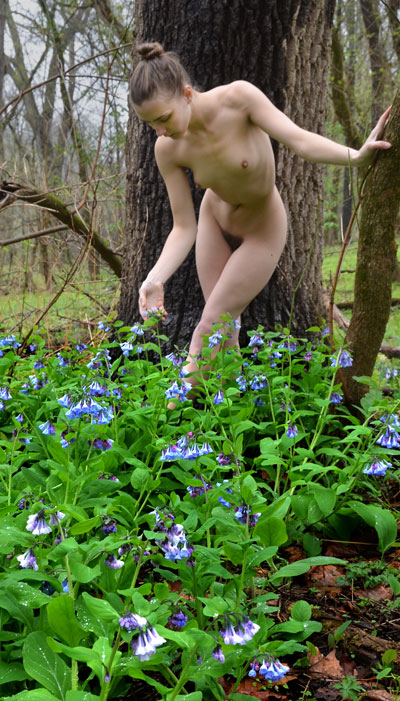 The wild flowers were starting to bloom when Brooke and I were out taking photos near my childhood home.  This patch of "Blue Bells" was particularly nice, so we decided to try to make some photos there.  Wild flowers with nudes seldom work, but I think these came out ok. 
What I'm finding interesting is the range of things I'm able to use my new cheapie fisheye lens for.  The photo at the top was taken with my regular zoom lens at 32mm…or pretty close to a normal focal length for the APS sized sensor on my D7000.  The photo at the bottom, on the other hand, was shot with my 8mm fisheye.  I did a little cropping to improve the composition, but it isn't all that far from a full frame photo. 
I think you can see that by being just a little careful about the composition and location of various elements of the photo, that lens comes across much more as an ultra-wide angle lens than as a fisheye.  I like that.  I'm enjoying getting familiar with the characteristics of this lens and finding more and more things that I can do with it. 
But, whatever lens I use, Brooke still shines through in all her loveliness.  Many more from this day of shooting to come.